Abstract
This study aimed to investigate the suitability of refined bleached deodorized palm olein oil (RBD POO) and Macadamia integrifolia oil (MO) blend as deep-fat frying substitute. Oxidative and hydrolytic stability of MO, POO and blends during 15 days of storage under accelerated oxidation condition (65 °C ± 1) studied by assessing free fatty acids (FFA), peroxide (PV), anisidine (AV) and TOTOX (TV) values. Blends formulated with POO: MO at 100:0, 75:25, 50:50, 25:75 and 0:100. Blending significantly affected the fatty acid profile, smoke point, FFA, PV, AV and TV of all samples (p < 0.05). Both independent variables (storage time and type of oil) and their interaction had significant effect on FFA, PV, AV and TV (p < 0.05). On day 15, the highest and the lowest FFA observed for MO and POO, respectively. The significant difference between FFA of MO and POO before incubation and day 15th was due to role of refining process in elimination of initial FFAs from POO. Results of PV, AV and TV showed that the highest and least changes were presented by POO and MO, respectively. Oil blends containing higher proportions of MO with a great percentage of monounsaturated and less polyunsaturated fats were more stable against oxidation. Also, presence of antioxidants played significant role against MO oxidation. From this research, blending POO with MO improved induction period of the blends and inhibited primary and secondary oxidation products formation. Blend 25:75 met the qualitative and nutritional criteria and suggested for formulation of a functional oxidative stable frying medium.
This is a preview of subscription content, log in to check access.
Access options
Buy single article
Instant access to the full article PDF.
US$ 39.95
Price includes VAT for USA
Subscribe to journal
Immediate online access to all issues from 2019. Subscription will auto renew annually.
US$ 99
This is the net price. Taxes to be calculated in checkout.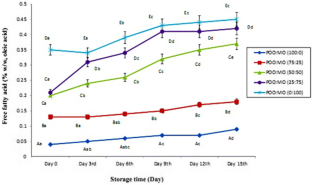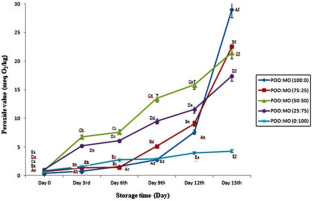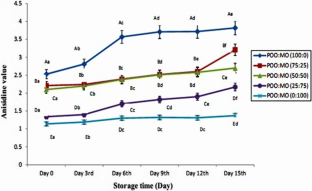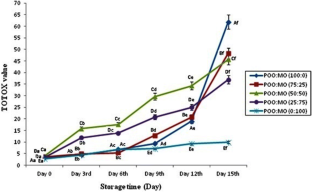 References
Ako H, Okuda D, Gray D (1995) Healthful new oil from Macadamia nuts. Nutrition 11:286–288

American Oil Chemists' Society (2017) AOCS Official method Cc 9a-48, smoke, flash and fire points cleveland open cup method. Official methods and recommended practices of the AOCS, 7th edn. Champaign ILL, American Oil Chemists' Society

Arens VM, Ghur G, Waibel J (1977) Bestimmung des rauchpunktes zur beurteilung von bratund seidefetten. Fette Seifen Anstrichmittel 79:256–261

Ascherio A, Willett W (1997) Health effects of trans fatty acids. Am J Clin Nutr 66(supplement):1006S–1010S

Aubourg SP (2001) Fluorescence study of the pro-oxidant effect of free fatty acids on marine lipids. J Sci Food Agr 81:385–390

Choudhary M, Grover K, Kaur G (2015) Development of rice bran oil blends for quality improvement. Food Chem 173:770–777

Clark LW, Serbia GW (1991) Safety aspects of frying fats and oils. Food Technol 45:84–94

Codex Stan (2015) Codex alimentarius international food standards. Standard for amendment vegetable oils. CODEX STAN 210-1999, pp 1–16

Enríquez-Fernández BE, y Yañez LDLC, Sosa-Morales ME (2011) Comparison of the stability of palm olein and a palm olein/canola oil blend during deep-fat frying of chicken nuggets and French fries. Int J Food Sci Tech 46:1231–1237

Garg ML, Blake RJ, Wills RBH (2003) Macadamia nut consumption lowers plasma total and LDL cholesterol levels in hypercholesterolemic men. J Nutr 133:1060–1063

Gomes T, Caponio F, Bruno G et al (2010) Effects of monoacylglycerols on the oxidative stability of olive oil. J Sci Food Agric 90:2228–2232

Gunstone FD (2008) Oils and fats in the food industry (Chapter 8). Wiley-Blackwell, Hoboken

Gunstone FD (2011) Production and trade of vegetable oils. In: Gunstone FD (ed) Vegetable oils in food technology: composition, properties and uses, 2nd edn. Wiley, Hoboken

Gupta MK (2005) Frying oils. In: Shahidi F (ed) Bailey's industrial oil and fat products, vol 4, 6th edn. Wiley, Hoboken

Kaijser A, Dutta P, Savage G (2000) Oxidative stability and lipid composition of macadamia nuts grown in New Zealand. Food Chem 71:67–70

Kalogeropoulos N, Salta FN, Chiou A et al (2007) Formation and distribution of oxidized fatty acids during deep- and pan-frying of potatoes. Eur J Lipid Sci Technol 109:1111–1123

Kerrihard AL, Nagy K, Craft BD et al (2015) Oxidative stability of commodity fats and oils: modeling based on fatty acid composition. J Am Oil Chem Soc 92:1153–1163

Kittipongpittaya K, Panya A, McClements DJ et al (2014) Impact of free fatty acids and phospholipids on reverse micelles formation and lipid oxidation in bulk oil. J Am Oil Chem Soc 91:453–462

Kris-Etherton PM, Pearson TA, Wan Y et al (1999) High monounsaturated fatty acid diets lower both plasma cholesterol and triacylglycerol concentrations. Am J Clin Nutr 70:1009–1015

Maguire LS, O'Sullivan SM, Galvin K et al (2004) Fatty acid profile, tocopherol, squalene and phytosterol content of walnuts, almonds, peanuts, hazelnuts and the Macadamia nut. Int J Food Sci Nutr 55:171–178

Mariod A, Matthaus B, Eichner K et al (2005) Improving the oxidative stability of sunflower oil by blending with Sclerocarya birrea oil and Aspongopus viduatus oils. J Food Lipids 12:150–158

Montgomery DC (2001) Design and analysis of experiments. Wiley, New York, pp 455–492

Nadeem M, Waqar Azeem M, Rahman F (2015) Assessment of transesterified palm olein and Moringa oleifera oil blends as vanaspati substitutes. J Food Sci Technol 52:2408–2414

Pedersen JI (2011) Health aspects of saturated fatty acids. In: Talbot G (ed) Reducing saturated fats in foods, vol 221. Woodhead Publishing series in food science, technology and nutrition. Woodhead Publishing, Cambridge, pp 77–97

Prescha A, Grajzer M, Dedyk M et al (2014) The antioxidant activity and oxidative stability of cold-pressed oils. J Am Oil Chem Soc 91:1291–1301

Przybylski R, Eskin NAM (1995) Measurement and significance of volatile compounds. In: Warner K, Eskin NAM (eds) Methods to assess quality and stability of oils and fat-containing foods. AOCS Press, Champaign, pp 107–133

Redondo-Cuevas L, Castellano G, Torrens F et al (2018) Revealing the relationship between vegetable oil composition and oxidative stability: a multifactorial approach. J Food Compos Anal 66:221–229

Rengel A, Pérez E, Piombo G et al (2015) Lipid profile and antioxidant activity of macadamia nuts (Macadamia integrifolia) cultivated in venezuela. Nat Sci 7:535–547

Sabeena F, Anandan R, Senthil K et al (2004) Effect of squalene on tissue defense system in isoproterenol-induced myocardial infarction in rats. Pharmaco Res 50:231–236

Sarwar A, Vunguturi SH, Ferdose A (2016) A study on smoke point and peroxide values of different widely used edible oils. Int Engine Tech Sci Res 5:271–273

Shahidi F, Wanasundara UN (2002) Methods for measuring oxidative rancidity in fats and oils. In: Akoh CC, Min DB (eds) Food lipids: chemistry, nutrition and biotechnology, 2nd edn. Marcel Dekker, New York, pp 465–482

Tan YA (1994) Analytical techniques in palm oil and palm kernel oil specifications. In: Selected readings on palm oil and its uses, technical committee of 1994 palm oil familiarization program, palm oil research institute of Malaysia, Kuala Lumpur, Malaysia, pp 78–90

Wall MM (2010) Functional lipid characteristics, oxidative stability, and antioxidant activity of macadamia nut (Macadamia integrifolia) cultivars. Food Chem 121:1103–1108

WHO (2003) Diet, nutrition and the prevention of chronic diseases. Technical report series 916 Geneva, pp 1–104

WHO (2008) Interim summary of conclusions and dietary recommendations on total fat and fatty acids. In: The joint FAO/WHO expert consultation on fats and fatty acids in human nutrition, Geneva, WHO TRS 916

Yamsaengsung R, Moreira R (2002) Modeling the transport phenomena and structural changes during deep fat frying. J Food Eng 53:11–25
Acknowledgements
This study was supported by the Process Engineering R&D Center (PERDC), Fats and Oils Program, Texas A&M University, College Station, TX, USA.
Additional information
Publisher's Note
Springer Nature remains neutral with regard to jurisdictional claims in published maps and institutional affiliations.
About this article
Cite this article
Koohikamali, S., Alam, M.S. Improvement in nutritional quality and thermal stability of palm olein blended with macadamia oil for deep-fat frying application. J Food Sci Technol 56, 5063–5073 (2019). https://doi.org/10.1007/s13197-019-03979-0
Revised:

Accepted:

Published:

Issue Date:
Keywords
Macadamia integrifolia

Frying oil

Blending