Abstract
Antioxidants have become scientifically interesting compounds due to their many benefits such as anti-aging and anti-inflammatory. Today, it is still used in many areas. In food technology, antioxidants are added to many foodstuffs in order to enrich the foods and eliminate the problems. Therefore, studies to determine the antioxidant activities of natural foods and their components are also continuing rapidly. Antioxidants have also been replaced in the encapsulation studies used for the preservation and stabilization of food components. Of course, preservation of foods is as important as their production. The latest packaging techniques for food preservation are edible films and coatings. The protective function of edible films and coatings can be improved by the addition of antioxidants. Unlike these, studies on plants and animals have been investigated in vivo in terms of how the antioxidant activity changes as a result of metabolic activities. The role of antioxidant enzymes in these studies is quite large. Many results have been found for the elimination of diseases by either in vivo or in vitro studies regarding antioxidants. Thus, the importance of antioxidants increased with the use in pharmacology, cosmetics and medicine. In this study, we tried to bring a current perspective to antioxidants played an active role in many fields by combining the technological applications and scientific studies of antioxidants. In order to further customize the issue, we have done this especially for the food and health field and we have tried to emphasize the importance of antioxidants in this way.
Access options
Buy single article
Instant access to the full article PDF.
US$ 39.95
Tax calculation will be finalised during checkout.
Subscribe to journal
Immediate online access to all issues from 2019. Subscription will auto renew annually.
US$ 79
Tax calculation will be finalised during checkout.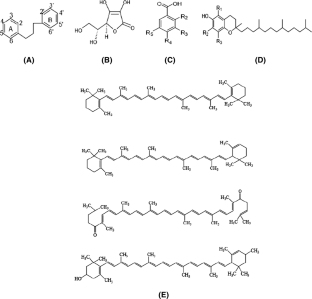 References
Abuajah CI, Ogbonna AC, Osuji CM (2015) Functional components and medicinal properties of food: a review. J Food Sci Technol 52:2522–2529

Agati G, Azzarello E, Pollastri S, Tattini M (2012) Flavonoids as antioxidants in plants: location and functional significance. Plant Sci 196:67–76

Akcan T (2013) Research of natural antıoxidant blended edıble fılms on meatballs type of meat products. Higher Engineering Thesis, Ege University Graduate School of Natural and Applied Sciences, İzmir, p 98

Alarcon CL, Deicona A (2013) Evaluating the antioxidant capacity of natural products: a review on chemical and cellular-based assays. Anal Chim Acta 763:1–10

Alvarez-Jubete L, Wijngaard H, Arendt EK, Gallagher E (2010) Polyphenol composition and in vitro antioxidant activity of amaranth, quinoa buckwheat and wheat as affected by sprouting and baking. Food Chem 119:770–778

Alvarez-Parrilla E, De La Rosa LA, Legarreta P, Saenz L, Rodrigo-García J, González-Aguilar GA (2010) Daily consumption of apple, pear and orange juice differently affects plasma lipids and antioxidant capacity of smoking and non-smoking adults. Int J Food Sci Nutr 61:369–380

Attia AMM, Ibrahim FAA, Nabil GM, Aziz SW (2013) Antioxidant effects of ginger (Zingiber officinale Roscoe) against lead acetate-induced hepatotoxicity in rats. Afr J Pharm Pharmacol 7:1213–1219

Bahadoran Z, Golzarand M, Mirmiran P, Shiva N, Azizi F (2012) Dietary total antioxidant capacity and the occurrence of metabolic syndrome and its components after a 3-year follow-up in adults: Tehran Lipid and Glucose Study. Nutr Metab 9:1–9

Baycın D, Altıok E, Ulku S, Bayraktar O (2007) Adsorption of olive leaf (olea europaea l.) antioxidants on silk fibroin. J Agric Food Chem 55:1227–1236

Beevi SS, Narasu ML, Gowda BB (2010) Polyphenolics profile, antioxidant and radical scavenging activity of leaves and stem of Raphanus sativus L. Plant Foods Hum Nutr 65:8–17

Biji KB, Ravishankar CN, Mohan CO, Srinivasa Gopal TK (2015) Smart packaging systems for food applications: a review. J Food Sci Technol 52:6125–6135

Bulca S (2014) The composition of black cumin and use of black cumin and other essential oils as antioxidant in food technology. Adnan Menderes Univ Fac Agric J 11:29–36

Butnariu M, Caunii A (2013) Design management of functional foods for quality of life improvement. Ann Agric Environ Med 4:736–741

Cakmakcı S, Gundogdu E, Dagdemir E, Erdogan U (2014) Investigation of the possible use of black cumin (Nigella sativa L.) essential oil on butter stability. Kafkas Univ J Fac Vet Med 20:533–539

Can A, Ozcelik B, Gunes G (2005) Antioxidant capacities of fruits and vegetables. In: GAP IV agricultural congress proceedings, pp 1458–1461

Caple F, Williams EA, Spiers A, Tyson J, Burtle B, Daly AK, Mathers JC, Hesketh JE (2010) Inter-individual variation in DNA damage and base excision repair in young, healthy non-smokers: effects of dietary supplementation and genotype. Br J Nutr 103:1585–1593

Carocho M, Ferreira ICFR (2013) A review on antioxidants, prooxidants and related controversy: natural and synthetic compounds, screening and analysis methodologies and future perspectives. Food Chem Toxicol 51:15–25

Cavalcanti RN, Santos DT, Meireles MAA (2011) Non-thermal stabilization mechanisms of anthocyanins in model and food systems An overview. Food Res Int 44:499–509

Chaieb N, González JL, López-Mesas M, Bouslama M, Valiente M (2011) Polyphenols content and antioxidant capacity of thirteen faba bean (Vicia faba L.) genotypes cultivated in Tunisia. Food Res Int 44:970–977

Coruhli T (2013) Encapsulatıon of black mulberry anthocyanıns by ıonıc gellatıon method and optımızatıon of encapsulatıon paramaters by response surface methodology. Higher Engineering Thesis, Istanbul Technical University Institute of Science and Technology, İstanbul

Demircan E (2016) Encapsulatıon of phenolıc compounds whıch extracted from apple peels. Higher Engineering Thesis, Istanbul Technical University Institute of Science and Technology, İstanbul

Diaz-Garcia MC, Obon JM, Castellar MR, Collado J, Alacid M (2013) Quantification by UHPLC of total individual polyphenols in fruit juices. Food Chem 138:938–949

Diler A, Genc IY (2013) The usage of ısparta rose as food additive in seafoods: general evaluation in terms of antimicrobiological and antioxidant properties. Suleyman Demirel Univ J Inst Sci Technol 17:4–6

Dogmus D, Durucasu I (2013) Antıoxıdant actıvıty of phenolıc components from n-butanol fractıon of flaxseed varıetıes. CBU J Sci 9(1):47–56

Duan XJ, Zhang WW, Li XM, Wang BG (2006) Evaluation of antioxidant property of extract and fractions obtained from a red alga, Polysiphonia urceolata. Food Chem 95:37–43

El-Abed N, Kaabi B, Smaali MI, Chabbouh M, Habibi K, Mejri M, Nejib M, Ahmed SBH (2014) Chemical composition, antioxidant and antimicrobial activities of Thymus capitata essential oil with ıts preservative effect against listeria monocytogenes ınoculated in minced beef meat. Evid Based Complement Altern Med 42:1–11

Ellinger S, Müller N, Stehle P, Ulrich-Merzenich G (2011) Consumption of green tea or green tea products: ıs there an evidence for antioxidant effects from controlled interventional studies? Phytomedicine 18:903–915

Erkan N, Bilen G (2010) Effects of essential oils treatment on the frozen storage stability of chub mackerel fillets. J Consum Prot Food Saf 5:101–110

Fuchs-Tarlovsky V (2013) Role of antioxidants in cancer therapy. Nutrition 29:15–21

Galland L (2013) Functional foods: health effects and clinical applications A2. In: Caballero B (ed) Encyclopedia of human nutrition. Academic Press, Waltham, pp 366–371

Gao JJ, Zhang L, Qin AG, Yu XC (2008) Relative expression of SOD and CAT mRNA and activities of SOD and CAT in grafted cucumber leaves under NaCl stress. J Appl Ecol 19:1754–1758

Ghasemnezhad M, Sherafati M, Payvast GA (2011) Variation in phenolic compounds, ascorbic acid and antioxidant activity of five coloured bell pepper (Capsicum annum) fruits at two different harvest times. J Funct Foods 3:44–49

Gokmen S, Palamutoglu R, Sarıcoban C (2012) Applications of encapsulation in food ındusty. Electr J Food Technol 1:36–50

Gomez-Estaca J, Lopez-de-Dicastillo C, Hernandez-Munoz P, Catala R, Gavara R (2014) Advances in antioxidant active food packaging. Trends Food Sci Technol 35:42–51

Gulcin I (2012) Antioxidant activity of food constituents: an overview. Arch Toxicol 86:345–391

He R, Ju X, Yuan J, Wang L, Girgih AT, Aluko RE (2012) Antioxidant activities of rapeseed peptides produced by solid state fermentation. Food Res Int 49:432–438

Heidebach T, Först P, Kulozik U (2012) Microencapsulation of probiotic cells for food applications. Crit Rev Food Sci Nutr 52:291–311

Ignat I, Volf I, Popa V (2011) A critical review of methods for characterisation of polyphenolic compounds in fruits and vegetables. Food Chem 126:1821–1835

Jakobek L (2015) Interactions of polyphenols with carbohydrates. Lipids Proteins Food Chem 175:556–567

Janes ME, Kooshesh S, Johnson MG (2002) Control of Listeria monocytogenes on the surface of refrigerated, ready-to-eat chicken coated with edible zein film coatings containing nisin and/or calcium propionate. J Food Sci 67:2754–2757

Johnston JE, Sepe HA, Miano CL, Brannan R, Alderton AL (2005) Honey inhibits lipid oxidation in ready-to-eat ground beef patties. Meat Sci 70:627–663

Karagoz Z, Candogan K (2007) Antimicrobial packaging in meat technology. Food 32:113–122

Khanam UHS, Oba S, Yanase E, Murakami Y (2012) Phenolic acids, flavonoids and total antioxidant capacity of selected leafy vegetables. J Funct Foods 4:979–987

Kodal B (2008) Effects of antıoxıdant edıble fılms on oxıdatıve stabılıty of ground beef. Higher Engineering Thesis, Ankara University Institute of Science and Technology, p 81

Koksal E, Bursal E, Dikici E, Tozoglu F, Gulcin I (2011) Antioxidant activity of Melissa officinalis leaves. J Med Plants Res 5:217–222

Leopoldini M, Russo N, Toscano M (2011) The molecular basis of working mechanism of natural polyphenolic antioxidants. Food Chem 125:288–306

Lu TM, Lee CC, Mau JL, Lin SD (2010) Quality and antioxidant property of green tea sponge cake. Food Chem 119:1090–1095

McGhie TK, Walton MC (2007) Review: the bioavailability and absorption of anthocyanins: towards a better understanding. Mol Nutr Food Res 51:702–713

Muanda FN, Soulimani R, Diop B, Dicko A (2011) Study on chemical composition and biological activities of essential oil and extracts from stevia rebaudiana bertoni leaves. Food Sci Technol 44:1865–1872

Munin A, Edwards-Lévy F (2011) Encapsulation of natural polyphenolic compounds; a review. Pharmaceutics 3:793

Mut-Salud N, Álvarez PJ, Garrido JM, Carrasco E, Aránega A, Rodríguez-Serrano F (2016) Antioxidant ıntake and antitumor therapy: toward nutritional recommendations for optimal results. Oxid Med Cell Longev 2016:6719534

Naufalin R, Rukmini HS (2014) natural nanoencapsulant antioxidants based on kecombrang fruit. Int Conf Nutr Food Sci 71:118

Nimse SB, Pal D (2015) Free radicals, natural antioxidants, and their reaction mechanisms. RSC Adv 5:27986–28006

Noviendri D (2014) Microencapsulation of fucoxanthin by water-in-oil-inwater (w/o/w) double emulsion solvent evaporation method. Squalen Bull Mar Fish Postharvest Biotechnol 9:137–150

Ou S, Wang Y, Tang S, Huang C, Jackson MG (2005) Role of ferulic acid in preparing edible films from soy protein isolate. J Food Eng 70:205–210

Pahlevi YW, Estiasih T, Saparianti E (2008) Microencapsulation of carotene extracts from neurospora sp. spores with protein based encapsulant using spray drying method. Jurnal Teknologi Pertanian 9:31–39

Peh HY, Tan WSD, Liao W, Wong WSF (2016) Vitamin E therapy beyond cancer: tocopherol versus tocotrienol. Pharmacol Ther 162:152–169

Pham-Huy LA, He H, Pham-Huy C (2008) Free radicals, antioxidants in disease and health. Int J Biomed Sci 4:89–96

Podsedek A (2007) Natural antioxidants and antioxidant capacity of Brassica vegetables: a review. LWT 40:1–11

Quintavalla S, Vicini L (2002) Antimicrobial food packaging in meat industry. Meat Sci 62:373–380

Rajamani K, Manivasagam T, Anantharaman P, Balasubramanian T, Somasundaram ST (2011) Chemopreventive effect of Padina boergesenii extractson ferric nitrilotriacetate (Fe-NTA)-induced oxidativedamage in Wistar rats. J Appl Physiol 23:257–263

Ratnam DV, Ankola DD, Bhardwaj V, Sahana DK, Kumar MNV (2006) Review role of antioxidants in prophylaxis and therapy: a pharmaceutical perspective. J Controll Release 113:189–207

Reddy CVK, Sreeramulu D, Raghunath M (2010) Antioxidant activity of fresh and dry fruits commonly consumed in India. Food Res Int 43:285–288

Ricci I, Artacho R, Olalla M (2010) Milk protein peptides with angiotensin Iconverting enzyme inhibitory (ACEI) activity. Crit Rev Food Sci Nutr 50:390–402

Sarmadi BH, Ismail A (2010) Antioxidative peptides from food proteins: a review. Peptides 31:1949–1956

Sevgi K, Tepe B, Sarikurkcu (2015) Antioxidant and DNA damage protection potentials of selected phenolic acids. Food Chem Toxicol 77:12–21

Shahidi F, Zhong Y (2010) Novel antioxidants in food quality preservation and health promotion. Eur J Lipid Sci Technol 112:930–940

Shebis Y, Iluz D, Kinel-Tahan Y, Dubinsky Z, Yehoshua Y (2013) Natural antioxidants: function and sources. Food Nutr Sci 4:643–649

Singh M, Kaur M, Silakari O (2014) Flavones: an important scaffold for medicinal chemistry. Eur J Med Chem 84:206–239

Tekeogul H, Turan G, Kilinc B (2011) Production of non-stuffed bread with lentils (lemna minor). In: 16th national fisheries symposium, Antalya, p 274

Tomaino A, Cimino F, Zimbalatti V, Venuti V, Sulfaro V, De Pasquale A, Saija A (2005) Influence of heating on antioxidant activity and the chemical composition of some spice essential oils. Food Chem 89:549–554

Turan G, Tekogul H, Kilinc B, Cirik S (2011) Sensory evaluation and analysis of shelf life of mossy breads prepared with ıron tank culture marine marul (Ulva Rigida). In: 16th national aquaculture symposium, October, Antalya, p 275

Vaibhav DA, Arunkumar W, Abhijit MP, Arvind S (2011) Antioxidants as an immunomodulator. İnt J Curr Pharm Res 1:8–10
Additional information
Publisher's Note
Springer Nature remains neutral with regard to jurisdictional claims in published maps and institutional affiliations.
Electronic supplementary material
Below is the link to the electronic supplementary material.
About this article
Cite this article
Zehiroglu, C., Ozturk Sarikaya, S.B. The importance of antioxidants and place in today's scientific and technological studies. J Food Sci Technol 56, 4757–4774 (2019). https://doi.org/10.1007/s13197-019-03952-x
Revised:

Accepted:

Published:

Issue Date:
Keywords
Antioxidants

Food

Health

Science

Technology