Abstract
The transformation of black and red, broken or not, whole rice grains, into breakfast cereals is an interesting way to add value to these snacks for some reasons. Firstly, broken kernels hardly achieve a high market value; whole rice is healthy not only for their nutrient contents but also for their phytochemical profile, rich in phenolic compounds; breakfast cereals from pigmented rice are colored by themselves, and any additional colorant is unneeded; finally, rice is naturally gluten-free and suitable for those with conditions like celiac disease or gluten sensitivity. The objective of this study was to optimize some extrusion parameters that account for the physicochemical properties of extrudates by using response surface methodology. Feed moisture between 15 and 21% and the 4th barrel zone temperature between 110 and 160 °C were the independent variables. Specific features such as color, texture, water solubility and absorption, cold viscosity, expansion, specific volume, and compression force were evaluated. The trials have shown that moisture had a higher impact on the extrusion process than temperature. Less expanded, denser, harder, and darker products were obtained at higher moisture levels. The optimum points were defined at 15.5% and 16.0% of feed moisture and 159 °C and 150 °C of temperature for black and red rice extrudates, respectively. These conditions resulted in cereal breakfast balls with optimal water solubility, volume, texture, and good color. Additionally, cold viscosities and a low compression led to products with a potential high approval by consumers.
Access options
Buy single article
Instant access to the full article PDF.
US$ 39.95
Tax calculation will be finalised during checkout.
Subscribe to journal
Immediate online access to all issues from 2019. Subscription will auto renew annually.
US$ 79
Tax calculation will be finalised during checkout.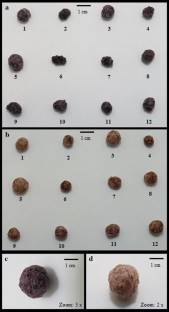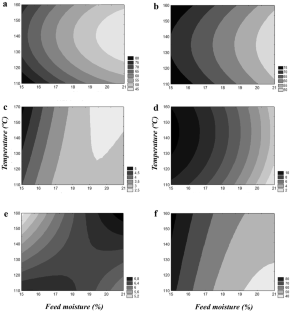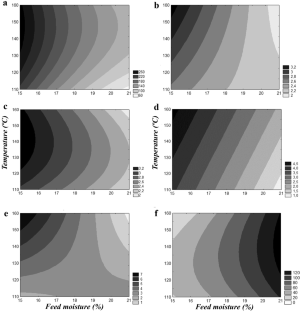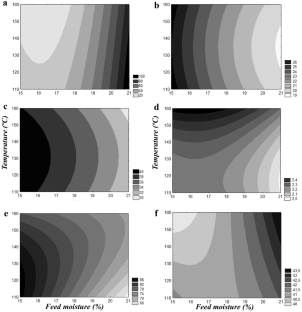 References
AACC (2012) Approved methods of the American Association of Cereal Chemists, method 61-02.01 406 (RVA), 11th edn. American Association of Cereal Chemists, St. Paul

Altan A, Mccarthy KL, Maskan M (2008) Evaluation of snack food from barley–tomato blends by extrusion processing. J Food Eng 84:231–242

Anderson RA, Conway HF, Pfeifer VF, Griffin EL (1969) Gelatinization of corn grits by roll and extrusion cooking. Cereal Sci Today 14:4–12

AOAC (2000) Approved methods of the American Association of Official Analytical Chemists, vol 7. American Association of Official Analytical Chemists, Gaithersburg

Brennan MA, Monro JA, Brennan CS (2008) Effect of inclusion of soluble and insoluble fibers into extruded breakfast cereal products made with reverse screw configuration. Int J Food Sci Technol 43:2278–2288

Chalermchaiwat P, Jangchud K, Jangchud A, Charunuch C, Prinyawiwatkul W (2015) Antioxidant activity, free gamma-Aminobutyric acid content, selected physical properties and consumer acceptance of germinated brown rice extrudates as affected by extrusion process. LWT Food Sci Technol 30:155–163

Dalbhagat CG, Mahato DK, Mishra HN (2019) Effect of extrusion processing on physicochemical, functional and nutritional characteristics of rice and rice-based products: a review. Trends Food Sci Technol 85:226–240

Ding Q, Ainsworth P, Tucker G, Marson H (2005) The effect of extrusion conditions on the physicochemical properties and sensory characteristics of rice-based expanded snack. J Food Eng 66:283–289

González RJ, Cavada EP, Peña JV, Torres RL, De Greef DM, Drago SR (2013) Extrusion conditions and amylose content affect physicochemical properties of extrudates obtained from brown rice grains. Int J Food Sci 2013:8

Leardkamolkarn V, Thongthep W, Suttiarporn P, Kongkachuichai R, Wongpornchai S, Wanavijitr A (2011) Chemopreventive properties of the bran extracted from a newly-developed Thai rice: The Riceberry. Food Chem 125:978–985

Leyva-Corral J, Quintero-Ramos A, Camacho-Davila A, Zazueta-Morales JJ, Aguilar-Palazuelos E, Ruiz-Gutierrez MG, Melendez-Pizarro CO, Ruiz-Anchondo TJ (2016) Polyphenolic compound stability and antioxidant capacity of apple pomace in an extruded cereal. LWT Food Sci Technol 65:228–236

Martínez MM, Calviño A, Rosell CM, Gómez M (2014) Effect of different extrusion treatments and particle size distribution on the physicochemical properties of rice flour. Food Bioprocess Technol 7:2657–2665

Massaretto IL, Alves MFM, Mira NVM, Carmona AK, Marquez UML (2011) Phenolic compounds in raw and cooked rice (Oryza sativa L.) and their inhibitory effect on the activity of angiotensin I-converting enzyme. J Cereal Sci 54:236–240

Meng X, Threinen D, Hansen M, Driedger D (2010) Effect of extrusion conditions on system parameters and physical properties of a chickpea flour-based snack. Food Res Int 43:650–658

Mira NVM, Massaretto IL, Pascual CSCI, Marquez UML (2009) Comparative study of phenolic compounds in different Brazilian rice (Oryza sativa L.) genotypes. J Food Compos Anal 22:405–409

Montgomery DC (1991) Design and analysis of experiment. Wiley, New York

Oliveira LC, Schmiele M, Steel CJ (2017) Development of whole grain wheat flour extruded cereal and process impacts on color, expansion, and dry and bowl-life texture. LWT Food Sci Technol 75:261–270

Oliveira LC, Alencar NMM, Steel CJ (2018) Improvement of sensorial and technological characteristics of extruded breakfast cereals enriched with whole grain wheat flour and jabuticaba (Myrciaria cauliflora) peel. LWT Food Sci Technol 90:207–214

Pardhi SD, Singh B, Nayik GA, Dar BN (2016) Evaluation of functional properties of extruded snacks developed from brown rice grits by using response surface methodology. J Saudi Soc Agric Sci 18:7–16

Rocchetti G, Chiodelli G, Giubert G, Masoero F, Trevisan M, Lucini L (2017) Evaluation of phenolic profile and antioxidant capacity in gluten-free flours. Food Chem 228:367–373

Shao Y, Hua Z, Yu Y, Moua R, Zhu Z, Beta T (2018) Phenolic acids, anthocyanins, proanthocyanidins, antioxidant activity, minerals and their correlations in non-pigmented, red, and black rice. Food Chem 239:733–741

Shen Y, Jin L, Xiao P, Lu Y, Bao J (2009) Total phenolics, flavonoids, antioxidant capacity in rice grain and their relations to grain color, size and weight. J Cereal Sci 49:106–111

Tanaka J, Nakamura S, Tsuruma K, Shimazawa M, Shimoda H, Hara H (2011) Purple rice (Oryza sativa L.) extract and its constituents inhibit VEGF-induced angiogenesis. Phytother Res 26:214–222

Wickert E, Schiocchet MA, Noldin JA, Raimondi JV, Andrade A, Scheuermann KK, Marschalek R, Martins GN, Hickel E, Eberhardt DS, Knoblauch R (2014) Exploring variability: New Brazilian varieties SCS119 Rubi and SCS120 Onix for the specialty rice markets. Open J Genet 4:157–165

Xu E, Pan X, Wu Z, Long J, Li J, Xu X, Jin Z, Jiao A (2016) Response surface methodology for evaluation and optimization of process parameter and antioxidant capacity of rice-flour modified by enzymatic extrusion. Food Chem 212:146–154

Yang SH, Peng J, Lui WB, Lin J (2008) Effects of adlay species and rice flour ratio on the physicochemical properties and texture characteristic of adlay-based extrudates. J Food Eng 84:489–494
Acknowledgements
The authors gratefully acknowledge the financial support of the National Council for Scientific and Technological Development (CNPq, 154614/2013-0) and the Santa Catarina Research Foundation (FAPESC, 177777/2013-0). Additionally, the authors would like to thank Dr. José A. Noldin from the Experimental Station of Itajaí for the supply of the rice samples, as well as Ms. Rosa M. C. Barros for her technical assistance.
Additional information
Publisher's Note
Springer Nature remains neutral with regard to jurisdictional claims in published maps and institutional affiliations.
About this article
Cite this article
Meza, S.L.R., Sinnecker, P., Schmiele, M. et al. Production of innovative gluten-free breakfast cereals based on red and black rice by extrusion processing technology. J Food Sci Technol 56, 4855–4866 (2019). https://doi.org/10.1007/s13197-019-03951-y
Revised:

Accepted:

Published:

Issue Date:
Keywords
Pigmented rice flour

RSM

Quality parameters

Extrusion optimization

Snacks