Abstract
Lionfish (Pterois volitans) is an invasive and predatory species whose proliferation over the Caribbean Sea threatens to cause great damage to coral reefs by negatively affecting the balance of the ecosystem. Control strategies have been the most effective way to reduce the negative impact of the lionfish. The development of diversified food products based on lionfish could support these strategies. The objective of the present study was to investigate the influence of ultrasound and the addition of binders in different concentrations: Egg white liquid (EWL) and corn starch (ST) on texture, microstructure and sensory evaluation properties of patties made of lionfish surimi. Each set of binders was added up to 3% varying proportions. The texture profile, water holding capacity, sensory qualities and fractal dimension of scanning electron microscopy images were analyzed to evaluate the quality of the product based on surimi gel. Results showed that the application of ultrasound and the use of binders enhanced the properties of patties made of lionfish surimi. The addition of EWL (3%) improved the water holding capacity and hardness of the final product. However, the fractal dimension of the images was higher in samples processed using ultrasound and without binder addition.
This is a preview of subscription content, log in to check access.
Access options
Buy single article
Instant access to the full article PDF.
US$ 39.95
Price includes VAT for USA
Subscribe to journal
Immediate online access to all issues from 2019. Subscription will auto renew annually.
US$ 99
This is the net price. Taxes to be calculated in checkout.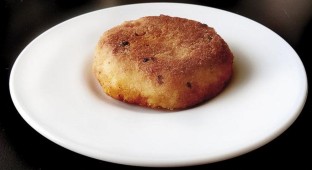 References
Alcázar-Alay SC, Meireles MA (2015) Physicochemical properties, modifications and applications of starches from different botanical sources. Food Sci Tecnol 35(2):215–236. https://doi.org/10.1590/1678-457X.6749

Alvarez C, Couso I, Solas M, Tejada M (1997) Waxy corn starch affecting texture and ultrastructure of sardine surimi gels. Eur Food Res Technol 204:121–128. https://doi.org/10.1007/s002170050048

Athaillah ZA, Park JW (2016) Characterization of surimi slurries and their films derived from myofibrillar proteins with different extraction methods. Food Biosci 15:118–125. https://doi.org/10.1016/j.fbio.2016.07.002

Chang-Lee MV, Lampila LE, Crawford DL (1990) Yield and composition of surimi from Pacific whiting (Merluccius productus) and the effect of various protein additives on gel strength. J Food Sci 55(1):83–86. https://doi.org/10.1111/j.1365-2621.1990.tb06022.x

Chung KH, Lee CM (1991) Water binding and ingredient dispersion patter effects on surimi gel texture. Food Sci 56(5):1263–1266. https://doi.org/10.1111/j.1365-2621.1991.tb04748.x

Fan D, Huang L, Li B, Huang J, Zhao J, Yan B, Zhang H (2017a) Acoustic intensity in ultrasound field and ultrasound-assisted gelling of surimi. LWT Food Sci Technol 75:497–504. https://doi.org/10.1016/j.lwt.2016.08.002

Fan M, Hu T, Zhao S, Xiong S, Xie J, Huang Q (2017b) Gel characteristics and microstructure of fish myofibrillar protein/casava starch composites. Food Chem 218:221–230. https://doi.org/10.1016/j.foodchem.2016.09.068

Filomena A, Diaz L, Puig Ana, Sotelo I (2012) Efecto de ultrasonido sobre la actividad ATP-asa y propiedades funcionales en surimi de tilapia (Oreochromis niloticus). Vitae 19(1):S379–S381

Filomena-Ambrosio A, Quintanilla-Carvajal MX, Puig A, Hernando I, Hernandez-Carrion M, Sotelo-Diaz I (2015) Changes of the water-holding capacity and microstructure of panga and tilapia surimi gels using different stabilizers and processing methods. Food Sci Technol Int 22(1):68–78. https://doi.org/10.1177/1082013214568876

Hema K, Shakila RJ, Shanmugam SA, Jawahar P (2016) Functional properties of restructured surimi gel product prepared from low valued short nose white tripod fish (Triacanthus brevirosterus). J Food Process Technol 7(6):6–11. https://doi.org/10.4172/2157-7110.1000597

Hunt A, Getty KJK, Park JW (2009) Roles of Starch in surimi seafood: a review. Food Review International 25(4):299–312. https://doi.org/10.1080/87559120903155834

Hunt A, Getty KJ, Park JW (2010) Development of temperature tolerant surimi gels using starch-protein interactions. J Food Qual 33(S1):119–136. https://doi.org/10.1111/j.1745-4557.2010.00303.x

Iso N, Mizuno H, Saito T, Lin CY, Fujita T, Nagashisa E (1985) The effect of additives (egg white and soy protein) on the rheological properties of kamaboko. Bull Jpn Soc Sci Fish 51:485–488. https://doi.org/10.2331/suisan.51.485

Izidoro DR, Junior BD, Windson C, Haminiuk I, Sierakowski MR, João R, Scheer ADP (2007) Granules morphology and rheological banana (Musa cavendishii) and corn (Zea mays) starch gels. Ciência e Agrotecnol 35(5):1443–1448

Jauregui C, Regenstein A, Baker R (1981) A simple centrifugal method for measuring expressible moisture, a water binding property of muscle foods. J Food Sci 46(4):1271–1273. https://doi.org/10.1111/j.1365-2621.1981.tb03038.x

Kentish S, Ashokkumar M (2011) The physical and chemical effects of ultrasound. In: Feng H, Barbosa-Cánovas GV, Weiss J (eds) Ultrasound technologies for food and bioprocessing. Springer, New York, pp 1–10

Kim JM, Lee CM (1987) Effect of starch of textural properties of surimi gel. J Food Sci 52(3):722–725. https://doi.org/10.1111/j.1365-2621.1987.tb06711.x

Kong CS, Ogawa H, Iso N (1999) Compression properties of fish- meat gel as affected by gelatinization of added starch. J Food Sci 64:283–286. https://doi.org/10.1111/j.1365-2621.1999.tb15883.x

Marangoni AG, Barbut S, Mcgauley SE, Marcone M, Narine SS (2000) On the structure of particulate gels—the case of salt-induced cold gelation of heat-denatured whey protein isolate. Food Hydrocoll 14:61–74. https://doi.org/10.1016/S0268-005X(99)00046-6

Martín-Sánchez AM, Navarro C, Pérez-Álvarez JA, Kuri V (2009) Alternatives for efficient and sustainable production of surimi: a review. Compr Rev Food Sci Food Saf 8(4):359–374. https://doi.org/10.1111/j.1541-4337.2009.00087.x

McClements DJ (1995) Advances in the application of ultrasound in food analysis and processing. Trends Food Sci Technol 6(9):293–299. https://doi.org/10.1016/S0924-2244(00)89139-6

Montero P, Gómez-Guill C (1996) Behaviour of egg white and starch in gelation of sardine muscle (Sardina pilchardus). Eur Food Res Technol 202(4):294–295. https://doi.org/10.1007/BF01206099

Morris JA, Thomas A, Rhyne AL, Breen N, Akins L, Nash B (2011) Nutritional properties of the invasive lionfish: a delicious and nutritious approach for controlling the invasion. Aquac Aquar Conserv Legis 5:99–102

Paker I, Matak KE (2017) Effects of starch concentration on calcium- enhanced black bullhead catfish protein gels. Food Sci Nutr 5(3):763–769. https://doi.org/10.1002/fsn3.456

Park JW, Ooizumi T, Hunt AL (2013) Ingredient technology for surimi and surimi seafood, 3rd edn. CRC Press, Boca Ratón

Pavathy U, Sajan G (2014) Influence of cryoprotectants levels on storage stability of surimi from Nemipterus japonicus and quality of surimi-based products. J Food Sci Technol 51:982. https://doi.org/10.1007/s13197-011-0590-y

Ramadhan K, Huda N, Ahmad R (2012) Physicochemical and sensory characteristics of burger made from duck surimi-like material. J Poult Sci 91(9):2316–2323. https://doi.org/10.3382/ps.2011-01747

Sariçoban C, Yilmaz MT, Karakaya M (2009) Response surface methodology study on the optimisation of effects of fat, wheat bran and salt on chemical, textural and sensory properties of patties. Meat Sci 83(4):610–619. https://doi.org/10.1016/j.meatsci.2009.07.010

Stone H, Bleibaum R, Thomas HA (2012) Sensory evaluation practices. In: Academic Press (ed) Descriptive analysis, 4th edition. Food Science and Technology, London, pp 233–289. https://doi.org/10.1016/b978-0-12-382086-0.00006-6

Suklim K, Flick GJ Jr, Marcy JE, Eigel WN (2003) Effect of starch and egg white albumin on the textural and cooking properties of restructured squid patties (illex illecebrosus). J Aquat Food Prod Technol 12(2):47–60. https://doi.org/10.1300/J030v12n02_05

Sun XD, Holley RA (2011) Factors Influencing Gel Formation by Myofibrillar Proteins in Muscle Foods. Compr Rev Food Sci Food Saf 10(1):33–51. https://doi.org/10.1111/j.1541-4337.2010.00137.x

Tabilo-Munizaga G, Barbosa-Cánovas GV (2005) Pressurized and heat-treated surimi gels as affected by potato starch and egg white : microstructure and water-holding capacity. LWT Food Sci Technol 38(1):47–57. https://doi.org/10.1016/j.lwt.2004.04.013

Texture Technologies (2003) Textural profile analysis explained and annotated. www.texturetechnologies.com/texture_profile_analysis.html. Accessed 22 Nov 2017

Turantas F, Kiliç GB, Kiliç B (2015) Ultrasound in the meat industry: general applications and decontamination efficiency. Int J Food Microbiol 198:59–69. https://doi.org/10.1016/j.ijfoodmicro.2014.12.026

Zhang Y, Zeng QX, Zhu ZW, Zhou R (2011) Effect of ultrasonic treatment on the gel strength of tilapia (Sarotherodon nilotica) surimi. J Food Process Eng 34(2):533–548. https://doi.org/10.1111/j.1745-4530.2009.00374.x

Zhu J, Fan D, Zhao J, Zhang H, Huan J, Zhou W, Chen W (2016) Enhancement of the gelation properties of surimi from yellowtail Seabream (Parargyrops edita, Sparidae) with Chinese Oak Silworm Pupa, Antheraea pernyi. J Food Sci 81(2):E396–E403. https://doi.org/10.1111/1750-3841.13184
Acknowledgements
Authors would like to thank the University of La Sabana and COLCIENCIAS for funding the development of research within the framework of Project EICEA-98-2015., Project 761-2016 of COLCIENCIAS.
Additional information
Publisher's Note
Springer Nature remains neutral with regard to jurisdictional claims in published maps and institutional affiliations.
Electronic supplementary material
Below is the link to the electronic supplementary material.
Supplementary material 1 (MOV 143251 kb)
About this article
Cite this article
Jiménez-Muñoz, L., Quintanilla, M. & Filomena, A. Managing the lionfish: influence of high intensity ultrasound and binders on textural and sensory properties of lionfish (Pterois volitans) surimi patties. J Food Sci Technol 56, 2167–2174 (2019). https://doi.org/10.1007/s13197-019-03698-6
Revised:

Accepted:

Published:

Issue Date:
Keywords
Fractal dimension

Lionfish

Patties

Surimi

Ultrasound