Abstract
Milk components have the ability to interact with functional compounds, such as polyphenols. This may result in altered biological activity of the compounds, and changes in the technological properties of dairy products. The objective of this study was to examine the effect of the addition of yerba mate (YM) on the physico-chemical and sensory properties of fresh cheese (FC) during storage (21 days). Different concentrations of YM were used for FC production: 0.0% (control), 0.5% (FC5), 1.0% (FC10) and 2.0% (FC20); and the bioactive compound concentration, antioxidant activity, color, texture, structure and sensory acceptance were evaluated. YM conferred antioxidant activity to FC; and affected the color, texture and structure. Storage time influenced all evaluated parameters except for color. FCs with 0.5 and 1.0% YM were scored as having higher sensory acceptability than FC with 2.0% YM. However, all supplemented FCs were well accepted by consumers (scores above 6). The YM could represent a source of bioactive compounds to improve the biological activity of dairy products.
Access options
Buy single article
Instant access to the full article PDF.
US$ 39.95
Tax calculation will be finalised during checkout.
Subscribe to journal
Immediate online access to all issues from 2019. Subscription will auto renew annually.
US$ 79
Tax calculation will be finalised during checkout.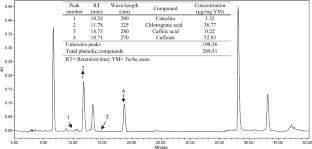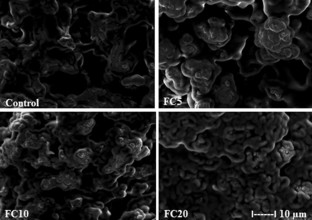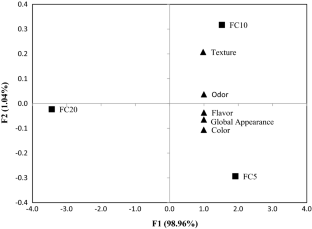 References
Bandyopadhyay P, Ghosh AK, Ghosh C (2012) Recent developments on polyphenol–protein interactions: effects on tea and coffee taste, antioxidant properties and the digestive system. Food Funct 3:592. https://doi.org/10.1039/c2fo00006g

Brewer MS (2011) Natural antioxidants: sources, compounds, mechanisms of action, and potential applications. Compr Rev Food Sci Food Saf 10:221–247. https://doi.org/10.1111/j.1541-4337.2011.00156.x

Cardozo Junior EL, Morand C (2016) Interest of mate (Ilex paraguariensis A. St.-Hil.) as a new natural functional food to preserve human cardiovascular health—a review. J Funct Foods 21:440–454. https://doi.org/10.1016/j.jff.2015.12.010

Deladino L, Teixeira A, Reta M, Molina García AD, Navarro AS, Martino MN (2013) Major phenolics in yerba mate extracts (Ilex paraguariensis) and their contribution to the total antioxidant capacity. Food Nutr Sci 4:154–162. https://doi.org/10.4236/fns.2013.48A019

Dick M, de Jong EV, de Souza JP (2011) Análise sensorial de carne de frango pré-cozida e embalada em bandeja de cartão após aquecimento em forno micro-ondas e forno convencional. UNOPAR Cient Ciênc Biol Saúde 13:39–44

Faion AM, Beal P, Ril FT, Cichoski AJ, Casian RL, Valdurga AT, Oliveira D, Valdurga E (2015) Influence of the addition of natural antioxidant from mate leaves (Ilex paraguariensis St. Hill) on the chemical, microbiological and sensory characteristics of different formulations of Prato cheese. J Food Sci Technol 52:1516–1524. https://doi.org/10.1007/s13197-013-1045-4

Filip R, Giberti G, Coussio J, Acevedo C, Ferraro G (2000a) Estudio fitoquímico y farmacológico de Ilex theezans C. Martius ex Reisseck, Dominguezia vol, p 16

Filip R, Lotito SB, Ferraro G, Fraga CG (2000b) Antioxidant activity of Ilex paraguariensis and related species. Nutr Res 20:1437–1446. https://doi.org/10.1016/S0271-5317(00)80024-X

Giroux HJ, De Grandpré G, Fustier P, Champagne CP, St-Gelais D, Lacroix M, Britten M (2013) Production and characterization of Cheddar-type cheese enriched with green tea extract. Dairy Sci Technol 93:241–254. https://doi.org/10.1007/s13594-013-0119-4

Guangrong H, Jiaxin J, Dehui D (2008) Antioxidative and antibacterial activity of the methanol extract of Artemisia anomala S. Moore. Afr J Biotechnol 7:1335–1338

Gul K, Singh AK, Jabeen R (2016) Nutraceuticals and functional foods: the foods for the future world. Crit Rev Food Sci Nutr 56:2617–2627. https://doi.org/10.1080/10408398.2014.903384

Hala MF, Ebtisam ED, Sanaa I, Badran MA, Marwa AS, Said ME (2010) Manufacture of low fat UF-soft cheese supplemented with rosemary extract (as natural antioxidant). J Am Sci 6:570–579

Han J, Britten M, St-Gelais D, Champagne CP, Fustier P, Salmieri S, Lacroix M (2011a) Effect of polyphenolic ingredients on physical characteristics of cheese. Food Res Int 44:494–497. https://doi.org/10.1016/j.foodres.2010.10.026

Han J, Britten M, St-Gelais DP, Champagne C, Fustier P, Salmieri S, Lacroix M (2011b) Polyphenolic compounds as functional ingredients in cheese. Food Chem 124:1589–1594. https://doi.org/10.1016/j.foodchem.2010.08.021

Kumar S, Yadav A, Yadav M, Yadav JP (2017) Effect of climate change on phytochemical diversity, total phenolic content and in vitro antioxidant activity of Aloe vera (L.) Burm.f. BMC Res Notes 10:60. https://doi.org/10.1186/s13104-017-2385-3

Lamothe S, Azimy N, Bazinet L, Couillard C, Britten M (2014) Interaction of green tea polyphenols with dairy matrices in a simulated gastrointestinal environment. Food Funct 5:2621–2631. https://doi.org/10.1039/c4fo00203b

Li W, Hydamaka AW, Lowry L, Beta T (2009) Comparison of antioxidant capacity and phenolic compounds of berries, chokecherry and seabuckthorn. Central Eur J Biol 4:499–506. https://doi.org/10.2478/s11535-009-0041-1

Livney YD (2010) Milk proteins as vehicles for bioactives. Curr Opin Colloid Interface Sci 15:73–83. https://doi.org/10.1016/j.cocis.2009.11.002

Lucey JA (2002) ADSA foundation scholar award. Formation and physical properties of milk protein gels. J Dairy Sci 85:281–294. https://doi.org/10.3168/jds.S0022-0302(02)74078-2

Matumoto-Pintro PT, Rabiey L, Robitaille G, Britten M (2011) Use of modified whey protein in yoghurt formulations. Int Dairy J 21:21–26. https://doi.org/10.1016/j.idairyj.2010.07.003

Meilgaard MC, Carr BT, Civille GV (1999) Sensory evaluation techniques, 3rd edn. CRC Press, Boca Raton

Mejía EG, Song YS, Heck CI, Ramírez-Mares M (2010) Yerba mate tea (Ilex paraguariensis): phenolics, antioxidant capacity and in vitro inhibition of colon cancer cell proliferation. J Funct Foods 2:23–34. https://doi.org/10.1016/j.jff.2009.12.003

Preci D, Cichoski AJ, Valduga AT et al (2011) Desenvolvimento de iogurte light com extrato de erva-mate (Ilex paraguariensis ST. HIL) e adição de probióticos. Alim Nutr 22:27–38

Ramos LR, Santos JS, Daguer H, Valese AC, Cruz AG, Granato D (2017) Analytical optimization of a phenolic-rich herbal extract and supplementation in fermented milk containing sweet potato pulp. Food Chem 221:950–958. https://doi.org/10.1016/j.foodchem.2016.11.069

Re R, Pellegrini N, Proteggente A, Pannala A, Yang M, Rice-Evans C (1999) Antioxidant activity applying an improved ABTS radical cation decolorization assay. Free Radic Biol Med 26:1231–1237. https://doi.org/10.1016/S0891-5849(98)00315-3

Reis FS, Stojković D, Soković M, Glamočlija J, Ćirić A, Barros L, Ferreira ICFR (2012) Chemical characterization of Agaricus bohusii, antioxidant potential and antifungal preserving properties when incorporated in cream cheese. Food Res Int 48:620–626. https://doi.org/10.1016/j.foodres.2012.06.013

Riachi LG, Maria CAB (2017) Yerba mate: an overview of physiological effects in humans. J Funct Foods 38:308–320. https://doi.org/10.1016/j.jff.2017.09.020

Schinella G, Fantinelli JC, Tournier H, Prieto JM, Spegazzini E, Debenedetti S, Mosca SM (2009) Antioxidant and cardioprotective effects of Ilex brasiliensis: a comparative study with Ilex paraguariensis (yerba mate). Food Res Int 42:1403–1409. https://doi.org/10.1016/j.foodres.2009.07.004

Singleton VL, Rossi JA (1965) Colorimetry of total phenolics with phosphomolybdic-phosphotungstic acid reagents. Am J Enol Vitic 16:144–158

Valerga J, Reta M, Lanari MC (2012) Polyphenol input to the antioxidant activity of yerba mate (Ilex paraguariensis) extracts. LWT Food Sci Technol 45:28–35. https://doi.org/10.1016/j.lwt.2011.07.022

Vital ACP, Goto PA, Hanai LN, Gomes-da-Costa SM, de Abreu Filho BA, Nakamura CV, Matumoto-Pintro PT (2015) Microbiological, functional and rheological properties of low fat yogurt supplemented with Pleurotus ostreatus aqueous extract. LWT Food Sci Technol 64:1028–1035. https://doi.org/10.1016/j.lwt.2015.07.003

Yıldırım A, Mavi A, Kara AA (2001) Determination of Antioxidant and Antimicrobial Activities of Rumex crispus L. extracts. J Agric Food Chem 49:4083–4089. https://doi.org/10.1021/jf0103572

Yuksel Z, Avci E, Erdem YK (2010) Characterization of binding interactions between green tea flavanoids and milk proteins. Food Chem 121:450–456. https://doi.org/10.1016/j.foodchem.2009.12.064

Zheng W, Wang SY (2001) Antioxidant activity and phenolic compounds in selected herbs. J Agric Food Chem 49:5165–5170. https://doi.org/10.1021/jf010697n

Zhu QY, Hackman RM, Ensunsa JL, Holt RR, Keen CL (2002) Antioxidative activities of Oolong tea. J Agric Food Chem 50:6929–6934. https://doi.org/10.1021/jf0206163
Acknowledgements
We thank National Council for Scientific and Technological Development (CNPq) for scholarship.
Additional information
Publisher's Note
Springer Nature remains neutral with regard to jurisdictional claims in published maps and institutional affiliations.
About this article
Cite this article
Saraiva, B.R., Vital, A.C.P., Anjo, F.A. et al. Effect of yerba mate (Ilex paraguariensis A. St.-Hil.) addition on the functional and technological characteristics of fresh cheese. J Food Sci Technol 56, 1256–1265 (2019). https://doi.org/10.1007/s13197-019-03589-w
Revised:

Accepted:

Published:

Issue Date:
Keywords
Bioactive compounds

Dairy products

Natural antioxidants

Texture