Abstract
Daily consumption of nuts is recommended as a part of a healthy diet as they contain protein and are rich in beneficial fatty acids and essential nutrients. The nutritional qualities of nuts are affected by their fatty acid composition and other factors such as maturity. Oil oxidative stability is important to determine nut nutritional quality in terms of fatty acid composition over storage. Therefore, this study aimed to (a) assess the nutritional quality (photooxidative stability and nutrient composition) of almond, cashew, pistachio and canarium (a newly commercialised indigenous nut); and (b) explore differences in nutrient concentrations between immature and mature canarium nuts. A decrease in polyunsaturated fats after photooxidation in almond and pistachio was observed. Canarium oil did not change following photooxidation suggesting canarium may display a long shelf life when stored appropriately. Our study indicated that almond provided over 50% of the recommended daily intake for manganese whereas canarium intake provided 50% of the recommended daily intake for iron (for males). Pistachio was richer in potassium compared with other nuts and canarium was richer in boron, iron and zinc than other nut species. Mature canarium kernels were richer in boron, iron and zinc but contained less potassium than immature canarium. Therefore, the current study recommended to store kernels in dark to decrease oil photooxidation, and maturity of canarium kernels at the harvest time was important affecting nutrient concentrations of kernels.
Access options
Buy single article
Instant access to the full article PDF.
USD 39.95
Price includes VAT (USA)
Tax calculation will be finalised during checkout.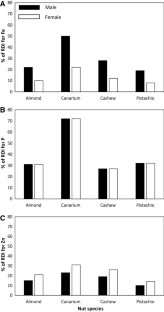 References
Albuquerque TAS, Pedreira PRB, Medina AN, Pereira JRD, Bento AC, Baesso ML (2003) Time resolved thermal lens in edible oils. Rev Sci Instrum 74:694–696

Ali MA, Islam MA, Othman NH, Noor AM (2017) Effect of heating on oxidation stability and fatty acid composition of microwave roasted groundnut seed oil. J Food Sci Technol 54:4335–4343

Amaral JS, Casal S, Seabra RM, Oliveira BP (2006) Effects of roasting on hazelnut lipids. J Agric Food Chem 54:1315–1321

Bai SH, Darby I, Nevenimo T, Hannet G, Hannet D, Poienou M, Grant E, Brooks P, Walton D, Randall B (2017a) Effects of roasting on kernel peroxide value, free fatty acid, fatty acid composition and crude protein content. PLoS ONE 12:e0184279

Bai SH, Trueman SJ, Nevenimo T, Hannet G, Bapiwai P, Poienou M, Wallace HM (2017b) Effects of shade-tree species and spacing on soil and leaf nutrient concentrations in cocoa plantations at 8 years after establishment. Agric Ecosyst Environ 246:134–143

Bai SH, Tahmasbian I, Zhou J, Nevenimo T, Hanet G, Walton D, Randall B, Gama T, Wallace HM (2018a) A non-destructive determination of peroxide values, total nitrogen and mineral nutrients in an edible tree nut using hyperspectral imaging. Comput Electron Agric 151:492–500

Bai SH, Trueman SJ, Gama T, Jones K, Walton DA, Randall B, Wallace HM (2018b) Shelf life of macadamia kernels of different origin. Acta Hortic (in press)

Bolling BW, Chen C-YO, McKay DL, Blumberg JB (2011) Tree nut phytochemicals: composition, antioxidant capacity, bioactivity, impact factors. A systematic review of almonds, Brazils, cashews, hazelnuts, macadamias, pecans, pine nuts, pistachios and walnuts. Nutr Res Rev 24:244–275

Campbell S (2004) Dietary reference intakes: water, potassium, sodium, chloride, and sulfate. Clin Nutr Insight 30:1–4

Chiuve SE, Sun Q, Curhan GC, Taylor EN, Spiegelman D, Willett WC, Manson JE, Rexrode KM, Albert CM (2013) Dietary and plasma magnesium and risk of coronary heart disease among women. J Am Heart Assoc 2:e000114

Clark C, Smith G (1988) Seasonal accumulation of mineral nutrients by kiwifruit 2. Fruit. New Phytol 108:399–409

Couladis M, Özcan M, Tzakou O, Akgül A (2003) Comparative essential oil composition of various parts of the turpentine tree (Pistacia terebinthus L) growing wild in Turkey. J Sci Food Agric 83:136–138

De Baaij JH, Hoenderop JG, Bindels RJ (2015) Magnesium in man: implications for health and disease. Physiol Rev 95:1–46

EFSA, European Food Safety Authority (2008) Safety of aluminium from dietary intake-scientific opinion of the panel on food additives, flavourings, processing aids and food contact materials (AFC). EFSA J 6:754

Evaristo I, Batista D, Correia I, Correia P, Costa R (2010) Chemical profiling of Portuguese Pinus pinea L. nuts. J Sci Food Agric 90:1041–1049

FAO (2017) The state of food security and nutrition in the world 2017. Building resilience for peace and food security. FAO, Rome. ISBN 978-92-5-109888-2

Gama T, Wallace HM, Bai SH, Trueman SJ (2018a) Variability in crude protein and mineral nutrient content of almonds. Acta Hortic (in press)

Gama T, Wallace HM, Trueman SJ, Hosseini-Bai S (2018b) Quality and shelf life of tree nuts: a review. Sci Hortic 242:116–126

Hawkes C, Fanzo J (2017) Nourishing the SDGs: global nutrition report 2017. Development Initiatives Bristol, London

Heaney RP (2015) Sodium, potassium, phosphorus, and magnesium. Nutrition and bone health. Springer, Berlin, pp 379–393

Horning KJ, Caito SW, Tipps KG, Bowman AB, Aschner M (2015) Manganese is essential for neuronal health. Ann Rev Nutr 35:71–108

Horton S, Ross J (2003) The economics of iron deficiency. Food Policy 28:51–75

Hunt C, Meacham SL (2001) Aluminum, boron, calcium, cooper, iron, magnesium, manganese, molybdenum, phosphorus, potassium, sodium, and zinc: concentrations in common western foods and estimated daily. J Acad Nutr Diet 101:1058

Kazantzis I, Nanos GD, Stavroulakis GG (2003) Effect of harvest time and storage conditions on almond kernel oil and sugar composition. J Sci Food Agric 83:354–359

Khan MA, Shahidi F (2002) Photooxidative stability of stripped and non-stripped borage and evening primrose oils and their emulsions in water. Food Chem 79:47–53

Kodad O, Socias i Company R (2008) Variability of oil content and of major fatty acid composition in almond (Prunus amygdalus Batsch) and its relationship with kernel quality. J Agric Food Chem 56:4096–4101

Küçüköner E, Yurt B (2003) Some chemical characteristics of Pistacia vera varieties produced in Turkey. Eur Food Res Technol 217:308–310

Leakey RR (2018) Converting 'trade-offs' to 'trade-ons' for greatly enhanced food security in Africa: multiple environmental, economic and social benefits from 'socially modified crops. Food Secur 10:505–524

Leakey RRB, Weber JC, Page T, Cornelius JP, Akinnifesi FK, Roshetko JM, Tchoundjeu Z, Jamnadass R (2012) Tree domestication in agroforestry: progress in the second decade. In: Nair PK, Garrity D (eds) Agroforestry-the future of global land use. Springer, New York, pp 145–173

Martini GD, Schilt AA (1976) Investigation of the wet oxidation efficiencies of perchloric acid mixtures for various organic substances and the identities of residual matter. Anal Chem 48:70–74

Matthaus B, Özcan MM (2006) Quantification of fatty acids, sterols and tocopherols turpentine (Pistacia terebinthus Chia) wild growing in Turkey. J Agric Food Chem 54:7667–7671

Matthaus B, Ozcan MM, Al Juhaimi F (2015) Oil content, fatty acid composition and tocopherol contents of turpentine (Pistachia terebinthus L.) and stonepine (Pinus pinea L.) nut oils. Z Arznei-Gewurzpfla 20:136–140

Matthaus B, Özcan MM, Al Juhaimi F (2016) Fatty acid composition and tocopherol content of the kernel oil from apricot varieties (Hasanbey, Hacihaliloglu, Kabaasi and Soganci) collected at different harvest times. Eur Food Res Technol 242:221–226

Millena CG, Sagum RS (2018a) Philippine Pili (Canarium ovatum, Engl.) varieties as source of essential minerals and trace elements in human nutrition. J Food Comp Anal 69:53–61

Millena CG, Sagum RS (2018b) Physicochemical characterization and fatty acid profiling of different Philippine pili nut (Canarium ovatum, Engl.) varieties. J Am Oil Chem Soc 95:325–336

Miraliakbari H, Shahidi F (2008) Oxidative stability of tree nut oils. J Agric Food Chem 56:4751–4759

Naghii M, Wall P, Samman S (1996) The boron content of selected foods and the estimation of its daily intake among free-living subjects. J Am Coll Nutr 15:614–619

Nanos GD, Kazantzis I, Kefalas P, Petrakis C, Stavroulakis GG (2002) Irrigation and harvest time affect almond kernel quality and composition. Sci Hortic 96:249–256

Ni Z, Tang F, Yu Q, Liu Y (2016) Toxic and essential elements in five tree nuts from Hangzhou market, China. Food Addit Contam B 9:246–250

Nielsen FH, Meacham SL (2011) Growing evidence for human health benefits of boron. J Evid Based Complement Altern Med 16:169–180

Özcan M (2004) Characteristics of fruit and oil of terebinth (Pistacia terebinthus L) growing wild in Turkey. J Sci Food Agric 84:517–520

Özcan MM, Tzakou O, Couladis M (2009) Essential oil composition of the turpentine tree (Pistacia terebinthus L.) fruits growing wild in Turkey. Food Chem 114:282–285

Özkan G, Kiralan M, Karacabey E, Çalik G, Özdemir N, Tat T, Bayrak A, Ramadan MF (2016) Effect of hazelnut roasting on the oil properties and stability under thermal and photooxidation. Eur Food Res Technol 242:2011–2019

Pettigrew WT (2008) Potassium influences on yield and quality production for maize, wheat, soybean and cotton. Physiol Plant 133:670–681

Piscopo A, Romeo FV, Petrovicova B, Poiana M (2010) Effect of the harvest time on kernel quality of several almond varieties (Prunus dulcis (Mill.) D.A. Webb). Sci Hortic 125:41–46

Powell B, Thilsted SH, Ickowitz A, Termote C, Sunderland T, Herforth A (2015) Improving diets with wild and cultivated biodiversity from across the landscape. Food Secur 7:535–554

Ros E (2010) Health benefits of nut consumption. Nutrients 2:652–682

Simsek S, Ozcan MM, Al Juhaimi F (2016) Characteristics of turpentine (Pistacia terebinthus L.) fruit and fruit oil collected from two different locations. Z Arznei-Gewurzpfla 21:102–106

Trumbo P, Yates AA, Schlicker S, Poos M (2001) Dietary reference intakes: vitamin A, vitamin K, arsenic, boron, chromium, copper, iodine, iron, manganese, molybdenum, nickel, silicon, vanadium, and zinc. J Am Diet Assoc 101:294–301

Vanhanen LP, Savage GP (2013) Mineral analysis of pine nuts (Pinus spp.) grown in New Zealand. Foods 2:143–150

Walton DA, Randall BW, Poienou M, Nevenimo T, Moxon J, Wallace HM (2017) Shelf life of tropical Canarium nut stored under ambient conditions. Horticulturae 3:24
Acknowledgements
We thank the University of the Sunshine Coast and the Papua New Guinea Government for support to undertake this study. Financial support was provided by the Australian Centre for International Agricultural Research (Project FST/2014/099).
Ethics declarations
Conflict of interest
The authors declared that they have no conflict of interest.
About this article
Cite this article
Bai, S.H., Brooks, P., Gama, R. et al. Nutritional quality of almond, canarium, cashew and pistachio and their oil photooxidative stability. J Food Sci Technol 56, 792–798 (2019). https://doi.org/10.1007/s13197-018-3539-6
Revised:

Accepted:

Published:

Issue Date:
Keywords
Agroforestry

Oil stability

Crude protein

Micro- and macro-nutrients

Recommended daily intake

Non-timber forest products