Abstract
Beef jerky is a ready-to-eat product that does not require refrigeration at the point of sale. Here, we evaluated the occurrence of Listeria monocytogenes in the production process of beef jerky, the presence of virulence genes and the genomic relatedness of the isolates, to assess the safety of the final product. The raw material, surfaces with and without contact with the product and the final product were evaluated along the beef jerky processing line. The samples were evaluated by VIDAS immunoassay system, and the L. monocytogenes isolates were confirmed and evaluated for the presence of several virulence genes by PCR. Listeria monocytogenes was identified in six of the 84 samples (7.14%), and no genetic relationship was observed among isolates. Samples of raw material (2/7), food contact surface (1/56), and work surfaces without contact with food (3/14) presented contamination by L. monocytogenes. The final product was not contaminated, demonstrating that barriers to multiplication of pathogens used during the production process were effective for its control.
Access options
Buy single article
Instant access to the full article PDF.
USD 39.95
Price excludes VAT (USA)
Tax calculation will be finalised during checkout.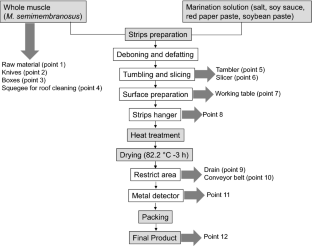 References
Carpentier B, Cerf O (2011) Review—persistence of Listeria monocytogenes in food industry equipment and premises. Int J Food Microbiol 145:1–8

Center for Diseases Control and Prevention (CDC) (2017) Available at: https://www.cdc.gov/listeria/outbreaks/soft-cheese-03-17/index.html

Choi JH, Jeong JY, Han DJ, Choi YS, Kim HY, Lee MA, Lee ES, Paik HD, Kim CJ (2008) Effects of pork/beef levels and various casing on quality properties of semi-dried jerky. Meat Sci 80:278–286

Daelman J, Jacxsens L, Lahou E, Devleighere F, Uyttendaele M (2013) Assessment of the microbial safety and quality of cooked chilled foods and their production process. Int J Food Microbiol 60:193–200

Dierschke S, Ingham SC, Ingham BH (2010) Destruction of Escherichia coli O157:H7, Salmonella, Listeria monocytogenes, and Staphylococcus aureus achieved during manufacture of whole-muscle beef jerky in home-style dehydrators. J Food Prot 73:2034–2042

Doumith M, Buchrieser C, Glaser P, Jacquet C, Martin P (2004) Differentiation of the major Listeria monocytogenes serovars by multiplex PCR. J Clin Microbiol 42:3819–3822

Fernandes FP, Voloski FLS, Ramires T, Haubert L, Reta GG, Mondadori RG, Silva WP, Conceição RCS, Duval EH (2017) Virulence and antimicrobial resistance of Salmonella spp. and Escherichia coli in the beef jerky production line. FEMS Microbiol Lett 364:1–8

Freitas de Macedo RE, Miyague L, Costa LB, Luciano FB (2013) Control of Listeria monocytogenes growth by bacteriocin-producing starter cultures in the manufacturing of dry fermented sausage. Afr J Microbiol 7:710–718

Gómez D, Iguácel LP, Rota MC, Carraminãna JJ, Ariño A, Yangüela J (2015) Occurrence of Listeria monocytogenes in ready-to-eat meat products and meat processing plants in Spain. Foods 4:271–282

Graves LM, Swaminathan B (2001) PulseNet standardized protocol for subtyping Listeria monocytogenes by macrorestriction and pulsed-field gel electrophoresis. Int J Food Microbiol 65:55–62

Green MR, Sambrook J (2012) Molecular cloning: a laboratory manual. Cold Spring Harbor Laboratory Press, Cold Spring Harbor

Haubert L, Mendonça M, Lopes GV, Cardoso MRI, Silva WP (2016) Listeria monocytogenes isolates from food and food environment harbouring tetM and ermB resistance genes. Lett Appl Microbiol 62:23–29

Iglesias MA, Kroning IS, Decol LT, Franco BDGM, Silva WP (2017) Occurrence and phenotypic and molecular characterization of Listeria monocytogenes and Salmonella spp. in slaughterhouses in southern Brazil. Food Res Int 100:96–101

Kim JS, Lee EJ, Choi EH, Kim YJ (2014) Inactivation of Staphylococcus aureus on the beef jerky by radio-frequency atmospheric pressure plasma discharge treatment. Innov Food Sci Emerg Technol 22:124–130

Lansini V, Maia DSV, Prates DF, Lima AS, Silva WP (2017) Antibacterial activity of Timsen® (n-alkyl dimethyl benzyl ammonium chloride-40%) in scalding and precooling water in poultry slaughterhouses. J Food Sci Technol 54:2607–2612

Leistner L (1987) Shelf stable product and intermediate moisture foods based on meat. In: Rockland L, Beuchat LB (eds) Water activity theory and application to foods. Marcel Dekker Inc., New York, pp 295–328

Levine P, Rose B, Green S, Ranson G, Hill W (2001) Pathogen testing of ready-to-eat meat and poultry products collected at federally inspected establishments in the United States, 1990 to 1999. J Food Prot 64:1188–1193

Liu D, Lawrence ML, Austin FW, Ainsworth AJ (2007) A multiplex PCR for species and virulence-specific determination of Listeria monocytogenes. J Microbiol Methods 71:133–140

Luber P, Crerar S, Dufour C, Farber J, Datta A, Todd ECD (2011) Controlling Listeria monocytogenes in ready-to-eat foods: working towards global scientific consensus and harmonization—recommendations for improved prevention and control. Food Control 22:1535–1549

Maury MM, Chenal-Francisque V, Bracq-Dieye H, Han L, Leclercq A, Vales G, Moura A, Gouin E, Scortti M, Disson O, Vázquez-Boland JA, Lecuit M (2017) Spontaneous loss of virulence in natural populations of Listeria monocytogenes. Infect Immun 85:e00541-17

Meloni D, Cosolati SG, Muredu A, Mazza R, Fois FP, Mazzette R (2014) Presence and molecular characterization of the major serovars of Listeria monocytogenes in ten Sardinian fermented sausage processing plants. Meat Sci 97:443–450

Meyer C, Fredriksson-Ahomaa M, Sperner B, Märtlbauer E (2011) Detection of Listeria monocytogenes in pork and beef using VIDAS® LM02 automated enzyme linked immunoassay method. Meat Sci 88:594–596

Nalério ES, Araújo MR, Mendonça KS, Bassani MT, Silva WP (2009) Listeria monocytogenes: monitoramento desse perigo biológico na cadeia produtiva de frangos do sul do Rio Grande do Sul. Food Sci Technol 29:626–630

Orsi RH, Den Bakker HC, Wiedmann M (2011) Listeria monocytogenes lineages: genomics, evolution, ecology, and phenotypic characteristics. Int J Med Microbiol 301:79–96

Scallan E, Hoekstra RM, Angulo FJ, Tauxe RV, Widdowson M, Roy SL, Jones JL, Griffin PM (2011) Foodborne illness acquired in the United States—major pathogens. Emerg Infect Dis 17:7–15

Selvaganapathi R, Jeyasekaran G, Shakila RJ, Sukumar D, Kumar MP, Sivaraman B (2018) Occurrence of Listeria monocytogenes on the seafood contact surfaces of Tuticorin Coast of India. J Food Sci Technol 55:1–5

Todd ECD, Notermans S (2011) Surveillance of listeriosis and its causative pathogen, Listeria monocytogenes. Food Control 22:1484–1490

USDA—United States Department of Agriculture. Food Safety and Inspection Service (USDA–FSIS) (2014) Compliance guideline for meat and poultry jerky produced by small and very small establishments compliance guideline. Available at: https://www.fsis.usda.gov/wps/wcm/connect/5fd4a01d-a381-4134-8b91-99617e56a90a/Compliance-GuidelineJerky2014.pdf?MOD=AJPERES

Vázquez-Boland JA, Kuhn M, Berche P, Chakraborty T, Dominguez-Bernal G, Goebel W, González-Zorn B, Wehland J, Kreft J (2001) Listeria pathogenesis and molecular virulence determinants. Clin Microbiol Rev 14:584–640

Warriner K, Namvar A (2009) What is the hysteria with Listeria?. Food Sci Technol 20:245–254
Acknowledgements
This study was financed in part by the Coordenação de Aperfeiçoamento de Pessoal de Nível Superior—Brasil (CAPES)—Finance Code 001. The authors extend their thanks to the Conselho Nacional de Desenvolvimento Científico e Tecnológico (CNPq) (309101/2016-6) and Programa Nacional de Pós-Doutorado (PNPD).
Electronic supplementary material
Below is the link to the electronic supplementary material.
About this article
Cite this article
Coradini, M.G.L., Maia, D.S.V., Iglesias, M.A. et al. Occurrence and characterization of Listeria monocytogenes from beef jerky processing line. J Food Sci Technol 56, 436–442 (2019). https://doi.org/10.1007/s13197-018-3505-3
Revised:

Accepted:

Published:

Issue Date:

DOI: https://doi.org/10.1007/s13197-018-3505-3
Keywords
Meat product

Ready-to-eat

Foodborne pathogen

Virulence genes

PFGE