Abstract
Droëwors are traditional South African salted and dried sausages, made without nitrites/nitrates and non- fermented. Different meat sources (beef, game and ostrich) are traditionally used in droëwors processing, while the use of pork is uncommon, as it is said to lead to rancidity. The first part of the study analysed the physico-chemical composition of commercially available beef, game and ostrich meat droëwors (n = 20). On average, they were composed of 26.3–29.2 g/100 g moisture, 41.3–44.0 g/100 g protein, 26.2–33.1 g/100 g fat and 5.9–6.5 g/100 g ash and 5.0–5.4 pH. Water activity (0.76–0.82) was sufficiently low to ensure shelf stability at ambient temperatures. In the second part beef and pork droëwors were formulated in accordance with these results and with similar fat content, dried for 2 days (30 °C, 40% relative humidity) and stored for 26 days (25 °C, 50% relative humidity); measuring moisture, water activity, pH and lipid oxidative stability (thiobarbituric acid reactive substances (TBARS)) weekly. At day 5, moisture and thus water activity of pork droëwors was slightly higher compared to beef ones and fat and ash content slightly lower (P ≤ 0.05) despite similar weight loss. Even with slightly less fat, TBARS in pork droëwors were significantly higher after drying and throughout storage (3.83 vs 0.99 mg MDA equivalents/kg dry matter at a maximum).
This is a preview of subscription content, log in to check access.
Access options
Buy single article
Instant access to the full article PDF.
US$ 39.95
Tax calculation will be finalised during checkout.
Subscribe to journal
Immediate online access to all issues from 2019. Subscription will auto renew annually.
US$ 99
Tax calculation will be finalised during checkout.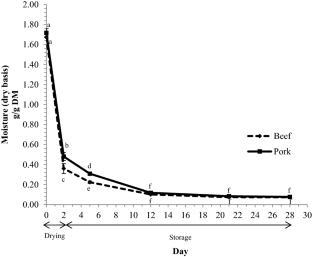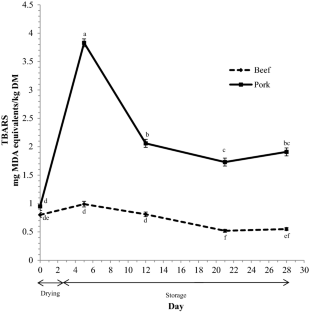 References
Aalhus JL, Dugan MER (2004) Oxidative and enzymatic. In: Jenson WK, Devine C, Dikeman M (eds) Encyclopedia of Meat sciences series, vol 1–4, 1st edn. Academic Press, London, pp 1340–1342

Alves SP, Alfaia CM, Škrbić BD, Živanĉey JR, Fernandes MJ, Bessa RJB, Fraqueza MJ (2017) Screening chemical hazards of dry fermented sausages from distinct origins: biogenic amines, polycyclic aromatic hydrocarbons and heavy elements. J Food Comp Anal 59:124–131

Antequera T, López-Bote CJ, Córdoba JJ, García C, Asensio MA, Ventanas J, Díaz I (1992) Lipid oxidative changes in the processing of Iberian pig hams. Food Chem 45:105–110

AOAC International (2002) Official methods of analysis, 17th edn. Association of Official Analytical Chemists Inc., Arlington

AOAC Official Method 992.15 (1992) Crude protein in meat and meat products including pet foods. Combustion method. J Assoc Off Anal Chem 76: 787

Baka AM, Papavergou EJ, Pragalaki T, Bloukas JG, Kotzekidou P (2011) Effect of selected autochthonous starter cultures on processing and quality characteristics of Greek fermented sausages. LWT-Food Sci Tech 44:54–61

Bertram MY, Steyn K, Wentzel-Viljoen E, Tollman S, Hofman KJ (2012) Reducing the sodium content of high-salt foods: Effect on cardiovascular disease in South Africa. S Afr Med J 102(9):743–745

Biltong Makers (2010) Droëwors. http://www.biltongmakers.com/biltong20_drywors.html. Accessed 15 June 2015

Burnham GM, Hanson DJ, Koshick CM, Ingham SC (2008) Death of Salmonella serovars, Escherichia coli H0157:H7, Staphylococcus aureus and Listeria monocytogenes during the drying of meat: a case study using biltong and droëwors. J Food Saf 28:198–209

Campo MM, Nute GR, Hughes SI, Enser M, Wood JD, Richarson RI (2006) Flavour perception of oxidation in beef. Meat Sci 72:303–311

Demeyer D (2014) Composition and nutrition. In: Toldrá F (ed) Handbook of fermented meat and poultry, 2nd edn. Wiley-Blackwell, West Sussex, pp 229–240

Earle RL, Earle MD (2008) Fundamentals of food reaction technology, Web edn. The New Zealand Institute of Food Science and Technology, New Zealand

Fernández-Martín F, Cofrades S, Carballo J, Colmenero FJ (2002) Salt and phosphate effects on the gelling process of pressure/heat treated pork batters. Meat Sci 61:15–23

Gray JI, Gomaa EA, Buckley DJ (1996) Oxidative quality and shelf life of meats. Meat Sci 43:S111–S123

Guerrero-Legarreta I, García-Barrientos R (2012) Thermal Technology. In: Hui YH (ed) Handbook of meat and meat processing, 2nd edn. CRC Press, Boca Raton, pp 523–530

Habeck S, Mitchell B, Sullivan D (2013) Comparison of fat extraction methods for analysis of meat. Presented at the AOAC 127th Annual Meeting and Exposition, Chicago, Illinois

Heinz G, Hautzinger P (2007) Meat processing technology for small-to-medium scale producers. Food and Agriculture Organisation (FAO), Bangkok. http://www.fao.org/docrep/010/ai407e/AI407E00.htm. Accessed 10 Mar 2017

Hoffman LC, Jones M, Muller N, Joubert E, Sadie A (2014) Lipid and protein stability and sensory evaluation of ostrich (Struthiocamelus) droëwors with the addition of rooibos tea extract (Aspalathuslinearis) as a natural antioxidant. Meat Sci 96:1289–1296

Honikel KO (2007) Principles of curing. In: Toldrá F (ed) Handbook of fermented meat and poultry, 1st edn. Blackwell Publishing, Iowa, pp 17–30

Igene JO, Farouk MM, Ankabi CT (1990) Preliminary studies on the traditional processing of Kilishi. J Sci Food Agric 50:89–98

Jones M, Hoffman LC, Muller M (2015a) Effect of rooibos extract (Aspalathus linearis) on lipid oxidation over time and sensory analysis of blesbok (Damaliscus pygargusphillipsi) and springbok (Antidorcus marsupialis) droëwors. Meat Sci 103:54–60

Jones M, Hoffman LC, Muller M (2015b) Oxidative stability of blesbok, springbok and fallow deer droëwors with added rooibos extract. S Afr J Sci 111 (11/12): Art#2014-0347

Jones M, Arnaud E, Gouws P, Hoffman LC (2017) Processing of South African biltong—a review. S Afr J Anim Sci 47:743–757

Lee CM, Trevino B, Chaiyawat M (1996) A simple and rapid solvent extraction method for determining total lipids in fish tissue. J Assoc Off Anal Chem 79:487–492

Leistner L, Rodel W (1975) The significance of water activity for microorganisms in meats. In: Duckworth RB (ed) Water relations of food. Academic Press, London, pp 309–323

Liaros NG, Katsanidis E, Bloukas JG (2009) Effect of the ripening time under vacuum and packaging film permeability on processing and quality characteristics of low-fat fermented sausages. Meat Sci 83:589–598

Lorenzo JM, Bedia M, Bañón S (2013) Relationship between flavour deterioration and the volatile compound profile of semi-ripened sausage. Meat Sci 93:614–620

Mariutti LRB, Bragagnolo N (2017) Influence of salt on lipid oxidation in meat and seafood products: a review. Food Res Int 94:90–100

Mujumdar AS, Devahastin S (2004) Fundamental principles of drying. In: Mujumdar AS (ed) Mujumdar's practical guide to industrial drying. Colour Publications Pvt. Ltd, Mumbai, pp 1–20

Nortjé K, Buys EM, Minnaar A (2005) Effect of γ-irradiation on the sensory quality of moist beef biltong. Meat Sci 71:603–611

Pouzo LB, Descalzo AM, Zaritzky NE, Rossetti LE, Pavan E (2016) Antioxidant status, lipid and color stability of aged beef from grazing steers supplemented with corn grain and increasing levels of flaxseed. Meat Sci 111:1–8

Rosenvold K, Andersen HJ (2003) Factors of significance for pork quality—a review. Meat Sci 64:219–237

Santchurn SJ, Arnaud E, Zakhia-Rozis N, Collignan A (2012) Drying: principles and applications. In: Hui YH (ed) Handbook of meat and meat processing, 2nd edn. CRC Press, Boca Raton, pp 505–523

Schivazappa C, Grisenti MS, Frustoli MA, Barbuti S (2012) Effect of fermentation temperature and nitrite nitrate on properties of dry fermented sausage. In: De Pedro EJ, Cabezas AB (eds) 7th international symposium on the mediterranean Pig, CIHEAM, Options Méditerranéennes: Série A. Sémin aires Méditerranéens, n. 10, pp 521–525

Torres EAFS, Shimokomani M, Franco BDGM, Landgraf M, Cravalho BCJ, Santos JC (1994) Parameters determining the quality of Charqui, an intermediate moisture meat product. Meat Sci 38:229–234

Wood JD, Richardson RI, Nute GR, Fisher AV, Campo MM, Kasapidou E, Sheard PR, Enser M (2003) Effects of fatty acids on meat quality: a review. Meat Sci 66:21–32

Zukál E, Incze K (2010) Drying. In: Toldrà F (ed) Handbook of meat processing. Willey-Blackwell, Iowa, pp 219–230
Acknowledgements
The authors acknowledge the financial support of the South African Research Chairs Initiative (SARChI) of the Department of Science and Technology (DST) and National Research Foundation (NRF) of South Africa, under the framework of the DST-NRF SA-France Protea Project (95139). Any opinion, finding and conclusion or recommendation expressed in this material is that of the author(s) and the NRF does not accept any liability in this regard.
Ethics declarations
Conflict of interest
The authors declare no conflict of interest.
About this article
Cite this article
Mukumbo, F.E., Arnaud, E., Collignan, A. et al. Physico-chemical composition and oxidative stability of South African beef, game, ostrich and pork droëwors. J Food Sci Technol 55, 4833–4840 (2018). https://doi.org/10.1007/s13197-018-3417-2
Revised:

Accepted:

Published:

Issue Date:
Keywords
Nitrite free

Unfermented dry sausages

Droëwors

TBARS

Water activity

Shelf stability