Abstract
In this study, proteins were extracted from tomato seeds, the main by-product of tomato processing. The incubation for 138.62 min coupled with 3% alcalase was observed to be optimum to produce a tomato seed protein hydrolysate (TSPH) with the highest antioxidant properties. Under these conditions, predicted TSPH activities were 62.99% scavenging of DPPH radicals and 54.81% reduction of phosphomolybdate. Separation of TSPH by ultrafiltration provided three fractions (UF1–UF3) of which, UF3 (< 3 kDa) showed the strongest activity (73.15% DPPH scavenging and 60.1% phosphomolybdate reduction). UF3 was further separated by RP-HPLC into sub-fractions F1–F6. Biological testing found that F2 and F4 were the most active in scavenging DPPH radicals (60.36 and 21.23%) and reducing phosphomolybdate (57.3 and 48.0%). LC–ESI–MS/MS analysis showed that the higher activity of F2 might be explained by the presence of more peptides that contained tyrosine and histidine, known to enhance antioxidant activity through hydrogen or electron transfer. In the simulated gastrointestinal digestion test, peptides in F2 were more resistant compared to those in F4. These findings indicate that peptide fraction F2 might be more useful in the formulation of functional foods because of its greater antioxidant activity and resistance to digestion.
Access options
Buy single article
Instant access to the full article PDF.
USD 39.95
Price excludes VAT (USA)
Tax calculation will be finalised during checkout.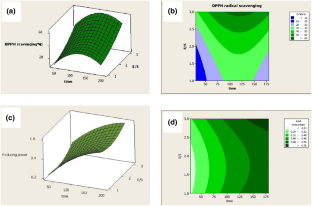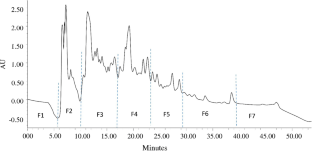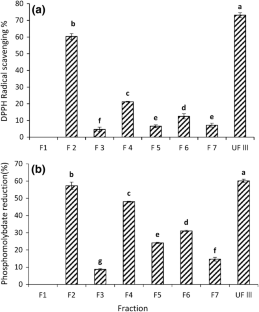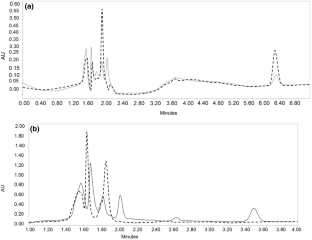 References
Baakdah MM, Tsopmo A (2016) Identification of peptides, metal binding and lipid peroxidation activities of HPLC fractions of hydrolyzed oat bran proteins. J Food Sci Technol 53:3593–3601. https://doi.org/10.1007/s13197-016-2341-6

Castel V, Andrich O, Netto FM et al (2012) Comparison between isoelectric precipitation and ultrafiltration processes to obtain Amaranth mantegazzianus protein concentrates at pilot plant scale. J Food Eng 112:288–295. https://doi.org/10.1016/j.jfoodeng.2012.05.010

Chi CF, Wang B, Deng YY et al (2014) Isolation and characterization of three antioxidant pentapeptides from protein hydrolysate of monkfish (Lophius litulon) muscle. Food Res Int 55:222–228. https://doi.org/10.1016/j.foodres.2013.11.018

Darmawan R, Bringe NA, de Mejia EG (2010) Antioxidant capacity of alcalase hydrolysates and protein profiles of two conventional and seven low glycinin soybean cultivars. Plant Foods Hum Nutr 65:233–240. https://doi.org/10.1007/s11130-010-0185-1

Delgado MCO, Tironi VA, Añón M (2011) Antioxidant activity of amaranth protein or their hydrolysates under simulated gastrointestinal digestion. LWT Food Sci Technol 44:1752–1760. https://doi.org/10.1016/j.lwt.2011.04.002

Elias RJ, Kellerby SS, Decker EA (2008) Antioxidant activity of proteins and peptides. Crit Rev Food Sci Nutr 48:430–441. https://doi.org/10.1080/10408390701425615

Erdmann K, Cheung BWY, Schröder H (2008) The possible roles of food-derived bioactive peptides in reducing the risk of cardiovascular disease. J Nutr Biochem 19:643–654. https://doi.org/10.1016/j.jnutbio.2007.11.010

Foh MBK, Qixing J, Amadou I, Xia WS (2010) Influence of ultrafiltration on antioxidant activity of tilapia (Oreochromis niloticus) protein hydrolysate. Adv J Food Sci Technol 2:227–235

Hernández-Ledesma B, Dávalos A, Bartolomé B, Amigo L (2005) Preparation of antioxidant enzymatic hydrolysates from α-lactalbumin and β-lactoglobulln. Identification of active peptides by HPLC-MS/MS. J Agric Food Chem 53:588–593. https://doi.org/10.1021/jf048626m

Hoyle NT, Merritt JH (1994) Quality of fish protein hydrolysates from herring (Clupea harengus). J Food Sci 59:76–79. https://doi.org/10.1111/j.1365-2621.1994.tb06901.x

Jan S, Khan MR, Rashid U, Bokhari J (2013) Assessment of antioxidant potential, total phenolics and flavonoids of different solvent fractions of monotheca buxifolia fruit. Osong Public Heal Res Perspect 4:246–254. https://doi.org/10.1016/j.phrp.2013.09.003

Kim SY, Je JY, Kim SK (2007) Purification and characterization of antioxidant peptide from hoki (Johnius belengerii) frame protein by gastrointestinal digestion. J Nutr Biochem 18:31–38. https://doi.org/10.1016/j.jnutbio.2006.02.006

Marcolini E, Babini E, Bordoni A et al (2015) Bioaccessibility of the bioactive peptide carnosine during in vitro digestion of cured beef meat. J Agric Food Chem 63:4973–4978. https://doi.org/10.1021/acs.jafc.5b01157

Meshginfar N, Sadeghi Mahoonak A, Ghorbani M, Aalami M (2017) Effects of protein hydrolysate from sheep visceral on oxidative stability of soybean oil and chicken sausage. J Food Process Preserv 41:e12875. https://doi.org/10.1111/jfpp.12875

Minekus M, Alminger M, Alvito P et al (2014) A standardised static in vitro digestion method suitable for food—an international consensus. Food Funct 5:1113–1124. https://doi.org/10.1039/c3fo60702j

Moayedi A, Hashemi M, Safari M (2016) Valorization of tomato waste proteins through production of antioxidant and antibacterial hydrolysates by proteolytic Bacillus subtilis: optimization of fermentation conditions. J Food Sci Technol 53:391–400. https://doi.org/10.1007/s13197-015-1965-2

Nesvizhskii AI, Keller A, Kolker E, Aebersold R (2003) A statistical model for identifying proteins by tandem mass spectrometry. Anal Chem 75:4646–4658

Panchaud A, Affolter M, Kussmann M (2012) Mass spectrometry for nutritional peptidomics: how to analyze food bioactives and their health effects. J Proteomics 75:3546–3559. https://doi.org/10.1016/j.jprot.2011.12.022

Rajapakse N, Mendis E, Byun H-G, Kim S-K (2005) Purification and in vitro antioxidative effects of giant squid muscle peptides on free radical-mediated oxidative systems. J Nutr Biochem 16:562–569. https://doi.org/10.1016/j.jnutbio.2005.02.005

Ranathunga S, Rajapakse N, Kim SK (2006) Purification and characterization of antioxidative peptide derived from muscle of conger eel (Conger myriaster). Eur Food Res Technol 222:310–315. https://doi.org/10.1007/s00217-005-0079-x

Ren J, Zhao M, Shi J et al (2008) Purification and identification of antioxidant peptides from grass carp muscle hydrolysates by consecutive chromatography and electrospray ionization-mass spectrometry. Food Chem 108:727–736. https://doi.org/10.1016/J.FOODCHEM.2007.11.010

Sarmadi BH, Ismail A (2010) Antioxidative peptides from food proteins: a review. Peptides 31:1949–1956

Searle BC (2010) Scaffold: a bioinformatic tool for validating MS/MS-based proteomic studies. Proteomics 10:1265–1269. https://doi.org/10.1002/pmic.200900437

Segura-Campos M, Chel-Guerrero L, Betancur-Ancona D, Hernandez-Escalante VM (2011) Bioavailability of bioactive peptides. Food Rev Int 27:213–226. https://doi.org/10.1080/87559129.2011.563395

Shahidi F, Zhong Y (2008) Bioactive peptides. J AOAC Int 91:914–931. https://doi.org/10.1111/j.1524-475X.2010.00642.x

Shahidi F, Zhong Y (2010) Novel antioxidants in food quality preservation and health promotion. Eur J Lipid Sci Technol 112:930–940. https://doi.org/10.1002/ejlt.201000044

Shao D, Atungulu GG, Pan Z et al (2014) Characteristics of isolation and functionality of protein from tomato pomace produced with different industrial processing methods. Food Bioprocess Technol 7:532–541. https://doi.org/10.1007/s11947-013-1057-0

Sogi DS, Arora MS, Garg SK, Bawa AS (2002) Fractionation and electrophoresis of tomato waste seed proteins. Food Chem 76:449–454. https://doi.org/10.1016/S0308-8146(01)00304-1

Sogi DS, Bhatia R, Garg SK, Bawa AS (2005) Biological evaluation of tomato waste seed meals and protein concentrate. Food Chem 89:53–56. https://doi.org/10.1016/J.FOODCHEM.2004.01.083

Tsopmo A, Diehl-Jones BW, Aluko RE et al (2009) Tryptophan released from mother's milk has antioxidant properties. Pediatr Res 66:614–618

Vanvi A, Tsopmo A (2016) Pepsin digested oat bran proteins: separation, antioxidant activity, and identification of new peptides. J Chem 2016:1–8. https://doi.org/10.1155/2016/8216378

Yen G-C, Wu J-Y (1999) Antioxidant and radical scavenging properties of extracts from Ganoderma tsugae. Food Chem 65:375–379. https://doi.org/10.1016/S0308-8146(98)00239-8

Zhang M, Mu TH, Sun MJ (2014) Purification and identification of antioxidant peptides from sweet potato protein hydrolysates by Alcalase. J Funct Foods 7:191–200. https://doi.org/10.1016/j.jff.2014.02.012
Acknowledgements
This work was supported by a grant from the National Science and Engineering Research Council of Canada No.: 371908 (AT), and a fellowship from the Ministry of Science, Research and Technology of the Islamic Republic of Iran to NM.
Ethics declarations
Conflict of interest
The authors declare that they have no conflict of interests.
About this article
Cite this article
Meshginfar, N., Sadeghi Mahoonak, A., Hosseinian, F. et al. Production of antioxidant peptide fractions from a by-product of tomato processing: mass spectrometry identification of peptides and stability to gastrointestinal digestion. J Food Sci Technol 55, 3498–3507 (2018). https://doi.org/10.1007/s13197-018-3274-z
Revised:

Accepted:

Published:

Issue Date:

DOI: https://doi.org/10.1007/s13197-018-3274-z
Keywords