Abstract
We evaluate the flour obtained from the residue of turmeric dye extraction, designated turmeric flour, as a protective coating to extend banana (Musa acuminata) shelf life. The coating formulation consists of 6 g of turmeric flour/100 g of solution and 30 g of glycerol/100 g of turmeric flour, produced by immersion. We also investigate how the coating affects banana weight loss, firmness, pH, titratable acidity, soluble solids and reducing sugars contents, and peel color along 15 days of storage at 27 ± 2 °C and 65% RH. Coatings based on turmeric flour display good antioxidant activity, which is attributed to the presence of curcuminoids, mainly curcumin. These coatings delay weight loss, color development, and firmness reduction, and they afford lower acidity and sugars content in coated bananas as compared to control bananas. Compared to uncoated samples, turmeric flour-based coatings extend the original characteristics of bananas stored at 27 °C by 3 days.
Access options
Buy single article
Instant access to the full article PDF.
USD 39.95
Price excludes VAT (USA)
Tax calculation will be finalised during checkout.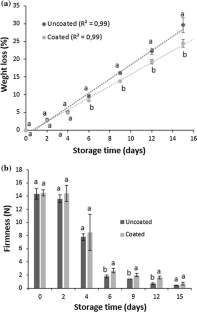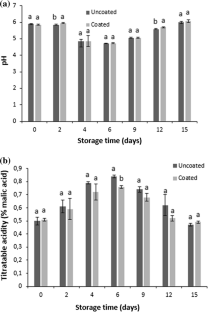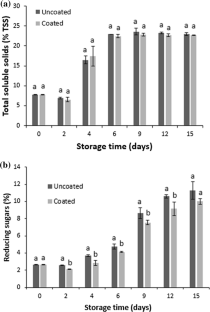 References
Alkarkhi AF, Ramli S, Yong YS, Easa AM (2011) Comparing physicochemical properties of banana pulp and peel flours prepared from green and ripe fruits. Food Chem 129(2):312–318. https://doi.org/10.1016/j.foodchem.2011.04.060

Alves EJ (1999) The banana cultivation: technical, socio-economic and agro-industrial aspects. Embrapa-CNPMF, Embrapa-SPI; Cruz das Almas

Anal AK, Jaisanti S, Noomhorm A (2014) Enhanced yield of phenolic extracts from banana peels (Musa acuminata Colla AAA) and cinnamon barks (Cinnamomum varum) and their antioxidative potentials in fish oil. J Food Sci Technol 51(10):2632–2639. https://doi.org/10.1007/s13197-012-0793-x

AOAC (1997) Association of official analytical chemists, 16th edn. Association of Official Analytical Chemists, Washington

Awad M, Al-Qurashi D, Mohamed SA, El-Shishtawy RM, Ali MA (2017) Postharvest chitosan, gallic acid and chitosan gallate treatments effects on shelf life quality, antioxidant compounds, free radical scavenging capacity and enzymes activities of 'Sukkari' bananas. J Food Sci Technol 54(2):447–457. https://doi.org/10.1007/s13197-016-2481-8

Baez-Sañudo M, Siller-Cepeda J, Muy-Rangel D, Heredia JB (2009) Extending the shelf-life of bananas with 1-methylcyclopropene and a chitosan-based edible coating. J Sci Food Agric 89:2343–2349. https://doi.org/10.1002/jsfa.3715

Bhawana BVK, Jain N (2011) Curcumin nanoparticles: preparation, characterization, and antimicrobial study. J Agric Food Chem 59(5):2056–2061. https://doi.org/10.1021/jf104402t

Bligh EG, Dyer WJ (1959) A rapid method of total lipid extraction and purification. Can J Biochem Physiol 37(8):911–917. https://doi.org/10.1139/o59-099

Bodaghi H, Mostofi Y, Oromiehie A, Zamani Z, Ghanbarzadeh B, Costa C, Conte A, Del Nobile MA (2013) Evaluation of the photocatalytic antimicrobial effects of a TiO2 nanocomposite food packaging film by in vitro and in vivo tests. LWT Food Sci Technol 50(2):702–706. https://doi.org/10.1016/j.lwt.2012.07.027

Cano MP, de Ancos B, Matallana MC, Cámara M, Reglero G, Tabera J (1997) Differences among Spanish and Latin-American banana cultivars: morphological, chemical and sensory characteristics. Food Chem 59(3):411–419. https://doi.org/10.1016/S0308-8146(96)00285-3

Dainelli D, Gontard N, Spyropoulos D, Zondervan-van den Beuken E, Tobback P (2008) Active and intelligent food packaging: legal aspects and safety concerns. Trends Food Sci Technol 19(1):S103–S112. https://doi.org/10.1016/j.tifs.2008.09.011

Duan XW, Joyce DC, Jiang YM (2007) Postharvest biology and handling of banana fruit: review. Fresh Produce 1(2):140–152

EMBRAPA - EMPRESA BRASILEIRA DE PESQUISA AGROPECUÁRIA (2007) Metodologia Científica: determinação da atividade antioxidante total em frutas pela captura do radical livre ABTS. Comunicado Científico, p 4

Ghanbarzadeh B, Musavi M, Oromiehie AR, Rezayi K, Rad ER, Milani J (2007) Effect of plasticizing sugars on water vapor permeability, surface energy and microstructure properties of zein films. LWT Food Sci Technol 40(7):1191–1197. https://doi.org/10.1016/j.lwt.2006.07.008

Gol NB, Ramana Rao TV (2011) Banana fruit ripening as influenced by edible coatings. Int J Fruit Sci 11:119–135. https://doi.org/10.1080/15538362.2011.578512

Gouveia ER, Nascimento RTD, Souto-Maior AM, Rocha GJDM (2009) Validation of methodology for the chemical characterization of sugar cane bagasse. Quim Nova 32(6):1500–1503

Hoover R, Vasanthan T (1994) Effect of heat-moisture treatment on the structure and physicochemical properties of cereal, legume, and tuber starches. Carbohydr Res 252(8):33–53

IBGE (2017) Instituto Brasileiro de geografia e Estatística. Levantamento Sistemático da Produção Agrícola 30:1–86

Jiang Y, Li Y (2001) Effects of chitosan coating on postharvest life and quality of longan fruit. Food Chem 73(2):139–143. https://doi.org/10.1016/S0308-8146(00)00246-6

Kittur FS, Saroja N, Tharanathan R (2001) Polysaccharide-based composite coating formulations for shelf-life extension of fresh banana and mango. Eur Food Res Technol 213(4–5):306–311. https://doi.org/10.1007/s002170100363

Malmiri HJ, Osman A, Tan CP, Abdul Rahman R (2011) Development of an edible coating based on chitosan-glycerol to delay 'Berangan'banana (Musa sapientum cv. Berangan) ripening process. Int Food Res J 18(3):989–997

Maniglia BC, Domingos JR, De Paula RL, Tapia-Blácido DR (2014) Development of bioactive edible film from turmeric dye solvent extraction residue. LWT Food Sci Technol 56(2):269–277. https://doi.org/10.1016/j.lwt.2013.12.011

Maniglia BC, de Paula RL, Domingos JR, Tapia-Blácido DR (2015) Turmeric dye extraction residue for use in bioactive film production: optimization of turmeric film plasticized with glycerol. LWT Food Sci Technol 64(2):1187–1195. https://doi.org/10.1016/j.lwt.2015.07.025

Maqbool M, Ali A, Alderson PG, Zahid N, Siddiqui Y (2011) Effect of a novel edible composite coating based on gum arabic and chitosan on biochemical and physiological responses of banana fruits during cold storage. J Agric Food Chem 59(10):5474–5482. https://doi.org/10.1021/jf200623m

Martins JT, Cerqueira MA, Vicente AA (2012) Influence of α-tocopherol on physicochemical properties of chitosan-based films. Food Hydrocoll 27(1):220–227. https://doi.org/10.1016/j.foodhyd.2011.06.011

Moo-Huchin VM, Moo-Huchin MI, Estrada-León RJ, Cuevas-Glory L, Estrada-Mota IA, Ortiz-Vázquez E, Betancur-Ancona D, Sauri-Duch E (2015) Antioxidant compounds, antioxidant activity and phenolic content in peel from three tropical fruits from Yucatan, Mexico. Food Chem 166(1):17–22. https://doi.org/10.1016/j.foodchem.2014.05.127

Osorio-Tobón JF, Carvalho PIN, Rostagno MA, Petenate AJ, Meireles MAA (2014) Extraction of curcuminoids from deflavored turmeric (Curcuma longa L.) using pressurized liquids: process integration and economic evaluation. J Supercrit Fluids 95:167–174. https://doi.org/10.1016/j.supflu.2014.08.012

Paramasivam M, Poi R, Bnerjee H, Bandyopadhyay A (2009) High-performance thin layer chromatographic method for quantitative determination of curcuminoids in Curcuma longa germplasm. Food Chem 113(2):640–644. https://doi.org/10.1016/j.foodchem.2008.07.051

Popa C, Dumitras DC, Patachia M, Banita S (2015) Improvement of a photoacoustic technique for the analysis of non-organic bananas during ripening process. Rom J Phys 60(7–8):1132–1138

Prabha DS, Kumar JS (2015) Assessment of banana fruit maturity by image processing technique. J Food Sci Technol 52(3):1316–1327. https://doi.org/10.1007/s13197-013-1188-3

Siqueira CL, de Almeida HJ, Serpa MFP, Batista PSC, Mizobutsi GP (2017) Modified atmosphere together with refrigeration in the conservation of bananas resistant to black Sigatoka. Rev Cienc Agron 48(4):614–624. https://doi.org/10.5935/1806-6690.20170071

Sohail SS, Wang B, Biswas MAS, Oh J (2006) Physical, morphological, and barrier properties of edible casein films with wax applications. J Food Sci 71(4):C255–C259. https://doi.org/10.1111/j.1750-3841.2006.00006.x

Soradech S, Nunthanid J, Limmatvapirat S, Luangtana-anan M (2017) Utilization of shellac and gelatin composite film for coating to extend the shelf life of banana. Food Control 73:1310–1317. https://doi.org/10.1016/j.foodcont.2016.10.059

Sun JX, Sun XF, Zhao H, Sun RC (2004) Isolation and characterization of cellulose from sugarcane bagasse. Polym Degrad Stab 84(2):331–339. https://doi.org/10.1016/j.polymdegradstab.2004.02.008

TAPPI. T222 om-02 (2002) Acid e Insolub lignin in wood and pulp, p 5

Thompson AK, Burden OJ (1995) Harvesting and fruit care. In: Gowen S (ed) Bananas and plantains, 1st edn. Springer, Amsterdam, pp 403–433

Wang S, Lin T, Man G, Li H, Zhao L, Wu J, Liao X (2014) Effects of anti-browning combinations of ascorbic acid, citric acid, nitrogen and carbon dioxide on the quality of banana smoothies. Food Bioprocess Tech 7(1):161–173. https://doi.org/10.1007/s11947-013-1107-7

Yap M, Fernando W, Brennan CS, Jayasenad V, Cooreya R (2017) The effects of banana ripeness on quality indices for puree production. LWT Food Sci Technol 80:10–18. https://doi.org/10.1016/j.lwt.2017.01.073
Acknowledgement
The authors wish to thank Fundação de Amparo à Pesquisa do Estado de São Paulo, CAPES (Coordenacão de Aperfeiçoamento de Pessoal de Nível Superior), and Rede AgroNano (Embrapa) for financial support.
Electronic supplementary material
Below is the link to the electronic supplementary material.
About this article
Cite this article
De Paula, R.L., Maniglia, B.C., Assis, O.B.G. et al. Evaluation of the turmeric dye extraction residue in the formation of protective coating on fresh bananas (Musa acuminata cv. 'Maçã'). J Food Sci Technol 55, 3212–3220 (2018). https://doi.org/10.1007/s13197-018-3252-5
Revised:

Accepted:

Published:

Issue Date:

DOI: https://doi.org/10.1007/s13197-018-3252-5
Keywords