Abstract
Tomato is a wonder fruit fortified with health-promoting phytochemicals that are beneficial in preventing important chronic degenerative disorders. Tomato is a good source of phenolic compounds (phenolic acids and flavonoids), carotenoids (lycopene, α, and β carotene), vitamins (ascorbic acid and vitamin A) and glycoalkaloids (tomatine). Bioactive constituents present in tomato have antioxidant, anti-mutagenic, anti-proliferative, anti-inflammatory and anti-atherogenic activities. Health promoting bioactivities of tomatoes make them useful ingredient for the development of functional foods. Protective role of tomato (lycopene as a potent antioxidant) in humans against various degenerative diseases are known throughout the world. Intake of tomato is inversely related to the incidence of cancer, cardiovascular diseases, ageing and many other health problems. Bioavailability of phytoconstituents in tomato is generally not affected by routine cooking processes making it even more beneficial for human consumption. The present review provides collective information of phytochemicals in tomato along with discussing their bioactivities and possible health benefits.
This is a preview of subscription content, log in to check access.
Access options
Buy single article
Instant access to the full article PDF.
US$ 39.95
Price includes VAT for USA
Subscribe to journal
Immediate online access to all issues from 2019. Subscription will auto renew annually.
US$ 99
This is the net price. Taxes to be calculated in checkout.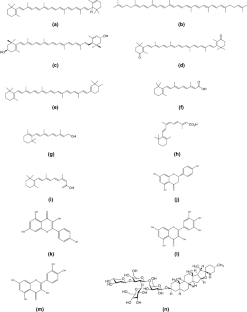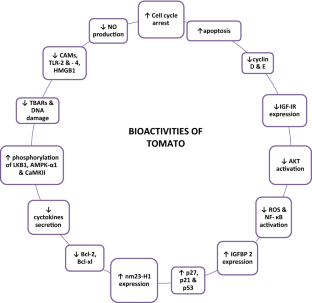 References
Agarwal S, Rao AV (2000) Tomato lycopene and its role in human health and chronic diseases. Can Med Assoc J 163(6):739–744

Amir H, Karas M, Giat J, Danilenko M, Levy R, Yermiahu T, Sharoni Y (1999) Lycopene and 1, 25-dihydroxyvitamin d3 cooperate in the inhibition of cell cycle progression and induction of differentiation in hl-60 leukemic cells. Nutr Cancer 33(1):105–112

Bae JW, Bae JS (2011) Barrier protective effects of lycopene in human endothelial cells. Inflamm Res 60(8):751–758

Bai SK, Lee SJ, Na HJ, Ha KS, Han JA, Lee H, Kim YM (2005) [beta]-carotene inhibits inflammatory gene expression in lipopolysaccharide-stimulated macrophages by suppressing redox-based NF-[kappa] B activation. Exp Mol Med 37(4):323

Burgess LC, Rice E, Fischer T, Seekins JR, Burgess TP, Sticka SJ, Klatt K (2008) Lycopene has limited effect on cell proliferation in only two of seven human cell lines (both cancerous and noncancerous) in an in vitro system with doses across the physiological range. Toxicol In Vitro 22(5):1297–1300

Ezekiel R, Singh N, Sharma S, Kaur A (2013) Beneficial phytochemicals in potato—a review. Food Res Int 50(2):487–496

FAOSTAT (2014) Global tomato production. http://faostat.fao.org/. Accessed on June–July

Feng D, Ling WH, Duan RD (2010) Lycopene suppresses LPS-induced NO and IL-6 production by inhibiting the activation of ERK, p38MAPK, and NF-κB in macrophages. Inflamm Res 59(2):115–121

Fernández-garcía E, Carvajal-lérida I, Jarén-galán M, Garrido-fernández J, Pérez-gálvez A, Hornero-méndez D (2012) Carotenoids bioavailability from foods: from plant pigments to efficient biological activities. Food Res Int 46(2):438–450

Fornelli F, Leone A, Verdesca I, Minervini F, Zacheo G (2007) The influence of lycopene on the proliferation of human breast cell line (MCF-7). Toxicol In Vitro 21(2):217–223

Friedman M (2013) Anticarcinogenic, cardioprotective, and other health benefits of tomato compounds lycopene, α -tomatine, and tomatidine in pure form and in fresh and processed tomatoes. Agric Food Chem 61(40):9534–9550

Friedman M, Levin CE, Lee SU, Kim HJ, Lee IS, Byun JO, Kozukue N (2009) Tomatine-containing green tomato extracts inhibit growth of human breast, colon, liver, and stomach cancer cells. J Agric Food Chem 57(13):5727–5733

Gloria NF, Soares N, Brand C, Oliveira FL, Borojevic R, Teodoro AJ (2014) Lycopene and beta-carotene induce cell-cycle arrest and apoptosis in human breast cancer cell lines. Anticancer Res 34(3):1377–1386

Haddad NF, Teodoro AJ, de Oliveira FL, Soares N, de Mattos RM, Hecht F, de Carvalho DP (2013) Lycopene and beta-carotene induce growth inhibition and proapoptotic effects on ACTH-secreting pituitary adenoma cells. PLoS ONE 8(5):e62773

Hazewindus M, Haenen GR, Weseler AR, Bast A (2014) Protection against chemotaxis in the anti-inflammatory effect of bioactives from tomato ketchup. PLoS ONE 9(12):e114387

Huang CS, Shih MK, Chuang CH, Hu ML (2005) Lycopene inhibits cell migration and invasion and upregulates Nm23-H1 in a highly invasive hepatocarcinoma, SK-Hep-1 cells. J Nutr 135(9):2119–2123

Huang CS, Fan YE, Lin CY, Hu ML (2007) Lycopene inhibits matrix metalloproteinase-9 expression and down-regulates the binding activity of nuclear factor-kappa B and stimulatory protein-1. J Nutr Biochem 18(7):449–456

Hung CF, Huang TF, Chen BH, Shieh JM, Wu PH, Wu WB (2008) Lycopene inhibits TNF-α-induced endothelial ICAM-1 expression and monocyte-endothelial adhesion. Eur J Pharmacol 586(1–3):275–282

Hwang ES, Bowen PE (2004) Cell cycle arrest and induction of apoptosis by lycopene in LNCaP human prostate cancer cells. J Med Food 7(3):284–289

Hwang ES, Lee HJ (2006) Inhibitory effects of lycopene on the adhesion, invasion, and migration of SK-Hep1 human hepatoma cells. Exp Biol Med 231(3):322–327

Ivanov NI, Cowell SP, Brown P, Rennie PS, Guns ES, Cox ME (2007) Lycopene differentially induces quiescence and apoptosis in androgen-responsive and-independent prostate cancer cell lines. Clin Nutr 26(2):252–263

Kanagaraj P, Vijayababu MR, Ravisankar B, Anbalagan J, Aruldhas MM, Arunakaran J (2007) Effect of lycopene on insulin-like growth factor-I, IGF binding protein-3 and IGF type-I receptor in prostate cancer cells. J Cancer Res Clin Oncol 133(6):351–359

Karas M, Amir H, Fishman D, Danilenko M, Segal S, Nahum A, Sharoni Y (2000) Lycopene interferes with cell cycle progression and insulin-like growth factor I signaling in mammary cancer cells. Nutr Cancer 36(1):101–111

Kaur C, Walia S, Nagal S, Walia S, Singh J, Singh BB, Jaggi S (2013) Functional quality and antioxidant composition of selected tomato (Solanum lycopersicon L.) cultivars grown in Northern India. LWT Food Sci Technol 50(1):139–145

Kim L, Rao AV, Rao LG (2002) Effect of lycopene on prostate LNCaP cancer cells in culture. J Med Food 5(4):181–187

Koh MS, Hwang JS, Moon AR (2010) Lycopene inhibits proliferation, invasion and migration of human breast cancer cells. Biomol Ther 18(1):92–98

Lee W, Ku SK, Bae JW, Bae JS (2012) Inhibitory effects of lycopene on HMGB1-mediated pro-inflammatory responses in both cellular and animal models. Food Chem Toxicol 50(6):1826–1833

Levy J, Bosin E, Feldman B, Giat Y, Miinster A, Danilenko M, Sharoni Y (1995) Lycopene is a more potent inhibitor of human cancer cell proliferation than either α-carotene or β-carotene. Nutr Cancer 24:257–266

Lin HY, Huang BR, Yeh WL, Lee CH, Huang SS, Lai CH, Lu DY (2014) Antineuroinflammatory effects of lycopene via activation of adenosine monophosphate-activated protein kinase-α1/heme oxygenase-1 pathways. Neurobiol Aging 35(1):191–202

Livny O, Kaplan I, Reifen R, Polak-Charcon S, Madar Z, Schwartz B (2002) Lycopene inhibits proliferation and enhances gap-junction communication of KB-1 human oral tumor cells. J Nutr 132(12):3754–3759

Martí R, Roselló S, Cebolla-cornejo J (2016) Tomato as a source of carotenoids and polyphenols targeted to cancer prevention. Cancers 8(6):58

Martí R, Leiva-Brondo M, Lahoz I, Campillo C, Cebolla-Cornejo J, Roselló S (2018) Polyphenol and l-ascorbic acid content in tomato as influenced by high lycopene genotypes and organic farming at different environments. Food Chem 239:148–156

Nahum A, Hirsch K, Danilenko M, Watts CK, Prall OW, Levy J, Sharoni Y (2001) Lycopene inhibition of cell cycle progression in breast and endometrial cancer cells is associated with reduction in cyclin D levels and retention of p27Kip1 in the cyclin E-cdk2 complexes. Oncogene 20(26):3428

Nahum A, Zeller L, Danilenko M, Prall OW, Watts CK, Sutherland RL, Sharoni Y (2006) Lycopene inhibition of IGF-induced cancer cell growth depends on the level of cyclin D1. Eur J Nutr 45(5):275

Obermüller-Jevic UC, Olano-Martin E, Corbacho AM, Eiserich JP, Van der Vliet A, Valacchi G, Packer L (2003) Lycopene inhibits the growth of normal human prostate epithelial cells in vitro. J Nutr 133(11):3356–3360

Palozza P, Sheriff A, Serini S, Boninsegna A, Maggiano N, Ranelletti FO, Cittadini A (2005) Lycopene induces apoptosis in immortalized fibroblasts exposed to tobacco smoke condensate through arresting cell cycle and down-regulating cyclin D1, pAKT and pBad. Apoptosis 10(6):1445–1456

Palozza P, Serini S, Boninsegna A, Bellovino D, Lucarini M, Monastra G, Gaetani S (2007) The growth-inhibitory effects of tomatoes digested in vitro in colon adenocarcinoma cells occur through down regulation of cyclin D1, Bcl-2 and Bcl-xL. Br J Nutr 98:789–795

Palozza P, Bellovino D, Simone R, Boninsegna A, Cellini F, Monastra G, Gaetani S (2008) Effect of β-carotene-rich tomato lycopene β-cyclase (tlcy-b) on cell growth inhibition in HT-29 colon adenocarcinoma cells. Br J Nutr 102(2):207–214

Palozza P, Colangelo M, Simone R, Catalano A, Boninsegna A, Lanza P, Ranelletti FO (2010a) Lycopene induces cell growth inhibition by altering mevalonate pathway and Ras signaling in cancer cell lines. Carcinogenesis 31(10):1813–1821

Palozza P, Simone R, Catalano A, Boninsegna A, Böhm V, Fröhlich K, Ranelletti FO (2010b) Lycopene prevents 7-ketocholesterol-induced oxidative stress, cell cycle arrest and apoptosis in human macrophages. J Nutr Biochem 21(1):34–46

Palozza P, Simone R, Catalano A, Monego G, Barini A, Mele MC, Ranelletti FO (2011) Lycopene prevention of oxysterol-induced proinflammatory cytokine cascade in human macrophages: inhibition of NF-κB nuclear binding and increase in PPARγ expression. J Nutr Biochem 22:259–268

Park YO, Hwang ES, Moon TW (2005) The effect of lycopene on cell growth and oxidative DNA damage of Hep3B human hepatoma cells. BioFactors 23(3):129–139

Pastori M, Pfander H, Boscoboinik D, Azzi A (1998) Lycopene in association with α-tocopherol inhibits at physiological concentrations proliferation of prostate carcinoma cells. Biochem Biophys Res Commun 250(3):582–585

Peralta IE, Spooner DM (2007) History, origin and early cultivation of tomato (Solanaceae). In: Razdan MK, Mattoo AK (eds) Genetic improvement of solanaceous crops, vol 2. Tomato, Science Publishers, Enfield, United States, pp 1–27

Perveen R, Suleria HAR, Anjum FM, Butt MS, Pasha I, Ahmad S (2015) Tomato (Solanum lycopersicum) carotenoids and lycopenes chemistry; metabolism, absorption, nutrition, and allied health claims—a comprehensive review. Crit Rev Food Sci Nutr 55(7):919–929

Polívková Z, Šmerák P, Demová H, Houška M (2010) Antimutagenic effects of lycopene and tomato purée. J Med Food 13(6):1443–1450

Prakash P, Russell RM, Krinsky NI (2001) In vitro inhibition of proliferation of estrogen-dependent and estrogen-independent human breast cancer cells treated with carotenoids or retinoids. J Nutr 131(5):1574–1580

Rafi MM, Yadav PN, Reyes M (2007) Lycopene inhibits LPS-induced proinflammatory mediator inducible nitric oxide synthase in mouse macrophage cells. J Food Sci 72(1):S069–S074

Rafi MM, Kanakasabai S, Reyes MD, Bright JJ (2013) Lycopene modulates growth and survival associated genes in prostate cancer. J Nutr Biochem 24(10):1724–1734

Rao AV, Rao LG (2007) Carotenoids and human health. Pharmacol Res 55(3):207–216

Saavedra TM, Figueroa GA, Cauih JGD (2017) Origin and evolution of tomato production Lycopersicon esculentum in México. Ciência Rural 47(3):1–8

Saedisomeolia A, Wood LG, Garg ML, Gibson PG, Wark PA (2009) Lycopene enrichment of cultured airway epithelial cells decreases the inflammation induced by rhinovirus infection and lipopolysaccharide. J Nutr Biochem 20(8):577–585

Salman H, Bergman M, Djaldetti M, Bessler H (2007) Lycopene affects proliferation and apoptosis of four malignant cell lines. Biomed Pharmacother 61(6):366–369

Scolastici C, de Lima RA, Barbisan LF, Ferreira ALDA, Ribeiro DA, Salvadori DMF (2007) Lycopene activity against chemically induced DNA damage in Chinese hamster ovary cells. Toxicol In Vitro 21(5):840–845

Scolastici C, de Lima RA, Barbisan LF, Ferreira ALDA, Ribeiro DA, Salvadori DMF (2008) Antigenotoxicity and antimutagenicity of lycopene in HepG2 cell line evaluated by the comet assay and micronucleus test. Toxicol In Vitro 22(2):510–514

Sesso HD, Buring JE, Norkus EP, Gaziano JM (2004) Plasma lycopene, other carotenoids, and retinol and the risk of cardiovascular disease in women. Am J Clin Nutr 79(1):47–53

Sharma A, Kaur M, Katnoria JK, Nagpal AK (2017) Polyphenols in food: cancer prevention and apoptosis induction. Curr Med Chem. https://doi.org/10.2174/0929867324666171006144208

Simone RE, Russo M, Catalano A, Monego G, Froehlich K, Boehm V, Palozza P (2011) Lycopene inhibits NF-kB-mediated IL-8 expression and changes redox and PPARγ signalling in cigarette smoke-stimulated macrophages. PLoS ONE 6(5):e19652

Singh B, Singh JP, Kaur A, Singh N (2016) Bioactive compounds in banana and their associated health benefits: a review. Food Chem 206:1–11

Singh B, Singh JP, Singh N, Kaur A (2017a) Saponins in pulses and their health promoting activities: a review. Food Chem 233:540–549

Singh B, Singh JP, Kaur A, Singh N (2017b) Phenolic composition and antioxidant potential of grain legume seeds: a review. Food Res Int 101:1–16

Singh B, Singh JP, Shevkani K, Singh N, Kaur A (2017c) Bioactive constituents in pulses and their health benefits. J Food Sci Technol 54(4):858–870

Singh B, Singh JP, Kaur A, Singh N (2018) Phenolic compounds as beneficial phytochemicals in pomegranate (Punica granatum L.) peel: a review. Food Chem 261:75–86

Srinivasan M, Sudheer AR, Pillai KR, Kumar PR, Sudhakaran PR, Menon VP (2007) Lycopene as a natural protector against γ-radiation induced DNA damage, lipid peroxidation and antioxidant status in primary culture of isolated rat hepatocytes in vitro. Biochim Biophys Acta 1770(4):659–665

Tan H, Thomas-ahner JM, Grainger EM, Wan L, Francis DM, Schwartz SJ, Clinton SK (2010) Tomato-based food products for prostate cancer prevention: what have we learned? Cancer Metastasis Rev 29(3):553–568

Tang FY, Shih CJ, Cheng LH, Ho HJ, Chen HJ (2008) Lycopene inhibits growth of human colon cancer cells via suppression of the Akt signaling pathway. Mol Nutr Food Res 52(6):646–654

Teodoro AJ, Oliveira FL, Martins NB, de Azevedo Maia G, Martucci RB, Borojevic R (2012) Effect of lycopene on cell viability and cell cycle progression in human cancer cell lines. Cancer Cell Int 12(1):36–40

Tomas M, Beekwilder J, Hall RD, Sagdic O, Boyacioglu D, Capanoglu E (2017) Industrial processing versus home processing of tomato sauce: effects on phenolics, flavonoids and in vitro bioaccessibility of antioxidants. Food Chem 220:51–58

Uppala PT, Dissmore T, Lau BH, Andacht T, Rajaram S (2013) Selective inhibition of cell proliferation by lycopene in MCF-7 breast cancer cells in vitro: a proteomic analysis. Phytother Res 27(4):595–601

USDA (2016) United States Department of Agriculture, Agricultural Research Service, National Nutrient Database for Standard Reference Release 28. https://www.ars.usda.gov/northeast-area/beltsville-md/beltsville-human-nutrition-research-center/nutrient-data-laboratory/. Accessed 26 July 2017

Viuda-Martos M, Sanchez-Zapata E, Sayas-Barberá E, Sendra E, Pérez-Álvarez JA, Fernández-López J (2014) Tomato and tomato byproducts. Human health benefits of lycopene and its application to meat products: a review. Crit Rev Food Sci Nutr 54(8):1032–1049

Wakshlag JJ, Balkman CE (2010) Effects of lycopene on proliferation and death of canine osteosarcoma cells. Am J Vet Res 71(11):1362–1370

Watada AE, Aljlenbach BB, Worthington JT (1976) Vitamins A and C in ripe tomatoes as affected by stage of ripeness at harvest and by supplementary ethylene. J Food Sci 41(4):856–858

Yang CM, Lu YL, Chen HY, Hu M (2012) Lycopene and the LXRα agonist T0901317 synergistically inhibit the proliferation of androgen-independent prostate cancer cells via the PPARγ-LXRα-ABCA1 pathway. J Nutr Biochem 23(9):1155–1162

Yeh SL, Hu ML (2000) Antioxidant and pro-oxidant effects of lycopene in comparison with β-carotene on oxidant-induced damage in Hs68 cells. J Nutr Biochem 11(11–12):548–554
Acknowledgements
We are grateful to Council of Scientific and Industrial Research, New Delhi (F.No 38 (1399)/14/EMR-II) and University Grants Commission, New Delhi for providing the financial assistance under MRP, UPE, CPEPA and DRS schemes.
Ethics declarations
Conflict of interest
None.
About this article
Cite this article
Chaudhary, P., Sharma, A., Singh, B. et al. Bioactivities of phytochemicals present in tomato. J Food Sci Technol 55, 2833–2849 (2018). https://doi.org/10.1007/s13197-018-3221-z
Revised:

Accepted:

Published:

Issue Date:
Keywords
Tomato

Phenolics

Carotenoids

Bioactivities

Health benefits