Abstract
Physicochemical, antioxidant, phenolic profile and muffin-making properties of white, yellow and purple corn accessions were evaluated. HPLC analysis revealed the presence of ferulic acid, quercetin, sinapic acid, gallic acid and protocatechuic acid in different corn accessions. Ferulic acid was the major phenolic acid present in all accessions. Total phenolic content (TPC), DPPH and ABTS inhibition ranged from 903 to 1843 µg GAE/g, 0.73–0.89 and 3.81–4.92 µM trolox/mg, respectively. Purple accessions had higher TPC than yellow and white accessions. Pasting profiles of different accessions revealed high thermal stability indicated by low breakdown viscosity. Muffin-making properties were determined as batter rheology and muffin specific volume, texture and sensory analysis. Storage modulus (G′) and loss modulus (G″) of batters for white colored exhibited the highest while yellow colored had the lowest value. Firmness and TPC of muffins ranged from 3.1 to 5.9 N and 811–1406 µg GAE/g, respectively. Muffin cohesiveness and chewiness were correlated positively, whereas firmness was negatively related to paste viscosities. Antioxidant activity was correlated to phenolic content of the muffins. Sensory analysis revealed that muffins prepared from yellow corn accession (IC447648) were highly acceptable, while those made from purple corn (IC447644) were not liked much.
Access options
Buy single article
Instant access to the full article PDF.
US$ 39.95
Tax calculation will be finalised during checkout.
Subscribe to journal
Immediate online access to all issues from 2019. Subscription will auto renew annually.
US$ 79
Tax calculation will be finalised during checkout.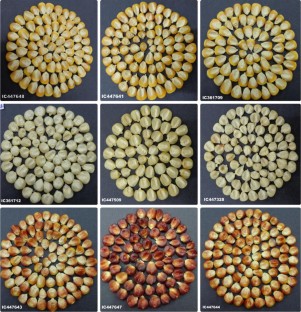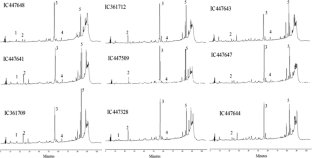 References
Adair CR, Bollich CN, Bowman DH, Joson NE, Johnston TH, Webb BD, Atkins JG (1973) Rice breeding and testing method in the United States. In: Rice in the United States: varieties and production. Department of Agriculture of the United States, pp 22–27

Adom KK, Liu RH (2002) Antioxidant activity of grains. J Agric Food Chem 50:6182–6187

Adom KK, Sorrells ME, Liu RH (2005) Phytochemicals and antioxidant activity of milled fractions of different wheat varieties. J Agric Food Chem 53:2297–2306

AOAC (1990) Official methods of analysis, 15th edn. Association of Official Analytical Chemists, Washington, DC

Baixauli R, Sanz T, Salvador A, Fiszman SM (2008) Muffins with resistant starch: baking performance in relation to the rheological properties of the batter. J Cereal Sci 47:502–509

Bugusu BA, Campanella O, Hamaker BR (2001) Improvement of sorghum-wheat composite dough rheological properties and breadmaking quality through zein addition 1. Cereal Chem 78:31–35

Crosbie GB, Ross AS (2007) The RVA handbook. American Association of Cereal Chemists, International Press, Boston

de la Parra C, Serna Saldivar SO, Liu RH (2007) Effect of processing on the phytochemical profiles and antioxidant activity of corn for production of masa, tortillas, and tortilla chips. J Agric Food Chem 55:4177–4183

Del Pozo-Insfran D, Brenes CH, Saldivar SOS, Talcott ST (2006) Polyphenolic and antioxidant content of white and blue corn (Zea mays L.) products. Food Res Int 39:696–703

Edeogu CO, Ezeonu FC, Okaka ANC, Ekuma CE, Elom SO (2007) Proximate composition of staple food crops in Ebonyi State (South Eastern Nigeria). Int J Biotechnol Biochem 3(1):1–8

Erickson DP, Campanella OH, Hamaker BR (2012) Functionalizing maize zein in viscoelastic dough systems through fibrous, β-sheet-rich protein networks: an alternative, physicochemical approach to gluten-free breadmaking. Trends Food Sci Technol 24(2):74–81

Gallagher E, Gormley TR, Arendt EK (2004) Recent advances in the formulation of gluten-free cereal-based products. Trends Food Sci Technol 15(3):143–152

Good H (2002) Measurement of color in cereal products. Cereal Foods World 47:5–6

Herranz B, Canet W, Alvarez MD (2017) Corn starch and egg white enriched gluten-free chickpea flour batters: rheological and structural properties. Int J Food Prop. https://doi.org/10.1080/10942912.2017.1299760

López ACB, Pereira AJG, Junqueira RG (2004) Flour mixture of rice flour, corn and cassava starch in the production of gluten-free white bread. Braz Arch Biol Technol 47:63–70

Lu TM, Lee CC, Mau JL, Lin SD (2010) Quality and antioxidant property of green tea sponge cake. Food Chem 119:1090–1095

Matos ME, Sanz T, Rosell CM (2014) Establishing the function of proteins on the rheological and quality properties of rice based gluten free muffins. Food Hydrocoll 35:150–158

Meyer AS, Heinonen M, Frankel EN (1998) Antioxidant interactions of catechin, cyanidin, caffeic acid, quercetin, and ellagic acid on human LDL oxidation. Food Chem 861:71–75

Oko AO, Onyekwere SC (2010) Studies on the proximate chemical composition and mineral element contents of five new lowland rice varieties in Ebonyi State. Int J Biotechnol Biochem 6(6):949–955

Ramos-Escudero F, Muñoz AM, Alvarado-Ortíz C, Alvarado Á, Yáñez JA (2012) Purple corn (Zea mays L.) phenolic compounds profile and its assessment as an agent against oxidative stress in isolated mouse organs. J Med Food 15:206–215

Sakač M, Torbica A, Sedej I, Hadnađev M (2011) Influence of breadmaking on antioxidant capacity of gluten free breads based on rice and buckwheat flours. Food Res Int 44(9):2806–2813

Sanchez HD, Osella CA, De La Torre MA (2004) Use of response surface methodology to optimize gluten-free bread fortified with soy flour and dry milk. Food Sci Technol Int 10:5–9

Sandhu KS, Singh N, Malhi NS (2007) Some properties of corn grains and their flours I: physicochemical, functional and chapati-making properties of flours. Food Chem 101:938–946

Shevkani K, Singh N (2014) Influence of kidney bean, field pea and amaranth protein isolates on the characteristics of starch-based gluten-free muffins. Int J Food Sci Technol 49:2237–2244

Shevkani K, Kaur A, Singh G, Singh B, Singh N (2014) Composition, rheological and extrusion behaviour of fractions produced by three successive reduction dry milling of corn. Food Bioprocess Technol 7:1414–1423

Shevkani K, Kaur A, Kumar S, Singh N (2015) Cowpea protein isolates: functional properties and application in gluten-free rice muffins. LWT Food Sci Technol 63:927–933

Singh N, Singh S, Shevkani K (2011) Maize: composition, bioactive constituents, and unleavened bread. In: Preedy VR, Watson RR, Patel VB (eds) Flour and breads and their fortification in health and disease prevention, Elsevier Inc., pp 89–99

Singh N, Kaur A, Shevkani K (2014) Maize: grain structure, composition, milling, and starch characteristics. In: Chaudhry DP (ed) Maize: nutrition dynamics and novel uses India. Springer, pp 65–76

Singh JP, Kaur A, Shevkani K, Singh N (2015) Influence of jambolan (Syzygium cumini) and xanthan gum incorporation on the physicochemical, antioxidant and sensory properties of gluten-free eggless rice muffins. Int J Food Sci Technol 50:1190–1197

Singh N, Kaur A, Katyal M, Bhinder S, Ahlawat AK, Singh AM (2016) Diversity in quality traits amongst Indian wheat varieties II: paste, dough and muffin making properties. Food Chem 197:316–324

Singleton VL, Orthofer R, Lamuela-Raventos RM (1999) Analysis of total phenols and other oxidation substrates and antioxidants by means of folin–ciocalteu reagent. Methods Enzymol 299C:152–178

Soong YY, Tan SP, Leong LP, Henry JK (2014) Total antioxidant capacity and starch digestibility of muffins baked with rice, wheat, oat, corn and barley flour. Food Chem 164:462–469

Stintzing FC, Stintzing AS, Carle R, Frei B, Wrolstad RE (2002) Color and antioxidant properties of cyanidin-based anthocyanin pigments. J Agric Food Chem 50:6172–6181

Thakur S, Kaur A, Singh N, Virdi AS (2015) Successive reduction dry milling of normal and waxy corn: grain, grit and flour properties. J Food Sci 80:C1144–C1155

Tronsmo KM, Færgestad EM, Schofield JD, Magnus EM (2003) Wheat protein quality in relation to baking performance evaluated by the Chorleywood bread process and a hearth bread baking test. J Cereal Sci 38:205–215

Wang Y, King JM, Xu Z, Losso J, Prudente A (2008) Lutein from ozone-treated corn retains antimutagenic properties. J Agric Food Chem 56:7942–7949
Acknowledgements
NS acknowledges SERB for financially supporting a research project (SERB/SR/SO/PS/13/2011). ST acknowledges UGC-BSR for providing financial assistance in the form of Fellowship. Authors also acknowledge Dr. Jai Chand Rana, NBPGR, New Delhi (India) for providing corn accessions.
Electronic supplementary material
Below is the link to the electronic supplementary material.
About this article
Cite this article
Trehan, S., Singh, N. & Kaur, A. Characteristics of white, yellow, purple corn accessions: phenolic profile, textural, rheological properties and muffin making potential. J Food Sci Technol 55, 2334–2343 (2018). https://doi.org/10.1007/s13197-018-3171-5
Revised:

Accepted:

Published:

Issue Date:
Keywords
Corn

Gluten-free muffins

Pasting

Polyphenols

Texture