Abstract
The Himalayas have provided shelter to the various communities for thousands of years and have remained the cradle for the origin of diverse cultures and traditions. The Himalayan belt is rich in biodiversity and have ushered mankind with numerous gifts for survival and existence. The art of pickling is believed to have developed independently among the different communities of this region. In this region, the main meal is supplemented with pickles or achar that not only adds flavour, but also enhances the value of the meal and often comes with inherent health benefits. The prime objective of this article was to enlist the diverse pickles that are being prepared and consumed by the different tribes and communities, and at the same time analyse the science behind pickle preparation and health benefits and concerns associated with pickles. We have enlisted about hundred monotypic pickles, that are prepared from single fruit or vegetable; but sometimes fungi such as Agaricus and ferns like Diplazium and Pteridium have also been used. Also, fish and meat pickles are common mostly in the Eastern Himalayan region. Traditional pickles constitute the medicinal values of the ingredients and other beneficial properties conferred by the associated microorganisms.
Access options
Buy single article
Instant access to the full article PDF.
US$ 39.95
Tax calculation will be finalised during checkout.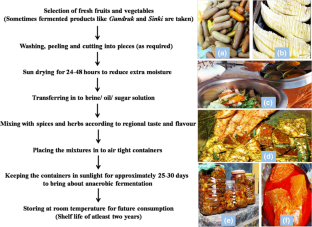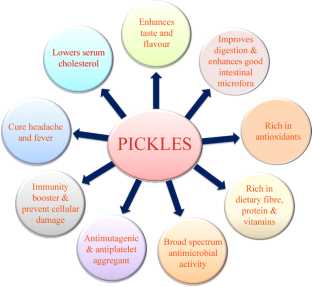 References
Acharya KP, Acharya R (2010) Eating from the wild: indigenous knowledge on wild edible plants in Parroha Vdc of Rupandehi District, Central Nepal. Int J Soc For 3:28–48

Banskota K (2012) Impact of tourism on local employment and incomes in three selected destinations: case studies of Sauraha, Nagarkot and Bhaktapur. Nepal Tour Dev Rev 2:1–30

Bhardwaj S, Aggarwal A, Agnihotri P (2015) Exotic cuisine of Nagaland: methods of cooking and the medicinal value of their edible flora and fauna. DU J Undergrad Res Innov 1:239–254

Bhattarai NK (1991) Ethnobotanical studies in Central Nepal: the preservation of plant-foods. Contrib Nepal Stud 18:211–221

Bhuyan SI, Teyang T (2015) Crop diversity in traditional jhum cultivated land practiced by ethnic Nocte and Wancho of Eastern Himalaya. Int J Adv Res Sci Eng Tech 2(1):365–337

Bisht NS, Bankoti TS (2004) Encyclopaedic ethnography of the Himalayan tribes. Global Vision Publishing House, New Delhi

Bowen DT, Ralph N (2003) New York Food Museum. http://www.nyfoodmuseum.org/. Accessed 25 Mar 2016

Breidt F, Perez-Diaz I, Mcfeeters RF, Lee C-H (2013) Fermented vegetables. In: Doyle MP, Buchanan RL (eds) Food microbiology: fundamentals and frontiers, 4th edn. ASM Press, Washington, pp 841–855

Casado FJ, Lopez A, Rejano L, Sanchez AH, Montano A (2004) Nutritional composition of commercial pickled garlic. Eur Food Res Technol 219:355

Chhetri RB, Gauchan DP (2007) Traditional knowledge on fruit pulp processing of Lapsi in Kavrepalanchowk District of Nepal. Indian J Tradit Knowl 6:46–49

Choudhury D, Sahu JK, Sharma GD (2012) Value addition to bamboo shoots: a Rev. J Food Sci Tech 49:407–414

Click MA, Ridberg R (2010) Saving food: food preservation as alternative food activism. Environ Commun 4:301–317

Darmayanti LPT, Duwipayana AA, Putra INK, Nyoman SA (2014) Preliminary study of fermented pickle of tabah bamboo shoot (Gigantochloa nigrociliata (Buese) Kurz). Int J Biol Biomol Agric Food Biotechnol Eng 8:1108–1113

Devi P, Kumar SP (2012) Traditional, ethnic and fermented foods of different tribes of Manipur. Indian J Tradit Knowl 11:70–77

Gadekar YP, Kokane RD, Suradkar US, Thomas R, Das AK, Anjaneyulu ASR (2010) Shelf stable meat pickles—a review. Int Food Res J 17:221–227

Gangwar HS, Rethy P, Singh ND (2015) Classification and utilization pattern of fruits and vegetables available in Papum Pare District of Arunachal Pradesh. J Krishi Vigyan 3:19–26

Gautam R, Suwal R, Shrestha PK (2004) Status of home gardens of Nepal: findings of baseline survey conducted in four sites of home garden project. In: Gautam R, Sthapit B, Shrestha PK (eds) Proceedings of a workshop on enhancing the contribution of home garden to on-farm management of plant genetic resources and to improve the livelihoods of Nepalese farmers: lessons learned and policy implications, Pokhara, Nepal

Hartayanie L, Lindayani L, Murniati MP (2016) Antimicrobial activity of lactic acid bacteria from bamboo shoot pickles fermented at 15°C. Microbiol Indones 10:71–77

Irkin R, Songun GA (2012) Applications of probiotic bacteria to the vegetable pickle products. Sci Rev Chem Commun 2:562–567

Joshi VK (2016) Indigenous fermented foods of South Asia. CRC Press, Taylor & Francis Group, Boca Raton

Kakati BK, Goswami UC (2013) Microorganisms and the nutritive value of traditional fermented fish products of North East India. Glob J Bio Sci Biotechnol 2:124–127

Kazemipoor M, Radzi CWJWM, Begum K, Yaze I (2012) Screening of antibacterial activity of lactic acid bacteria isolated from fermented vegetables against food borne pathogens. Arch Des Sci 65:1–10

Khan M, Hussain S (2014) Diversity of wild edible plants and flowering phenology of District Poonch (J&K) in the Northwest Himalaya. Indian J Sci Res 9:32–38

Khan M, Kumar S, Hamal IA, Koul S (2009) Wild edible plants of Sewa Catchment Area in Northwest Himalaya. J Plant Dev Sci 1:1–7

Kharat MM, Adiani V, Variyar P, Sharma A, Singhal RS (2016) Antioxidant compounds in traditional Indian pickles may prevent the process induced formation of benzene. J Food Prot 79:123–131

Krishnan V, Seervi P, Bhati A, Singhal H, Sushil IS, Prazapati P (2004) Study of traditional methods of food preservation, its scientific understanding and technological intervention. Indian Institute of Technology, Mandi (India), ISTP (Group-7) final report, 2014, p 54

Kumar A, Mitra M, Adhikari BS, Rawat GS (2015a) Depleting indigenous knowledge of medicinal plants in cold-arid region of Nanda Devi Biosphere Reserve, Western Himalaya. Med Aromat Plants 4:1–6

Kumar N, Kumar S, Singh B, Mishra BP, Singh B, Singh V (2015b) Traditional practices of utilization and conservation of non-wood forest products by Adi tribes of Arunachal Pradesh. J Appl Nat Sci 7:111–118

Lee SY, Kang DH (2004) Microbial safety of pickled fruits and vegetables and hurdle technology. Int J Food Saf 4:21–32

Mahalingam S (2015) Pickling process preserving foods by traditional fermented methods. Int J Integr Sci Innov Technol 4:18–20

Mahato SK, Chhetri B (2015) Important aspects of some underutilized fruit crops and their wild relatives for food and nutritional security in Darjeeling Himalayas. Int J Agric Sci Res 5:29–42

Majumdar RK, Roy D, Bejjanki D, Bhaskar N (2016) An overview of some ethnic fermented fish products of the Eastern Himalayan region of India. J Ethn Foods 3:276–283

Malla B, Gauchan DP, Chhetri RB (2014) Medico-ethnobotanical investigations in Parbat district of Western Nepal. J Med Plants Res 8:95–108

Mao AA, Odyuo N (2007) Traditional fermented foods of the Naga tribes of North eastern India. Indian J Tradit Knowl 6(1):37–41

Mehta PS, Negi KS, Ojha SN (2010) Native plant genetic resources and traditional foods of Uttarakhand Himalaya for sustainable food security and livelihood. Indian J Nat Prod Res 1:89–96

Miller KC, Mack G, Knight KL (2009) Electrolyte and plasma changes after ingestion of pickle juice, water, and a common carbohydrate–electrolyte solution. J Athl Train 44(5):454–461

Mokoena MP, Mutanda T, Olaniran AO (2016) Perspectives on the probiotic potential of lactic acid bacteria from African traditional fermented foods and beverages. Food Nutr Res 60:29630

Monika S, Kumari A, Angmo K, Bhalla TC (2016) Traditional pickles of Himachal Pradesh. Indian J Tradit Knowl 15:330–336

Negi PS, Subramani SP (2015) Wild edible plant genetic resources for sustainable food security and livelihood of Kinnaur District, Himachal Pradesh, India. Int J Cons Sci 6(4):657–668

Noonari S, Memon MSIN, Kourejo AS (2015) Performance of pickle production processing and marketing in Sindh Pakistan. J Food Process Technol 6:523

Perez-Diaz IM, Breidt F, Buescher RW, Arroyo-Lopez FN, Jimenez-Diaz R, Fernandez AG, Gallego JB, Yoon SS, Johanningsmeier SD (2013) Fermented and Acidified Vegetables. In: Downes FP, Ito K (eds) Compendium of methods for the microbiological examination of foods, 4th edn. APHA Press, Washington, pp 521–529

Pfoze NL, Kumar Y, Myrboh B (2011) Survey and assessment of floral diversity on wild edible plants from Senapati district of Manipur, Northeast India. J Biodivers Environ Sci 1:50–62

Rahman A, Kayshar MS, Saifullah M, Uddin MB (2014) Evaluation of quality status and detection of adulterants in selected commercial pickles and pickles and chutneys based on consumer attitude and laboratory analysis. J Bangladesh Agric Univ 12:203–209

Rai T, Rai L (1994) Trees of the Sikkim Himalayas. Indus Publishing Company, New Delhi

Ranganna S (1986) Handbook of analysis and quality control for fruit and vegetable products, 2nd edn. Tata McGraw Hill, New Delhi

Ratti C (2001) Hot air and freeze-drying of high-value foods: a review. J Food Eng 49:311–319

Sayin FK, Alkan SB (2015) The effect of pickling on total phenolic contents and antioxidant capacities of 10 vegetables. J Food Health Sci 1:135–141

Sekar S, Mariappan S (2007) Usage of traditional fermented products by Indian rural folks and IPR. Indian J Tradit Know 6(1):111–120

Shah FA, Mahmood Q, Shah MM, Pervez A, Asad SA (2014) Microbial ecology of anaerobic digesters: the key players of anaerobiosis. Sci World J 2014:183752

Sharma PD (2007) Microbiology and plant pathology—a text book for university students. Rastogi Publications, New Delhi

Sharma N, Singh A (2012) An insight into traditional foods of north-western area of Himachal Pradesh. Indian J Tradit Knowl 11:58–65

Sharma S, Gautam AK, Bhadauria R (2009) Some important supplementary food plants and wild edible fungi of upper hilly region of district Shimla (Himachal Pradesh), India. Ethnobot Leafl 13:1020–1028

Sharma PK, Chauhan NS, Lal B, Husaini AM, da Silva JAT, Punam (2010) Conservation of phyto-diversity of Parvati valley in North western Himalayas of Himachal Pradesh, India. Med Aromat Plant Sci Biotechnol 4:47–63

Singh KJ, Thakur K (2014) Medicinal plants of the Shimla hills, Himachal Pradesh: A Survey. Int J Herbal Med 2(2):118–127

Singh A, Singh RK, Sureja AK (2007) Cultural significance and diversities of ethnic foods of Northeast India. Indian J Tradit Knowl 6:79–94

Singh KN, Lal B, Todaria NP (2012) Ethnobotany of higher plants in Spiti cold desert of western Himalaya. J Nat Sci 10:7–14

Singh KK, Singh M, Joshi SC (2014) Phenolic content and antioxidant activity of some underutilized wild edible fruits of the Sikkim Himalaya. SMU Med J 1:283–293

Sohaib M, Anjum FM, Arshad MS, Rahman UU (2016) Postharvest intervention technologies for safety enhancement of meat and meat based products; a critical review. J Food Sci Technol 53:19–30

Sperber WH, Doyle MP (2009) Compendium of the microbiological spoilage of foods and beverages. Springer, Berlin

Sultana S, Iqbal A, Islam MN (2014) Preservation of carrot, green chilli and brinjal by fermentation and pickling. Int Food Res J 21:2405–2412

Sundriyal M, Sundriyal RC, Sharma E, Purohit AN (1998) Wild edibles and other useful plants from the Sikkim Himalaya, India. Oecol Mont 7:43–54

Swain MR, Anandharaj M, Rani RP (2014) Fermented fruits and vegetables of Asia: a potential source of probiotics. Biotechnol Res Int 2014:250424

Tamang JP (1998) Role of microorganisms in traditional fermented foods. Indian Food Ind 17:162–166

Tamang JP (2010) Himalayan fermented foods: microbiology, nutrition, and ethnic values. CRC Press, Taylor and Francis Group, Boca Raton

Tamang JP (2015) Naturally fermented ethnic soybean foods of India. J Ethn Foods 2:8–17

Tamang B, Tamang JP (2009) Traditional knowledge of biopreservation of perishable vegetables and bamboo shoots in Northeast India as food resources. Indian J Tradit Knowl 8:89–95

Tamang B, Tamang JP (2010) In situ fermentation dynamics during production of gundruk and khalpi, ethnic fermented vegetable products of the Himalayas. Indian J Microbiol 50:S93–S98

Tamang JP, Thapa N (2014) Some non fermented ethnic foods of Sikkim in India. J Ethn Foods 1:29–33

Tamang JP, Tamang N, Thapa S, Dewan S, Tamang B, Yonzon H, Rai AK, Chettri R, Chakrabarty J, Kharel N (2012) Microorganisms and nutritive value of ethnic fermented foods and alcoholic beverages of North-East India. Indian J Tradit Knowl 11:7–25

Tamang JP, Watanabe K, Hotzapfel WH (2016) Diversity of microorganisms in global fermented foods and beverages. Front Microbiol 7:1–28

Tangjang S, Borang A, Arunachalam A (2014) Improving sustenance of small and marginal (Adi) farmers through traditional vegetable crops in East Siang District of Arunachal Himalaya Northeast India. Indian J Hill Farm 27:90–94

Thapa N (2016) Ethnic fermented and preserved fish products of India and Nepal. J Ethn Foods 3:69–77

Turin M (2003) Ethnobotanical notes on Thangmi plant names and their medicinal and ritual uses. Contrib Nepal Stud 30:19–52

Upadhaya A, Chaturvedi SS, Tiwari BK (2016) Utilization of wild citrus by Khasi and Garo tribes of Meghalaya. Indian J Tradit Knowl 15:121–127

Uprety Y, Poudel RC, Shrestha KK, Rajbhandary S, Tiwary NN, Shrestha UB, Asselin H (2012) Diversity of use and local knowledge of wild edible plant resources in Nepal. J Ethnobiol Ethnomed 8:16
Acknowledgements
The authors acknowledge Mrs. Jyoti Pathak (Taste of Nepal, http://tasteofnepal.blogspot.in) for providing some of the pictures for use in our article. The authors are also thankful to Mr. Santosh Subba, Lab Assistant, Kurseong College for sharing information for materialising this article.
About this article
Cite this article
Chakraborty, R., Roy, S. Exploration of the diversity and associated health benefits of traditional pickles from the Himalayan and adjacent hilly regions of Indian subcontinent. J Food Sci Technol 55, 1599–1613 (2018). https://doi.org/10.1007/s13197-018-3080-7
Revised:

Accepted:

Published:

Issue Date:
Keywords
Preservation

Pickle

Achar

Himalaya

Chutney