Abstract
Salmonella outbreaks related to fruits and vegetables have been reported being lettuce one of the most contaminated. Peracetic acid (PA) at 50 mg/L, sodium dichloroisocyanurate (SD) at 100 mg/L, and the combination of SD at 100 mg/L and babaçu coconut (Attalea speciosa) oil detergent at 100 mg/L were applied to fresh lettuce. Natural contaminant microbiota, physicochemical characteristics, and sensory attributes were evaluated. PA and SD reduced mesophilic aerobic counts by 2.1 and 1.5 log cfu/g, respectively. The most efficient treatment in reducing natural microbiota (i.e., PA) was applied alone and in combination with ultrasound (US). It reduced Salmonella enterica Typhimurium counts to undetectable levels (< 1 log cfu/g). US further reduced S. Typhimurium counts by 0.6 log cfu/g in relation to PA, treatment which lessened the pH but increased the titratable acidity of lettuce, but did not cause total color difference. Therefore, the combination of PA and US holds a potential industrial application for sanitization purposes.
Access options
Buy single article
Instant access to the full article PDF.
USD 39.95
Price excludes VAT (USA)
Tax calculation will be finalised during checkout.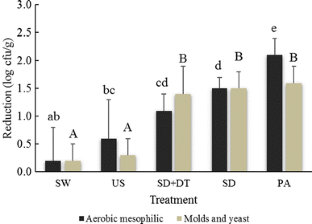 References
Afari GK, Hung Y-C, King CH, Hu A (2016) Reduction of Escherichia coli O157: H7 and Salmonella Typhimurium DT 104 on fresh produce using an automated washer with near neutral electrolyzed (NEO) water and ultrasound. Food Control 63:246–254

Araújo EA, Ribeiro L, Bernardes PC et al (2015) Sanitização de cenoura minimamente processada com nanopartículas de prata. Ciênc Rural 45:1681–1687

Association of Official Analytical Chemistis (AOAC) (2005) Offcial methods of analysis, 18th edn. AOAC, Washington

Awad TS, Moharram HA, Shaltout OE et al (2012) Applications of ultrasound in analysis, processing and quality control of food: a review. Food Res Int 48:410–427

Bachelli MLB, Amaral RDÁ, Benedetti BC (2013) Alternative sanitization methods for minimally processed lettuce in comparison to sodium hypochlorite. Braz J Microbiol 44:673–678

Bartz JA, Yuk H-G, Mahovic MJ et al (2015) Internalization of Salmonella enterica by tomato fruit. Food Control 55:141–150

Centers for Disease Control and Prevention (CDC) (2015) Foodborne Germs and Illnesses. http://www.cdc.gov/foodsafety/foodborne-germs.html Accessed 27 July 2016

Centers for Disease Control and Prevention (CDC) (2016) List of Selected Multistate Foodborne Outbreak Investigations. http://www.cdc.gov/foodsafety/outbreaks/multistate-outbreaks/outbreaks-list.html Accessed 09 Oct 2016

Clasen T, Edmondson P (2006) Sodium dichloroisocyanurate (NaDCC) tablets as an alternative to sodium hypochlorite for the routine treatment of drinking water at the household level. Int J Hyg Environ Health 209:173–181

Downes FP, Ito, K (2001) Compendium of methods for microbiological examination of foods, 4th ed. American Public Health Association—APHA, Washington

Duarte ALA, do Rosário DKA, Oliveira SBS et al (2018) Ultrasound improves antimicrobial effect of sodium dichloroisocyanurate to reduce Salmonella Typhimurium on purple cabbage. Int J Food Microbiol. https://doi.org/10.1016/j.ijfoodmicro.2018.01.007

Francisco CAI, Araújo Naves EA, Ferreira DC et al (2017) Synergistic effect of sodium hypochlorite and ultrasound bath in the decontamination of fresh arugulas. J Food Saf. https://doi.org/10.1111/jfs.12391

Gajraj R, Pooransingh S, Hawker JI, Olowokure B (2012) Multiple outbreaks of Salmonella braenderup associated with consumption of iceberg lettuce. Int J Environ Health Res 22:150–155

Gogate PR, Kabadi AM (2009) A review of applications of cavitation in biochemical engineering/biotechnology. Bio Chem Eng J 44:60–72

Harris LJ, Farber JN, Beuchat LR et al (2003) Outbreaks associated with fresh produce: incidence, growth, and survival of pathogens in fresh and fresh-cut produce. Compr Rev Food Sci Food Saf 2:78–141

Kitis M (2004) Disinfection of wastewater with peracetic acid: a review. Environ Int 30:47–55

López-Gálvez F, Allende A, Selma MV, Gil MI (2009) Prevention of Escherichia coli cross-contamination by different commercial sanitizers during washing of fresh-cut lettuce. Int J Food Microbiol 133:167–171

Luo K, Oh D-H (2016) Inactivation kinetics of Listeria monocytogenes and Salmonella enterica serovar Typhimurium on fresh-cut bell pepper treated with slightly acidic electrolyzed water combined with ultrasound and mild heat. Food Microbiol Part B 53:165–171

Maffei D, Sant'Ana AS, Monteiro G et al (2016) Assessing the effect of sodium dichloroisocyanurate concentration on transfer of Salmonella enterica serotype Typhimurium in wash water for production of minimally processed iceberg lettuce (Lactuca sativa L.). Lett Appl Microbiol 62:444–451

Meireles A, Giaouris E, Simões M (2016) Alternative disinfection methods to chlorine for use in the fresh-cut industry. Food Res Int 82:71–85

Obón JM, Castellar MR, Alacid M, Fernández-López JA (2009) Production of a red–purple food colorant from Opuntia stricta fruits by spray drying and its application in food model systems. J Food Eng 90:471–479

Rosário DKA, da Silva Mutz Y, Peixoto JMC et al (2017) Ultrasound improves chemical reduction of natural contaminant microbiota and Salmonella enterica subsp. enterica on strawberries. Int J Food Microbiol 241:23–29

Sagong H-G, Lee S-Y, Chang P-S et al (2011) Combined effect of ultrasound and organic acids to reduce Escherichia coli O157:H7, Salmonella Typhimurium, and Listeria monocytogenes on organic fresh lettuce. Int J Food Microbiol 145:287–292

Salgado SP, Pearlstein AJ, Luo Y, Feng H (2014) Quality of Iceberg (Lactucasativa L.) and Romaine (L. sativa L. var. longifolial) lettuce treated by combinations of sanitizer, surfactant, and ultrasound. LWT Food Sci Technol 56:261–268

São José JFB, Vanetti MCD (2012) Effect of ultrasound and commercial sanitizers in removing natural contaminants and Salmonella entericaTyphimurium on cherry tomatoes. Food Control 24:95–99

São José JFB, Vanetti MCD (2015) Application of ultrasound and chemical sanitizers to watercress, parsley and strawberry: microbiological and physicochemical quality. LWT Food Sci Technol 63:946–952

São José JFB, de Andrade NJ, Ramos AM et al (2014a) Decontamination by ultrasound application in fresh fruits and vegetables. Food Control 45:36–50

São José JFB, de Medeiros HS, Bernardes PC, de Andrade NJ (2014b) Removal of Salmonella enterica Enteritidis and Escherichia coli from green peppers and melons by ultrasound and organic acids. Int J Food Microbiol 190:9–13

São José JFB, de Medeiros HS, de Andrade NJ, Bernardes PC (2015) Ultrasound and organic acids Salmonella enterica enteritidis and Escherichia coli from pears surfaces. Bol Cent Pesqui Process Aliment. https://doi.org/10.5380/cep.v33i1.43815

Silva FAS, Azevedo CAV (2016) The Assistat Software Version 7.7 and its use in the analysis of experimental data. Afr J Agric Res 11:3733–3740

Srey S, Jahid IK, Ha S-D (2013) Biofilm formation in food industries: a food safety concern. Food Control 31:572–585

Srey S, Park SY, Jahid IK et al (2014) Evaluation of the Removal and Destruction Effect of a Chlorine and Thiamine Dilaurylsulfate Combined Treatment on L. monocytogenes Biofilm. Foodborne Pathog Dis 11:658–663

Vestrheim DF, Lange H, Nygård K et al (2016) Are ready-to-eat salads ready to eat? An outbreak of Salmonella Coeln linked to imported, mixed, pre-washed and bagged salad, Norway, November 2013. Epidemiol Amp Infect 144:1756–1760

Zhang J, Yang H (2017) Effects of potential organic compatible sanitisers on organic and conventional fresh-cut lettuce (Lactuca sativa Var. Crispa L). Food Control 72:20–26
Acknowledgements
The authors would like to thank the Research Support Fund of Espírito Santo Federal University (FAP/UFES) for financial assistance.
About this article
Cite this article
Silveira, L.O., do Rosário, D.K.A., Giori, A.C.G. et al. Combination of peracetic acid and ultrasound reduces Salmonella Typhimurium on fresh lettuce (Lactuca sativa L. var. crispa). J Food Sci Technol 55, 1535–1540 (2018). https://doi.org/10.1007/s13197-018-3071-8
Revised:

Accepted:

Published:

Issue Date:

DOI: https://doi.org/10.1007/s13197-018-3071-8
Keywords
Peracetic acid

Sodium dichloroisocyanurate

Washing

Lettuce

Ultrasound