Abstract
The aim of this study was to investigate the presence of tetracycline resistance in lactobacilli isolated from traditional Serbian white brined raw milk cheeses (Homolje, Sjenica, Zlatar). Isolation of presumptive lactobacilli was initially performed using MRS-S agar without tetracycline, or supplemented with 16 and 64 µg/mL of tetracycline. Rep-PCR (GTG)5 genotyping showed a high diversity of the isolates obtained, as examination of 233 isolates resulted in 156 different Rep-PCR fingerprints. Ninety out of 156 (57.69%) of the strains, representatives with different (GTG)5 fingerprints, were identified by MALDI-TOF MS as lactobacilli, while 66 out of 156 (42.31%) strains were identified as members of other LAB genera. All except one out of 90 Lactobacillus isolates further tested by microdilution method, demonstrated unimodal distribution of tetracycline MIC values which were equal to or lower from the breakpoint MIC values (EFSA in EFSA J 10: 1–10, 2012. https://doi.org/10.2903/j.efsa.2012.2740). Only one Lb. paracasei isolate showed the presence of tet(M) gene, while the other analyzed tet genes [tet(A), tet(B), tet(C) tet(K), tet(L), tet(O) and tet(W)] were not detected in any of the isolates. The results of this study indicates that lactobacilli from traditional Serbian raw milk cheeses do not present considerable tetracycline resistance reservoirs. For final conclusions about the safety of these autochthonous cheeses regarding the possible tetracycline resistance transferability, the assessment of the entire cheese microbiota is needed.
Access options
Buy single article
Instant access to the full article PDF.
USD 39.95
Price excludes VAT (USA)
Tax calculation will be finalised during checkout.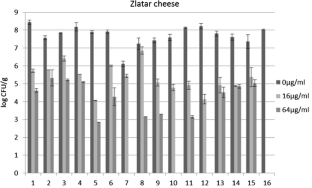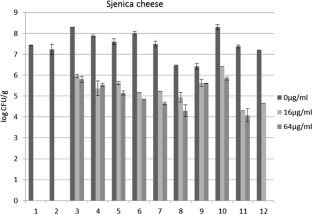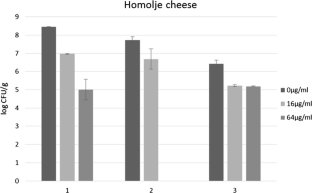 References
Aminov RI, Mackie RI (2001) Molecular ecology of tetracycline resistance: development and validation of primers for detection of tetracycline resistance genes encoding ribosomal protection proteins. Appl Environ Microbiol 67:22–23. https://doi.org/10.1128/AEM.67.1.22

Ammor MS, Flórez AB, Van Hoek AHAM, de Los Reyes-Gavilán CG, Aarts HJ, Margolles A, Mayo B (2007) Molecular characterization of intrinsic and acquired antibiotic resistance in lactic acid bacteria and bifidobacteria. J Mol Microbiol Biotechnol 14:6–15. https://doi.org/10.1159/000106077

Andremont A, How A, Flora C (2003) Commensal flora may play key role in spreading antibiotic resistance. ASM News 69:601–607

Bronzwaer SLAM, Cars O, Buchholz U, Mölstad S, Goettsch W, Veldhuijzen IK, Kool JL, Sprenger MJW, Degener JE (2002) The relationship between antimicrobial use and antimicrobial resistance in Europe. Emerg Infect Dis 8:278–282. https://doi.org/10.3201/eid0803.010192

Burrus V, Pavlovic G, Decaris B, Guédon G (2002) Conjugative transposons: the tip of the iceberg. Mol Microbiol 46:601–610. https://doi.org/10.1046/j.1365-2958.2002.03191.x

Clementi F, Aquilanti L (2011) Recent investigations and updated criteria for the assessment of antibiotic resistance in food lactic acid bacteria. Anaerobe 17:394–398. https://doi.org/10.1016/j.anaerobe.2011.03.021

Clewell DB, Flannagan SE, Jaworski DD, Clewell DB (1995) Unconstrained bacterial promiscuity: the Tn916–Tn1545 family of conjugative transposons. Trends Microbiol 3:229–236. https://doi.org/10.1016/S0966-842X(00)88930-1

Comunian R, Daga E, Dupré I, Paba A, Devirgiliis C, Piccioni V, Perozzi G, Zonenschain D, Rebecchi A, Morelli L, De Lorentiis A, Giraffa G (2010) Susceptibility to tetracycline and erythromycin of Lactobacillus paracasei strains isolated from traditional Italian fermented foods. Int J Food Microbiol 138(1–2):151–156. https://doi.org/10.1016/j.ijfoodmicro.2009.11.018

Danielsen M, Wind A (2003) Susceptibility of Lactobacillus spp. to antimicrobial agents. Int J Food Microbiol 82:1–11. https://doi.org/10.1016/S0168-1605(02)00254-4

Devirgiliis C, Caravelli A, Coppola D, Barile S, Perozzi G (2008) Antibiotic resistance and microbial composition along the manufacturing process of Mozzarella di Bufala Campana. Int J Food Microbiol 128:378–384. https://doi.org/10.1016/j.ijfoodmicro.2008.09.021

Devirgiliis C, Zinno P, Perozzi G (2013) Update on antibiotic resistance in foodborne Lactobacillus and Lactococcus species. Front Microbiol 4:1–13. https://doi.org/10.3389/fmicb.2013.00301

Dušková M, Šedo O, Kšicová K, Zdráhal Z, Karpíšková R (2012) Identification of lactobacilli isolated from food by genotypic methods and MALDI-TOF MS. Int J Food Microbiol 159:107–114. https://doi.org/10.1016/j.ijfoodmicro.2012.07.029

European Food Safety Authority (2012) Guidance on the assessment of bacterial susceptibility to antimicrobials of human and veterinary importance. EFSA J 10:1–10. https://doi.org/10.2903/j.efsa.2012.2740

Flórez AB, Mayo B (2015) Diversity and dynamics of antibiotic-resistant bacteria in cheese as determined by PCR denaturing gradient gel electrophoresis. Int J Food Microbiol 214:63–69. https://doi.org/10.1016/j.ijfoodmicro.2015.07.027

Flórez AB, Ammor MS, Mayo B (2008) Identification of tet(M) in two Lactococcus lactis strains isolated from a Spanish traditional starter-free cheese made of raw milk and conjugative transfer of tetracycline resistance to lactococci and enterococci. Int J Food Microbiol 121:189–194. https://doi.org/10.1016/j.ijfoodmicro.2007.11.029

Flórez AB, Alegría A, Rossi F, Delgado S, Felis GE, Torriani S, Mayo B (2014) Molecular identification and quantification of tetracycline and erythromycin resistance genes in Spanish and Italian retail cheeses. Biomed Res Int. https://doi.org/10.1155/2014/746859

Flórez AB, Vázquez L, Mayo B (2017) A functional metagenomic analysis of tetracycline resistance in cheese bacteria. Front Microbiol. https://doi.org/10.3389/fmicb.2017.00907

Frech G, Schwarz S (2000) Molecular analysis of tetracycline resistance in Salmonella enterica subsp. enterica serovars Typhimurium, Enteritidis, Dublin, Choleraesuis, Hadar and Saintpaul: construction and application of specific gene probes. J Appl Microbiol 89:633–641. https://doi.org/10.1046/j.1365-2672.2000.01160.x

Gevers D, Masco L, Baert L, Huys G, Debevere J, Swings J (2003) Prevalence and diversity of tetracycline resistant lactic acid bacteria and their tet genes along the process line of fermented dry sausages. Syst Appl Microbiol 26:277–283. https://doi.org/10.1078/072320203322346137

Golić N, Cadež N, Terzić-Vidojević A, Suranská H, Beganović J, Lozo J, Kos B, Sušković J, Raspor P, Topisirović L (2013) Evaluation of lactic acid bacteria and yeast diversity in traditional white pickled and fresh soft cheeses from the mountain regions of Serbia and lowland regions of Croatia. Int J Food Microbiol 166:294–300. https://doi.org/10.1016/j.ijfoodmicro.2013.05.032

Hansen L, Blanchard P, Hirsh D (1996) Distribution of tet(H) among Pasteurella isolates from the United States and Canada. Antimicrob Agents Chemother 40:1558–1560

International Standardization Organization ISO (2010) 10932: 2010 Milk and milk products determination of the minimal inhibitory concentration (MIC) of antibiotics applicable to bifidobacteria and non-enterococcal lactic acid bacteria (LAB)

Levy SB, Marshall B (2004) Antibacterial resistance worldwide: causes, challenges and responses. Nat Med 10:S122–S129. https://doi.org/10.1038/nm1145

Ma Q, Fu Y, Sun H, Huang Y, Li L, Yu Q, Dinnyes A, Sun Q (2017) Antimicrobial resistance of Lactobacillus spp. from fermented foods and human gut. LWT–Food Sci Technol 86:201–208

Medical Devices Agency of Serbia (2014) http://www.alims.gov.rs/ciril/files/2015/12/vet-promet2014.pdf/accessed. Accessed on 03 May 2017

Nacef M, Chevalier M, Chollet S, Drider D, Flahaut C (2017) MALDI-TOF mass spectrometry for the identification of lactic acid bacteria isolated from a French cheese: the maroilles. Int J Food Microbiol 247:2–8

Nawaz M, Wang J, Zhou A, Ma C, Wu X, Moore JE, Millar BC, Xu J (2011) Characterization and transfer of antibiotic resistance in lactic acid bacteria from fermented food products. Curr Microbiol 62:1081–1089. https://doi.org/10.1007/s00284-010-9856-2

Pavlovic M, Huber I, Konrad R, Busch U (2013) Application of MALDI-TOF MS for the Identification of Food Borne Bacteria. Open Microbiol J 7:135–141. https://doi.org/10.2174/1874285801307010135

Roberts MC, Schwarz S (2016) Tetracycline and phenicol resistance genes and mechanisms: importance for agriculture, the environment, and humans. J Environ Qual 45(2):576–592

Roe DE, Braham PH, Weinberg A, Roberts MC (1995) Characterization of tetracycline resistance in Actinobacillus actinomycetemcomitans. Oral Microbiol Immunol 10:227–232

Teuber M (2001) Veterinary use and antibiotic resistance. Curr Opin Microbiol 4:493–499. https://doi.org/10.1016/S1369-5274(00)00241-1

Teuber M, Meile L, Schwarz F (1999) Acquired antibiotic resistance in lactic acid bacteria from food. Antonie van Leeuwenhoek, Int J Gen Mol Microbiol 76:115–137. https://doi.org/10.1023/A:1002035622988

Thaker M, Spanogiannopoulos P, Wright GD (2010) The tetracycline resistome. Cell Mol Life Sci 67:419–431. https://doi.org/10.1007/s00018-009-0172-6

Tušar T, Žerdoner K, Bogovič Matijašić B, Paveljšek D, Benedik E, Bratanič B, Fidler N, Rogelj I (2014) Cultivable bacteria from milk from slovenian breastfeeding mothers. Food Technol Biotechnol 52(2):242–247

Veljovic K, Terzic-Vidojevic A, Vukasinovic M, Strahinic I, Begovic J, Lozo J, Ostojic M, Topisirovic L (2007) Preliminary characterization of lactic acid bacteria isolated from Zlatar cheese. J Appl Microbiol 103:2142–2152. https://doi.org/10.1111/j.1365-2672.2007.03450.x

Versalovic J, Schneider M, de Bruijn FJ, Lupski JR (1994) Genomic fingerprint of bacteria using repetitive sequence-based polymerase chain reaction. Methods Mol. Cell. Biol. 5:25–40

Witte W (1997) Impact of antibiotic use in animal feeding on resistance of bacterial pathogens in humans. Cyba Found Symp 207:61–71

Zonenschain D, Rebecchi A, Morelli L (2009) Erythromycin- and tetracycline-resistant lactobacilli in Italian fermented dry sausages. J Appl Microbiol 107:1559–1568. https://doi.org/10.1111/j.1365-2672.2009.04338.x

Zycka-Krzesinska J, Boguslawska J, Aleksandrzak-Piekarczyk T, Jopek J, Bardowski JK (2015) Identification and characterization of tetracycline resistance in Lactococcus lactis isolated from Polish raw milk and fermented artisanal products. Int J Food Microbiol 211:134–141. https://doi.org/10.1016/j.ijfoodmicro.2015.07.009
Acknowledgements
This study was supported by the Ministry of Education, Science and Technological Development of the Republic of Serbia project Grant No. III 46009, project Grant No. III 46010.
About this article
Cite this article
Ledina, T., Mohar-Lorbeg, P., Golob, M. et al. Tetracycline resistance in lactobacilli isolated from Serbian traditional raw milk cheeses. J Food Sci Technol 55, 1426–1434 (2018). https://doi.org/10.1007/s13197-018-3057-6
Revised:

Accepted:

Published:

Issue Date:

DOI: https://doi.org/10.1007/s13197-018-3057-6
Keywords
Antibiotic resistance

Tetracycline

Lactobacilli

Raw milk cheese

MALDI TOF mass spectrometry

Rep-PCR