Abstract
Dipping solutions containing bacteriocins produced by Lactobacillus curvatus CRL705 and Lactobacillus sakei CRL1862 (Bact705/1862), nisin and organic acids (lactic acid, LA; acetic acid, AA) were tested alone or in combination against Listeria monocytogenes inoculated by immersion on vacuum-packaged frankfurters stored at 10 °C during 36 days. LA/AA solution (2.5% v/v each) reduced pathogen population by 1.50 log10 CFU/ml during storage. Semi-purified Bact705/1862 prevented L. monocytogenes growth, while nisin was not able to avoid its regrowth after 20 days. The combined addition of Bact705/1862 + LA/AA was the most effective approach for pathogen reduction below detection level from day 6 to final storage. Frankfurters treated with Bact705/1862 + LA/AA compared to fresh-purchased samples did not show significant differences in flavor, juiciness, color intensity and overall preference at 22 days-storage at 5 °C. Meat processors should not only validate the antimicrobial efficacy of combined treatments but also their sensory impact on the product, which is directly related to consumer acceptability.
This is a preview of subscription content, log in to check access.
Access options
Buy single article
Instant access to the full article PDF.
US$ 39.95
Tax calculation will be finalised during checkout.
Subscribe to journal
Immediate online access to all issues from 2019. Subscription will auto renew annually.
US$ 99
Tax calculation will be finalised during checkout.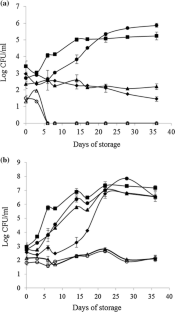 References
Ahmed OM, Pangloli P, Hwang C, Zivanovic S, Wu T, D'Souza D et al (2015) The occurrence of Listeria monocytogenes in retail ready-to-eat meat and poultry products related to the levels of acetate and lactate in the products. Food Control 52:43–48

Ananou S, Garriga M, Hugas M, Maqueda M, Martínez-Bueno M, Gálvez A et al (2005) Control of Listeria monocytogenes in model sausages by enterocin AS-48. Int J Food Microbiol 103:179–190

Ananou S, Baños A, Maqueda M, Martínez-Bueno M, Gálvez A, Valdivia E (2010) Effect of combined physico-chemical treatments based on enterocin AS-48 on the control of Listeria monocytogenes and Staphylococcus aureus in a model cooked ham. Food Control 21:478–486

Barmpalia LM, Geornaras I, Belk KE, Scanga JA, Kendall PA, Smith GC et al (2004) Control of Listeria monocytogenes on frankfurters with antimicrobials in the formulation and by dipping in organic acids solutions. J Food Prot 67:2456–2464

Byelashov OA, Kendall PA, Belk KE, Scanga JA, Sofos JN (2008) Control of Listeria monocytogenes on vacuum-packaged frankfurters sprayed with lactic acid alone or in combination with sodium lauryl sulfate. J Food Prot 71:728–734

Campos CA, Castro MP, Rivas FP, Schelegueda LI (2013) Bacteriocins in food: evaluation of the factors affecting their effectiveness. In: Méndez-Vilas A (ed) Microbial pathogens and strategies for combating them: science, technology and education. Formatex, Badajoz, pp 994–1004

Carroll CD, Alvarado CZ, Brashears MM, Thompson LD, Boyce J (2007) Marination of turkey breast fillets to control the growth of Listeria monocytogenes and improve meat quality in deli loaves. Poult Sci 86:150–155

Castellano P, Farías ME, Holzapfel W, Vignolo G (2001) Sensitivity variations of Listeria strains to the bacteriocins, lactocin 705, enterocin CRL35 and nisin. Biotechnol Lett 23:605–608

Castellano P, Belfiore C, Fadda S, Vignolo G (2008) A review of bacteriocinogenic lactic acid bacteria used as bioprotective cultures in fresh meat produced in Argentina. Meat Sci 79:483–499

Castellano P, Aristoy MC, Sentandreu MA, Vignolo G, Toldrá F (2012) Lactobacillus sakei CRL1862 improves safety and protein hydrolysis in meat systems. J Appl Microbiol 113:1407–1416

Castro MP, Palavecino NZ, Herman C, Garro OA, Campos CA (2011) Lactic acid bacteria isolated from artisanal dry sausages: characterization of antibacterial compounds and study of the factors affecting bacteriocin production. Meat Sci 87:321–329

CDC, Centers for Disease Control and Prevention (2014) Listeria (Listeriosis) [WWW Document]. http://www.cdc.gov/listeria/statistics.html

Chen CM, Sebranek JG, Dickson JS, Mendonca AF (2004) Combining pediocin with postpackaging irradiation for control of Listeria monocytogenes on frankfurters. J Food Pro 67:1866–1875

Collins B, Joyce S, Hill C, Cotter PD, Ross RP (2010) TelA contributes to the innate resistance of Listeria monocytogenes to nisin and other cell-wall acting antibiotics. Antimicrob Agents Chemother 54:4658–4663

EFSA, European Food Safety Authority (2016) The European Union summary report on trends and sources of zoonoses, zoonotic agents and food-borne outbreaks in 2015. EFSA Journal 14:4634–4865

FSIS, Food Safety and Inspection Service (2003) Control of Listeria monocytogenes in ready-to-eat meat and poultry products; final rule. Fed Reg 68:34208–34254

Gálvez A, Abriouel H, Lucas López R, Ben Omar N (2007) Bacteriocin-based strategies for food biopreservation. Int J Food Microbiol 120:51–70

Hebert EM, Saavedra L, Taranto MP, Mozzi F, Magni C, Nader ME et al (2012) Genome sequence of the bacteriocin-producing Lactobacillus curvatus strain CRL705. J Bacteriol 194:538–539

Huot E, Barrena-Gonzalez C, Petitdemange H (1996) Comparative effectiveness of nisin and bacteriocin J46 at different pH values. J Bacteriol 22:76–79

IRAM, Instituto Argentino de Normalización y Certificación (1997) Norm. 20007 (ISO 5495): Análisis Sensorial—Método de ensayo de comparación por pares

Katla T, Møretrø T, Sveen I, Aasen IM, Axelsson L, Rørvik LM et al (2002) Inhibition of Listeria monocytogenes in chicken cold cuts by addition of sakacin P and sakacin P-producing Lactobacillus sakei. J Appl Microbiol 93:191–196

Kaur G, Singh TP, Malik RK (2013) Antibacterial efficacy of Nisin, Pediocin 34 and Enterocin FH99 against Listeria monocytogenes and cross resistance of its bacteriocin resistant variants to common food preservatives. Braz J Microbiol 44:63–71

Koo O-K, Eggleton M, O'Bryan CA, Crandall PG, Ricke SC (2012) Antimicrobial activity of lactic acid bacteria against Listeria monocytogenes on frankfurters formulated with and without lactate/diacetate. Meat Sci 92:533–537

Kramer NE, van Hijum SA, Knol J, Kok J, Kuipers OP (2006) Transcriptome analysis reveals mechanisms by which Lactococcus lactis acquires nisin resistance. Antimicrob Agents and Chemother 50:1753–1761

Leroy F, De Vuyst L (2005) Simulation of the effect of sausage ingredients and technology on the functionality of the bacteriocin-producing Lactobacillus sakei CTC 494 strain. Int J Food Microbiol 15:141–152

Lu Z, Sebranek JG, Dickson JS, Mendonca AF, Bailey TB (2005) Effects of organic acid salt solutions on sensory and other quality characteristics of frankfurters. J Food Sci 70:S123–S127

Martins EA, Leal Germano PM (2011) Listeria monocytogenes in ready-to-eat, sliced, cooked ham and salami products, marketed in the city of São Paulo, Brazil: Occurrence, quantification, and serotyping. Food Control 22:297–302

Marzocca MA, Marucci PL, Sica MG, Alvarez EE (2004) Detección de Listeria monocytogenes en distintos productos alimenticios y en muestras ambientales de una amplia cadena de supermercados de la ciudad de Bahía Blanca (Argentina). Rev Argent Microbiol 36:179–181

Mattila K, Saris P, Työppönen S (2003) Survival of Listeria monocytogenes on sliced cooked sausage after treatment with pediocin AcH. Int J Food Microbiol 89:281–286

Mikel W, Goddard B, Bradford D (1996) Muscle microstructure and sensory attributes of organic acid treated beef trip loins. J Food Sci 61:1058–1061

Morey A, Bowers JW, Bauermeister LJ, Singh M, Huang TS, McKee SR (2014) Effect of salts of organic acids on Listeria monocytogenes, shelf life, meat quality, and consumer acceptability of beef frankfurters. J Food Sci 79:M54–M60

Perez-Ibarreche M, Castellano P, Leclercq A, Vignolo G (2016) Control of Listeria monocytogenes biofilms on industrial surfaces by the bacteriocin-producing Lactobacillus sakei CRL1862. FEMS Microbiol Lett 363:1–6

Scannell AG, Ross RP, Hill C, Arendt EK (2000) An effective lacticin biopreservative in fresh pork sausage. J Food Prot 63:370–375

Stergiou VA, Thomas LV, Adams MR (2006) Interactions of nisin with glutathione in a model protein system and meat. J Food Prot 69:951–956

Uhart M, Ravishankar S, Maks ND (2004) Control of Listeria monocytogenes with combined antimicrobials on beef franks stored at 4 degrees C. J Food Prot 67:2296–2301

Vignolo G, Suriani FR, Holgado A, Oliver G (1993) Antibacterial activity of Lactobacillus strains isolated from dry fermented sausages. J Appl Bacteriol 75:344–349

Zhu M, Du M, Cordray J, Ahn DU (2005) Control of Listeria monocytogenes contamination in ready-to-eat meat products. Compr Rev Food Sci Food Saf 4:34–42
Acknowledgements
The authors are grateful to CONICET (PIP2008-0649) and ANPCyT (PICT2010-0655) Grants from Argentina for financial support.
About this article
Cite this article
Castellano, P., Peña, N., Ibarreche, M.P. et al. Antilisterial efficacy of Lactobacillus bacteriocins and organic acids on frankfurters. Impact on sensory characteristics. J Food Sci Technol 55, 689–697 (2018). https://doi.org/10.1007/s13197-017-2979-8
Revised:

Accepted:

Published:

Issue Date:
Keywords
Biopreservation

Bacteriocins

Frankfurters

Listeria

Organic acids