Abstract
In the present study, polyphenols from green tea (GTP), oolong tea (OTP) and black tea (BTP) were prepared by extraction with hot water and polyamide column chromatography. In antioxidant assay in vitro, each tea polyphenols exhibited potential activity; the intestinal absorption of GTP, OTP and BTP was investigated individually by Caco-2 transwell system, and each sample was poorly transported, illustrating a low transport rate for tea polyphenols through cell monolayers. The effects of GTP, OTP and BTP on human intestinal microbiota were also evaluated, and each sample induced the proliferation of certain beneficial bacteria and inhibited Bacteroides–Prevotella and Clostridium histolyticum. Moreover, the short-chain fatty acids (SCFA) produced in cultures with tea polyphenols were relatively higher. Together, these results suggested GTP, OTP and BTP may modulate the intestinal flora and generate SCFA, and contribute to the improvements of human health.
Access options
Buy single article
Instant access to the full article PDF.
USD 39.95
Price excludes VAT (USA)
Tax calculation will be finalised during checkout.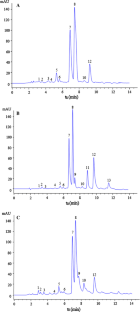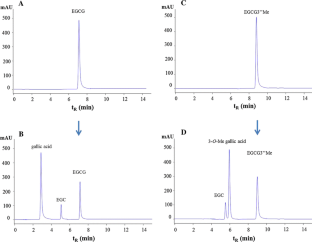 References
Chang CJ, Lin CS, Lu CC, Martel J, Ko YF, Ojcius DM, Tseng SF, Wu TR, Chen YY, Young JD, Lai HC (2015) Ganoderma lucidum reduces obesity in mice by modulating the composition of the gut microbiota. Nat Commun 6:7489

Cheng M, Zhang X, Miao YJ, Cao JX, Wu ZF, Weng PF (2017) The modulatory effect of (−)-epigallocatechin 3-O-(3-O-methyl) gallate (EGCG″Me) on intestinal microbiota of high fat diet-induced obesity mice model. Food Res Int 92:9–16

Consortium HMP (2012) Structure, function and diversity of the healthy human microbiome. Nature 486:207–214

Dominika S, Arjan N, Karyn RP, Henryk K (2011) The study on the impact of glycated pea proteins on human intestinal bacteria. Int J Food Microbiol 145:267–272

Duda-Chodak A, Tarko T, Satora P, Sroka P (2015) Interaction of dietary compounds, especially polyphenols, with the intestinal microbiota: a review. Eur J Nutr 54:325–341

Fei QQ, Gao Y, Zhang X, Sun Y, Hu B, Zhou L, Jabbar S, Zeng XX (2014) Effects of oolong tea polyphenols, EGCG, and EGCG3″Me on pancreatic α-amylase activity in vitro. J Agric Food Chem 62:9507–9514

Gill SR, Pop M, Deboy RT, Eckburg PB, Turnbaugh PJ, Samuel BS, Gordon JI, Relman DA, Fraser-Liggett CM, Nelson KE (2006) Metagenomic analysis of the human distal gut microbiome. Science 312:1355–1359

Gullón B, Gullón P, Tavaria F, Pintado M, Gomes AM, Alonso JL, Parajó JC (2014) Structural features and assessment of prebiotic activity of refined arabinoxylooligosaccharides from wheat bran. J Funct Food 6:438–449

Higdon JV, Frei B (2003) Tea catechins and polyphenols: health effects, metabolism, and antioxidant functions. Crit Rev Food Sci 43:89–143

Huo CD, Yang HJ, Cui QZ, Dou QP, Chan TH (2010) Proteasome inhibition in human breast cancer cells with high catechol-O-methyltransferase activity by green tea polyphenol EGCG analogs. Bioorg Med Chem Lett 18:1252–1258

Jobu K, Yokota J, Yoshioka S, Moriyama H, Murata S, Ohishi S, Ukeda H, Miyamura M (2013) Effects of Goishi tea on diet-induced obesity in mice. Food Res Int 54:324–329

Kang MH, Naito M, Sakai K, Uchida K, Osawa T (2000) Mode of action of sesame lignans in protecting low-density lipoprotein against oxidative damage in vitro. Life Sci 66:161–171

Kemperman RA, Bolca S, Roger LC, Vaughan EE (2010) Novel approaches for analysing gut microbes and dietary polyphenols: challenges and opportunities. Microbiology 156:3224–3231

Kumar PV, Basheer S, Ravi R, Thakur MS (2011) Comparative assessment of tea quality by various analytical and sensory methods with emphasis on tea polyphenols. J Food Sci Technol 48:440–446

Kutschera M, Engst W, Blaut M, Braune A (2011) Isolation of catechin-converting human intestinal bacteria. J Appl Microbiol 111:165–175

Li W, Wang KQ, Sun Y, Ye H, Hu B, Zeng XX (2015) Influences of structures of galactooligosaccharides and fructooligosaccharides on the fermentation in vitro by human intestinal microbiota. J Funct Food 13:158–168

Monagas M, Urpi-Sarda M, Sánchez-Patán F, Llorach R, Garrido I, Gómez-Cordovés C, Andres-Lacueva C, Bartolomé B (2010) Insights into the metabolism and microbial biotransformation of dietary flavan-3-ols and the bioactivity of their metabolites. Food Funct 1:233–253

Pinto MDS (2013) Tea: a new perspective on health benefits. Food Res Int 53:558–567

Richelle M, Tavazzi I, Offord E (2001) Comparison of the antioxidant activity of commonly consumed polyphenolic beverages (coffee, cocoa, and tea) prepared per cup serving. J Agric Food Chem 49:3438–3442

Sanz ML, Côté GL, Gibson GR, Rastall RA (2005a) Prebiotic properties of alternansucrase maltose-acceptor oligosaccharides. J Agric Food Chem 53:5911–5916

Sanz ML, Polemis N, Morales V, Corzo N, Drakoularakou A, Gibson GR, Rastall RA (2005b) In vitro investigation into the potential prebiotic activity of honey oligosaccharides. J Agric Food Chem 53:2914–2921

Selma MV, Espín JC, Tomásbarberán FA (2009) Interaction between phenolics and gut microbiota: role in human health. J Agric Food Chem 57:6485–6501

Singh BN, Shankar S, Srivastava RK (2011) Green tea catechin, epigallocatechin-3-gallate (EGCG): mechanisms, perspectives and clinical applications. Biochem Pharmacol 82:1807–1821

Stratil P, Klejdus B, Kubán V (2006) Determination of total content of phenolic compounds and their antioxidant activity in vegetables evaluation of spectrophotometric methods. J Agric Food Chem 54:607–616

Tuohy KM, Conterno L, Gasperotti M, Viola R (2012) Up-regulating the human intestinal microbiome using whole plant foods, polyphenols, and/or fiber. J Agric Food Chem 60:8776–8782

Turnbaugh PJ, Ridaura VK, Faith JJ, Rey FE, Knight R, Gordon JI (2009) The effect of diet on the human gut microbiome: a metagenomic analysis in humanized gnotobiotic mice. Sci Transl Med 1:6–14

Velzen EJJV, Westerhuis JA, Grün CH, Jacobs DM, Eilers PHC, Mulder TP, Foltz M, Garczarek U, Kemperman R, Vaughan EE, Duynhoven JPMV, Smilde AK (2014) Population-based nutrikinetic modeling of polyphenol exposure. Metabolomics 10:1059–1073

Willenberg I, Michael M, Wonik J, Bartel LC, Empl MT, Schebb NH (2015) Investigation of the absorption of resveratrol oligomers in the Caco-2 cellular model of intestinal absorption. Food Chem 167:245–250

Wong JM, De SR, Kendall CW, Emam A, Jenkins DJ (2006) Colonic health: fermentation and short chain fatty acids. J Clin Gastroenterol 40:235–243

Xie YL, Kosińska A, Xu H, Andlauer W (2013) Milk enhances intestinal absorption of green tea catechins in in vitro, digestion/Caco-2 cells model. Food Res Int 53:793–800

Zhang X, Xu F, Gao Y, Wu J, Sun Y, Zeng XX (2012) Optimising the extraction of tea polyphenols, (−)-epigallocatechin gallate and theanine from summer green tea by using response surface methodology. Int J Food Sci Tech 47:2151–2157

Zhang X, Zhu XL, Sun Y, Hu B, Sun Y, Jabbar S, Zeng XX (2013) Fermentation in vitro of EGCG, GCG and EGCG3″Me isolated from Oolong tea by human intestinal microbiota. Food Res Int 54:1589–1595

Zhang X, Wu ZF, Weng PF (2014) Antioxidant and hepatoprotective effect of (−)-epigallocatechin 3-O-(3-O-methyl) gallate (EGCG3″Me) from Chinese oolong tea. J Agric Food Chem 62:10046–10054

Zhang X, Yang Y, Wu ZF, Weng PF (2016) The modulatory effect of anthocyanins from purple sweet potato on human intestinal microbiota in vitro. J Agric Food Chem 64:2582–2590

Zhou L, Wang W, Huang J, Ding Y, Pan Z, Zhao Y, Zhang R, Hu B, Zeng XX (2016) In vitro extraction and fermentation of polyphenols from grape seeds (Vitis vinifera) by human intestinal microbiota. Food Funt 7:1959–1967

Zhu XL, Zhang X, Sun Y, Su D, Sun Y, Hu B, Zeng XX (2013) Purification and fermentation in vitro of sesaminol triglucoside from sesame cake by human intestinal microbiota. J Agric Food Chem 61:1868–1877
Acknowledgements
This work was sponsored by National Natural Science Foundation of China (31501473), Key Research and Development Project of Zhejiang Province (2017C02039), People-benefit Project of Ningbo (2015C10061) and K.C. Wong Magna Fund in Ningbo University.
About this article
Cite this article
Sun, H., Chen, Y., Cheng, M. et al. The modulatory effect of polyphenols from green tea, oolong tea and black tea on human intestinal microbiota in vitro. J Food Sci Technol 55, 399–407 (2018). https://doi.org/10.1007/s13197-017-2951-7
Revised:

Accepted:

Published:

Issue Date:

DOI: https://doi.org/10.1007/s13197-017-2951-7
Keywords
Tea

Polyphenols

Intestinal microbiota

Prebiotic

Modulatory effect