Abstract
Fermented foods are known for their potential as main source of probiotics. The present study aimed at investigating the probiotic properties of bacteria isolated from fermented mango pickle. Non-hemolytic fermenting microbiota isolated from mango pickle was screened in vitro for their basic probiotic properties such as acid tolerance, bile salt, lysozyme and salt tolerance. They were also tested for their beneficial characters like cholesterol removal, bacterial adhesion to hydrocarbons, auto-aggregation, antimicrobial activity, β-galactosidase activity, exopolysaccharide production and adhesion to HT-29 cell line. Outputs of these parameters were subjected to principal component analysis (PCA) and these results were interpreted to select prospective bacterial isolates that can be used as potential probiotics. Out of eight isolates, PUFSTP35 (Bacillus licheniformis), PUFSTP38 (Bacillus amyloliquefaciens) and PUFSTP39 (Bacillus subtilis) showed similar trend to Weissella cibaria (MTCC 9814) that was used as a reference strain for profiling probiotic properties. B. licheniformis PUFSTP35 from fermented mango pickle appear to be the most potential candidate for use as a beneficial probiotic.
Access options
Buy single article
Instant access to the full article PDF.
USD 39.95
Price excludes VAT (USA)
Tax calculation will be finalised during checkout.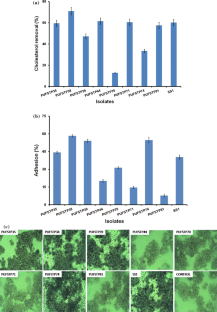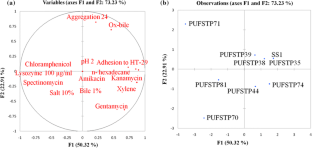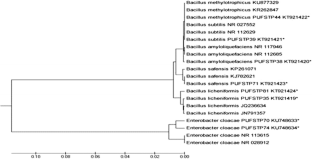 References
Adnan AFM, Tan IK (2007) Isolation of lactic acid bacteria from Malaysian foods and assessment of the isolates for industrial potential. Bioresour Technol 98:1380–1385

Angmo K, Kumari A, Savitri Bhalla TC (2016) Probiotic characterization of lactic acid bacteria isolated from fermented foods and beverage of Ladakh. LWT—Food Sci Technol 66:428–435

Arokiyaraj S, Islam VIH, Bharanidharan R, Raveendar S, Lee J, Kim DH, Oh YK, Kim E, Kim KH (2014) Antibacterial, anti-inflammatory and probiotic potential of Enterococcus hirae isolated from the rumen of Bos primigenius. World J Microbiol Biotechnol 30:2111–2118

Cesena C, Morelli L, Alander M, Siljander T, Tuomola E, Salminen S, Mattila-Sandholm T, Vilpponen-Salmela T, Wright VA (2001) Lactobacillus crispatus and its non-aggregating mutant in human colonization trials. J Dairy Sci 84:1001–1010

Chabot S, Yu H, Léséleuc LD, Cloutier D, Calsteren MV, Lessard M, Roy D, Lacroix M, Oth D (2001) Exopolysaccharides from Lactobacillus rhamnosus RQ-595 M stimulate TNF, IL-6 and IL-12 in human and mouse cultured immune-competent cells and IFN-g in mouse splenocytes. Le Lait, INRA Editions; pp. 683–697

de-Valdez GF, de-Taranto MP (2001) Probiotic properties of Lactobacilli: cholesterol reduction and bile salt hydrolase activity. In: Spencer JFT, de Spencer ALR (eds) Food microbiology protocols. Humana Press, New Jersey, pp 173–182

Dias FS, Duarte WF, Schwan RF (2013) Evaluation of adhesive properties of presumptive probiotic Lactobacillus plantarum strains. Biosci J 29:1678–1686

Duary RK, Rajput YS, Batish VK, Grover S (2011) Assessing the adhesion of putative indigenous probiotic lactobacilli to human colonic epithelial cells. Indian J Med Res 134:664–671

FAO/WHO (2006) Probiotics in food, health and nutritional properties and guidelines for evaluation. FAO food and nutritional paper. No. 85. WHO/FAO, Rome

Georgieva R, Yocheva L, Tserovska L, Zhelezova G, Stefanova N, Atanasova A, Danguleva A, Ivanova G, Karapetkov N, Rumyan N, Karaivanova E (2015) Antimicrobial activity and antibiotic susceptibility of Lactobacillus and Bifidobacterium spp. intended for use as starter and probiotic cultures. Biotechnol Biotechnol Equip 29:84–91

Gracheva NM, Gavrilov AF, Solov'eva AL, Smirnov VV, Sorokulova IB (1996) The efficacy of the new bacterial preparation biosporin in treating acute intestinal infections. Zh Mikrobiol Epidemiol Immunobiol 1:75–77

Guo XH, Kim JM, Namb HM, Park SY, Kim JM (2010) Screening lactic acid bacteria from swine origins for multistrain probiotics based on in vitro functional properties. Anaerobe 16:321–326

Jankovic T, Frece J, Abram M, Gobin I (2012) Aggregation ability of potential probiotic Lactobacillus plantarum strains. IJSER 6:19–24

Jensen H, Grimmer S, Naterstad K, Axelsson L (2012) In vitro testing of commercial and potential probiotic lactic acid bacteria. Int J Food Microbiol 153:216–222

Jeyaram K, Mohendro SW, Premarani T, Ranjita Devi A, Selina Chanu K, Talukdar NC, Rohinikumar SM (2008) Molecular identification of dominant microflora associated with 'Hawaijar' a traditional fermented soybean (Glycine max (L.)) food of Manipur India. Int J Food Microbiol 122:259–268

Kumar S, Stecher G, Tamura K (2016) MEGA7: molecular evolutionary genetics analysis version 7.0 for bigger datasets. Mol Biol Evol 33:1870–1874

Meerak J, Lida H, Watanabe Y, Miyashita M, Sato H, Nakagawa Y, Tahara Y (2007) Phylogeny of poly-γ-glutamic acid-producing Bacillus strains isolated from fermented soybean foods manufactured in Asian countries. J Gen Appl Microbiol 53:315–323

Menconi A, Kallapura G, Latorre JD, Morgan MJ, Pumford NR, Hargis BM, Tellez G (2014) Identification and characterization of lactic acid bacteria in a commercial probiotic culture. Biosci Microbiota Food Health 33:25–30

Mishra V, Prasad DN (2005) Application of in vitro methods for selection of Lactobacillus casei strains as potential probiotics. Int J Food Microbiol 103:109–115

Osmanagaoglu O, Kiran F, Ataoglu H (2010) Evaluation of in vitro probiotic potential of Pediococcus pentosaceus OZF isolated from human breast milk. Probiotics Antimicrob Proteins 2:162–174

Pereira DIA, McCartney AL, Gibson GR (2003) An in vitro study of probiotic potential of a bile salt hydrolyzing Lactobacillus fermentum strain and determination of its cholesterol lowering properties. Appl Environ Microbiol 69:4743–4752

Reid G, Jass J, Sebulsky MT, McCormick JK (2003) Potential use of probiotics in clinical practice. Clin Microbiol Rev 16:658–672

Saraniya A, Jeevaratnam K (2015) In vitro probiotic evaluation of phytase producing Lactobacillus species isolated from Uttapam batter and their application in soy milk fermentation. J Food Sci Technol 52:5631–5640

Sorokulova I (2013) Modern status and perspectives of Bacillus bacteria as probiotics. J Prob Health, 1

Steinkraus KH (2002) Fermentations in world food processing. Compr Rev Food Sci Food Saf 1:23–32

Succi M, Tremonte P, Reale A, Sorrentino E, Grazia L, Pacifico S (2005) Bile salt and acid tolerance of Lactobacillus rhamnosus strains isolated from Parmigiano Reggiano cheese. FEMS Microbiol Lett 244:129–137

Tallon R, Arias S, Bressollier P, Urdaci MC (2007) Strain- and matrix dependent adhesion of Lactobacillus plantarum is mediated by proteinaceous bacterial compounds. J Appl Microbiol 102:442–451

Tamang JP (2003) Native microorganisms in fermentation of kinema. Indian J Microbiol 43:127–130

Tsai C, Huanga L, Lina C, Tsen H (2004) Antagonistic activity against Helicobacter pylori infection in vitro by a strain of Enterococcus faecium TM39. Int J Food Microbiol 96:1–12

Vinderola CG, Reinheimer JA (2003) Lactic acid starter and probiotic bacteria: a comparative "in vitro" study of probiotic characteristics and biological barrier resistance. Food Res Int 36:895–904

Vrese MD, Stegelmann A, Richter B, Fenselau S, Laue C, Schrezenmeir J (2001) Probiotics-compensation for lactase insufficiency. Am J Clin Nutr 73:421–429

Wang J, Fung DYC (1996) Alkaline-fermented foods: a review with emphasis on pidan fermentation. Crit Rev Microbiol 22:101–138

Wang Y, Zhang H, Zhang L, Liu W, Zhang Y, Zhang X, Sun T (2010) In vitro assessment of probiotic properties of Bacillus isolated from naturally fermented congee from Inner Mongolia of China. World J Microbiol Biotechnol 26:1369–1377

Wang SC, Chang CK, Chan SC, Shieh JS, Chiu CK, Duh PD (2014) Effects of lactic acid bacteria isolated from fermented mustard on lowering cholesterol. Asian Pac J Trop Biomed 4:523–528

Yu Z, Zhang X, Li S, Li C, Li D, Yang Z (2013) Evaluation of probiotic properties of Lactobacillus plantarum strains isolated from Chinese sauerkraut. World J Microbiol Biotechnol 29:489–498

Zago M, Fornasari ME, Carminati D, Burns P, Suàrez V, Vinderola G, Reinheimer J, Giraffa G (2011) Characterization and probiotic potential of Lactobacillus plantarum strains isolated from cheeses. Food Microbiol 28:1033–1040
Acknowledgements
Authors acknowledge Pondicherry University for all the facilities.
Ethics declarations
Conflict of interest
Authors declare that they have no conflict of interest.
About this article
Cite this article
Ragul, K., Syiem, I., Sundar, K. et al. Characterization of probiotic potential of Bacillus species isolated from a traditional brine pickle. J Food Sci Technol 54, 4473–4483 (2017). https://doi.org/10.1007/s13197-017-2928-6
Revised:

Accepted:

Published:

Issue Date:

DOI: https://doi.org/10.1007/s13197-017-2928-6
Keywords
Fermented food

Mango pickle

Bacillus sp.

Probiotic properties

Health benefits