Abstract
The influence of essential oils (EOs) extracted from the leaves of Melaleuca alternifolia, Melaleuca quinquenervia and Backhousia citriodora on ochratoxin A (OTA) synthesis by fungi was studied. The extraction of EOs was performed by hydrodistillation (Clevenger apparatus) over a 2-h period and subsequently analyzed by GC–MS and GC–FID. The toxigenic activity of the essential oils (31.25; 15.62 and 7.81 µg mL−1) was evaluated by inhibiting the production of OTA by Aspergillus niger and Aspergillus carbonarius in Czapek agar medium culture. The quantification of the toxin was performed by HPLC. The production of OTA was dependent on the fungal species, incubation temperature (15 and 25 °C) and the presence of the essential oils. In tests carried out at 15 °C, the oils caused a reduction in OTA synthesis that ranged from 57.60 to 76.93% and from 54.78 to 98.68% for the fungal species A. carbonarius and A. niger, respectively. At 25 °C, reductions ranged from the 38.66 to 75.93% and from 17.94 to 71.79% for the respective fungi. The study concluded that natural products could be potential biocontrol agents against OTA contamination in food.
This is a preview of subscription content, log in to check access.
Access options
Buy single article
Instant access to the full article PDF.
US$ 39.95
Price includes VAT for USA
Subscribe to journal
Immediate online access to all issues from 2019. Subscription will auto renew annually.
US$ 99
This is the net price. Taxes to be calculated in checkout.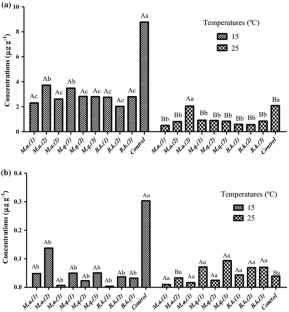 References
Agência Nacional de Vigilância Sanitária (2010) Farmacopeia Brasileira, 5th edn. Agência Nacional de Vigilância Sanitária, Brasília, pp 198–199

Bizzo HR, Hovell AMC, Rezende CM (2009) Óleos essenciais no Brasil: aspectos gerais, desenvolvimento e perspectivas. Quim Nova 32:588–594. doi:10.1590/S0100-40422009000300005

Carson CF, Hammer KA, Riley TV (2006) Melaleuca alternifolia (Tea Tree) oil: a review of antimicrobial and other medicinal properties. Clin Microbiol Rev 19:50–62. doi:10.1128/CMR.19.1.50-62.2006

Castellá G, Alborch L, Bragulat MR, Cabañes FJ (2015) Real time quantitative expression study of a polyketide synthase gene related to ochratoxin a biosynthesis in Aspergillus niger. Food Control 53:147–150. doi:10.1016/j.foodcont.2015.01.026

Ferreira DF (2011) Sisvar: a computer statistical analysis system. Ciênc Agrotec 35:1039–1042. doi:10.1590/S1413-70542011000600001

Gallo A, Knox BP, Bruno KS, Solfrizzo M, Baker SE, Perrone G (2014) Identification and characterization of the polyketide synthase involved in ochratoxin A biosynthesis in Aspergillus carbonarius. Int J Food Microbiol 2:10–17. doi:10.1016/j.ijfoodmicro.2014.03.013

Garcia D, Ramos AJ, Sanchis V, Marín S (2011) Is intraspecific variability of growth and mycotoxin production dependent on environmental conditions? A study with Aspergillus carbonarius isolates. Int J Food Microbiol 144:432–439. doi:10.1016/j.ijfoodmicro.2010.10.030

Harris DC (2008) Análise química quantitativa. LTC, Rio de Janeiro

Hua H, Xing F, Selvaraj JN, Wang Y, Zhao Y, Zhou L, Liu X, Liu Y (2014) Inhibitory effect of essential oils on Aspergillus ochraceus growth and ochratoxin A production. PLoS ONE 9:1–10. doi:10.1371/journal.pone.0108285

Jersek B, Ulrih NP, Skrt M, Gavarić N, Božin B, Možina SS (2014) Effects of selected essential oils on the growth and production of ochratoxin A by Penicillium verrucosum. Arch Ind Hyg Toxicol 65:199–208. doi:10.2478/10004-1254-65-2014-2486

Lazar-Baker EE, Hetherington SD, Ku VV, Newman SM (2011) Evaluation of commercial essential oil samples on the growth of postharvest pathogen Monilinia fructicola (G. Winter) honey. Lett Appl Microbiol 52:227–232. doi:10.1111/j.1472-765X.2010.02996.x

Lucini EI, Zunino MP, López ML, Zygadlo JA (2006) Effect of monoterpenes on lipid composition and sclerotial development of Sclerotium cepivorum Berk. J Phytopathol 154:441–446. doi:10.1111/j.1439-0434.2006.01126.x

Magan N, Medina A, Aldred D (2011) Possible climate-change effects on mycotoxin contaminant of food crops pre and postharvest. Plant Pathol 60:150–163. doi:10.1111/j.1365-3059.2010.02412.x

Padovan A, Keszei A, Köllner TG, Degenhardt J, Foley WJ (2010) The molecular basis of host plant selection in Melaleuca quinquenervia by a successful biological control agent. Phytochemistry 71:1237–1244. doi:10.1016/j.phytochem.2010.05.013

Passamani FR, Hernandes T, Lopes NA, Bastos SC, Santiago WD, Cardoso MG, Batista LR (2014) Effect of temperature, water activity, and pH on growth and production of ochratoxin A by Aspergillus niger and Aspergillus carbonarius from Brazilian grapes. J Food Prot 77:1947–1952. doi:10.4315/0362-028X.JFP-13-495

Sokolić-Mihalak D, Frece J, Slavica A, Delaš F, Pavlović H, Markov K (2012) The effects of wild thyme (Thymus serpyllum L.) essential oil components against ochratoxin-producing Aspergilli. Arch Ind Hyg Toxicol 63:457–462. doi:10.2478/10004-1254-63-2012-2309

Sonker N, Pandey AK, Singh P, Tripathi NN (2014) Assessment of Cymbopogon citratus (DC.) stapf essential oil as herbal preservatives based on antifungal, antiaflatoxin, and antiochratoxin activities and in vivo efficacy during storage. J Food Sci 79:628–634. doi:10.1111/1750-3841.12390

Terzi V, Morcia C, Faccioli P, Valè G, Tacconi G, Malnati M (2007) In vitro antifungal activity of the tea tree (Melaleuca alternifolia) essential oil and its major components against plant pathogens. Lett Appl Microbiol 44:613–618. doi:10.1111/j.1472-765X.2007.02128.x

Wang H, Liu Y, Wei S, Yan Z (2012) Comparative seasonal variation and chemical composition of essential oils from the leaves and stems of Schefflera heptaphylla using microwave-assisted and conventional hydrodistillation. Ind Crops Prod 36:229–237. doi:10.1016/j.indcrop.2011.09.011

Yamamoto-Ribeiro MM, Grespan R, Kohiyama CY, Ferreira FD, Mossini SA, Silva EL, Filho BA, Mikcha JM, Machinski M Jr (2013) Effect of Zingiber officinale essential oil on Fusarium verticillioides and fumonisin production. Food Chem 141:3147–3152. doi:10.1016/j.foodchem.2013.05.144
Acknowledgements
The authors thanks the support of the Brazilian agencies Conselho Nacional de Desenvolvimento Científico e Tecnológico (CNPq), Fundação de Amparo a Pesquisa do Estado de Minas Gerais (FAPEMIG) and Coordenação de Aperfeiçoamento de Pessoal de Nível Superior (CAPES).
About this article
Cite this article
de Andrade Santiago, J., Cardoso, M., Batista, L.R. et al. Effect of the essential oils from Melaleuca alternifolia, Melaleuca quinquenervia and Backhousia citriodora on the synthesis of ochratoxin A by Aspergillus niger and Aspergillus carbonarius isolated from tropical wine grapes. J Food Sci Technol 55, 418–423 (2018). https://doi.org/10.1007/s13197-017-2857-4
Revised:

Accepted:

Published:

Issue Date:
Keywords
Natural products

Myrtaceae

Fungi

Mycotoxins