Abstract
A study of the literature indicates that chloroplasts synthesise a range of molecules, many of which have nutritional value for humans, but the nutritional credentials of chloroplasts recovered from plant cells are not established. Chloroplast-rich-fractions (CRFs) were prepared from green plant species and the macro- and micro-nutrient composition compared with the whole leaf materials (WLMs). The results indicated that, on a dry weight basis, CRF material from a range of green biomass was enriched in lipids and proteins, and in a range of micronutrients compared with the WLM. Vitamins E, pro-vitamin A, and lutein were all greater in CRF preparations. Of the minerals, iron was most notably concentrated in CRF. Spinach CRFs possessed the highest α-tocopherol [62 mg 100 g−1, dry weight (DW)], β-carotene (336 mg 100 g−1 DW) and lutein (341 mg 100 g−1 DW) contents, whilst grass CRFs had the highest concentration of alpha-linolenic acid (ALA) (69.5 mg g−1). The higher concentrations of α-tocopherol, β-carotene, lutein, ALA and trace minerals (Fe and Mn) in CRFs suggested their potential use as concentrated ingredients in food formulations deficient in these nutrients.
Access options
Buy single article
Instant access to the full article PDF.
US$ 39.95
Tax calculation will be finalised during checkout.
Subscribe to journal
Immediate online access to all issues from 2019. Subscription will auto renew annually.
US$ 79
Tax calculation will be finalised during checkout.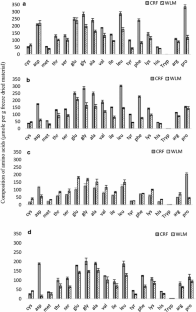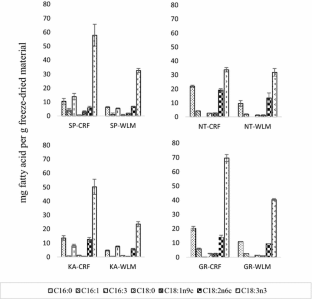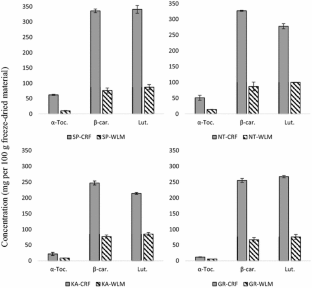 References
Abdel-Aal ESM, Akhtar H, Zaheer K, Ali R (2013) Dietary sources of lutein and zeaxanthin carotenoids and their role in eye health. Nutrients 5:1169–1185

Abuajah CI, Ogbonna AC, Osuji CM (2015) Functional components and medicinal properties of food: a review. J Food Sci Technol 52:2522–2529

Adhikari BM, Bajracharya A, Shrestha AK (2015) Comparison of nutritional properties of Stinging nettle (Urtica dioica) flour with wheat and barley flours. Food Sci Nutr 4(1):119–124

Bahrami N, Yonekura L, Linforth R, Carvalho da Silva M, Hill S, Penson S, Chope G, Fisk ID (2014) Comparison of ambient solvent extraction methods for the analysis of fatty acids in non-starch lipids of flour and starch. J Sci Food Agric 94:415–423

Barceló-Coblijn G, Murphy EJ (2009) Alpha-linolenic acid and its conversion to longer chain n − 3 fatty acids: benefits for human health and a role in maintaining tissue n − 3 fatty acid levels. Prog Lipid Res 48:355–374

Bergquist SÅ, Gertsson UE, Olsson ME (2006) Influence of growth stage and postharvest storage on ascorbic acid and carotenoid content and visual quality of baby spinach (Spinacia oleracea L.). J Sci Food Agric 86:346–355

Bhattacharjee S, Dasgupta P, Paul AR, Ghosal S, Padhi KK, Pandey LP (1998) Mineral element composition of spinach. J Sci Food Agric 77:456–458

Bjorneboe A, Bjorneboe G, Drevon C (1990) Absorption, transport and distribution of vitamin E. J Nutr 120:233–242

Dauchet L, Amouyel P, Hercberg S, Dallongeville J (2006) Fruit and vegetable consumption and risk of coronary heart disease: a meta-analysis of cohort studies. J Nutr 136:2588–2593

Dellapenna D, Pogson BJ (2006) Vitamin synthesis in plants: tocopherols and carotenoids. Annu Rev Plant Biol 57:711–738

Eppendorfer WH, Bille SW (1996) Free and total amino acid composition of edible parts of beans, kale, spinach, cauliflower and potatoes as influenced by nitrogen fertilisation and phosphorus and potassium deficiency. J Sci Food Agric 71:449–458

Eriksen JN, Luu AY, Dragsted LO, Arrigoni E (2017) Adaption of an in vitro digestion method to screen carotenoid liberation and in vitro accessibility from differently processed spinach preparations. Food Chem 224:407–413

FAO (2009) How to feed the world in 2015. FAO, Italy

FAO & WHO (2005) Vitamin and mineral requirements in human nutrition, Bangkok, Thailand

Folch J, Lees M, Sloane-Stanley G (1957) A simple method for the isolation and purification of total lipids from animal tissues. J Biol Chem 226:497–509

Gross J (1991) Pigments in vegetables: chlorophylls and carotenoids. Springer, New York

Grundy MML, Wilde PJ, Butterworth PJ, Gray DA, Ellis PR (2015) Impact of cell wall encapsulation of almonds on in vitro duodenal lipolysis. Food Chem 185:405–412

Hart DJ, Scott KJ (1995) Development and evaluation of an HPLC method for the analysis of carotenoids in foods, and the measurement of the carotenoid content of vegetables and fruits commonly consumed in the UK. Food Chem 54:101–111

Huck CW, Popp M, Scherz H, Bonn G (2000) Development and evaluation of a new method for the determination of the carotenoid content in selected vegetables by HPLC and HPLC—MS—MS. J Chromatogr Sci 38:441–449

ISO (2002) Animal feeding stuffs—Determination of crude ash. ISO 5984:2002

Jancik F, Homolka P, Cermak B, Lád F (2008) Determination of indigestible neutral detergent fibre contents of grasses and its prediction from chemical composition. Czech J Anim Sci 53(3):128–135

Kahlon T, Chapman M, Smith G (2007) In vitro binding of bile acids by spinach, kale, brussels sprouts, broccoli, mustard greens, green bell pepper, cabbage and collards. Food Chem 100:1531–1536

Kidmose U, Edelenbos M, Christensen LP, Hegelund E (2005) Chromatographic determination of changes in pigments in spinach (Spinacia oleracea L.) during processing. J Chromatogr Sci 43:466–472

Kimura M, Rodriguez-Amaya DB (2002) A scheme for obtaining standards and HPLC quantification of leafy vegetable carotenoids. Food Chem 78:389–398

Lichtenthaler HK, Buschmann C (2001) Chlorophylls and Carotenoids: measurement and characterization by UV‐VIS spectroscopy. Current protocols in Food Analytical Chemistry (Supplement 1). Wiley, New York

Lisiewska Z, Gębczyński P, Bernaś E, Kmiecik W (2009) Retention of mineral constituents in frozen leafy vegetables prepared for consumption. J Food Compos Anal 22:218–223

Mirmiran P, Noori N, Zavareh MB, Azizi F (2009) Fruit and vegetable consumption and risk factors for cardiovascular disease. Metabolism 58:460–468

Myers J, Graham JR (1956) The role of photosynthesis in the physiology of Ochromonas. J Cell Comp Physiol 47:397–414

Palmero P, Lemmens L, Ribas-agusti A, Sosa C, Met K, Umutoni JD, Hendricks M, Van Loey A (2013) Novel targeted approach to better understand how natural structural barriers govern carotenoid in vitro bioaccessibility in vegetable-based systems. Food Chem 141:2036–2043

Piironen V, Syvaoja EL, Varo P, Salminen K, Koivistoinen P (1986) Tocopherols and tocotrienols in Finnish foods: vegetables, fruits, and berries. J Agric Food Chem 34:742–746

Poincelot RP (1976) Lipid and fatty acid composition of chloroplast envelope membranes from species with differing net photosynthesis. Plant Physiol 58:595–598

Rogers E, Rice S, Nicolosi R, Carpenter D, McClelland C, Romanczyk LJ (1993) Identification and quantitation of γ-oryzanol components and simultaneous assessment of tocols in rice bran oil. J Am Oil Chem Soc 70:301–307

Singh JP, Kaur A, Shevkani K, Singh N (2016) Composition, bioactive compounds and antioxidant activity of common Indian fruits and vegetables. J Food Sci Technol 53:4056–4066

Walker D, Barber J (1976) The intact chloroplast. Elsevier, Amsterdam, pp 235–278
Acknowledgements
This project was partly supported by Islamic Development Bank (IDB), Jeddah 21432, KSA.
Electronic supplementary material
Below is the link to the electronic supplementary material.
About this article
Cite this article
Gedi, M.A., Briars, R., Yuseli, F. et al. Component analysis of nutritionally rich chloroplasts: recovery from conventional and unconventional green plant species. J Food Sci Technol 54, 2746–2757 (2017). https://doi.org/10.1007/s13197-017-2711-8
Revised:

Accepted:

Published:

Issue Date:
Keywords
Chloroplasts

Beta-carotene

Lutein

Alpha-tocopherol

Alpha-linolenic acid

Iron