Abstract
Purple coloured tea shoot clones have gained interest due to high content of anthocyanins in addition to catechins. Transcript expression of genes encoding anthocyanidin reductase (ANR), dihydroflavonol-4-reductase (DFR), anthocyanidin synthase (ANS), flavonol synthase (FLS) and leucoantho cyanidin reductase (LAR) enzymes in three new purple shoot tea clones compared with normal tea clone showed higher expression of CsDFR, CsANR, CsANS and lower expression of CsFLS and CsLAR in purple shoot clones compared to normal clone. Expression pattern supported high content of anthocyanins in purple tea. Four anthocyanins (AN1–4) were isolated and characterized by UPLC-ESI-QToF-MS/MS from IHBT 269 clone which recorded highest total anthocyanins content. Cyanidin-3-O-β-d-(6-(E)-coumaroyl) glucopyranoside (AN2) showed highest in vitro antioxidant activity (IC50 DPPH = 25.27 ± 0.02 μg/mL and IC50 ABTS = 10.71 ± 0.01 μg/mL). Anticancer and immunostimulatory activities of cyanidin-3-glucoside (AN1), cyanidin-3-O-β-d-(6-(E)-coumaroyl) glucopyranoside (AN2), delphinidin-3-O-β-d-(6-(E)-coumaroyl) glucopyranoside (AN3), cyanidin-3-O-(2-O-β-xylopyranosyl-6-O-acetyl)-β-glucopyranoside (AN4) and crude anthocyanin extract (AN5) showed high therapeutic perspective. Anthocyanins AN1–4 and crude extract AN5 showed cytotoxicity on C-6 cancer cells and high relative fluorescence units (RFU) at 200 μg/mL suggesting promising apoptosis induction activity as well as influential immunostimulatory potential. Observations demonstrate potential of purple anthocyanins enriched tea clone for exploitation as a nutraceutical product.
Access options
Buy single article
Instant access to the full article PDF.
USD 39.95
Price excludes VAT (USA)
Tax calculation will be finalised during checkout.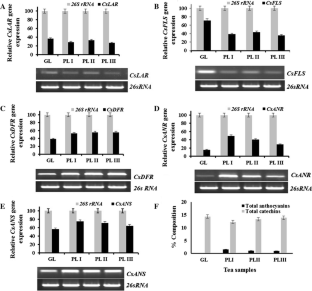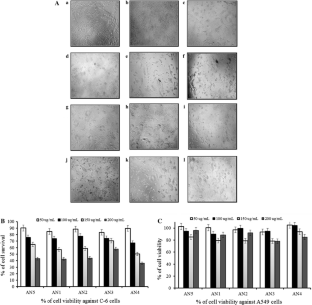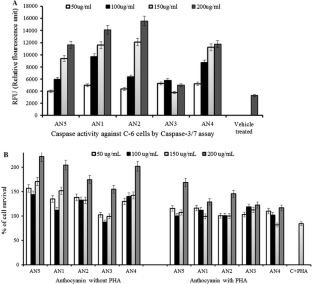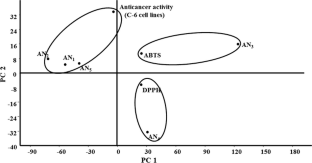 References
Akiyama S, Nesumi A, Maeda-Yamamoto M, Uehara M, Murakami A (2012) Effects of anthocyanin-rich tea "Sunrouge" on dextran sodium colitis in mice. BioFactors 38:226–233

Bagchi D, Roy S, Patel V, He G (2006) Safety and whole body antioxidant potential of a novel anthocyanins-rich formulation of edible berries. Mol Cell Biochem 281:197–209

Bessler H, Salman H, Bergman M, Straussberg R, Djaldetti M (2005) In vitro effect of statins on cytokine production and mitogen response of human peripheral blood mononuclear cells. Clin Immunol 117:73–77

Chih-Ping H, Yi-T Shih, Lin B-R, Chiu C-F, Lin C-C (2012) Inhibitory effect and mechanisms of an anthocyanins- and anthocyanidins-rich extract from purple-shoot tea on colorectal carcinoma cell proliferation. J Agric Food Chem 60:3686–3692

Hua C, Linling L, Shuiyuan C, Fuliang C, Feng X, Honghui Y, Conghua W (2013) Molecular cloning and characterization of three genes encoding dihydroflavonol-4-reductase from Ginkgo biloba in anthocyanin biosynthetic pathway. PLoS ONE 8:e72017. doi:10.1371/journal.pone.0072017

Jiang L, Shen X, Shoji T, Kanda T, Zhou J, Zhao L (2013) Characterization and activity of anthocyanins in Zijuan tea (Camellia sinensis var. kitamura). J Agric Food Chem 61:3306–3310

Joshi R, Sood S, Dogra P, Mahendru M, Kumar D, Bhangalia S, Pal HC, Kumar N, Bhushan S, Gulati A, Saxena AK, Gulati A (2012) In vitro cytotoxicity, antimicrobial, and metal-chelating activity of triterpene saponins from tea seed grown in Kangra valley, India. Med Chem Res 22:4030–4038

Joshi R, Rana A, Gulati A (2015) Studies on quality of orthodox teas made from anthocyanin-rich tea clones growing in Kangra valley, India. Food Chem 176:357–366

Kassim A, Poette J, Paterson A, Zait D, McCallum S, Woodhead M, Smith K, Hackett C, Graham J (2009) Environmental and seasonal influences on red raspberry anthocyanin antioxidant contents and identification of quantitative traits loci (QTL). Mol Nutr Food Res 53:625–634

Kerio LC, Wachira FN, Wanyoko JK, Rotich MK (2012) Total polyphenols, catechin profiles and antioxidant activity of tea products from purple leaf coloured tea cultivars. Food Chem 136:1405–1413

Kim S, Yoo KS, Pike LM (2005) Development of a PCR-based marker utilizing a deletion mutation in the dihydroflavonol 4-reductase (DFR) gene responsible for the lack of anthocyanin production in yellow onions (Allium cepa). Theor Appl Gen 110:588–595

Lee S-J, Jung Y-S, Lee S-H, Chung H-Y, Park B-J (2009) Isolation of a chemical inhibitor against K-Ras-induced p53 suppression through natural compound screening. Int J Oncol 34:1637–1643

Li J-B, Hashimoto F, Shimizu K, Skata Y (2008) Anthocyanins from red flowers of Camellia cultivar 'Dalicha'. Phytochem 69:3166–3171

Li J-B, Hashimoto F, Shimizu K, Skata Y (2009) A new acylated anthocyanin from the red flowers of Camellia hongkongensis and characterization of anthocyanins in the section Camellia species. Int J Plant Biol 51:545–552

Lila MA (2004) Anthocyanins and human health: an in vitro investigative approach. J Biomed Biotechnol 5:306–313

Lin C-C, Hsu C-P, Chen CC, Liao TZ, Chiu C-F, Lien PJ, Shih YT (2012) Anti-proliferation and radiation-sensitizing effect of an anthocyanidin- rich extract from purple-shoot tea on colon cancer cells. J Food Drug Anal 20:328–331

Osman H, Rahim AA, Isa NM, Bakhir NM (2009) Antioxidant activity and phenolic content of paederia foetida and Syzygium aqueum. Molecules 14:970–978

Peng Q-Z, Zhu Y, Liu Z, Du C, Li K-G, Xie D-Y (2012) An integrated approach to demonstrating the ANR pathway of proanthocyanidin biosynthesis in plants. Planta 236:901–918

Ramiro-Puig E, Castell M (2009) Cocoa: antioxidant and immunomodulator. Br J Nutr 101:931–940

Reddivari L, Vanamala J, Chintharlapalli S, Safe SH, Miller JC (2007) Anthocyanin fraction from potato extracts is cytotoxic to prostate cancer cells through activation of caspase-dependent and caspase-independent pathways. Carcinogenesis 28:2227–2235

Saito T, Honma D, Tagashira M, Kanda T, Nesumi A, Yamamoto MM (2011) Anthocyanins from new red leaf tea 'Sunrouge'. J Agric Food Chem 59:4779–4782

Sheridan C, Delivani P, Cullen S-P, Martin S-J (2008) Bax- or Bak-induced mitochondrial fission can be uncoupled from cytochrome C release. Mol Cell 31:570–585

Slee EA, Adrain C, Martin SJ (2001) Executioner caspase-3,-6 and -7 perform distinct, non-redundant roles during the demolition phases of apoptosis. J Biol Chem 276:7230–7236

Spencer JPE, Crozier A (2012) Flavonoids and related compounds: bioavailability and function. CRC Press, Taylor and Francis Group, London, pp 79–90

Tsuda T (2012) Dietary anthocyanin-rich plants: biochemical basis and recent progress in health benefits studies. Mol Nutr Food Res 56:159–170

Walia M, Mann T, Kumar D, Agnihotri VK, Singh B (2012) Chemical composition and in vitro cytotoxic activity of essential oil of leaves of Malus domestica growing in western Himalaya (India). Evidence-Based Com Alter Med 649727

Wang H, Fan W, Li H, Yang J, Huang J, Zhang P (2013) Functional characterization of dihydroflavonol-4-reductase in anthocyanin biosynthesis of purple sweet potato underlies the direct evidence of anthocyanins function against abiotic stresses. PLoS ONE 8:e78484. doi:10.1371/journal.pone.0078484

Wu Z-J, Li X-H, Liu Z-W, Xu Z-S, Zhuang J (2014) De novo assembly and transcriptome characterization: novel insights into catechins biosynthesis in Camellia sinensis. BMC Plant Biol 14:277

Zafra-Stone S, Yasmin T, Bagchi M, Chatterjee A, Vinson JA, Bagchi D (2007) Berry anthocyanins as novel antioxidants in human health and disease prevention. Mol Nutr Food Res 51:675–683
Acknowledgements
Authors acknowledge financial assistance received from Council of Scientific and Industrial Research, New Delhi, India under Main Lab Project No. MLP 0070 (Purification, characterization and bioprocessing of nutraceuticals from tea).
Electronic supplementary material
Below is the link to the electronic supplementary material.
About this article
Cite this article
Joshi, R., Rana, A., Kumar, V. et al. Anthocyanins enriched purple tea exhibits antioxidant, immunostimulatory and anticancer activities. J Food Sci Technol 54, 1953–1963 (2017). https://doi.org/10.1007/s13197-017-2631-7
Revised:

Accepted:

Published:

Issue Date:

DOI: https://doi.org/10.1007/s13197-017-2631-7
Keywords
Tea

Anthocyanins

Antioxidant activity

Cytotoxicity

Immunostimulatory activity