Abstract
Electrolysed oxidising water (E.O. water) is produced by electrolysis of sodium chloride to yield primarily chlorine based oxidising products. At neutral pH this results in hypochlorous acid in the un-protonated form which has the greatest oxidising potential and ability to penetrate microbial cell walls to disrupt the cell membranes. E.O. water has been shown to be an effective method to reduce microbial contamination on food processing surfaces. The efficacy of E.O. water against pathogenic bacteria such as Listeria monocytogenes, Escherichia coli and Vibrio parahaemolyticus has also been extensively confirmed in growth studies of bacteria in culture where the sanitising agent can have direct contact with the bacteria. However it can only lower, but not eliminate, bacteria on processed seafoods. More research is required to understand and optimise the impacts of E.O. pre-treatment sanitation processes on subsequent microbial growth, shelf life, sensory and safety outcomes for packaged seafood products.
Access options
Buy single article
Instant access to the full article PDF.
US$ 39.95
Tax calculation will be finalised during checkout.
Subscribe to journal
Immediate online access to all issues from 2019. Subscription will auto renew annually.
US$ 79
Tax calculation will be finalised during checkout.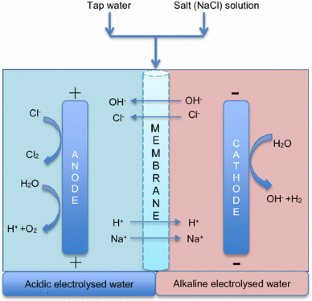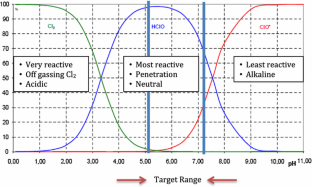 References
Al-Haq MI, Sugiyama J, Isobe S (2005) Applications of electrolyzed water in agriculture & food industries. Food Sci Technol Res 11:135–150

Al-Holy MA, Rasco BA (2015) The bactericidal activity of acidic electrolyzed oxidizing water against Escherichia coli O157:H7, Salmonella typhimurium, and Listeria monocytogenes on raw fish, chicken and beef surfaces. J Food Control 54:317–321

ANZFA (2001) Safe food Australia, 2nd edn. Australia New Zealand Food Authority, Canberra

Ayebah B, Hung Y-C (2005) Electrolysed water and its corrosiveness on various surface materials commonly found in food processing facilities. J Food Process Eng 28:247–264

Botanical Food Company Pty Ltd (2014) Petition for the annotation of chlorine materials as per 7 CFR 205. 600-606 to include hypochlorous acid as produced byy the electrochemical activation of sodium chloride and water. The Organic Insider QLD, Australia

Cahill MM (1990) Bacterial flora of fishes: a review. Microb Ecol 19:21–41

Cao W, Zhu ZW, Shi ZX, Wang CY, Li BM (2009) Efficiency of slightly acidic electrolyzed water for inactivation of Salmonella enteritidis and its contaminated shell eggs. Int J Food Microbiol 130:88–93. doi:10.1016/j.ijfoodmicro.2008.12.021

Chaillou S et al (2015) Origin and ecological selection of core and food-specific bacterial communities associated with meat and seafood spoilage. ISME J 9:1105–1118. doi:10.1038/ismej.2014.202

Codex Alimentarius Commission (2000) Discussion paper on the use of chlorinated water. Joint FAO/WHO Food Standard Program

Colangelo MA, Caruso MC, Favati F, Scarpa T, Condelli N, Galgano F (2015) The sustainability of agro-food and natural resource systems in the mediterranean basin. Electrolysed water in the food industry as supporting of environmental sustainability. Springer, Switzerland. doi:10.1007/978-3-319-16357-4_25

Dalgaard P, Gram L, Huss HH (1993) Spoilage and shelf-life of cod fillet packed in vacuum or modified atmospheres. Int J Food Microbiol 19:283–294. doi:10.1016/0168-1605(93)90020-H

Deborde M, von Gunten U (2008) Reactions of chlorine with inorganic and organic compounds during water treatment—kinetics and mechanisms: a critical review. Water Res 42:13–51. doi:10.1016/j.watres.2007.07.025

Dickerson M (2009) Simple elixir called a "miracle liquid". Los Angeles Times, Los Angeles

Eifert JD, Sanglay GC (2002) Chemistry of chlorine sanitizers in food processing. Dairy Food Environ Sanitat 22:534–538

Emborg J, Laursen BG, Rathjen T, Dalgaard P (2002) Microbial spoilage and formation of biogenic amines in fresh and thawed modified atmosphere-packed salmon (Salmo salar) at 2 °C. J Appl Microbiol 92:790–799. doi:10.1046/j.1365-2672.2002.01588.x

Emswiler BS, Kotula AW, Rough DK (1976) Bactertericidal effectiveness of three chlorine sources used in beef carcass washing. J Anim Sci 42:1445–1450. doi:10.2527/jas1976.4261445x

FAO (2008) Benefits and risk of the use of chlorine-containing disinfectants in food production and food processing. FAO, Ann Arbor

Feliciano L, Lee J, Lopes JA, Pascall MA (2010) Efficacy of sanitized ice in reducing bacterial load on fish fillet and in the water collected from the melted ice. J Food Microbiol Saf 75:M231–M238. doi:10.1111/j.1750-3841.2010.01583.x

Fukuzaki S (2006) Mechanisms of action of sodium hypochlorite in cleaning and disinfection processes. Biocontrol Sci 11:147–157

Gomez-Lopez VM, MaI Gil, Pupunat L, Allende A (2015) Cross-contamination of Escherichia coli O157:H7 is inhibited by electrolyzed water combined with salt under dynamic conditions of increasing organic matter. Food Microbiol 46:471–478. doi:10.1016/j.fm.2014.08.024

Gómez-López VM, Marín A, Medina-Martínez MS, Gil MI, Allende A (2013) Generation of trihalomethanes with chlorine-based sanitizers and impact on microbial, nutritional and sensory quality of baby spinach. Postharvest Biol Technol 85:210–217. doi:10.1016/j.postharvbio.2013.05.012

Gram L, Huss HH (1996) Microbiological spoilage of fish and fish products. Int J Food Microbiol 33:121–137. doi:10.1016/0168-1605(96)01134-8

Hsu S-Y (2005) Effects of flow rate, temperature and salt concentration on chemical and physical properties of electrolyzed oxidizing water. J Food Eng 66:171–176. doi:10.1016/j.jfoodeng.2004.03.003

Hu Y, Du S, Wu DM, Luo HY (2015) Study on the antimicrobial activity of strongly acidic electrolysed oxidising water for large yellow croaker. Qual Assur Saf Crops Foods 7:133–139. doi:10.3920/QAS2012.0205133

Huang Y-R, Hsieh H-S, Lin S-Y, Lin S-J, Hung Y-C, Hwang D-F (2006a) Application of electrolyzed oxidizing water on the reduction of bacterial contamination for seafood. Food Control 17:987–993. doi:10.1016/j.foodcont.2005.07.003

Huang Y-R, Shiau C-Y, Hung Y-C, Hwang D-F (2006b) Change of hygienic quality and freshness in tuna treated with electrolyzed water and carbon monoxide gas during refrigerated and frozen storage. J Food Microbiol Saf 71:M127–M133. doi:10.1111/j.1750-3841.2006.00023.x

Huang Y-R, Hung Y-C, Hsu S-Y, Huang Y-W, Hwang D-F (2008) Application of electrolyzed water in the food industry. Food Control 19:329–345. doi:10.1016/j.foodcont.2007.08.012

Issa-Zacharia A, Kamitani Y, Muhimbula HS, Ndabikunze BK (2010) A review of microbiological safety of fruits and vegetables and the introduction of electrolysed water as an alternative to sodium hypochlorite solution. Afr J Food Sci 4:778–789

Jay JM, Loessner MJ, Golden DA (2005) Modern food microbiology, chapter 13, 7th edn. Springer, New York

Kim C, Hung Y-C (2012) Inactivation of E. coli O157:H7 on blueberries by electrolyzed water, ultraviolet light, and ozone. J Food Sci 77:M206–M211. doi:10.1111/j.1750-3841.2011.02595.x

Kim C, Hung Y-C, Brackett RE (2000) Efficacy of electrolyzed oxidizing (EO) and chemically modified water on different types of foodborne pathogens. Int J Food Microbiol 61:199–207. doi:10.1016/S0168-1605(00)00405-0

Kim C, Hung Y-C, Brackett RE, Frank JF (2001) Inactivation of Listeria monocytogenes biofilm by electrolysed oxidizing water. J Food Process Preserv 25:91–100. doi:10.1111/j.1745-4549.2001.tb00446.x

Kim W-T, Lim Y-S, Shin I-S, Park H, Chung D, Suzuki T (2006) Use of electrolyzed water ice for preserving freshness of pacific saury (Cololabis saira). J Food Prot 69:2199–2204

Langsrud S, Moen B, Møretrø T, Løype M, Heir E (2015) Microbial dynamics in mixed culture biofilms of bacteria surviving sanitation of conveyor belts in salmon-processing plants. J Appl Microbiol 120:366–378. doi:10.1111/jam.13013

Len S-V, Hung Y-C, Chung D, Anderson JL, Erickson MC, Morita K (2002) Effects of strorage condition and pH on chlorine loss in electrolysed oxidizing (EO) water. J Agric Food Chem 50:209–212. doi:10.1021/jf010822v

Liao LB, Chen WM, Xiao XM (2007) The generation and inactivation mechanism of oxidation–reduction potential of electrolyzed oxidizing water. J Food Eng 78:1326–1332. doi:10.1016/j.jfoodeng.2006.01.004

Lin T, Wang JJ, Li JB, Liao C, Pan YJ, Zhao Y (2013) Use of acidic electrolyzed water ice for preserving the quality of shrimp. J Agric Food Chem 61:8695–8702

Liu C, Duan J, Su Y-C (2006) Effects of electrolyzed oxidizing water on reducing Listeria monocytogenes contamination on seafood processing surfaces. Int J Food Microbiol 106:248–253. doi:10.1016/j.ijfoodmicro.2005.06.020

Mahmoud BSM, Kawai Y, Yamazaki K, Miyashita K, Suzuki T (2007) Effect of treatment with electrolyzed NaCl solutions and essential oil compounds on the proximate composition, amino acid and fatty acid composition of carp fillets. Food Chem 101:1492–1498. doi:10.1016/j.foodchem.2006.03.057

McCarthy S, Burkhardt-III W (2012) Efficacy of electrolyzed oxidizing water against Listeria monocytogenes and Morganella morganii on conveyor belt and raw fish surfaces. Food Control 24:214–219. doi:10.1016/j.foodcont.2011.09.030

McPherson LL (1993) Understanding ORP's role in the disinfection process. Water Eng Manag 140:29–31

Milne D, Powell SM (2014) Limited microbial growth in Atlantic salmon packed in a modified atmosphere. Food Control 42:29–33. doi:10.1016/j.foodcont.2014.01.035

Møretrø T, Moen B, Heir E, Hansen AA, Langsrud S (2016) Contamination of salmon fillets and processing plants with spoilage bacteria. Int J Food Microbiol 273:96–108. doi:10.1016/j.ijfoodmicro.2016.08.016

Novotny L, Dvorska L, Lorencova L, Beran V, Pavlik I (2004) Fish: a potential source of bacterial pathogens for human beings. Vet Med Czech 49:343–358

Ovissipour M, Al-Qadiri HM, Sablani SS, Govindan BN, Al-Alami N, Rasco B (2015) Efficacy of acidic and alkaline electrolyzed water for inactivating Escherichia coli O104:H4, Listeria monocytogenes, Campylobacter jejuni, Aeromonas hydrophila, and Vibrio parahaemolyticus in cell suspensions. Food Control 17:117–123. doi:10.1016/j.foodcont.2015.01.006

Ozer NP, Demirci A (2006) Electrolyzed oxidizing water treatment for decontamination of raw salmon inoculated with Escherichia coli O157:H7 and Listeria monocytogenes Scott A and response surface modeling. J Food Eng 72:234–241. doi:10.1016/j.jfoodeng.2004.11.038

Park CM, Hung YC, Doyle MP, Ezeike GOI, Kim C (2001) Pathogen reduction and quality of lettuce treated with electrolyzed oxidizing and acidified chlorinated water. Food Microbiol Saf 66:1368–1372. doi:10.1111/j.1365-2621.2001.tb15216.x

Park H, Hung Y-C, Kim C (2002) Effectiveness of electrolyzed water as a sanitizer for treating different surfaces. J Food Prot 8:1276–1280

Phuvasate S, Su Y-C (2010) Effects of electrolyzed oxidizing water and ice treatments on reducing histamine-producing bacteria on fish skin and food contact surface. Food Control 21:286–291. doi:10.1016/j.foodcont.2009.06.007

Pinto L, Ippolito A, Baruzzi F (2015) Control of spoiler Pseudomonas spp. on fresh cut vegetables by neutral electrolyzed water. Food Microbiol 50:102–108. doi:10.1016/j.fm.2015.04.003

Powell SM, Tamplin ML (2012) Microbial communities on Australian modified atmosphere packaged Atlantic salmon. Food Microbiol 30:226–232. doi:10.1016/j.fm.2011.10.002

Powitz RW (2010) Activated and electrolysed water: a brief review of a new generation of cleaners and sanitizing agents, CA, USA

Prendergast DM, Daly DJ, Sheridan JJ, McDowel DA, Blair IS (2004) The effect of abattoir design on aerial contamination levels and the relationship between aerial and carcass contamination levels in two Irish beef abattoirs. Food Microbiol 21:589–596. doi:10.1016/j.fm.2003.11.002

Rahman SME, Ding T, Oh D-H (2010) Effectiveness of low concentration electrolyzed water to inactivate foodborne pathogens under different environmental conditions. Int J Food Microbiol 139:147–153. doi:10.1016/j.ijfoodmicro.2010.03.020

Rahman SME, Khan I, Oh D-H (2016) Electrolysed water as a novel sanitizer in the food industry: current trends and future perspective. Compr Rev Food Sci Food Saf 00:1–20. doi:10.1111/1541-4337.12200

Rajeshwar K, Ibanez JG (1997) Environmental electrochemistry: fundamentals and applications in pollution sensors and abatement. Academic Press Inc, San Diego

Ray B, Bhunia A (2008) Fundamental food microbiology, 4th edn. CRC Press, New York

Rook JJ (1979) Possible pathways for the formation of chlorinated degradation products during chlorination of humic acids and resorcinol. Water Chlor Environ Impact Health Eff 3:85–98

Shiroodi SG, Ovissipour M, Ross CF, Rasco BA (2016) Efficacy of electrolyzed oxidizing water as a pretreatment method for reducing Listeria monocytogenes contamination in cold-smoked Atlantic salmon (Salmo salar). Food Control 60:401–407. doi:10.1016/j.foodcont.2015.08.020

Sivertsvik M, Jeksrud WK, Rosnes T (2002) A review of modified atmosphere packaging of fish and fishery products—significance of microbial growth, activities and safety. Int Food Sci Technol 37:107–127. doi:10.1046/j.1365-2621.2002.00548.x

Venkitanarayanan KS, Ezeike GO, Hung Y-C, Doyle MP (1999) Inactivation of Escherichia coli O157:H7 and Listeria monocytogenes on plastic kitchen cutting boards by electrolyzed oxidizing water. J Food Prot 8:857–860

Walker SP, Dimirci A, Graves RE, Spencer SB, Roberts RF (2005) Response surface modelling for cleaning and disinfecting materials used in milking system with electrolysed oxidising water. Int J Dairy Technol 58:65–73. doi:10.1111/j.1471-0307.2005.00190.x

Wang JJ, Lina T, Lia JB, Liaoa C, Pana YJ, Zhao Y (2014) Effect of acidic electrolyzed water ice on quality of shrimp in dark condition. Food Control 35:207–212. doi:10.1016/j.foodcont.2013.07.005

Wang M, Wang JJ, Sun XH, Pan YJ, Zhao Y (2015) Preliminary mechanism of acidic electrolyzed water ice on improving the quality and safety of shrimp. Food Chem 176:333–341. doi:10.1016/j.foodchem.2014.12.089

Waters BW, Hung YC (2014) The effect of organic loads on stability of various chlorine-based sanitisers. Int J Food Sci Technol 49:867–875. doi:10.1111/ijfs.12379

Wholey W-YC (2012) Hypochlorous acid stress responses in bacteria. The University of Michigan, Michigan, USA

Xie J, Sun X, Pan Y, Zhao Y (2012) Combining basic electrolyzed water pretreatment and mild heat greatly enhanced the efficacy of acidic electrolyzed water against Vibrio parahaemolyticus on shrimp. Food Control 23:320–324. doi:10.1016/j.foodcont.2011.07.019

Yu C-H, Huang T-C, Chung C-C, Huang H-H, Chen H-H (2014) Application of highly purified electrolyzed chlorine dioxide for tilapia fillet disinfection. Sci World J. doi:10.1155/2014/619038

Zhang B, Ma L, Deng S, Xie C, Qiu X (2015) Shelf-life of pacific white shrimp (Litopenaeus vannamei) as affected by weakly acidic electrolyzed water ice-glazing and modified atmosphere packaging. Food Control 51:114–121. doi:10.1016/j.foodcont.2014.11.016

Zhou R, Liu Y, Xie J, Wang X (2011) Effects of combined treatment of electrolysed water and chitosan on the quality attributes and myofibril degradation in farmed obscure puffer fish (Takifugu obscurus) during refrigerated storage. Food Chem 129:1660–1666. doi:10.1016/j.foodchem.2011.06.028
About this article
Cite this article
Dewi, F.R., Stanley, R., Powell, S.M. et al. Application of electrolysed oxidising water as a sanitiser to extend the shelf-life of seafood products: a review. J Food Sci Technol 54, 1321–1332 (2017). https://doi.org/10.1007/s13197-017-2577-9
Revised:

Accepted:

Published:

Issue Date:
Keywords
Electrolysed oxidising water

Shelf-life

Seafood products