Abstract
Foodborne outbreaks associated with fresh fruits and vegetables are on the rise worldwide. Biofilm formation is one of the important traits of pathogens making them strongly attached to substrates as well as express virulence phenotypes. Present study investigates the biofilm forming ability of E. coli and Salmonella sp. isolated from fresh fruits and vegetables. A total of 53 strains, including 35 E. coli and 18 Salmonella sp. isolated from different fruit and vegetable samples were taken into account for the study. Initial screening for biofilm formation was done using Congo Red agar plate test. Results revealed that 22.8% E. coli and 22.2% Salmonella sp. were potential biofilm formers. However, the MTP (Micro-Titre Plate) assay suggested more isolates of both E. coli and Salmonella sp. were moderate to strong biofilm producers. Agar plate diffusion assay with Agrobacterium tumefaciens NTL-4 showed the production of quorum signaling molecules (AHLs) by three isolates of E. coli and one Salmonella sp. Two E. coli isolates showed a significant amount of EPS production indicating higher biofilm forming potential. The Presence of LUX R homologue gene (sdiA) in two of the Salmonella isolates were confirmed by PCR which demonstrated their potential pathogenicity. Results of the work underline the biofilm forming and potentially virulent capacities of isolates from the surface of fruits and vegetables.
Access options
Buy single article
Instant access to the full article PDF.
USD 39.95
Price excludes VAT (USA)
Tax calculation will be finalised during checkout.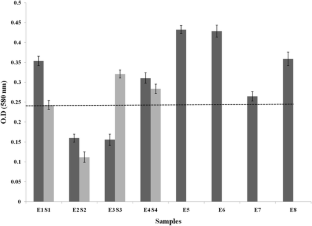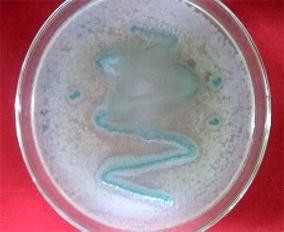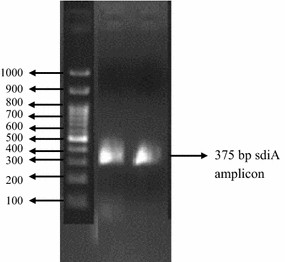 References
Ami P, Lindstrom C, Arti P, Prajapati JB, Olle H (2012) Probiotic properties of exopolysaccharide producing lactic acid bacteria isolated from vegetables and traditional Indian fermented foods. Int J Ferment Foods 1:77–86

Annous BA, Solomon EB, Cooke PH, Burke (2005) Biofilm formation by Salmonella sp. on cantaloupe melons. J Food Saf 25:276–287

Barak JD, Liang AS (2008) Role of soil, crop debris, and a plant pathogen in Salmonella enterica contamination of tomato plants. PLoS ONE 3:e1657

Berger CN, Sodha SV, Shaw RK, Griffin PM, Pink D, Hand P (2010) Fresh fruit and vegetables as vehicles for the transmission of human pathogens. Environ Microbiol 12:2385–2397

Byrne L, Fisher I, Peters T, Mather A, Thomson N, Rosner B, Bernard H, McKeown P, Cormican M, Cowden J, Aiyedun V, Lane C (2014) A multi-country outbreak of Salmonella Newport gastroenteritis in Europe associated with watermelon from Brazil, confirmed by whole genome sequencing: October 2011 to January 2012. Euro Surveill 19:6–13

Cafiso V, Bertuccio T, Santagati M, Campanile F, Amicosante G, Perilli MG (2004) Presence of the ica operon in clinical isolates of Staphylococcus epidermidis and its role in biofilm production. Clin Microbiol Infect 10:1081–1088

Cevallos-Cevallos JM, Gu G, Danyluk MD, Van Bruggen AH (2012) Adhesion and splash dispersal of Salmonella enterica Typhimurium on tomato leaflets: effects of rdar morphotype and trichome density. Int J Food Microbiol 160:58–64

Deighton MA, Balkau B (1990) Adherence measured by microtiter assay as a virulence marker for Staphylococcus epidermidis infections. J Clin Microbiol 28:2442–2447

Denis N, Zhang H, Leroux A, Trudel R, Bietlot H (2016) Prevalence and trends of bacterial contamination in fresh fruits and vegetables sold at retail in Canada. Food Control 67:225–234

Dubois MK, Gilles A, Hamilton K, Rebers PA, Smith F (1956) Calorimetric method for determination of sugars and related substances. Anal Chem 28:350–356

Fitzpatrick F, Humphreys H, O'Gara JP (2005) Evidence for ica ADBC-independent biofilm development mechanism in methicillin-resistant Staphylococcus aureus clinical isolates. J Clin Microbiol 43:1973–1976

Flemming HC, Wingender JG, Mayer C (2000) Physico-chemical properties of biofilms. In: Evans LV (ed) Biofilms: recent advances in their study and control. Harwood Academic Publishers, Amsterdam, pp 19–34

Hassan A, Usman J, Kaleem F, Omair M, Khalid A, Iqbal M (2011) Evaluation of different detection methods of biofilm formation in the clinical isolates. Braz J Infect Dis 15:305–311

Islam M, Morgan J, Doyle MP, Phatak SC, Millner P, Jiang X (2004a) Fate of Salmonella enterica serovar Typhimurium on carrots and radishes grown in fields treated with contaminated manure composts or irrigation water. Appl Environ Microbiol 70:2497–2502

Islam M, Morgan J, Doyle MP, Phatak SC, Millner P, Jiang X (2004b) Persistence of Salmonella enterica serovar Typhimurium on lettuce and parsley and in soils on which they were grown in fields treated with contaminated manure composts or irrigation water. Foodborne Pathog Dis 1:27–35

Iturriaga MH, Tamplin ML, Escartin EF (2007) Colonization of tomatoes by Salmonella Montevideo is affected by relative humidity and storage temperature. J Food Prot 70:30–34

KalaiChelvam K, Chai LC, Thong KW (2014) Variations in motility and biofilm formation of Salmonella enterica serovar Typhi. Gut pathog 6:2

Kim W, Surette GM (2005) Prevalence of surface swarming behavior in Salmonella. J Bacteriol 187:6580–6583

Kozak GK, MacDonald D, Landry L, Farber JM (2013) Foodborne outbreaks in Canada linked to produce: 2001 through 2009. J Food Prot 76:173–183

Lynch MF, Tauxe RV, Hedberg CW (2009) The growing burden of foodborne outbreaks due to contaminated fresh produce: risks and opportunities. Epidemiol Infect 137:307–315

Mathur T, Singhal S, Khan S, Upadhyay DJ, Fatma T, Rattan A (2006) Detection of biofilm formation among the clinical isolates of Staphylococci: an evaluation of three different screening methods. Indian J of Med Microbiol 24:25–29

Percival SL, Walker J, Hunter P (2000) Microbiological aspects of biofilms and drinking water. CRC Press, New York

Silva De, Silva GDI, Kantzanou M, Justice A, Massey RC, Wilkinson AR (2002) The ica operon and biofilm production in coagulase-negative staphylococci associated with carriage and disease in a neonatal intensive care unit. J Clin Microbiol 40:382–388

Smith JL, Fratamico PM, Novak JS (2004) Quorum sensing: a primer for food microbiologists. J Food Prot 67:1053–1070

Sutherland IW (2001) The biofilm matrix: an immobilized but dynamic microbial environment. Trends Microbiol 9:222–227

Teplitski M, Barak JD, Schneider KR (2009) Human enteric pathogens in produce: un-answered ecological questions with direct implications for food safety. Curr Opin Biotechnol 20:166–171

Verstraeten N, Braeken K, Debkumari B, Fauvart M, Fransaer J, Vermant J, Michiels J (2008) Living on a surface: swarming and biofilm formation. Trends Microbiol 16:496–506
Acknowledgements
Authors are grateful to the DST-PURSE Programme, DST, New Delhi, for providing the funding for the research work and Pondicherry University for providing the essential laboratory facilities to carry out the work.
About this article
Cite this article
Amrutha, B., Sundar, K. & Shetty, P.H. Study on E. coli and Salmonella biofilms from fresh fruits and vegetables. J Food Sci Technol 54, 1091–1097 (2017). https://doi.org/10.1007/s13197-017-2555-2
Revised:

Accepted:

Published:

Issue Date:

DOI: https://doi.org/10.1007/s13197-017-2555-2
Keywords
Fresh fruits and vegetables

E. coli
Salmonella sp.

Biofilm formation

Quorum sensing