Abstract
Nutrition transition to high energy-dense foods has been implicated as the major causes of diet related diseases. Plantain-based dough meals supplemented with soybean cake and cassava fibre were developed by combining them in different proportions using response surface methodology. The flour blends were analyzed for the nutritional composition while the glycaemic index, antidiabetic potentials and protein digestibility of the dough meals were determined in wistar rats. The nutritional and essential amino acid contents of the flour blends were comparable to that of cerolina (a commercially available food product commonly recommended for diabetic patients). The rats fed with the formulated dough meals had lower glycaemic index and glycaemic load, and the blood glucose was significantly reduced compared to cerolina and metformin (a synthetic antidiabetic drug). All the plantain-based dough meals were comparable to cerolina and metformin in terms of nutritional quality and blood glycaemic control activities, respectively. Hence, the formulated plantain-based dough meals have potential to be used for the prevention and management of diabetes mellitus.
Access options
Buy single article
Instant access to the full article PDF.
USD 39.95
Price excludes VAT (USA)
Tax calculation will be finalised during checkout.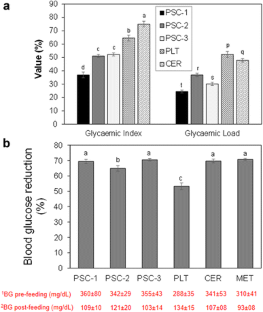 References
Abiose SH, Ikujenlola AV, Abioderin FI (2015) Nutritional quality assessment of complementary foods produced from fermented and malted quality protein maize fortified with soybean flour. Pol J Food Nutr Sci 65:49–56

Agama-Acevedo E, Islas-Hernández JJ, Pacheco-Vargas G, Osorio-Díaz P, Bello-Pérez LA (2012) Starch digestibility and glycemic index of cookies partially substituted with unripe banana flour. LWT Food Sci Technol 46:177–182

Agwu AE, Anyaeche CL (2007) Adoption of improved cassava varieties in six rural communities in Anambra state, Nigeria. African J Biotechnol 6:89–98

Aletor VA, Egberongbe O (1992) Feeding differently processed soya bean. Part 2: an assessment of haematological responses in the chicken. Food/Nahrung 36:364–369

AOAC (Association of Analytical Chemists) (2005) Official methods of analysis. In: Horowitz W (ed) Official methods of analysis, vol 18. AOAC, Gaithersburg

Beecher GR (1999) Phytonutrients role in metabolism: effects on resistance to degenerative processes. Nutr Rev 57:3–6

Brand-Miller J, Hayne S, Petocz P, Colagiuri S (2003) Low-glycemic index diets in management of diabetes: a meta-analysis randomized controlled trials. Diabetes Care 26:2261–2267

Buzzigoli G, Lanzone L, Ciorciaro D, Frascerra S, Cerri M, Scandroglio A, Coldani R, Ferrannini E (1990) Characterization of a reversed-phase high performance liquid chromatographic system for determination of blood amino acids. J Chromatogr A 507:85–93

Chatterjee R, Colangelo LA, Yeh HC, Anderson CA, Daviglus ML, Liu K, Brancati FL (2012) Potassium intake and risk of incident type 2 diabetes mellitus: the coronary artery risk development in young adults (CARDIA) study. Diabetologia 55:1295–1303

Day RA, Underwood AL (1986) Quantitive analysis, 5th edn. Prentice-Hall Publication, New Delhi, p 701

Devinder D, Mona M, Hradesh R, Patil RT (2012) Dietary fibre in foods: a review. J Food Sci Technol 49:255–266

Eleazu CO, Okafor PN, Ikpeama A (2010) Total antioxidant capacity, nutritional composition and inhibitory activity of unripe plantain (Musa paradisiaca) on oxidative stress in alloxan induced diabetic rabbits. Pak J Nutr 9:1052–1057

FAO/WHO (1991) Protein quality evaluation. Roe, Italy, Food and Agricultural organization of the United Nations, pp 1–66

Franz MJ, Horton ES, Bantle JP, Beebe CA, Brunzell JD, Coulston AM, Henry RR, Hoogwerf BJ, Stacpoole PW (1994) Nutrition principles for the management off diabetes and related complications. Diabetes Care 17:490–518

Gandhi AP (2009) Quality of soybean and its food products. Intern Food Res J 16:11–19

Glew RS, Vanderjagt DJ, Chauang LT, Huang YS, Millson M, Glew RH (2005) Nutrient content of four edible plants from plants from West Africa. Plant Foods Human Nutr 60:187–193

Hermansen MF, Nina MBE, Lene SM, Lotte H, Kjeld H (2006) Can the Glycemic Index (GI) be used as a tool in the prevention and management of type 2 diabetes? Rev Diabet Stud 3:61–71

Hernández-Nava RG, Berrios J, Pan J, Osorio-Díaz P, Bello-Pérez LA (2009) Development and characterization of spaghetti with high resistant starch content supplemented with banana starch. Food Sci Technol Intern 15:73–78

Idowu MA, Oni A, Amusa BM (1996) Bread and Biscuit making potential of some Nigerian cocoyam cultivars. Nigeria Food J 14:1–12

Jayagopal V, Albertazzi P, Kilpatrick MS, Howarth EM, Jennings PE, Hepburn DA, Atkin SL (2002) Beneficial effects of soy phytoestrogen intake in postmenopausal women with Type 2 diabetes. Diabetes Care 25:1709–1714

Kapoor SK, Anand K (2002) Nutritional transition: a public health challenge in developing countries. J Epidemiol Community Health 56:804–805

Liu S, Willett WC, Stampfer MJ, Hu FB, Franz M, Sampson L, Hennekens CH, Manson JE (2000) A prospective study of dietary glycemic load, carbohydrate intake, and risk of coronary heart disease in US women. Am J Clin Nutr 71:1455–1461

Lolas GM, Markakis P (1975) Phytic acid and other phosphorus compounds of bean (Phaseolus vulgaris). J Agric Food Chem 23:13–15

Nwosu JN (2011) The effects of processing on the anti-nutritional properties of Oze Bosqueia angolensis seed. J Am Sci 7:1–6

Odenigbo AM, Asumugha VU, Ubbor S, Nwauzor C, Otuonye AC, Offia-Olua BI, Princewill-Ogbunna IL, Nzeagwu OC, Henry-Uneze HN, Anyika JU, Ukaegbu P, Umeh AS, Anozie GO (2013) Proximate composition and consumption pattern of plantain and cooking-banana. British J Appl Sci Technol 3:1035–1043

Olapade AA, Babalola KA, Aworh OC (2015) Evaluation of plantain and cowpea blends for complementary foods. Agric Food 3:274–288

Osundahunsi OF (2006) Functional properties of extruded soybean with plantain flour blends. J Food Agric Environ 4:57–60

Ovando-Martinez M, Sáyago-Ayerdi SG, Agama-Acevedo E, Goñi I, Bello-Pérez LA (2009) Unripe banana flour as an ingredient to increase the indigestible carbohydrates of pasta. Food Chem 113:121–126

Popkin BM (2002) The shift in stages of the nutrition transition in the developing world differs from past experiences. Public Health Nutr 5:205–214

Railes R, Albrink MJ (1981) Effect of chromium chloride supplementation on glucose tolerance and serum lipids including high-density lipoprotein of adult men. Am J Clin Nutr 34:2670–2678

Sajilata MG, Singhal RS, Kulkarni PR (2006) Resistant starch—A review. Comp Rev Food Sci Food Safety 5:1–17

Salmeron J, Manson JE, Stampfer MJ, Colditz GA, Wing AL, Willett WC (1997) Dietary fiber, glycemic load and risk of non-insulin-dependent diabetes mellitus in women. J Am Med Assoc 277:472–477

Shaw J, Sicree RA, Zimmet PZ (2010) Global estimates of the prevalence of diabetes for 2010 and 2030. Diabetes Res Clin Pract 87:4–14

Shodehinde SA, Oboh G, Nwanna EE (2014) Capacity of boiled green plantain (Musa paradisiaca) on the enzymes linked with diabetes and hypertension in comparison with synthetic drugs in Vitro. Intern J Curr Microbiol App Sci 3:964–976

Soetan KO, Oyewole OE (2009) The need for adequate processing to reduce the antinutritional factors in plants used as human foods and animal feeds: a review. African J Food Sci 3:223–232

Sun Q, Spiegelman D, Van Dam RM, Holmes MD, Malik VS, Willett WC, Hu FB (2010) White rice, brown rice, and risk of type 2 diabetes in US men and women. Arch Intern Med 170:961–969
Ethics declarations
Conflicts of interest
The authors report no conflicts of interest. The authors alone are responsible for the content and writing of the paper.
About this article
Cite this article
Famakin, O., Fatoyinbo, A., Ijarotimi, O.S. et al. Assessment of nutritional quality, glycaemic index, antidiabetic and sensory properties of plantain (Musa paradisiaca)-based functional dough meals. J Food Sci Technol 53, 3865–3875 (2016). https://doi.org/10.1007/s13197-016-2357-y
Revised:

Accepted:

Published:

Issue Date:

DOI: https://doi.org/10.1007/s13197-016-2357-y
Keywords