Abstract
Oxidative stress is an important pathomechanism of neurological disorders such as Alzheimer disease and Parkinson disease, cardiovascular disorders and many others. This study sought to verify whether extra-virgin olive oil (EVOO), lipophilic fraction (OOLF) and hydrophilic fraction (OOHF) exerted a brain protective effect against the oxidative stress caused by 2,4-dichlorophenoxyacetic acid (2,4-D) pesticide at a dose of 5 mg/kg body weight. 2,4-D, EVOO and its fractions were administered to rats by gavages for four consecutive weeks. Oxidative stress was assessed by measuring brain lipid peroxide level, acetylcholinesterase (AChE), antioxidant enzyme activities and fatty acid composition. 2,4-D induced a decrease in both plasma and brain acetylcholinesterase activity and a rise in Brain TBARS (Thiobarbituric acid reactive substances) level and antioxidant enzyme activities compared with the control group. These changes were partly reversed by either EVOO or its fractions oral administration to 2,4-D treated rats. EVOO enhanced a neuroprotective effect evaluated by the restoration of brain fatty acid composition especially the level of docosahexaenoic acid (DHA). Our results indicate that EVOO exerts a neuroprotective activity against oxidative damage in brain induced by 2,4-D, which could be attributed to its antioxidative property.
Access options
Buy single article
Instant access to the full article PDF.
US$ 39.95
Tax calculation will be finalised during checkout.
Subscribe to journal
Immediate online access to all issues from 2019. Subscription will auto renew annually.
US$ 79
Tax calculation will be finalised during checkout.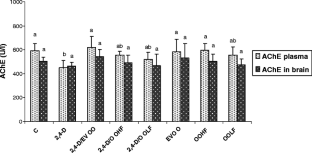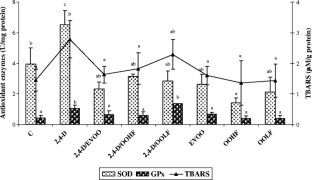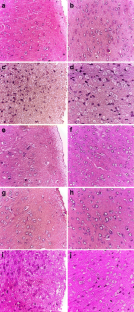 References
Agudo A, Cabrera L, Amiano P, Ardanaz E, Barricarte A, Berenguer T, et al. (2007) Fruit and vegetable intakes, dietary antioxidant nutrients, and total mortality in Spanish adults: findings from the Spanish cohort of the European Prospective Investigation into Cancer and Nutrition (EPIC-Spain). Am J Clin Nutr 85:1634–1642

Barnekow DE, Hamburg AW, Puvanesarajah V, Guo M (2000) Metabolism of 2,4-dicholorophenoxyacetic acid in laying hens and lactating goats. J Agric Food Chem 49(1):156–163

Bawazir AE (2011) Chronic effect of olive oil on some neurotransmitter contents in different brain regions and physiological, histological structure of liver and kidney of male albino rats. World J Neurosci 1:31–37

Behl C (1999) Alzheimer's disease and oxidative stress: implications for novel therapeutic approaches. Prog Neurobiol 57:301–323

Bongiovanni B, De Lorenzi P, Ferri A, Konjuh C, Rassetto M, Evangelista de Duffard AM, Cardinali DP, Duffard R (2007) Melatonin decreases the oxidative stress produced by 2,4-dichlorophenoxyacetic acid in rat cerebellar granule cells. Neurotox Res 11:93–99

Bongiovanni B, Ferri A, Brusco A, Rassetto M, Lopez LM, Evangelista de Duffard AM, Duffard R (2011) Adverse effects of 2,4-Dichlorophenoxyacetic acid on rat cerebellar granule cell cultures were attenuated by amphetamine. Neurotox Res 19:544–555

Bortolozzi A, Evangelista de Duffard AM, Dajas F, Duffard R, Silveira R (2001) Intracerebral administration of 2,4-diclorophenoxyacetic acid induces behavioral and neurochemical alterations in the rat brain. Neurotoxicology 22:221–232

Brusco A, Pecci Saavedra J, Garcia G, Tagliferro P, Evangelista DE Duffard AM, Duffard R (1997) 2,4-Dichlorophenoxyacetic acid through lactation induces astroghos s m rat brain. Mol Chem Neuropathol 30:175–185

Bukowska B (2003) Effects of 2,4-D and its metabolite 2,4 dichlorophenol on antioxidant enzymes and level of glutathione in human erythrocytes. Compa Biochem Physiol Part C: Toxicol Pharmacol 135:435–441

Bukowska B, Hutnik K (2006) 2,4-D and MCPA and their derivatives: effect on the activity of membrane erythrocytes acetylcholinesterase (in vitro). Pestic Biochem Physiol 85:174–180

Bukowska B, Chajdys A, Duda W, Duchnowicz P (2000) Catalase activity in human erythrocytes: effect of phenoxy herbicides and their metabolites. Cell Biol Int 24:705–711

Cabrerizo S, De La Cruz JP, López-Villodres JA, Muñoz-Marín J, Guerrero A, Reyes JJ, Labajos MT, González-Correa JA (2013) Role of the inhibition of oxidative stress and inflammatory mediators in the neuroprotective effects of hydroxytyrosol in rat brain slices subjected to hypoxia reoxygenation. J Nutr Biochem 24:2152–2157

Chang Y Lee (2013) Challenges in providing credible scientific evidence of health benefits of dietary polyphénols. J Fun Food 5: 524-526.

Dabbou S, Issaoui M, Servili M, Taticchi A, Sifi S, Montedoro GF, Hammami M (2009) Characterisation of virgin olive oils from European olive cultivars introduced in Tunisia. Eur J Lipid Sci Technol 111:392–401

De Lau LML, Bornebroek M, Witteman JCM, Hofman A, Koudstaal PJ, Breteler MMB (2005) Dietary fatty acids and the risk of Parkinson disease. Neurology 64:2040–2045

Duffard R, Garcia G, Rosso S, Bortolozzi A, Madariaga M, Di Paolo O, et al. (1996) Central nervous system myelin deficit in rats exposed to 2,4-dichlorophenoxyacteic acid throughout lactation. Neurotoxicol Teratol 18:691–696

Ellman GL, Courtney KD, Andres Jr V, Featherstone RM (1961) A new and rapid colorimetric determination of acetylcholinesterase activity. Bio Chem Pharmacol 7:88–95

Emerit J, Edeas M, Bricaire F (2004) Neurodegenerative diseases and oxidative stress. Biomed Pharmacother 58:39–46

Farr SA, Price TO, Dominguez LJ, Motisi A, Saiano F, Niehoff ML, et al. (2012) Extra virgin olive oil improves learning and memory in SAMP8 mice. J Alzheimers Dis 28:81–92

Ferri A, Duffard R, Evangelista de Duffard AM (2007) Selective oxidative stress in brain areas of neonate rats exposed to 2,4- dichlorophenoxyacetic acid through mother's milk. Drug Chem Toxicol 30:17–30

Folch J, Lee M, Sloane-Stanley GH (1957) A simple method for the isolation and purification of total lipids from animal tissues. J Biol Chem 226:497–509

Giacometti J, Milosevic A, Milin C (2002) Gas chromatography determination of fatty acids contained in different classes after their separation by solid-phase extraction. J Chromatogr A 976:47–54

Gimeno E, Castellote AI, Lamuela-Raventos RM, de la Torre MC, Lopez-Sabater MC (2000) Rapid determination of vitamin E in vegetable oils by reversed-phase high-performance liquid chromatography. J of Chromatogr A 881:251–254

González-Correa JA, Navas MD, Lopez-Villodres JA, Trujillo M, Espartero JL, De La Cruz JP (2008) Neuroprotective effect of hydroxytyrosol and hydroxytyrosol acetate in rat brain slices subjected to hypoxia–reoxygenation. Neurosci Lett 446:143–146

Halliwell B (1992) Reactive oxygen species and the central nervous system. J Neurochem 59:1609–1623

Hunkar T, Aktan F, Ceylan A, Karasu C (2002) Effects of cod liver oil on tissue antioxidant pathways in normal and streptozotocin- diabetic rats. Cell Biochem Funct 20:297–302

Impellizzeri D, Esposito E, Mazzon E, Paterniti I, Di Paola R, Bramanti P, et al. (2012) The effects of a polyphenol present in olive oil, oleuropein aglycone, in an experimental model of spinal cord injury in mice. Biochem Pharmacol 83:1413–1426

Jones A (2011) Can a Mediterranean-type diet prevent Parkinson's disease. Neurol Rev 19:1–21

Kalab T, Skladal P (1997) Disposable multichannel immunosensors for 2,4-dichlorophenoxyacetic acid using acetylcholinesterase as an enzyme label. Electroanalysis 9:293–297

Khalatbary AR, Ahmadvand H (2012) Neuroprotective effect of oleuropein following spinal cord injury in rats. Neurol Res 34:44–51

Madrigal-Bujaidar E, Hernandez-Ceruelos A, Chamorro G (2001) Induction of sister chromatid exchanges by 2,4-dichlorophenoxyacetic acid in somatic and germ cells of mice exposed in vivo. Food Chem Toxicol 39(9):941–946

Minguez-Mosquera MI, Rejano-Navarro L, Gandul-Rojas B, Sanchez-GomezAH G-FJ (1991) Color-pigment correlation in virgin olive oil. JAOCS 68:332–336

Mohagheghi F, Bigdeli MR, Rasoulian B, Zeinallou AA (2009) Dietary virgin olive oil reduces ischemia-reperfusion injury in rat brain in vivo. J Cereb Blood Flow Metab 29:514–522

Mohagheghi F, Bigdeli MR, Rasoulian B, Zeinanloo AA, Khoshbaten A (2010) Dietary virgin olive oil reduces blood brain barrier permeability, brain edema, and brain injury in rats subjected to ischemia-reperfusion. Sci World J 10:1180–1191

Montedoro GF, Servili M, Baldioli M, Miniati E (1992) Simple and hydrolyzable phenolic compounds in virgin olive oil. 1. Their extraction, separation, and quantitative and semiquantitative evaluation by HPLC. J Agric Food Chem 40:1571–1576

Monti MC, Margarucci L, Tosco A, Riccio R, Casapullo A (2011) New insights on the interaction mechanism between tau protein and oleocanthal, an extra-virgin olive-oil bioactive component. Food Funct 2:423–428

Nakbi A, Tayeb W, Grissa A, Issaoui M, Dabbou S, Chargui I, Ellouz M, Miled A, Hammami M (2010) Effects of olive oil and its fractions on oxidative stress and the liver's fatty acid composition in 2,4-Dichlorophenoxyacetic acid- treated rats. Nutr Metab 7:80–91

Nunomura A, Honda K, Takeda A, Hirai K, Zhu X, Smith MA, Perry G (2006) Oxidative damage to RNA in neurodegenerative diseases. J Biomed Biotechno l: 1–6.

Ochoa-Herrera JJ, Huertas JR, Quiles JL, Mataix J (2001) Dietary oils high in oleic acid, but with different non-glyceride contents, have different effects on lipid profiles and peroxidation in rabbit hepatic mitochondria. J Nutr Biochem 12:357–364

Pasban-Aliabadi H, Esmaeili-Mahani S, Sheibani V, Abbasnejad M, Mehdizadeh A, Yaghoobi MM (2013) Inhibition of 6-hydroxydopamine-induced PC12 cell apoptosis by olive (Olea europaea L.) leaf extract is performed by its main component oleuropein. Rejuvenation Res 16:134–142

Pitozzi V, Jacomelli M, Zaid M, Luceri C, Bigagli E, Lodovici M, et al. (2010) Effects of dietary extra-virgin olive oil on behaviour and brain biochemical parameters in ageing rats. Br J Nutr103:1674–1683.

Pollard SE, Kuhnle GG, Vauzour D, VafeiAdou K, Tzounis X, Whiteman M, Rice-Evans C, Spencer JPE (2006) The reaction of flavonoid metabolites with peroxynitrite. Biochem Biophys Res Commun 350:960–968

Pratico D, Delanty N (2000) Oxidative injury in diseases of the central nervous system: focus on Alzheimer's disease. Am J Med 109(7):577–585

Rice-Evans CA, Miller NJ, Paganga G (1996) Structure-antioxidant activity relationships of flavonoids and phenolic acids. Free Radic Biol Med 20:933–956

Ristagno G, Fumagalli F, Porretta-Serapiglia C, Orrù A, Cassina C, Pesaresi M, et al. (2012) Hydroxytyrosol attenuates peripheral neuropathy in streptozotocin-induced diabetes in rats. J Agric Food Chem 60:5859–5865

Rosso SB, Garcia GB, Madariaga MJ, Evangelista de Duffard AM, Duffard RO (2000) 2,4-Dichlorophenoxyacetic acid in developing rats alters behaviour, myelination and regions brain gangliosides pattern. Neurotoxicology 21(1–2):155–163

Sastry BVR, Janson VE, Clark CP, Owens LK (1997) Cellular toxicity of 2,4,5-trichlorophenoxyacetic acid; formation of 2,4,5-trichlorophenoxyacetylcholine. Cell Mol Biol 43:549–557

Schaffer S, Podstawa M, Visioli F, Bogani P, Müller WE, Eckert GP (2007) Hydroxytyrosol-rich olive mill wastewater protects brain cells in vitro and ex vivo. J Agric Food Chem 55:5043–5049

Simonyi A, Wang Q, Miller RL, Yusof M, Shelat PB, Sun AY, Sun GY (2005) Polyphenols in cerebral ischemia: novel targets for neuroprotection. Mol Neurobiol 31:135–147

Sinclair AJ, Begg D, Mathai M, Weisinger RS (2007) Omega 3 fatty acids and the brain: review of studies in depression. Asia Pac J Clin Nutr 16:391–397

Sofi F, Cesari F, Abbate R, Gensini GF, Casini A (2008) Adherence to Mediterranean diet and health status: meta-analysis. BMJ 337:1344

Somani SM, Husain K, Diaz-Phillips L, Lanzotti DJ, Kareti KR, Trammell GL (1996) Interaction of exercise and ethanol on antioxidant enzymes in brain regions. Alcohol 13(6):603–610

Stevens JT, Breckenridge CB (2001) Crop protection chemicals. In: Hayes WA (ed) Principles and methods of toxicology. Taylor & Francis, Philadelphia p, pp. 565–648

St-Laurent-Thibault C, Arseneault M, Longpre F, Ramassamy C (2011) Tyrosol and hydroxytyrosol, two main components of olive oil, protect N2a cells against amyloid-beta-induced toxicity. Involvement of the NF-kappaB signaling. Curr Alzheimer Res 8:543–551

Tasset I, Pontes AJ, Hinojosa AJ, de la Torre R, Túnez I (2011) Olive oil reduces oxidative damage in a 3-nitropropionic acid-induced Huntington's disease-like rat model. Nutr Neurosci 14:106–111

Tura D, Gigliotti C, Pedo S, Failla O, Bassi D, Serraiocco A (2007) Influence of cultivar and site of cultivation on levels of lipophilic and hydrophilic antioxidants in virgin olive oils (Olea europea L) and correlations with oxidative stability. HortSci 112:108–119

Venkov P, Topashka-Ancheva M, Georgieva M, Alexieva V, Karanov E (2000) Genotoxic effect of substituted phenoxyacetic acids. Arch Toxicol 74:560–566

Visioli F, Poli A, Galli C (2002) Antioxidant and other biological activities of phenols from olives and olive oil. Med Res Rev 22:65–75

Yagi K (1976) A simple fluorometric assay for lipoperoxide in blood plasma. Biomark Med 15:212–216
Acknowledgments
This research was supported by a grant from the 'Ministère de l'Enseignement Supérieur et de la Recherche Scientifique LR12ES05 "Nutrition-Functional Foods & Vascular Health".
About this article
Cite this article
Amel, N., Wafa, T., Samia, D. et al. Extra virgin olive oil modulates brain docosahexaenoic acid level and oxidative damage caused by 2,4-Dichlorophenoxyacetic acid in rats. J Food Sci Technol 53, 1454–1464 (2016). https://doi.org/10.1007/s13197-015-2150-3
Revised:

Accepted:

Published:

Issue Date:
Keywords
Extra virgin olive oil

Oxidative stress

Acetylcholinesterase

Rat

Brain and 2,4-D