Abstract
Recently, the fingerprint approach using chromatography has become one of the most effective tools for quality assessment of herbal medicines and food supplements: due to the complexity of the chromatographic fingerprint and the irreproducibility of chromatographic instruments and experimental conditions, chemometric approach is employed to deal with the chromatographic fingerprint. The study was aimed at developing new analytical methods for the multivariate phytochemical fingerprinting of bioactive compounds in eight tree-species bud-preparations, commonly used in phytotherapy. Methods was used to identify and quantify the main bioactive compounds (polyphenols, organic acids and vitamins), and obtain a specific botanical profile in order to assess the contribution of each single bioactive class to the total bud preparation phytocomplex. A chemometric approach was used to distinguish among different genotypes assuring the identity, safety and quality of the botanical raw materials. The established protocol was simple, sensitive and reliable and it could be used for the evaluation and quality control of bud-extracts and natural food supplements: the proposed method was successfully applied to the characterization of commercial bud-preparations, demonstrating to be an effective tool for the fingerprinting of this plant material. The new approach developed in this study represents a good alternative for improving the classification results of herbal materials with complex chromatograms. It should be necessary to develop a "multivariate chromatographic fingerprint", in order to differentiate the herbal preparations according to their genotype, avoiding substitutions, changes or adulterations with other species or synthetic drugs.
Access options
Buy single article
Instant access to the full article PDF.
USD 39.95
Price excludes VAT (USA)
Tax calculation will be finalised during checkout.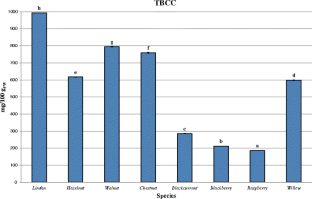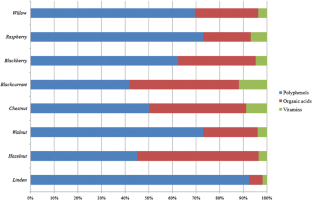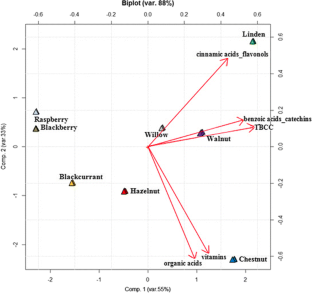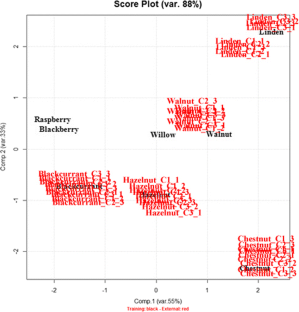 References
Bian Q, Yang H, Chan CO, Jin D, Mok DK, Chen S (2013) Fingerprint analysis and simultaneous determination of phenolic compounds in extracts of curculiginis rhizoma by HPLC-diode array detector. Chem Pharm Bull 61:802–808

Boggia R, Casolino MC, Hysenaj V, Oliveri P, Zunin P (2013) A screening method based on UV–visible spectroscopy and multivariate analysis to assess addition of filler juices and water to pomegranate juices. Food Chem 140:735–741. doi:10.1016/j.foodchem.2012.11.020

Brown PN, Lister P (2014) Current initiatives for the validation of analytical methods for botanicals. Curr Opin Biotechnol 25:124–128

Canterino S, Donno D, Mellano MG, Beccaro GL, Bounous G (2012) Nutritional and sensory survey of Citrus sinensis (L.) cultivars grown at the most Northern limit of the Mediterranean latitude. J Food Qual 35:108–118

Dan M et al (2009) A rapid ultra-performance liquid chromatography–electrospray Ionisation mass spectrometric method for the analysis of saponins in the adventitious roots of Panax notoginseng. Phytochem Anal 20:68–76. doi:10.1002/pca.1099

Dillard CJ, German JB (2000) Phytochemicals: nutraceuticals and human health. J Sci Food Agric 80:1744–1756. doi:10.1002/1097-0010(20000915)80:12<1744::aid-jsfa725>3.0.co;2-w

Donno D, Beccaro GL, Mellano GM, Cerutti AK, Canterino S, Bounous G (2012) Effect of agronomic and environmental conditions on chemical composition of tree-species buds used for herbal preparations. Int J Plant Res (VEGETOS) 25:21–29

Donno D, Beccaro GL, Mellano MG, Canterino S, Cerutti AK, Bounous G (2013a) Improving the nutritional value of kiwifruit with the application of agroindustry waste extracts. J Appl Bot Food Qual 86:11–15. doi:10.5073/JABFQ.2013.086.002

Donno D, Beccaro GL, Mellano MG, Cerutti AK, Bounous G (2013b) Medicinal plants, chemical composition and quality: may blackcurrant buds and blackberry sprouts be a new polyphenol source for herbal preparations? J Appl Bot Food Qual 86:79–89. doi:10.5073/JABFQ.2013.086.012

Donno D, Beccaro GL, Mellano MG, Cerutti AK, Marconi V, Bounous G (2013c) Botanicals in ribes nigrum bud-preparations: an analytical fingerprinting to evaluate the bioactive contribution to total phytocomplex. Pharm Biol 51:1282–1292. doi:10.3109/13880209.2013.786101

Donno D, Beccaro GL, Mellano MG, Bonvegna L, Bounous G (2014a) Castanea spp. buds as a phytochemical source for herbal preparations: botanical fingerprint for nutraceutical identification and functional food standardisation. J Sci Food Agric 94:2863–2873. doi:10.1002/jsfa.6627

Donno D, Beccaro GL, Mellano MG, Cerutti AK, Bounous G (2014b) Goji berry fruit (Lycium spp.): antioxidant compound fingerprint and bioactivity evaluation. J Funct Foods. doi:10.1016/j.jff.2014.05.020

Donno D, Cerutti AK, Prgomet I, Mellano MG, Beccaro GL (2015) Foodomics for mulberry fruit (Morus spp.): analytical fingerprint as antioxidants' and health properties' determination tool. Food Res Int 69:179–188. doi:10.1016/j.foodres.2014.12.020

Ernst E (2001) Functional foods, neutraceuticals, designer foods: innocent fad or counterproductive marketing ploy? Eur J Clin Pharmacol 57:353–355

Fan X-H, Cheng Y-Y, Ye Z-L, Lin R-C, Qian Z-Z (2006) Multiple chromatographic fingerprinting and its application to the quality control of herbal medicines. Anal Chim Acta 555:217–224. doi:10.1016/j.aca.2005.09.037

Feng X, Kong W, Wei J, Ou-Yang Z, Yang M (2014) HPLC fingerprint analysis combined with chemometrics for pattern recognition of ginger. Pharm Biol 52:362–367. doi:10.3109/13880209.2013.837493

Forina M, Lanteri S, Armanino C, Casolino C, Casale M, Oliveri P (2008) V-PARVUS 2008 vol Available (free, with manual and examples) from authors or at <http://www.parvus.unige.it. Dip. Chimica e Tecnologie Farmaceutiche e Alimentari. University of Genova

Gad HA, El-Ahmady SH, Abou-Shoer MI, Al-Azizi MM (2013) Application of chemometrics in authentication of herbal medicines: a review. Phytochem Anal 24:1–24. doi:10.1002/pca.2378

Hakimzadeh N, Parastar H, Fattahi M (2014) Combination of multivariate curve resolution and multivariate classification techniques for comprehensive high-performance liquid chromatography-diode array absorbance detection fingerprints analysis of Salvia reuterana extracts. J Chromatogr A 1326:63–72. doi:10.1016/j.chroma.2013.12.045

Halt M (1998) Moulds and mycotoxins in herb tea and medicinal plants. Eur J Epidemiol 14:269–274

Kamboj A (2012) Analytical evaluation of herbal drugs. INTECH Open Access Publisher

Kong WJ, Zhao YL, Xiao XH, Jin C, Li ZL (2009) Quantitative and chemical fingerprint analysis for quality control of Rhizoma Coptidischinensis based on UPLC-PAD combined with chemometrics methods. Phytomedicine 16:950–959. doi:10.1016/j.phymed.2009.03.016

Liang Y-Z, Xie P, Chan K (2004) Quality control of herbal medicines. J Chromatogr B 812:53–70. doi:10.1016/j.jchromb.2004.08.041

Mok DKW, Chau FT (2006) Chemical information of Chinese medicines: a challenge to chemist. Chemom Intell Lab Syst 82:210–217. doi:10.1016/j.chemolab.2005.05.006

Nikolić D, van Breemen RB (2013) Analytical methods for quantitation of prenylated flavonoids from hops. Curr Anal Chem 9:71–85

Pan R, Guo F, Lu H, W-W F (2011) Development of the chromatographic fingerprint of Scutellaria barbata D. Don by GC–MS combined with Chemometrics methods. J Pharm Biomed Anal 55:391–396

Peng L, Wang YZ, Zhu HB, Chen QM (2011) Fingerprint profile of active components for Artemisia selengensis Turcz by HPLC-PAD combined with chemometrics. Food Chem 125:1064–1071. doi:10.1016/j.foodchem.2010.09.079

Pharmaciens OND (1965) Pharmacopée Française, Codex Medicamentarius Gallicus, Codex Français: Monographie, Préparations Homéopathiques, VIII edn., Paris

Prabu SL, Suriyaprakash T, Dinesh K, Suresh K, Ragavendran T (2012) Nutraceuticals: a review. Elixir Pharm 46:8372–8377

Prencipe FP et al (2014) Development of a new high-performance liquid chromatography method with diode array and electrospray ionization-mass spectrometry detection for the metabolite fingerprinting of bioactive compounds in Humulus lupulus L. J Chromatogr A 1349:50–59. doi:10.1016/j.chroma.2014.04.097

Silano V, Coppens P, Larranaga-Guetaria A, Minghetti P, Roth-Ehrang R (2011) Regulations applicable to plant food supplements and related products in the European Union. Food Funct 2:710–719. doi:10.1039/c1fo10105f

Valls J, Millán S, Martí MP, Borràs E, Arola L (2009) Advanced separation methods of food anthocyanins, isoflavones and flavanols. J Chromatogr A 1216:7143–7172

Wang Y, Li BH, Ni YN, Kokot S (2014) Multi-wavelength high-performance liquid chromatography: an improved method for analysis of complex substances such as Radix Paeoniae herbs. Chemom Intell Lab Syst 130:159–165. doi:10.1016/j.chemolab.2013.11.002

Zhang QF, Cheung HY (2011) Development of capillary electrophoresis fingerprint for quality control of Rhizoma Smilacis Glabrae. Phytochem Anal 22:18–25

Zhu JQ, Fan XH, Cheng YY, Agarwal R, Moore CMV, Chen ST, Tong WD (2014) Chemometric analysis for identification of botanical raw materials for pharmaceutical use: a case study using panax notoginseng. PLoS One 9 doi:10.1371/journal.pone.0087462
Electronic supplementary material
Below is the link to the electronic supplementary material.
About this article
Cite this article
Donno, D., Boggia, R., Zunin, P. et al. Phytochemical fingerprint and chemometrics for natural food preparation pattern recognition: an innovative technique in food supplement quality control. J Food Sci Technol 53, 1071–1083 (2016). https://doi.org/10.1007/s13197-015-2115-6
Revised:

Accepted:

Published:

Issue Date:

DOI: https://doi.org/10.1007/s13197-015-2115-6
Keywords
Multivariate fingerprinting

Natural food-product

Raw material control

HPLC