Abstract
Virgin Coconut Oil (VCO), extracted from fresh coconut kernel possess similar fatty acid composition to that of Copra Oil (CO), a product of dried kernel. Although CO forms the predominant dietary constituent in south India, VCO is being promoted for healthy life due to its constituent antioxidant molecules. High fructose containing CO is an established model for insulin resistance and steatohepatitis in rodents. In this study, replacement of CO with VCO in high fructose diet markedly improved the glucose metabolism and dyslipidemia. The animals fed VCO diet had only 17 % increase in blood glucose level compared to CO fed animals (46 %). Increased level of GSH and antioxidant enzyme activities in VCO fed rats indicate improved hepatic redox status. Reduced lipid peroxidation and carbonyl adducts in VCO fed rats well corroborate with the histopathological findings that hepatic damage and steatosis were comparatively reduced than the CO fed animals. These results suggest that VCO could be an efficient nutraceutical in preventing the development of diet induced insulin resistance and associated complications possibly through its antioxidant efficacy.
This is a preview of subscription content, log in to check access.
Access options
Buy single article
Instant access to the full article PDF.
US$ 39.95
Price includes VAT for USA
Subscribe to journal
Immediate online access to all issues from 2019. Subscription will auto renew annually.
US$ 99
This is the net price. Taxes to be calculated in checkout.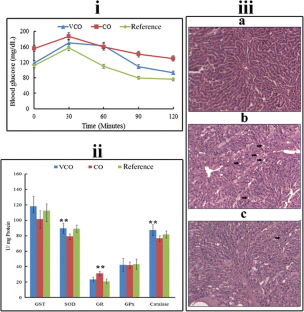 Abbreviations
VCO:

Virgin Coconut Oil

CO:

Copra Oil

HDLc:

High Density Lipoprotein Cholesterol

GSH:

Reduced Glutathione

GR:

Glutathione Reductase

GPx:

Glutathione Peroxidase

SOD:

Super Oxide Dismutase

GST:

Glutathione S Transferase
References
Abel ED, Peroni O, Kim JK, Kim YB, Boss O, Hadro E, Minnemann T, Shulman GI, Kahn BB (2001) Adipose-selective targeting of the GLUT4 gene impairs insulin action in muscle and liver. Nature 409:729–733

Arunima S, Rajamohan T (2012) Virgin coconut oil improves hepatic lipid metabolism in rats–compared with copra oil, olive oil and sunflower oil. Indian J Exp Biol 50:802–809

Arunima S, Rajamohan T (2013) Effect of virgin coconut oil enriched diet on the antioxidant status and paraoxonase 1 activity in ameliorating the oxidative stress in rats - a comparative study. Food Funct 4:1402–1409

Boden G (2008) Obesity and free fatty acids. Endocrinol Metab Clin N Am 37:635–646

Cao L, Liu X, Cao H, Lv Q, Tong N (2012) Modified high-sucrose diet-induced abdominally obese and normal-weight rats developed high plasma free fatty acid and insulin resistance. Oxidative Med Cell Longev 2012:374346

Carlberg I, Mannervik B (1975) Purification and characterization of the flavoenzyme glutathione reductase from rat liver. J Biol Chem 250:5475–5480

Chaiswing L, Zhong W, Oberley TD (2014) Increasing discordant antioxidant protein levels and enzymatic activities contribute to increasing redox imbalance observed during human prostate cancer progression. Free Radic Biol Med 67:342–352

Chandramohan R, Pari L (2014) Protective effect of umbelliferone on high-fructose diet-induced insulin resistance and oxidative stress in rats. Biomed Aging Pathol 4:23–28

Commission CA. 1999. Food standards programme. In: Codex Alimentarius Commission. Codex standards for named vegetable oils. In: FAO/WHO J, editor. CX-STAN, Rome, p. 210.

Corongiu FP, Banni S (1994) Detection of conjugated dienes by second derivative ultraviolet spectrophotometry. Methods Enzymol 233:303–310

Funaki M (2009) Saturated fatty acids and insulin resistance. J Med Investig 56:88–92

Garg A (1996) Insulin resistance in the pathogenesis of dyslipidemia. Diabetes Care 19:387–389

Hafeman DG, Sunde RA, Hoekstra WG (1974) Effect of dietary selenium on erythrocyte and liver glutathione peroxidase in the rat. J Nutr 104:580–587

Islam MA, Akhtar MA, Khan MR, Hossain MS, Alam AH, Ibne-Wahed MI, Amran MS, Rahman BM, Ahmed M (2009) Oral glucose tolerance test (OGTT) in normal control and glucose induced hyperglycemic rats with coccinia cordifolia l. and catharanthus roseus L. Pak J Pharm Sci 22:402–404

Kunde SS, Roede JR, Vos MB, Orr ML, Go YM, Park Y, Ziegler TR, Jones DP (2011) Hepatic oxidative stress in fructose-induced fatty liver is not caused by sulfur amino acid insufficiency. Nutrients 3:987–1002

Levine RL, Garland D, Oliver CN, Amici A, Climent I, Lenz AG, Ahn BW, Shaltiel S, Stadtman ER (1990) Determination of carbonyl content in oxidatively modified proteins. Methods Enzymol 186:464–478

Ling PR, Mueller C, Smith RJ, Bistrian BR (2003) Hyperglycemia induced by glucose infusion causes hepatic oxidative stress and systemic inflammation, but not STAT3 or MAP kinase activation in liver in rats. Metab Clin Exp 52:868–874

Marina AM, Man YB, Nazimah SA, Amin I (2008) Antioxidant capacity and phenolic acids of virgin coconut oil. Int J Food Sci Nutr 2:114–123

McCord JM, Fridovich I (1969) Superoxide dismutase. An enzymic function for erythrocuprein (hemocuprein). J Biol Chem 244:6049–6055

Moron MS, Depierre JW, Mannervik B (1979) Levels of glutathione, glutathione reductase and glutathione S-transferase activities in rat lung and liver. Biochim Biophys Acta 582:67–78

Nair SS, Manalil JJ, Ramavarma SK, Suseela IM, Thekkepatt A, Raghavamenon AC (2015) Virgin coconut oil supplementation ameliorates cyclophosphamide-induced systemic toxicity in mice. Hum Exp Toxicol 24:09603271155788670

Navarro-Gonzalez I, Perez-Sanchez H, Martin-Pozuelo G, Garcia-Alonso J, Periago MJ (2014) The inhibitory effects of bioactive compounds of tomato juice binding to hepatic HMGCR: in vivo study and molecular modelling. PLoS One 9:e83968

Nevin KG, Rajamohan T (2004) Beneficial effects of virgin coconut oil on lipid parameters and in vitro LDL oxidation. Clin Biochem 37:830–835

Ohkawa H, Ohishi N, Yagi K (1979) Assay for lipid peroxides in animal tissues by thiobarbituric acid reaction. Anal Biochem 95:351–358

Onitilo AA, Stankowski RV, Berg RL, Engel JM, Glurich I, Williams GM, Doi SA (2014) Type 2 diabetes mellitus, glycemic control, and cancer risk. Eur J Cancer Prev 23:134–140

Prakash P, Singh V, Jain M, Rana M, Khanna V, Barthwal MK, Dikshit M (2014) Silymarin ameliorates fructose induced insulin resistance syndrome by reducing de novo hepatic lipogenesis in the rat. Eur J Pharmacol 727:15–28

Ramar M, Manikandan B, Raman T, Priyadarsini A, Palanisamy S, Velayudam M, Munusamy A, Marimuthu Prabhu N, Vaseeharan B (2012) Protective effect of ferulic acid and resveratrol against alloxan-induced diabetes in mice. Eur J Pharmacol 690:226–235

Riccardi G, Giacco R, Rivellese AA (2004) Dietary fat, insulin sensitivity and the metabolic syndrome. Clin Nutr 23:447–456

Singh GM, Micha R, Khatibzadeh S, Lim S, Ezzati M, Mozaffarian D (2015) Estimated global, regional, and national disease burdens related to sugar-sweetened beverage consumption in 2010. Circulation. doi:10.1161/CIRCULATIONAHA.114.010636

Srinivasan S, Muthukumaran J, Muruganathan U, Venkatesan RS, Jalaludeen AM (2014) Antihyperglycemic effect of syringic acid on attenuating the key enzymes of carbohydrate metabolism in experimental diabetic rats. Biomed Prev Nutr 4:595–602

Suwannaphet W, Meeprom A, Yibchok-Anun S, Adisakwattana S (2010) Preventive effect of grape seed extract against high-fructose diet-induced insulin resistance and oxidative stress in rats. Food Chem Toxicol 48:1853–1857

Vysakh A, Ratheesh M, Rajmohanan TP, Pramod C, Premlal S, Girish k B, Sibi PI (2014) Polyphenolics isolated from virgin coconut oil inhibits adjuvant induced arthritis in rats through antioxidant and anti-inflammatory action. Int Immunopharmacol 20:124–130

Wein S, Wolffram S, Schrezenmeir J, Gasperikova D, Klimes I, Sebokova E (2009) Medium-chain fatty acids ameliorate insulin resistance caused by high-fat diets in rats. Diabetes Metab Res Rev 25:185–194

White AR, Collins SJ, Maher F, Jobling MF, Stewart LR, Thyer JM, Beyreuther K, Masters CL, Cappai R (1999) Prion protein-deficient neurons reveal lower glutathione reductase activity and increased susceptibility to hydrogen peroxide toxicity. Am J Pathol 155:1723–1730

Xie L, Guo Y, Cai B, Yang J (2013) Epimerization of epigallocatechin gallate to gallocatechin gallate and its anti-diabetic activity. Med Chem Res 22:3372–3378

Yang JY, Wu XC, Chau FLJ, Tam S, Oates PJ, Chung SK, Chung SSM. (2004). Blocking the polyol pathway protects diabetic mice against hypertriglyceridemia. American Diabetes Association 2004 Annual Meeting.
Acknowledgments
First author is thankful to the Council of Scientific and Industrial Research, India for the financial support in the form of Junior Research Fellowship (09/869 (0012)/2012-EMR-I). MJ Jeksy acknowledge the receipt of Junior research fellowship from INSPIRE, DST.
About this article
Cite this article
Narayanankutty, A., Mukesh, R.K., Ayoob, S.K. et al. Virgin coconut oil maintains redox status and improves glycemic conditions in high fructose fed rats. J Food Sci Technol 53, 895–901 (2016). https://doi.org/10.1007/s13197-015-2040-8
Revised:

Accepted:

Published:

Issue Date:
Keywords
Virgin coconut oil

Copra oil

High fructose diet

Oxidative stress

Insulin resistance

Hepatosteatosis