Abstract
Moringa oleifera is an affordable and rich source of dietary folate. Quantification of folate by HPLC showed that 5-formyl-5,6,7,8-tetrahydrofolic acid (502.1 μg/100 g DW) and 5,6,7,8-tetrahydrofolic acid (223.9 μg/100 g DW) as the most dominant forms of folate in M. oleifera leaves. The bioavailability of folate and the effects of folate depletion and repletion on biochemical and molecular markers of folate status were investigated in Wistar rats. Folate deficiency was induced by keeping the animals on a folate deficient diet with 1 % succinyl sulfathiazole (w/w). After the depletion period, animals were repleted with different levels of folic acid and M. oleifera leaves as a source of folate. Feeding the animals on a folate deficient diet for 7 weeks caused a significant (3.4-fold) decrease in serum folate content, compared to non-depleted control animals. Relative bioavailability of folate from dehydrated leaves of M. oleifera was 81.9 %. During folate depletion and repletion, no significant changes in liver glycine N-methyl transferase and 5-methyltetrahydrofolate-homocysteine methyltransferase expression were recorded. In RDA calculations, only 50 % of natural folate is assumed to be bioavailable. Therefore, the bioavailability of folate from Moringa is much higher, suggesting that M. oleifera based food can be used as a significant source of folate.
Access options
Buy single article
Instant access to the full article PDF.
USD 39.95
Price excludes VAT (USA)
Tax calculation will be finalised during checkout.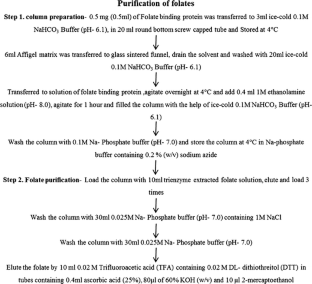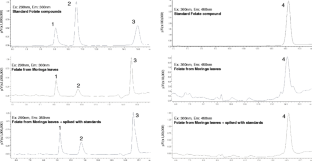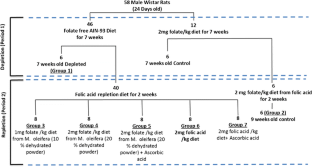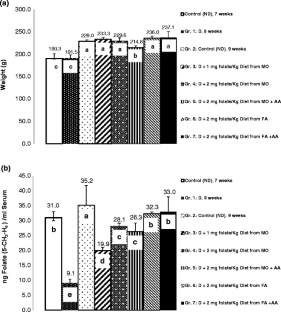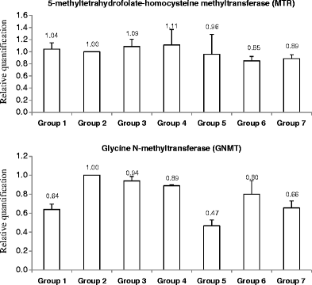 References
Abad AR, Gregory JF 3rd (1987) Determination of folate bioavailability with a rat bioassay. J Nutr 117:866

Aiso K, Tamura T (1998) Trienzyme treatment for food folate analysis: optimal pH and incubation time for alpha-amylase and protease treatment. J Nutr Sci Vitaminol (Tokyo) 44:361–370

Anwar F, Latif S, Ashraf M, Gilani AH (2007) Moringa oleifera: a food plant with multiple medicinal uses. Phytother Res 21:17–25. doi:10.1002/ptr.2023

Association of Official Analytical (1990) Official methods of analysis. Vol 15th Ed AOAC Arlingt. VA

Babu S, Lakshmaiah N (1987) Availability of food folate by liver folate repletion in rats. Nutr Rep Int 35:831–836

Chandler CJ, Wang TT, Halsted CH (1986) Pteroylpolyglutamate hydrolase from human jejunal brush borders- Purification and characterization. J Biol Chem 261:928–933

Clifford AJ, Heid MK, Müller HG, Bills ND (1990) Tissue distribution and prediction of total body folate of rats. J Nutr 120:1633–1639

Clifford AJ, Wilson DS, Bills ND (1989) Repletion of folate-depleted rats with an amino acid-based diet supplemented with folic acid. J Nutr 119:1956–1961

Coppin JP, Xu Y, Chen H et al (2013) Determination of flavonoids by LC/MS and anti-inflammatory activity in Moringa oleifera. J Funct Foods 5:1892–1899. doi:10.1016/j.jff.2013.09.010

De Brouwer V, Storozhenko S, Stove CP et al (2010) Ultra-performance liquid chromatography-tandem mass spectrometry (UPLC-MS/MS) for the sensitive determination of folates in rice. J Chromatogr B Anal Technol Biomed Life Sci 878:509–513. doi:10.1016/j.jchromb.2009.12.032

DRI, Institute of Medicine (1998) Dietary reference intakes for thiamin, riboflavin, niacin, vitamin b6, folate, vitamin B12, pantothenic acid, biotin, and choline. National Academies Press (US), Washington (DC)

Endoh K, Fenech M, Umegaki K (2013) Green tea is a poor contributor to tissue folate in a Folate Depletion-Repletion Rat Model. Food Nutr (Roma) 4:136–143

Govardhan Singh RS, Negi PS, Radha C (2013) Phenolic composition, antioxidant and antimicrobial activities of free and bound phenolic extracts of Moringa oleifera seed flour. J Funct Foods 5:1883–1891. doi:10.1016/j.jff.2013.09.009

Gregory JF, Bhandari SD, Bailey LB et al (1991) Relative bioavailability of deuterium-labeled monoglutamyl and hexaglutamyl folates in human subjects. Am J Clin Nutr 53:736–740

Grossowicz N, Waxman S, Schreiber C (1981) Cryoprotected Lactobacillus casei: an approach to standardization of microbiological assay of folic acid in serum. Clin Chem 27:745–747

Hannon-Fletcher MP, Armstrong NC, Scott JM et al (2004) Determining bioavailability of food folates in a controlled intervention study. Am J Clin Nutr 80:911–918

Jastrebova J, Witthöft C, Grahn A et al (2003) HPLC determination of folates in raw and processed beetroots. Food Chem 80:579–588. doi:10.1016/S0308-8146(02)00506-X

Konings EJ (1999) A validated liquid chromatographic method for determining folates in vegetables, milk powder, liver, and flour. J AOAC Int 82:119–127

Kushwaha S, Chawla P, Kochhar A (2014) Effect of supplementation of drumstick (Moringa oleifera) and amaranth (Amaranthus tricolor) leaves powder on antioxidant profile and oxidative status among postmenopausal women. J Food Sci Technol 51:3464–3469. doi:10.1007/s13197-012-0859-9

Livak KJ, Schmittgen TD (2001) Analysis of relative gene expression data using real-time quantitative PCR and the 2(−Delta Delta C(T)) Method. Methods San Diego Calif 25:402–408. doi:10.1006/meth.2001.1262

Maharaj PPP, Prasad S, Devi R, Gopalan R (2015) Folate content and retention in commonly consumed vegetables in the South Pacific. Food Chem. doi:10.1016/j.foodchem.2015.02.096

Martínez-Chantar ML, Vázquez-Chantada M, Ariz U et al (2008) Loss of the glycine N-methyltransferase gene leads to steatosis and hepatocellular carcinoma in mice. Hepatology 47:1191–1199

McNulty H, Pentieva K (2004) Folate bioavailability. Proc Nutr Soc 63:529–536

Nadeem M, Azeem MW, Rahman F (2014) Assessment of transesterified palm olein and Moringa oleifera oil blends as vanaspati substitutes. J Food Sci Technol 1–7. doi:10.1007/s13197-014-1271-4

Neeha VS, Kinth P (2012) Nutrigenomics research: a review. J Food Sci Technol 50:415–428. doi:10.1007/s13197-012-0775-z

O'Leary K, Sheehy PJA (2001) Influence of folic acid-fortified foods on folate status in a folate depletion-repletion rat model. Br J Nutr 85:441–446

Ortiz-Escobar TB, Valverde-González ME, Paredes-López O (2010) Determination of the folate content in cladodes of nopal (Opuntia ficus indica) by microbiological assay utilizing Lactobacillus casei (ATCC 7469) and enzyme-linked immunosorbent assay. J Agric Food Chem 58:6472–6475

Pandrangi S, LaBorde LF (2004) Optimization of microbiological assay of folic acid and determination of folate content in spinach. Int J Food Sci Technol 39:525–532. doi:10.1111/j.1365-2621.2004.00812.x

Patring JDM, Jastrebova JA, Hjortmo SB et al (2005) Development of a simplified method for the determination of folates in baker's yeast by HPLC with ultraviolet and fluorescence detection. J Agric Food Chem 53:2406–2411. doi:10.1021/jf048083g

Pawar N, Gandhi K, Purohit A et al (2014) Effect of added herb extracts on oxidative stability of ghee (butter oil) during accelerated oxidation condition. J Food Sci Technol 51:2727–2733. doi:10.1007/s13197-012-0781-1

Reeves PG, Nielsen FH, Fahey GC Jr (1993) AIN-93 purified diets for laboratory rodents: final report of the American Institute of Nutrition ad hoc writing committee on the reformulation of the AIN-76A rodent diet. J Nutr 123:1939–1951

Rowling MJ, McMullen MH, Chipman DC, Schalinske KL (2002) Hepatic glycine n-methyltransferase is up-regulated by excess dietary methionine in rats. J Nutr 132:2545–2550

Ruggeri S, Vahteristo LT, Aguzzi A et al (1999) Determination of folate vitamers in food and in Italian reference diet by high-performance liquid chromatography. J Chromatogr A 855:237–245

Saini RK, Manoj P, Shetty NP et al (2014a) Dietary iron supplements and Moringa oleifera leaves influence the liver hepcidin messenger RNA expression and biochemical indices of iron status in rats. Nutr Res 34:630–638

Saini RK, Prashanth KVH, Shetty NP, Giridhar P (2014b) Elicitors, SA and MJ enhance carotenoids and tocopherol biosynthesis and expression of antioxidant related genes in Moringa oleifera Lam. Leaves. Acta Physiol Plant 36:2695–2704

Saini RK, Saad KR, Ravishankar GA et al (2013) Genetic diversity of commercially grown Moringa oleifera Lam. cultivars from India by RAPD, ISSR and cytochrome P450-based markers. Plant Syst Evol 299:1205–1213. doi:10.1007/s00606-013-0789-7

Saini RK, Shetty NP, Giridhar P (2014c) Carotenoid content in vegetative and reproductive parts of commercially grown Moringa oleifera Lam. cultivars from India by LC–APCI–MS. Eur Food Res Technol 238:971–978

Saini RK, Shetty NP, Giridhar P (2014d) GC-FID/MS analysis of fatty acids in Indian cultivars of Moringa oleifera: potential sources of PUFA. J Am Oil Chem Soc 91:1029–1034

Saini RK, Shetty NP, Giridhar P, Ravishankar GA (2012) Rapid in vitro regeneration method for Moringa oleifera and performance evaluation of field grown nutritionally enriched tissue cultured plants. 3. Biotech 2:187–192. doi:10.1007/s13205-012-0045-9

Saini RK, Shetty NP, Prakash M, Giridhar P (2014e) Effect of dehydration methods on retention of carotenoids, tocopherols, ascorbic acid and antioxidant activity in Moringa oleifera leaves and preparation of a RTE product. J Food Sci Technol 51:2176–2182. doi:10.1007/s13197-014-1264-3

Scotti M, Stella L, Shearer EJ, Stover PJ (2013) Modeling cellular compartmentation in one-carbon metabolism. WIREs Syst Biol Med. doi:10.1002/wsbm.1209

Shohag MJI, Wei Y, Yu N et al (2011) Natural variation of folate content and composition in spinach (Spinacia oleracea) germplasm. J Agric Food Chem 59:12520–12526

Takusagawa F, Ogawa H, Fujioka M (1999) Glycine N-methyltransferase, a tetrameric enzyme. In: Cheng X, Blumenthal RM (eds). Adenosylmethionine-Depend. Methyltransferases Struct. Funct. World Scientific publishing, Singapore, pp 93–122

Tamura T, Shin YS, Buehring KU, Stokstad ELR (1976) The availability of folates in man: effect of orange juice supplement on intestinal conjugase. Br J Haematol 32:123–134

Teucher B, Olivares M, Cori H (2004) Enhancers of iron absorption: ascorbic acid and other organic acids. Int J Vitam Nutr Res 74:403–419

Wagner C, Briggs WT, Cook RJ (1985) Inhibition of glycine N-methyltransferase activity by folate derivatives: implications for regulation of methyl group metabolism. Biochem Biophys Res Commun 127:746–752

Williams J, Mai CT, Mulinare J et al (2015) Updated estimates of neural tube defects prevented by mandatory folic acid fortification—United States, 1995–2011. MMWR Morb Mortal Wkly Rep 64:1–5

Zetterberg H (2004) Methylenetetrahydrofolate reductase and transcobalamin genetic polymorphisms in human spontaneous abortion: biological and clinical implications. Reprod Biol Endocrinol RBE 2:7. doi:10.1186/1477-7827-2-7
Acknowledgments
The authors are thankful to Council of Scientific and Industrial Research., New Delhi (India), for financial assistance.
Conflict of interest
The authors have declared that there is no conflict of interest.
Electronic supplementary material
Below is the link to the electronic supplementary material.
Overview of folate and B12 dependent homocysteine metabolism reactions involved in cellular one-carbon metabolism, with two major functions of DNA synthesis and DNA methylation (Zetterberg 2004). (DOCX 92 kb)
About this article
Cite this article
Saini, R.K., Manoj, P., Shetty, N.P. et al. Relative bioavailability of folate from the traditional food plant Moringa oleifera L. as evaluated in a rat model. J Food Sci Technol 53, 511–520 (2016). https://doi.org/10.1007/s13197-015-1828-x
Revised:

Accepted:

Published:

Issue Date:

DOI: https://doi.org/10.1007/s13197-015-1828-x
Keywords