Abstract
Antioxidant activity of ethanolic chia seed extract for the stabilization of winterized cottonseed oil was investigated. Refined, bleached, winterized and deodorized cottonseed oil was supplemented with ethanolic chia seed extract at 250, 500 and 750 ppm concentrations (T1, T2 and T3, respectively). Cottonseed oil without any addition of chia seed extract served as control. Cottonseed oil added with 200 ppm butylated hydroxyl anisole was used as positive control. Experimental samples and control were packaged in transparent, 250 mL polyethylene terephthalate bottles, stored at ambient temperature (30–32 °C) for 90 days, sampled at 0, 45 and 90 days for the assessment of storage stability. Diphenyl picryl hydrazyl free radical scavenging activity of ethanolic chia seed extract and butylated hydroxyl anisole was 85.3 and 87.1 %. The concentration of caffeic acid, quercetin, phenolic glycoside k, glycoside Q and Kaempferol in ethanolic chia seed extract was 0.22, 0.015, 0.07, 0.19 and 0.45 mg/mL. Fatty acid composition of 90 days stored T3 and 200 ppm butylated hydroxyl anisole samples was not different from each other (p > 0.05). Induction period of control, T3 and 200 ppm butlated hydroxyl supplemented cottonseed oil was 3.57, 8.45 and 8.62 h. After 90 days of storage period, peroxide value of control, T3 and 200 ppm butylated hydroxyl anisole supplemented samples was 2.75, 1.16 and 1.05 (meqO2/kg). The results of this study evidenced that ethanolic chia seed extract can be used for the long term preservation of winterized cottonseed oil at ambient temperature.
Access options
Buy single article
Instant access to the full article PDF.
USD 39.95
Price includes VAT (USA)
Tax calculation will be finalised during checkout.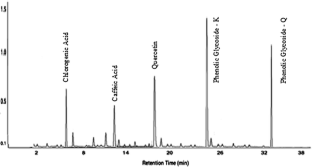 References
Adedapo AA, Jimoh FO, Afolayan AJ, Masika J (2008) Antibacterial and antioxidant properties of the methanol extracts of the leaves and stems of Calpurnia aurea. BMC Complement Altern Med 8:53

Anwar F, Siddiq A, Iqbal SA, Rafique AM (2006) Stabilization of sunflower oil with Moringaoleiferaleaves under ambient storage. J Food Lipids 14:35–49

Anwar F, Hussain I, Iqbal S, Bhanger MI (2007) Enhancement of the oxidative stability of some vegetable oils by blending with Moringa oleifera oil. Food Chem 103:1181–1191

Anwar F, Qayyum HMA, Hussain AI, Iqbal S (2010) Antioxidant activity of 100% and 80% methanol extracts from barley seeds (HordeumvulgareL.): stabilization of sunflower oil. Grasas Aceites 61:237–243

AOAC (1987) Official methods of analysis. American association of analytical chemists. Inc. 17th ed. Washington, DC USA

AOCS (1995) Official methods and recommended practices of the American Oil Chemists' Society, 4th edn. AOCS, Champaign

Ayerza R (2010) Effects of seed color and growing locations on fatty acid content and composition of two chia (Salvia hispanica L.) genotypes. J Am Oil Chem Soc 1161–1165

Baer RJ, Ryali J, Schingoethe J, Kasperson KM, Donovan Hippen DC, Franklin AR (2001) Composition and properties of milk and butter from cows fed fish oil. J Dairy Sci 84:345–353

Bushra S, Farooq A, Roman P (2007) The antioxidant potential of corncob extracts for stabilization of corn oil subjected to microwave heating. Food Chem 104:997–1005

Cahill J (2003) Ethnobotany of chia, Salvia hispanica L, (Lamiaceae). Econ Bot 57:604–618

Chatha SAS, Hussain AI, Bajwa JR, Sherazi STH, Shaukat A (2011) Wheat bran extracts: a potent source of natural antioxidants for the stabilization of canola oil. Grasas Aceites 62(2):190–197

Craig R (2004) Application for approval of whole chia (Salvia hispanica L.) seed and ground whole seed as novel food ingredient. Northern Ireland, Company Representative Mr D Amstrong

Crosby G (2005) Lignans in food and nutrition. Food Technol 59:32–36

Erickson DR (1999) Practical handbook of soybean processing and utilization. AOCS press, Champaign

Esposito F, Arlotti G, Bonifati AM, Napolitano A, Vitale D, Fogliano V (2005) Antioxidant activity and dietary fibre in durum wheat bran by-products. Food Res Int 38:1167–1173

Gulla S, Waghray K (2011) Effect of storage on physico-chemical characteristics and fatty acid composition of selected oil blends. J Lipid Sci 3:35–46

Hernandez A (2013) Characterization of black chia seed (Salvia hispanica L) and oil and quantification of β-sitosterol. Int Res J Biol Sci 2:70–72

Kim KH, Tsao R, Yang R, Cui SW (2006) Phenolic acid profiles and antioxidant activities of wheat bran extracts and the effect of hydrolysis conditions. Food Chem 95:466–473

Mansouri A, Embarek G, Kokkalou E, Kefalas P (2005) Phenolic profile and antioxidant activity of the Algerian ripe date palm fruit (Phoenix dactylifera). Food Chem 89:411–420

Metrohm AG (1993) Oxidative stability of oils and fats-Rancimat method. Metrohm application bulletin No. 204/le: Metrohm AG, Herisau, Switzerland, pp 1–4

Mohdaly AAA, Smetanska I, Ramadan MF, Sarhan MA, Mahmoud A (2011) Antioxidant potential of sesame (Sesamumindicum) cake extract in stabilization of sunflower and soybean oils. Ind Crop Prod 34:952–959

Nadeem M, Abdullah M, Khalique A, Hussain I, Mahmud A (2013) The effect of Moringa oleifera leaf extract as antioxidant on stabilization of butter oil with modified fatty acid profile. J Agric Sci Technol 15:919–928

Nadeem M, Situ C, Mahmud A, Khalique A, Imran M (2014) The effect of Sesame (Sesamum indicum) extract for oxidative stabilization of olein based butter. J Am Oil Chem Soc. doi:10.1007/s11746-014-2432-3

Nadeem M, Situ C, Abdullah M (2015) Effect of olein fractions of milk fat on oxidative stability of ice cream. Int J Food Prop 18:735–745. doi:10.1080/10942912.2013.814666

Nemes SM, Orsat V, Raghavan GSV (2012) Calibration of artificial neural network and partial least squares regression models for the prediction of secoisolariciresinol diglucoside contents in microwave-assisted extracts of various flaxseed (Linum usitatissimum) samples. Food Chem 133:1588–1595

Nixon HC (2005) The rise of the American cottonseed oil industry. J Polit Econ 38(1):73–85

O'Brien RD (2008) Fats and oils: formulating and processing for application. CRC Press; 3 edn

O'Brien RD, Wakelyn PJ (2005) Cottonseed oil: an oil for trans free options. Food Technol 16(11):677–679

Paquot C (1979) IUPAC standard methods for the analysis of oils, fats and derivatives, 6th edn. Pergamon Press, Oxford

Pritchard JLR (1991) Analysis and properties of oilseeds. In: Rossell JB, Pritchard JLR (eds) Analysis of oilseeds, fats and fatty foods. Elsevier Applied Sciences, New York, pp 80–98,127

Quiles JL, Huertas JR, Battino M, Ramirez-Tortosa MC, Cassinello M, Mataix J (2002) The intake of fried virgin olive or sunflower oils differentially induces oxidative stress in rat liver microsomes. Br J Nutr 88:5765

Rahman F, Nadeem M, Azeem MW, Zahoor Y (2014) Comparison of the chemical characteristics of high oleic fraction of Moringa oleifera oil with some vegetable oils. Pak J Anal Environ Chem 15:80–83

Reyes-Caudillo E, Tecante A, Valdivia-Lopez MA (2008) Dietary fibre content and antioxidant activity of phenolic compounds present in Mexican chia (Salvia hispanica L.) seeds. Food Chem 107(2):656–663

Serpen A, Gokmen V, Fogliano V (2012) Total antioxidant capacities of raw and cooked meats. Meat Sci 90:60–65. doi:10.1016/j.meatsci.2011.05.027, PMid: 21684086

Shahidi F (2005) Bailey's industrial edible oil and fat products, 6th edn. Wiley, NY

Shekhar GC (2006) India second largest global cotton producer. The Hindu, businessline.com, Wednesday, 2006/10/04

Steel RGD, Torrie JH, Dickey DA (1997) Principles and procedures of statistics. A biometrical approach, 3rd edn. McGraw Hill Book Co, New York

Tain K, Dasgupta PK (1999) Determination of oxidative stability of oils and fats. Anal Chem 71:1692–1698

Tepe B, Sokmen M, Akpulat AH, Sokmen A (2006) Screening of the antioxidant activity of six salvia species from Turkey. Food Chem 95:200–204

Uribe JAR, Perez JIN, Kauil HC, Rubio GR, Alcocer CG (2011) Extraction of oil from chia seeds with supercritical CO2. J Supercrit Fluids 56(2):174–178

Wolfe K, Wu X, Liu RH (2003) Antioxidant activity of apple peels. J Food Chem 51:609–614

Yoon SH, Kim SK, Shin MG, Kim KH (1985) Comparative study of physical methods for lipid oxidation measurement. J Am Oil Chem Soc 68:1487–1489

Zia-ur-Rehman, Salariya AM, Habib F (2003) Antioxidant activity of ginger extract in sunflower oil. J Sci Food Agric 83:624–629
About this article
Cite this article
Azeem, W., Nadeem, M. & Ahmad, S. Stabilization of winterized cottonseed oil with chia (Salvia hispanica l.) seed extract at ambient temperature. J Food Sci Technol 52, 7191–7199 (2015). https://doi.org/10.1007/s13197-015-1823-2
Revised:

Accepted:

Published:

Issue Date:
Keywords
Winterized cottonseed oil

Chia seed extract

Oxidative stability