Abstract
Black and green pepper essential oils were used in this study in order to determine the chemical composition, in vitro antimicrobial activity against food spoilage microorganisms and in situ oils effect on food microorganism, after incorporation in chicken soup, by suggested methodology for calculation of Growth inhibition concentrations (GIC50). Chemical analysis revealed a total of 34 components. The major constituent of black pepper oil was trans-caryophyllene (30.33 %), followed by limonene (12.12 %), while β-pinene (24.42 %), δ3-carene (19.72 %), limonene (18.73 %) and α-pinene (10.39 %) were dominant compounds in green pepper oil. Antimicrobial activity was determined by microdilution technique and minimal inhibitory (MIC) and minimal bactericidal/fungicidal concentrations (MBC/MFC) were determined. Green pepper oil showed stronger antibacterial and antifungal activity (MIC 0.50–1.87; MBC 0.63–2.5 mg/ml; MIC 0.07–0.16; MFC 0.13–1.25 mg/ml) against black pepper oil (MIC 0.07–3.75; MBC 0.60–10.00 mg/ml; MIC 0.63–5.00; MFC 1.25–10.00 mg/ml. Oils successfully inhibited the growth of S. aureus in chicken soup in a dose dependent manner. GIC50 values were calculated after 24, 48 and 72 h and were in range of 0.156–0.689 mg/ml. The 50 % inhibitory concentrations (IC50) of EOs were 36.84 and 38.77 mg/ml with in 2, 2-diphenyl-1-picrylhydrazyl (DPPH) assay respectively.
The obtained results revealed that black and green pepper volatiles are efficient in controlling the growth of known food-spoilage microorganisms.
Access options
Buy single article
Instant access to the full article PDF.
USD 39.95
Price excludes VAT (USA)
Tax calculation will be finalised during checkout.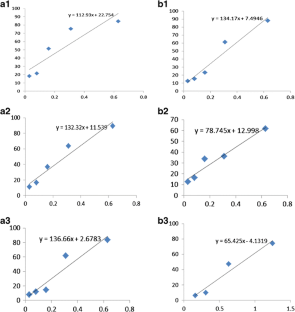 References
Adams RP (2009) Identification of essential oil compounds by gas chromatography and mass spectrometry, 4th edn. Allured Publishing Corporation, USA Carol Stream, IL

AMDIS (ver. 2.1.) Automated Mass Spectral Deconvolution and Identification System software, National Institute of Standards and Technology (NIST), Standard Reference Data Program, Gaithersburg, MD

Blois MS (1958) Antioxidant determinations by the use of stable free radical. Nature 181:1199–1200

Bukvički D, Stojković D, Soković M, Vannini L, Montanari C, Pejin B, Savic A, Veljic M, Grujic S, Marin PD (2014) Satureja horvatii essential oil: In vitro antimicrobial and antiradical properties and in situ control of Listeria monocytogenes in pork meat. Meat Sci 96:1355–1360

Burt SA, Reinders RD (2003) Antibacterial activity of selected plant essential oils against Escherichia coli O157:H7. Lett Appl Microbiol 36:162–167

Chaibi A, Ababouch LH, Belasri K, Boucetta S, Busta FF (1997) Inhibition of germination and vegetative growth of Bacillus cereus T and Clostridium botulinum 62A spores by essential oils. Food Microbiol 14:161–174

Chen W, Dou H, Ge C, Congfa L (2011) Comparison of volatile compounds in pepper (Piper nigrum L.) by simultaneous distillation extraction (SDE) and GC-MS. Adv Mater Res 236:2643–2646

De Azeredo GA, De Figueiredo RCBQ, De Souza EL, Stamford TLM (2012) Changes in Listeria monocytogenes induced by Origanum vulgare L. and Rosmarinus officinalis L. essential oils alone and combined at subinhibitory amounts. J Food Saf 32:226–235

Dorman HJ, Deans SG (2002) Antimicrobial agents from plants: antibacterial activity of plant volatile oils. J App Microbiol 88:308–316

Emiroğlu ZK, Yemiş GP, Coşkun BK, Candoğan K (2010) Antimicrobial activity of soy edible films incorporated with thyme and oregano essential oils on fresh ground beef patties. Meat Sci 86:283–288

Espinel-Ingroff A (2001) A comparasion of the E-test with the NCCLS M38-P method for antifungal susceptibility testing of common and emerging pathogenic filamentous fungi. J Clin Microbiol 39:1360–1367

Evans WC (1996) Trease and Evans' pharmacognosy, 14th edn. WB Saunders, London, pp 63–364

Fisher K, Phillips C, McWatt L (2009) The use of an antimicrobial citrus vapour to reduce Enterococcus sp. on salad products. Int J Food Sci Technol 44:1748–1754

ISO 11024–1 (1998) Essential oils - General guidance on chromatographic profiles - Part 1: Preparation of chromatographic profiles for presentation in standards

ISO 11024–2 (1998) Essential oils - General guidance on chromatographic profiles - Part 2: Utilization of chromatographic profiles of samples of essential oils

ISO 7609 (1985) Essential oils - Analysis by gas chromatography on capillary columns - General method

Jagella T, Grosch W (1999) Flavour and off-flavour compounds of black and white pepper (Piper nigrum L.) II. Odour activity values of desirable and undesirable odorants of black pepper. Eur Food Res Technol 209:22–26

Kapoor IPS, Singh B, Singh G, De Heluani CS, De Ampasona MP, Catalan CAN (2009) Chemistry and in vitro antioxidant activity of volatile oil and oleoresins of black pepper (Piper nigrum). J Agric Food Chem 57:5358–5364

Liu L, Song G, Hu Y (2007) GC–MS Analysis of the essential oils of Piper nigrum L. and Piper longum L. Chromatographia 66:785–790

Meghwal M, Goswami TK (2013) Piper nigrum and piperine: an update. Phytother Res 27:1121–1130

Millezi AF, Caixeta DS, Rossoni DF (2012) In vitro antimicrobial properties of plant essential oils Thymus vulgaris, Cymbopogon citratus and Laurus nobilis against five important foodborne pathogens. Cienc Tecnol Aliment 32:167–172

Nikolić M, Glamočlija J, Ferreira ICFR, Calhelha RC, Fernandes A, Marković T, Marković D, Giweli A, Soković M (2014) Chemical composition, antimicrobial, antioxidant and antitumor activity of Thymus serpyllum L., Thymus algeriensis Boiss. and Reut and Thymus vulgaris L. essential oils. Ind Crop Prod 52:183–190

Rabadia AG, Kamat SD, Kamat DV (2011) Antifungal activity of essential oils against fluconazole resistant fungi. Int J Phytomed 3:506–510

Reische DW, Lillard DA, Eitenmiller RR (1998) Antioxidants in food lipids. In: Ahoh CC, Min DB (eds) In chemistry, nutrition and biotechnology. Marcel Dekker, New York, pp 423–448

Sashidhar NS (2002) Studies on bioactive natural compounds for their antimicrobial and antioxidant properties. Ph.D thesis, Osmania University, Hyedarabad, India

Sasidharan I, Nirmala MA (2010) Comparative chemical composition and antimicrobial activity of berry and leaf essential oils of Piper nigrum L. Int J Biol Med Res 1:215–218

Scallan E, Hoekstra RM, Angulo FJ, Tauxe RV, Widdowson MA, Roy SL (2011) Foodborne illness acquired in the United States—major pathogens. Emerg Infect Dis 17:7–15

Scharff RL (2012) Economic burden from health losses due to foodborne illness in the United States. J Food Prot 75:123–131

Singh G, Marimuthu P, Catalan CMP, De Lampasona MP (2004) Chemical, antioxidant and antifungal activities of volatile oil of black pepper and its acetone extract. J Sci Food Agric 84:1878–1884

Singh G, Marimuthu P, Murali HS, Bawa AS (2005) Antioxidative and antibacterial potentials of essential oils and extracts isolated from various spice materials. J Food Saf 25:130–145

Škrinjar MM, Nemet NT (2009) Antimicrobial effects of spices and herbs essential oils. Acta Period Technol 40:195–209

Srinivasan K (2007) Black pepper and its pungent principle-piperine: a review of diverse physiological effects. Crit Rev Food Sci Nutr 47:735–748

Stojković D, Soković M, Glamočlija J, Džamić A, Ćirić A, Ristić M, Grubišić D (2011) Chemical composition and antimicrobial activity of Vitex agnus-castus L. fruits and leaves essential oils. Food Chem 128:1017–1022

Stojković D, Petrović J, Soković M, Glamočlija J, Kukić-Marković J, Petrović S (2013a) In situ antioxidant and antimicrobial activities of naturally occurring caffeic acid, p-coumaric acid and rutin, using food systems. J Sci Food Agric 93:3205–3208

Stojković D, Reis F, Ferreira ICFR, Barros L, Glamočlija J, Ćirić A, Nikolić M, Stević T, Giweli A, Soković M (2013b) Tirmania pinoyi: chemical composition, in vitro antioxidant and antibacterial activities and in situ control of staphylococcus aureus in chicken soup. Food Res Int 53:56–62

Sultana B, Anwar F, Przybylski R (2007) Antioxidant activity of phenolic components present in barks of Azadirachta indica, Terminalia arjuna, Acacia nilotica and Eugenia jambolana Lam. trees. Food Chem 104:1106–1114

Tsukatani T, Suenaga H, Shig M, Noguchi K, Ishiyama M, Ezoe T, Matsumoto K (2012) Comparison of the WST-8 colorimetric method and the CLSI broth microdilution method for susceptibility testing against drug-resistant bacteria. J Microbiol Meth 90:160–166

Xi W, Zhang Y, Sun Y, Shen Y, Ye X, Zhou Z (2014) Phenolic compositions in the pulps of Chinese wild mandarin pulps (Citrus reticulata Blanco.) and their antioxidant properties. Ind Crop Prod 52:466–474

Zouari N, Ayadi I, Fakhfakh N, Rebai A, Zouari S (2012) Variation of chemical composition of essential oils in wild populations of Thymus algeriensis Boiss. et Reut., a North African endemic species. Lipids Health Dis 11:28
Acknowledgments
The authors are grateful to the Ministry of Education, Science and Technological Development of Serbia for financial support (Grant № 173032).
Additional information
Highlights
• Piper nigrum L. is one of the most used spices in the world.
• Black and green pepper essential oils biological evaluation: in vitro and in situ study.
• Novel tool for determination of GIC50 in liquid foods.
• The oils were efficient in controlling the growth of known food-spoilage microorganisms.
• Food-preservative activity exhibited may be valuable for food industry.
About this article
Cite this article
Nikolić, M., Stojković, D., Glamočlija, J. et al. Could essential oils of green and black pepper be used as food preservatives?. J Food Sci Technol 52, 6565–6573 (2015). https://doi.org/10.1007/s13197-015-1792-5
Revised:

Accepted:

Published:

Issue Date:

DOI: https://doi.org/10.1007/s13197-015-1792-5
Keywords
Piper nigrum L

Black and green pepper

Essential oil

Antimicrobial activity

Novel methodology for GIC50

Liquid food