Abstract
A mixture of orange vesicle flour, commercial nixtamalized corn flour and potato starch was extruded using a Brabender Laboratory single screw extruder (2:1 L/D). The resulting pellets were expanded by microwaves. Expansion index, bulk density, penetration force, carotenoid content, and dietary fiber were measured for this third-generation snack and optimum production conditions were estimated. Response surface methodology was applied using a central composite rotatable experimental design to evaluate the effect of moisture content and extrusion temperature. Temperature mainly affected the expansion index, bulk density and penetration force, while carotenoids content was affected by moisture content. Surface overlap was used to identify optimum processing conditions: temperature: 128–130 °C; moisture content: 22–24 %. Insoluble dietary fiber decreased and soluble dietary fiber increased after extrusion.
Access options
Buy single article
Instant access to the full article PDF.
US$ 39.95
Tax calculation will be finalised during checkout.
Subscribe to journal
Immediate online access to all issues from 2019. Subscription will auto renew annually.
US$ 79
Tax calculation will be finalised during checkout.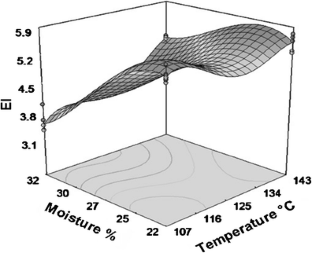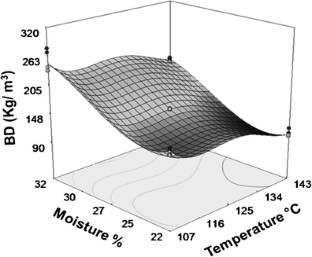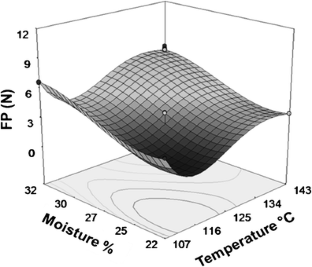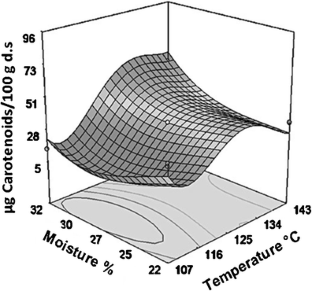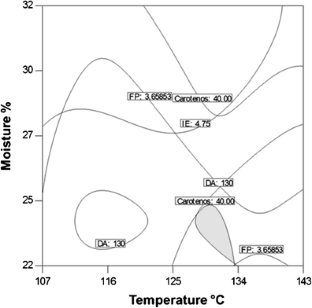 References
Aguilar-Palazuelos E, Zazueta-Morales JJ, Martínez-Bustos F (2006) Preparation of high-quality protein-based extruded pellets expanded by microwave oven. Cereal Chem 83:363–369

Alvis A, Vélez CA, Villada HS, Rada-Mendoza M (2008) Análisis físico-químico y morfológico de almidones de ñame, yuca y papa y determinación de la viscosidad de las pastas. Inf Tecnol 19:9–28

AOAC (1999) Official methods of analysis, 15th edn. Association of Official Analytical Chemists Inc, Arlington

Atienzo-Lazos M, Delgado E, Ochoa-Martínez A, Aguilar-Palazuelos E, Martínez BF, Ramirez-Wong B, Gallegos-Infante A, Medrano-Roldan H, Solis-Soto A (2011) Effect of moisture and temperature on the functional properties of composite flour extrudates from beans (Phaseolus vulgaris) and nixtamalized corn (Zea mays). J Anim Prod Adv 1:9–20

Camacho-Hernandez IL, Zazueta-Morales JJ, Gallegos-Infante JA, Aguilar-Palazuelos E, Rocha-Guzmán NE, Navarro-Cortez RO, Jacobo-Valenzuela N, Gómez-Aldapa CA (2014) Effect of extrusion conditions on physicochemical characteristics and anthocyanin content of blue corn third-generation snacks. CyTA J Food 12:320–330

Charlton SJ, Ewing WN (2007) The vitamin directory. Context Products, Ltd, England

Chen KHJ, Dogan E, Rizvi SSH (2002) Supercritical fluid extrusion of masa-based snack chips. Cereal Foods World 47:44–51

De Moraes-Crizel T, Jablonski A, De Oliveira-Rios A, Rech R, Flôres SH (2013) Dietary fiber from orange byproducts as a potential fat replacer. LWT-Food Sci Technol 53:9–14

Delgado-Nieblas C, Aguilar-Palazuelos E, Gallegos-Infante A, Rocha-Guzmán N, Zazueta-Morales J, Caro-Corrales J (2012) Characterization and optimization of extrusion cooking for the manufacture of third-generation snacks with winter squash (Cucurbita moschata D.). Flour Cereal Chem 89:65–72

Ding QB, Ainsworth P, Plunkett A, Tucker G, Marson H (2006) The effect of extrusion conditions on the functional and physical properties of wheat-based expanded snacks. J Food Eng 73:142–148

Ferreira RE, Chag YK, Steel CJ (2011) Influence of wheat bran addition and of thermoplastic extrusion process parameters on physical properties of corn-based expanded extruded snacks. Alim Nutr Araraquara 22:507–520

Flores-Farías R, Martínez-Bustos F, Salinas-Moreno Y, Ríos E (2002) Caracterización de harinas comerciales de maíz nixtamalizado. Rev Agrociencia 36:557–567

Grigelmo NM, Martin-Belloso O (1998) Characterization of dietary fiber from orange juice extraction. Food Res Int 31:355–361

Gujska E, Khan K (1991) Effect of temperature on properties of extrudates from high starch fractions of navy, pinto bean meal (Phaseolus vulgaris L). J Food Sci 55:466–469

Hernández-Díaz JR, Quintero-Ramos A, Barnard J, Balandran-Quintana RR (2007) Functional properties of extrudates prepared with blends of wheat flour/pinto bean meal with added wheat bran. Food Sci Technol Int 13:301–308

Kebede L, Worku S, Bultosa G, Yetneberek S (2010) Effect of extrusion operating conditions on the physical and sensory properties of tef (Eragrostis tef [Zucc.] Trotter) flour extrudates. Ethiop J Appl Sci Technol 1:27–38

Larrea CMA, Martínez-Bustos F, Yoon KC (2010) The effect of extruded orange pulp on enzymatic hydrolysis of starch and glucose retardation index. Food Bioprocess Technol 3:684–692

Larrea MA, Chang YK, Martinez-Bustos F (2005) Effect of some operational extrusion parameters on the constituents of orange pulp. Food Chem 89:301–308

Lee TC, Chen T, Alid G, Chichester CO (1978) Stability of vitamin A and pro-vitamin A (carotenoids) in extrusion cooking processing. AICHE Symp Ser 74:172–192

Leivas CL, Da Costa FJOG, De Almeida RR, De Freitas RJS, Stertz SC, Schnitzler E (2013) Structural, physico-chemical, thermal and pasting properties of potato (Solanum tuberosum L.) flour. J Therm Anal Calorim 111:2211–2216

Martínez OL, Román MO, Gutiérrez EL, Medina GB, Cadavid M, Flórez OA (2008) Desarrollo y evaluación de un postre lácteo con fibra de naranja. Rev Fac Quím Farmac 15:219–225

Meng X, Threinen D, Hansen M, Driedger D (2010) Effects of extrusion conditions on system parameters and physical properties of a chickpea flour-based snack. Food Res Int 43:650–658

Moraru CI, Kokini JL (2003) Nucleation and expansion during extrusion and microwave heating of cereal foods. Compr Rev Food Sci Food Saf 2:120–138

Moreno-Álvarez MJ, Belén DR, García D, Mendoza L (2005) Evaluación del contenido de carotenoides totales en cáscaras de algunas variedades de naranjas venezolanas. Rev Fac Agro 23:301–309

Pérez-Navarrete C, Betancur-Ancona D, Casotto M, Carmona A, Tovar J (2007) Efecto de la extrusión sobre la biodisponibilidad de proteína y almidón en mezclas de harina de maíz y frijol lima. Arch Latinoam Nutr 57:145–155

Rocha-Guzmán NE, Gallegos-Infante JA, González-Laredo RF, Castillo-Antonio PA, Delgado-Lincoln E, Ibarra-Peréz F (2006) Functional properties of three common bean (Phaseolus vulgaris) cultivars stored under accelerated conditions followed by extrusion. LWU Technol 39:6–10

Yağci S, Göğüş F (2009) Development of extruded snack from food by‐products: a response surface analysis. J Food Process Eng 32:565–586

Yu L, Hosahalli S, Ramaswamy BJ (2012) Twin-screw extrusion of corn flour and soy protein isolate (SPI) blends: a response surface analysis. Food Bioprocess Technol 5:485–497
About this article
Cite this article
Tovar-Jiménez, X., Caro-Corrales, J., Gómez-Aldapa, C.A. et al. Third generation snacks manufactured from orange by-products: physicochemical and nutritional characterization. J Food Sci Technol 52, 6607–6614 (2015). https://doi.org/10.1007/s13197-015-1726-2
Revised:

Accepted:

Published:

Issue Date:
Keywords
Third generation snacks

Extrusion

Orange by-products

Carotenoids

Dietary fiber