Abstract
The influence of Pulsed Electric Field (PEF) pre-treatment of blueberry fruits (Vaccinium myrtillus L.), both on the extraction yield and antioxidant properties of juice obtained by pressing and on the on the recovery of bioactive compounds from berry by-products (press cake) by extraction with solvent, was investigated. PEF treatments carried out at field strengths of 1, 3, and 5 kV/cm and an energy input of 10 kJ/kg achieved a cell disintegration index (Z p ) of 0.70, 0.80, and 0.87, respectively. Mechanical pressing (1.32 bar for 8 min) of PEF-treated berries (1, 3, and 5 kV/cm at 10 kJ/kg) significantly increased the juice yield (+28 %) compared with the untreated sample. The juice obtained from PEF pre-treated berries also had a significantly higher total phenolic content (+43 %), total anthocyanin content (+60 %) and antioxidant activity (+31 %). However, PEF treatment intensity higher than 1 kV/cm did not significantly improve the quantitative or qualitative characteristics of the juice. Compared to the untreated sample, higher amounts of total phenolics (+63 %), total athocyanins (+78 %) and antioxidant activity (+65 %) were detected in the press cake extracts. PEF treatment of higher intensity resulted in better extractability of bioactive compounds from blueberry press cake. The results obtained from this study demonstrate the potential of PEF as a mild pre-treatment method to improve the efficiency of the industrial processing of berry fruits.
This is a preview of subscription content,
to check access.
Access this article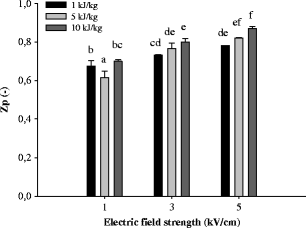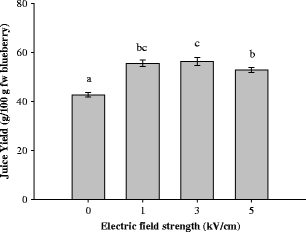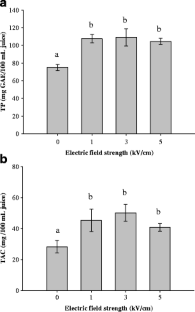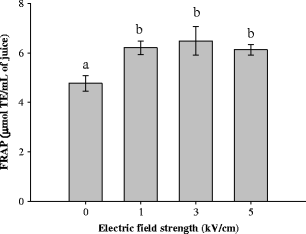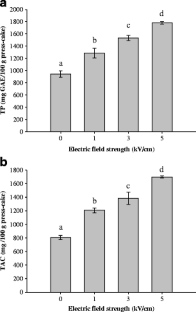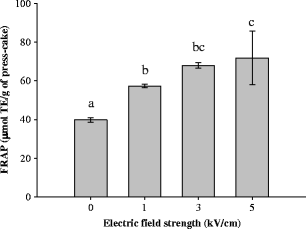 Similar content being viewed by others
References
Asavasanti S, Ersus S, Ristenpart W, Stroeve P, Barret DM (2010) Critical electric field strengths of onion tissues treated by pulsed electric fields. J Food Sci 75:433–443

Barba FJ, Jäger H, Meneses N, Esteve MJ, Frígola A, Knorr D (2012) Evaluation of quality changes of blueberry juice during refrigerated storage after high-pressure and pulsed electric fields processing. Innov Food Sci Emerg Tech 14:18–24

Battipaglia G, De Vito G, Donsì F, Ferrari G, Pataro G (2009) Enhancement of polyphenols extraction from involucral bracts of artichokes. In: Lebovka N, Van Hecke E, Lanoiselle JL, Vorobiev E (eds) International conference on bio and food electrotechnologies. Universite' de Technologie de Compiègne, Compiègne, pp 40–44

Benzie IF, Strain JJ (1996) The ferric reducing ability of plasma (FRAP) as a measure of "antioxidant power": the FRAP assay. Anal Biochem 239:70–76

Bobinaitė R, Viškelis P, Venskutonis PR (2012) Variation of total phenolics, anthocyanins, ellagic acid and radical scavenging capacity in various raspberry (Rubus spp.) cultivars. Food Chem 132:1495–1501

Boussetta N, Vorobiev E, Le LH, Cordin-Falcimaigne A, Lanoisselle JL (2012) Application of electrical treatments in alcoholic solvent for polyphenols extraction from grape seeds. LWT-Food Sci Technol 46:127–134

Corrales M, Toepfl S, Butz P, Knorr D, Tauscher B (2008) Extraction of anthocyanins from grape by-products assisted by ultrasonics, high hydrostatic pressure or pulsed electric fields: a comparison. Innov Food Sci EmergTech 9:85–91

Donsi F, Ferrari G, Pataro G (2010a) Applications of pulsed electric field treatments for the enhancement of mass transfer from vegetable tissue. Food Eng Rev 2:109–130

Donsi F, Ferrari G, Fruilo M, Pataro G (2010b) Pulsed electric field-assisted vinification of Aglianico and Piedirosso grapes. J Agric Food Chem 58:11606–11615

Giovanelli G, Buratti S (2009) Comparison of polyphenolic composition and antioxidant activity of wild Italian blueberries and some cultivated varieties. Food Chem 112:903–908

Grimi N, Lebovka NI, Vorobiev E, Vaxelaire J (2009) Effect of a pulsed electric field treatment on expression behavior and juice quality of Chardonnay grape. Food Biophys 4:191–198

Grimi N, Mamouni F, Lebovka N, Vorobiev E, Vaxelaire J (2011) Impact of apple processing modes on extracted juice quality: pressing assisted by pulsed electric fields. J Food Eng 103:52–61

He J, Giusti MM (2010) Anthocyanins: natural colorants with health-promotingproperties. Annu Rev Food Sci Technol 1:163–187

Jaeger H, Schulz M, Lu P, Knorr D (2012) Adjustment of milling, mash electroporation and pressing for the development of a PEF assisted juice production in industrial scale. Innov Food Sci Emerg Tech 14:46–60

Kalt W, Dufour D (1997) Health functionality of blueberries. Hortic Technol 7:216–221

Karlsen A, Paur I, Bøhn SV, Sakhi AK, Borge GI, Serafini M, Erlund I, Laake P, Tonstad S, Blomhoff R (2010) Bilberry juice modulates plasma concentration of NF-κB related inflammatory markers in subjects at increased risk of CVD. Eur J Nutr 49:345–355

Khanal RC, Howard LR, Prior RL (2010) Effect of heating on the stability of grape and blueberry pomace procyanidinsand total anthocyanins. Food Res Int 43:1464–1469

Lee J, Durst RW, Wrolstad RE (2005) Determination of total monomeric anthocyanin pigment content of fruit juices, beverages, natural colorants, and wines by the pH differential method: collaborative study. J AOAC Int 88:1269–1278

Luengo E, Alvarez I, Raso J (2013) Improving the pressing extraction of polyphenols of orange peel by pulsed electric fields. Innov Food Sci Emerg Tech 17:79–84

Mellentin J, Crowford K (2008) Marketing healthy fruit. In: Tomas-Barberan FA, Gil MI (eds) Improving the health-promoting properties of fruit and vegetable products. CRC Press, Boca Raton, pp 55–68

Može Š, Polak T, Gašperlin L, Koron D, Vanzo A, Ulrih NP, Abram V (2011) Phenolics in Slovenian bilberries (Vaccinium myrtillus L.) and blueberries (Vaccinium corymbosum L.). J Agric Food Chem 59:6998–7004

Paredes-Lopez O, Cervantes-Ceja ML, Vigna-Perez M, Hernandez-Perez T (2010) Berries: improving human health and healthy aging, and promoting quality life—review. Plant Foods Hum Nutr 65:299–308

Pataro G, Ferrari G, Donsì G (2011) Mass transfer enhancement by means of electroporation. In: Markoš J (ed) Mass transfer in chimica engineering processes. InTech, Rijeka, pp 151–176

Praporscic I, Lebovka N, Vorobiev E, Mietton-Peuchot M (2007) Pulsed electric field enhanced expression and juice quality of white grapes. Sep Purif Technol 52:520–526

Puértolas E, Cregenzán O, Luengo E, Álvarez I, Raso J (2013) Pulsed-electric-field-assisted extraction of anthocyanins from purple-fleshed potato. Food Chem 136:1330–1336

Schilling S, Alber T, Toepfl S, Neidhart S, Knorr D, Schieber A, Carle R (2007) Effects of pulsed electric field treatment of apple mash on juice yield and quality attributes of apple juices. Innov Food Sci Emerg Tech 8:127–134

Schilling S, Toepfl S, Ludwig M, Dietrich H, Knorr D, Neidhart S, Schieber A, Carle R (2008) Comparative study of juice production by pulsed electric field treatment and enzymatic maceration of apple mash. Eur Food Res Technol 226:1389–1398

Turk MF, Billaud C, Vorobiev E, Baron A (2012) Continuous pulsed electric field treatment of French cider apple and juice expression on the pilot scale belt press. Innov Food Sci Emerg Tech 14:61–69

Ulbricht C, Basch E, Basch S, Bent S, Boon H, Burke D, Costa D, Falkson C, Giese N, Goble M, Hashmi S, Mukarjee S, Papaliodis G, Seamon E, Tanguay-Colucci S, Weissner W, Woods J (2009) An evidence-based systematic review of bilberry (Vaccinium myrtillus) by the natural standard research collaboration. J Diet Suppl 6:162–200

Vorobiev E, Lebovka N (2010) Enhanced extraction from solid foods and biosuspensions by pulsed electrical energy. Food Eng Rev 2:95–108

Yamamoto M, Yamaura K, Ishiwatari M, Ueno K (2013) Difficulty for consumers in choosing commercial bilberry supplements by relying only on product label information. Pharmacogn Res 5:212–215
Acknowledgments
The postdoctoral fellowship is being funded by European Union Structural Funds project "Postdoctoral Fellowship Implementation in Lithuania". The authors would also like to acknowledge networking support by the COST Action TD1104. Thanks are due to Dr. Mauro Maria Capitoli for his invaluable help with chemical analyses.
Additional information
Highlights
>PEF induces cell membrane disintegration of blueberry tissues. > PEF pre-treatment enhances the yield and antioxidant activity of blueberry juice. >PEF pretreatment improves the extraction efficiency of bioactive compounds from berry by-products.
About this article
Cite this article
Bobinaitė, R., Pataro, G., Lamanauskas, N. et al. Application of pulsed electric field in the production of juice and extraction of bioactive compounds from blueberry fruits and their by-products. J Food Sci Technol 52, 5898–5905 (2015). https://doi.org/10.1007/s13197-014-1668-0
Revised:

Accepted:

Published:

Issue Date:

DOI: https://doi.org/10.1007/s13197-014-1668-0
Keywords