Abstract
A sensitive and expeditious capillary electrophoresis-electrospray ionization mass spectrometry(CE-ESIMS) method for the separation, identification and determination of succinic, citric, salicylic, malic, benzoic, sorbic, ascorbic, and tartaric acid in blueberry juices has been developed. In order to obtain the analytical separation, CE-MS interface parameters(e.g., buffer pH and composition, sheath liquid and gas flow rates, sheath liquid composition, electrospray voltage, etc.) were carefully optimized. Eight organic acids were baseline separated in 8 min under optimum experimental conditions. The precisions for eight replicate separations of a standard mixture solution were 2.54–4.12 % for peak area and 0.85–2.12 % for migration time respectively. The linear ranges were 10.0–1000.0, 8.0–1000.0, 13.0–1000.0, 6.0–1000.0, 9.0–1000.0, 3.2–600.0, 6.0–1000.0 and 18.0–1000.0 μg/L for succinic, citric, salicylic, malic, benzoic, sorbic, ascorbic, and tartaric acid with detection limits of 2.5, 2.0, 3.4, 1.5, 2.2, 0.8, 1.5, 4.5 μg/L, respectively. The average recoveries of the eight components were between 86.8 and 99.8 % with RSDs of 1.8–5.3 %. The proposed method was applied to the simultaneous analysis of eight analytes in Blueberry Juice samples with satisfactory results.
This is a preview of subscription content,
to check access.
Access this article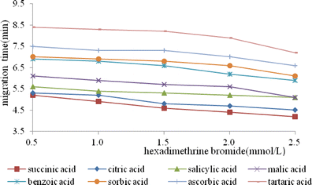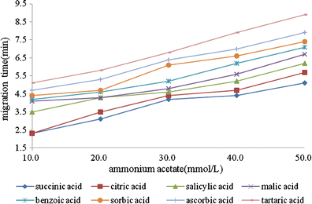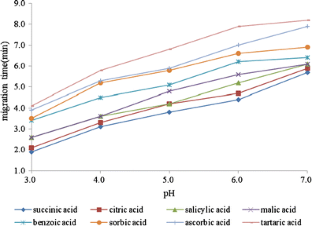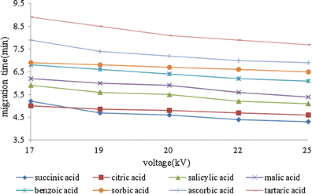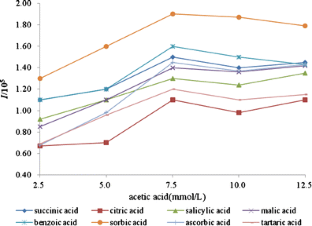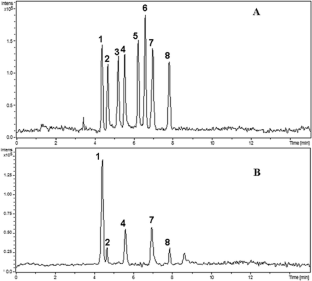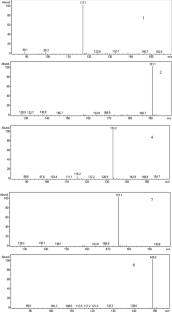 Similar content being viewed by others
References
Agnieszka S, Borowska E (2008) Bioactive compounds and health-promoting properties of berry fruits: a review. Plant Foods Hum Nutr 63:147–156

Cameron E, Campbell A (1974) The orthomolecular treatment of cancer II. Clinical trial of high-dose ascorbic acid supplements in advanced human cancer. Chem Biol Interact 9:285–315

Chen JP, Li YD, Xu Z (2010) Chemical principles and bioactivities of blueberry. Acta Pharmacol Sin 45(4):422–429

Flottmann D, Hins J, Meissner T, Dietrich C, Gredilla E (2004) Enhancing sensitivity of CZE by on-line isotachophoretic sample pretreatment. Chromatographia 60:5253–5256

Gonçalves J, Catarina S, Paula C (2013) An attractive, sensitive and high-throughput strategy based on microextraction by packed sorbent followed by UHPLC-PDA analysis for quantification of hydroxybenzoic and hydroxycinnamic acids in wines. Microchem J 106:129–138

Hashim J (2004) Blueberry production gaining in California. West Farm Press, Texas

Hu XL, Liu H, Lu N (2012) Determination of 9 organic acids in bluberry juice and wine by HPLC. Food Sci 33(16):229–232

Kranthi C, Jayaprakasha K, Yoo K, Jifon L, Bhimanagouda S (2012) An improved sample preparation method for quantification of ascorbic acid and dehydroascorbic acid by HPLC. LWT Food Sci Technol 47:443–449

Kuban P, Karlberg B (1997) on-line dialysis coupled to a capillary electrophoresis system for determination of small anion. Anal Chem 69:1169–1173

Li X, Li X, Ju YY, Xu YY, Wang WF, Dong YL, Ma YH, Chen XG (2013) On-line capillary electrophoresis enrichment by combining chitosan trapping with surfactant assisted sample stacking for the ultratrace determination of organic acids in Platrau alfalfa roots. Anal Chim Acta 789:100–106

Liang Z, Duan JC, Zhang WB (2003) Evaluation of the Effects of the pH Value of Buf fer on Capillary Electrophoresis-Electrospray Ionization-Mass Spectrometry Signal Intensity. Chin J Chromatogr 21(1):9–12

Manuela C, José M, Enrique S (2012) Gas chromatography coupled to mass spectrometry analysis of volatiles, sugars, organic acids and aminoacids in Valencia Late orange juice and reliability of the automated mass spectral deconvolution and identification system for their automatic identification and quantification. J Chromatogr A 1241:84–95

Matthew O, Paulina G, Nicholas H (2010) Phenolic contents of lettuce, strawberry, raspberry, and blueberry crops cultivated under plastic films varying in ultraviolet transparency. Food Chem 119:1224–1227

Melissa P, Ryan C, Catherine R (2010) Determination of organic acids in Vaccinium berry standard reference materials. Anal Bio Chem 398:425–434

Naama K, Dicinoski W, Melissa H, Paul H (2011) Determination of pharmaceutically related compounds by suppressed ion chromatography: I. Effects of organic solvent on suppressor performance. J Chromatogr A 1218:9037–9045

Pilar F, Pilar H, José F (2012) Determination of organic acids in fruits and vegetables by liquid chromatography with tandem-mass spectrometry. Food Chem 132:1049–1054

Prior L, Wu XL, Gu LW (2008) Whole berries versus berry anthocyanins: interactionswith dietary fat levels in the C57BL/6Jmouse model of obesity. J Agric Food Chem 56(3):647–653

Ren Q (2002) Simultaneous determination of fumaric acid, lactic acid and citric acid in feed addictives by derivative - capillary Gas chromatography. Chin J Anal Chem 30(3):304–306

Saavedra L, Garcia A, Barbas C (2000) Development and validation of a capillary electrophoresis method for direct measurement of isocitric, citric, tartaric and malic acids as adulteration markers in orange juice. J Chromatogr A 881:395–401

Shruti S, Tae B, Park H, Kim M, Lee IK, Kim JK (2010) Determination of non-volatile and volatile organic acids in Korean traditional fermented soybean paste (Doenjang). Food Chem Toxicol 48:2005–2010

Song YC, Chen YJ, Li H (2010) Rapid detection methods for anthocyanins in blueberry beverage. Food Sci 31(24):334–336

Suh N, Paul S, Hao X (2007) Pterostilbene, an active constituent of blueberries, suppresses aberrant crypt foci formation in the azoxymethane-induced colon carcinogenesis model in rats. Clin Cancer Res 13:350–355

Wang ZH, Xia JF, Zhao FY, Han Q, Guo XM, Wang H, Ding MY (2013) Determination of benzoic acid in milk by solid-phase extraction and ion chromatography with conductivity detection. Chin Chem Lett 24:243–245

Weng FH, Chen JY, Wen PF (2006) Detection of 11 phenolic acid of blueberry wine by high performance liquid chromatography. Food Sci 27(9):223–228

Xu CF, Shen HL, Song HW (2002) Capillary electrophoresis- electrospray mass spectrometry and its application in proteomics. J Instrum Anal 21(4):95–98

Yi WG, Akoh C, Fischer J (2006) Absorption of anthocyanins fromblueberry extracts by Caco-2 human intestinal cell monolayers. J Agric Food Chem 54(15):5651–5658

Yuan S, Yao SJ, Geng Y (2009) Identification of anthocyanins and flavonols in extract of blueberry by using HPLC-ESI-MS/MS. Acta Chim Sin 67(4):318–322

Zheng YJ, Duan YT, Zhang YF (2009) Determination of organic acids in Red wine and must on only One RP-LC-column directly after sample dilution and filtration. Chromatographia 69:1391–1395

Zhou GH, Luo GA (1993) Capillary electrophoresis-mass spectrometry and its application. J Anal Sci 14(4):338–344

Zhu QQ, Xu XQ, Huang YY, Xu LJ, Chen GN (2012) Field enhancement sample stacking for analysis of organic acids in traditional Chinese medicine by capillary electrophoresis. J Chromatogr A 1246:35–39
Acknowledgments
The authors are grateful for the National Ministry of Science and Technology "twelfth five" support program (2012BAD31B05-3), the tackle key problems of Liaoning province (2011205001), the Special Research Foundation of Young Teachers Shenyang Agricultural University (20121013).
About this article
Cite this article
Li, B., Yongku, L., Wang, X. et al. Simultaneous separation and determination of organic acids in blueberry juices by capillary electrophoresis- electrospray ionization mass spectrometry. J Food Sci Technol 52, 5228–5235 (2015). https://doi.org/10.1007/s13197-014-1611-4
Revised:

Accepted:

Published:

Issue Date:

DOI: https://doi.org/10.1007/s13197-014-1611-4
Keywords