Abstract
Enzyme assisted solvent extraction (EASE) of phenolic compounds from watermelon (C. lanatus) rind (WMR) was optimized using Response Surface Methodology (RSM) with Rotatable Central Composite Design (RCCD). Four variables each at five levels i.e. enzyme concentration (EC) 0.5–6.5 %, pH 6–9, temperature (T) 25–75 °C and treatment time (t) 30–90 min, were augmented to get optimal yield of polyphenols with maximum retained antioxidant potential. The polyphenol extracts obtained under optimum conditions were evaluated for their in-vitro antioxidant activities and characterized for individual phenolic profile by RP-HPLC-DAD. The results obtained indicated that optimized EASE enhanced the liberation of antioxidant phenolics up to 3 folds on fresh weight basis (FW) as compared to conventional solvent extraction (CSE), with substantial level of total phenolics (173.70 mg GAE/g FW), TEAC 279.96 mg TE/g FW and DPPH radical scavenging ability (IC50) 112.27 mg/mL. Chlorogenic acid (115.60–1611.04), Vanillic acid (26.13–2317.01) and Sinapic acid (113.01–241.12 μg/g) were major phenolic acid found in EASEx of WMR. Overall, it was concluded that EASE might be efficient and green technique to revalorize under-utilized WMR into potent antioxidant phenolic for their further application in food and nutraceutical industries.
Access options
Buy single article
Instant access to the full article PDF.
US$ 39.95
Tax calculation will be finalised during checkout.
Subscribe to journal
Immediate online access to all issues from 2019. Subscription will auto renew annually.
US$ 79
Tax calculation will be finalised during checkout.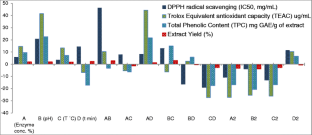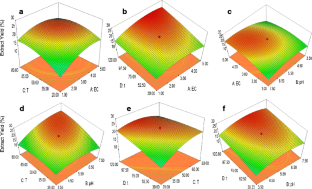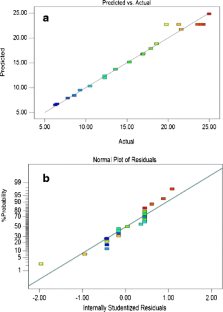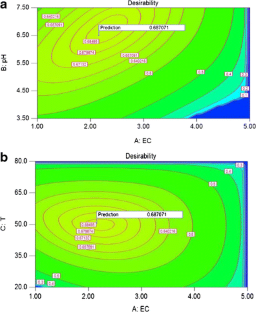 Refrences
Abadio Finco FD, Kammerer DR, Carle R, Tseng WH, Boser S, Graeve L (2012) Antioxidant activity and characterization of phenolic compounds from bacaba (Oenocarpus bacaba Mart.) fruit by HPLC-DAD-MS. J Agric Food Chem 60(31):7665–7673. doi:10.1021/jf3007689

Al-Sayed HMA, Ahmed AR (2013) Utilization of watermelon rinds and sharlyn melon peels as a natural source of dietary fiber and antioxidants in cake. Ann Agric Sci 58(1):83–95. doi:10.1016/j.aoas.2013.01.012

Arts MJ, Haenen GR, Voss HP, Bast A (2004) Antioxidant capacity of reaction products limits the applicability of the trolox equivalent antioxidant capacity (TEAC) assay. Food Chem Toxicol 42(1):45–49

Bener M, Shen Y, Apak R, Finley JW, Xu Z (2013) Release and degradation of anthocyanins and phenolics from blueberry pomace during thermal acid hydrolysis and dry heating. J Agric Food Chem. doi:10.1021/jf401983c

Bezerra MA, Santelli RE, Oliveira EP, Villar LS, Escaleira LA (2008) Response surface methodology (RSM) as a tool for optimization in analytical chemistry. Talanta 76(5):965–977. doi:10.1016/j.talanta.2008.05.019

Chen Z, Bertin R, Froldi G (2013) EC50 estimation of antioxidant activity in DPPH assay using several statistical programs. Food Chem 138(1):414–420. doi:10.1016/j.foodchem.2012.11.001

Del Bano MJ, Castillo J, Benavente-Garcia O, Lorente J, Martin-Gil R, Acevedo C, Alcaraz M (2006) Radioprotective-antimutagenic effects of rosemary phenolics against chromosomal damage induced in human lymphocytes by gamma-rays. J Agric Food Chem 54(6):2064–2068. doi:10.1021/jf0581574

FAO (2011) Food and agricultural organization of united nations: economic and social department. UN Food and Agriculture Organization Corporate Statistical Database The Statistical Division. Available at www.fao.org, accessed 15 September 2013

Figueroa A, Sanchez-Gonzalez MA, Perkins-Veazie PM, Arjmandi BH (2011) Effects of watermelon supplementation on aortic blood pressure and wave reflection in individuals with prehypertension: a pilot study. Am J Hypertens 24(1):40–44. doi:10.1038/ajh.2010.142

Gaur R, Sharma A, Khare SK, Gupta MN (2007) A novel process for extraction of edible oils: enzyme assisted three phase partitioning (EATPP). Bioresour Technol 98(3):696–699. doi:10.1016/j.biortech.2006.01.023

Gunst RF, Mason RL (2009) Fractional factorial design. Wiley Interdiscip Rev: Comput Stat 1(2):234–244

Haggag EG, Kamal AM, Abdelhady MI, El-Sayed MM, El-Wakil EA, Abd-El-Hamed SS (2011) Antioxidant and cytotoxic activity of polyphenolic compounds isolated from the leaves of Leucenia leucocephala. Pharm Biol 49(11):1103–1113. doi:10.3109/13880209.2011.568623

Jayaram S, Dharmesh SM (2011) Assessment of antioxidant potentials of free and bound phenolics of Hemidesmus indicus (L) R.Br against oxidative damage. Pharmacogenomics Res 3(4):225–231. doi:10.4103/0974-8490.89741

Kedare SB, Singh RP (2011) Genesis and development of DPPH method of antioxidant assay. J Food Sci Technol 48(4):412–422. doi:10.1007/s13197-011-0251-1

Liu H, Du X, Yuan Q, Zhu L (2009) Optimisation of enzyme assisted extraction of silybin from the seeds of Silybum marianum by Box-Behnken experimental design. Phytochem Anal 20(6):475–483. doi:10.1002/pca.1149

Liu C, Ngo HH, Guo W (2012) Watermelon rind: agro-waste or superior biosorbent. Appl Biochem Biotechnol 167(6):1699–1715. doi:10.1007/s12010-011-9521-7

Martysiak-Zurowska D, Wenta W (2012) A comparison of ABTS and DPPH methods for assessing the total antioxidant capacity of human milk. Acta Sci Pol Technol Aliment 11(1):83–89

Ravikumar K, Ramalingam S, Krishnan S, Balu K (2006) Application of response surface methodology to optimize the process variables for reactive Red and acid brown dye removal using a novel adsorbent. Dyes Pigments 70(1):18–26. doi:10.1016/j.dyepig.2005.02.004

Rimando AM, Perkins-Veazie PM (2005) Determination of citrulline in watermelon rind. J Chromatogr A 1078(1–2):196–200

Sashidhara KV, Singh SP, Srivastava A, Puri A (2011) Identification of the antioxidant principles of Polyalthia longifolia var. pendula using TEAC assay. Nat Prod Res 25(9):918–926. doi:10.1080/14786419.2010.490214

Sulaiman SF, Yusoff NAM, Eldeen IM, Seow EM, Sajak AAB, Supriatno OKL (2011) Correlation between total phenolic and mineral contents with antioxidant activity of eight Malaysian bananas (Musa sp.). J Food Compos Anal 24(1):1–10. doi:10.1016/j.jfca.2010.04.005

Sultana B, Hussain Z, Asif M, Munir A (2012) Investigation on the antioxidant activity of leaves, peels, stems bark, and kernel of mango (Mangifera indica L.). J Food Sci 77(8):C849–C852. doi:10.1111/j.1750-3841.2012.02807.x

Tarazona-Diaz MP, Alacid F, Carrasco M, Martinez I, Aguayo E (2013) Watermelon juice: potential functional drink for sore muscle relief in athletes. J Agric Food Chem. doi:10.1021/jf400964r

Tlili I, Hdider C, Lenucci MS, Ilahy R, Jebari H, Dalessandro G (2011a) Bioactive compounds and antioxidant activities during fruit ripening of watermelon cultivars. J Food Compos Anal 24(7):923–928. doi:10.1016/j.jfca.2011.03.016

Tlili I, Hdider C, Lenucci MS, Riadh I, Jebari H, Dalessandro G (2011b) Bioactive compounds and antioxidant activities of different watermelon (Citrullus lanatus (Thunb.) Mansfeld) cultivars as affected by fruit sampling area. J Food Compos Anal 24(3):307–314. doi:10.1016/j.jfca.2010.06.005

Turner R, Etienne N, Alonso MG, de Pascual-Teresa S, Minihane AM, Weinberg PD, Rimbach G (2005) Antioxidant and anti-atherogenic activities of olive oil phenolics. Int J Vitam Nutr Res 75(1):61–70

Wei Z-J, Liao A-M, Zhang H-X, Liu J, Jiang S-T (2009) Optimization of supercritical carbon dioxide extraction of silkworm pupal oil applying the response surface methodology. Technology 100(18):4214–4219. doi:10.1016/j.biortech.2009.04.010

You Q, Yin X, Zhao Y (2013) Enzyme assisted extraction of polysaccharides from the fruit of Cornus officinalis. Carbohydr Polym 98(1):607–610. doi:10.1016/j.carbpol.2013.06.036

Zhang QA, Fan XH, Zhang ZQ, Li T, Zhu CP, Zhang XR, Song W (2013) Extraction, antioxidant capacity and identification of Semen Astragali Complanati (Astragalus complanatus R. Br.) phenolics. Food Chem 141(2):1295–1300. doi:10.1016/j.foodchem.2013.04.014

Zheng SY, Chen TF, Zheng WJ, Wong YS (2010) Spectrometric investigation of the antioxidant activities of dangcong tea aqueous extracts against DPPH and ABTS free radicals. Guang Publ 30(9):2417–2423
Acknowledgments
This work was partially funded by Higher Education Commission of Pakistan under Ph.D. Indigenous Fellowship Program.
About this article
Cite this article
Mushtaq, M., Sultana, B., Bhatti, H.N. et al. RSM based optimized enzyme-assisted extraction of antioxidant phenolics from underutilized watermelon (Citrullus lanatus Thunb.) rind. J Food Sci Technol 52, 5048–5056 (2015). https://doi.org/10.1007/s13197-014-1562-9
Revised:

Accepted:

Published:

Issue Date:
Keywords
Watermelon rind

Enzyme-assisted extraction

Response surface methodology

Phenolics

TEAC

HPLC-DAD