Abstract
To determine the influence of glycine-Cu chelates (Gly-Cu) on chemical composition and sensory characteristic of chickens meat, two hundred of Ross 308 broilers were fed diets containing 16 mg kg−1 of copper sulfate (S-Cu; control group) or 16, 8 and 4 mg/kg of Cu-glycine chelate (Gly-Cu). The chemical composition was determined in crude and prepared (cooked and grilled) breast and thigh samples. No significant influence of Gly-Cu on the content of the protein, fat and ash in the breast meat was found. Substituting S-Cu with Gly-Cu at different doses in feed did not significantly modify the fatty acids profile of the meat. The breast meat from chickens administered with Gly-Cu contained significantly less cholesterol than that in S-Cu. No different effect of the experimental agent was observed regarding the content of Cu, Zn and Ca in the breast meat, while in chickens from all the groups administered Gly-Cu there was more significantly Fe (P < 0.01) in comparison with the S-Cu group. The thigh meat revealed significantly (P < 0.01) higher levels of Zn and Ca in comparison with the 16 mg S-Cu group. No significant effect of the diet on the sensory characteristics of the meat was observed.
Access options
Buy single article
Instant access to the full article PDF.
USD 39.95
Price excludes VAT (USA)
Tax calculation will be finalised during checkout.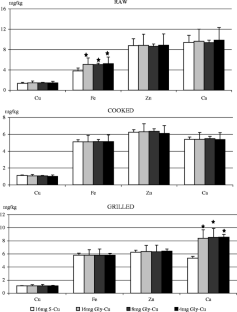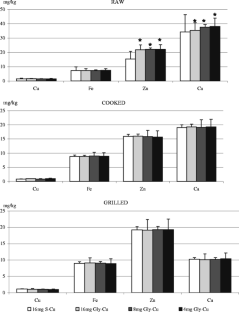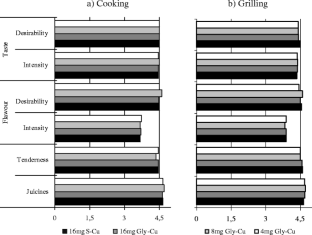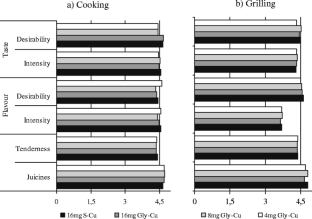 Abbreviations
S:

starter diet

G:

grower diet

F:

finisher diet

S-Cu:

copper sulphate

Gly-Cu:

glycine-Cu chelates

SFA:

saturated fatty acids

MUFA:

monounsaturated fatty acids

PUFA:

polyunsaturated fatty acid

UFA:

unsaturated fatty acid
References
Abdallah AG, El-Husseiny OM, Abdel-Latif KO (2009) Influence of some dietary organic mineral supplementations on broiler performance. Int J Poult Sci 8:291–298

AOAC (2000) Official Methods of Analysis. Intern. 17th ed. AOAC Inter., Gaithersburg, MD, USA.

Aoyagi S, Baker DH (1993) Nutritional evaluation of copper-lysine and zinc-lysine complexes for chicks. Poult Sci 72:165–171

Aviagen (2013). Ross 308 parent stock nutrition specifications. en.aviagen.com

Bao YM, Choct M, Iji PA, Bruerton K (2007) Effect of organically complexed copper, iron, manganese, and zinc on broiler performance, mineral excretion, and accumulation in tissues. J Appl Poult Res 16:448–455

Betti M, Schneider BL, Wismer WV, Carney VL, Zuidhof MJ, Renema RA (2007) Omega-3-enriched broiler meat: 2. Functional properties, oxidative stability, and consumer acceptance. Poult Sci 88:1085–1095

Borys A (2007) Trends in industrial production and processing of meat in Poland. Meat Technol 48:36–44

Chowdhury SD, Paik IK, Namkung H, Lim HS (2004) Responses of broiler chickens to organic copper fed in the form of copper-methionine chelate. Anim Feed Sci Technol 115:281–293

de Almeida JC, Perassolo MS, Camargo JL, Bragagnolo N, Gross JL (2006) Fatty acid composition and cholesterol content of beef and chicken meat in Southern Brazil. Braz J Pharm Sci 42:109–117

Dinh TTN, Blanton JR Jr, Brooks JC, Miller MF, Thompson LD (2008) A simplified method for cholesterol determination in meat and meat products. J Food Comp Anal 21:306–314

Dinh TTN, Thompson LD, Galyean ML, Brooks JC, Patterson KY, Boylan LM (2011) Cholesterol content and methods for cholesterol determination in meat and poultry. Compr Rev Food Sci Food Saf 10:269–289

El-Husseiny OM, Hashish SM, Ali RA, Arafa SA, Abd El- Samee LD, Olemy AA (2012) Effects of feeding organic zinc, manganese and copper on broiler growth, carcass characteristics, bone quality and mineral content in bone, liver and excreta. Int J Poult Sci 11:368–377

Floros JD, Newsome R, Fisher W (2010) Feeding the world today and tomorrow: the importance of food science and technology. Compr Rev Food Sci Food Saf 9:572–599

Folch J, Lees M, Stanley GHS (1957) A simple method for the isolation and purification of total lipids from animal tissues. J Biol Chem 226:247–262

Igbasan FA, Akinsanmi SK (2012) Growth response and carcass quality of broiler chickens fed on diets supplemented with dietary copper sources. Afr J Agric Res 11:1674–1681

Igbasan FA, Akinsanmi SK, Onibi G, Adu OA (2011) The effects of dietary supplementation of copper source and level on the oxidative stability of broiler meat assessed after refrigerated storage. Int J Agric Res Rev 1:53–58

Inal F, Coskun B, Gulsen N, Kurtoglu V (2001) The effects of withdrawal of vitamin and trace mineral supplements from layer diets on egg yield and trace mineral composition. Br Poult Sci 42:77–80

Kim G-B, Seo YM, Shin KS, Rhee AR, Han J, Paik IK (2011) Effects of supplemental copper-methionine chelate and copper-soy proteinate on the performance, blood parameters, liver mineral content, and intestinal microflora of broiler chickens. J Appl Poult Res 20:21–32

Konjufca VH, Pesti GM, Bakalli RI (1997) Modulation of cholesterol levels in broiler meat by dietary garlic and copper. Poult Sci 76:1264–1271

Kwiecień M, Winiarska-Mieczan A (2011) The effect of adding copper glycine chelate on fatty acid profile in chickens' breast muscle. Zesz Nauk UP Wroc Biol Hod Zw 580:317–326

Lauritzsen K, Martinsen G (1999) Copper induced lipid oxidation during salting of cod (Gadus morhua L.). J Food Lipids 6:299–315

Lim HS, Paik IK, Sohn TI, Kim WY (2006) Effects of supplementary copper chelates in the form of methionine, chitosan and yeast on the performance of broilers. Asian-Aust J Anim Sci 19:1322–1327

Liotta L, Chiofalo V, D'alessandro E, Macrì F, Caristina G, Chiofalo B (2009) Use of organometallic chelates in broiler diet: effect on the performance and bone structure. Preliminary results. Ital J Anim Sci 8:763–765, Suppl. 2

Makarski B, Zadura A, Kwiecień M (2006) The effect of Cu-lysine chelate in turkeys diets on the results of slaughter analysis, chemical composition and the fatty acids profile in tissues. Acta Sci Pol Zootechnica 5:57–66

NRC (1994) National Research Council. Nutrient Requirements of Poultry. 9th rev. ed. National Academy Press, Washington, DC.

Pang Y, Applegate TJ (2007) Effects of dietary copper supplementation and copper source on digesta pH, calcium, zinc, and copper complex size in the gastrointestinal tract of the broiler chicken. Poult Sci 86:531–637

Pisulewski PM (2005) Nutritional potential for improving meat quality in poultry. Anim Sci Pap Rep 23:303–315

Ramarathnam N, Rubin LJ, Diosady LL (1993) Studies on meat flavor. 4. Fractionation, characterization, and quantitation of volatiles from uncured and cured beef and chicken. J Agric Food Chem 41:939–945

Resurreccion AVA (2003) Sensory aspects of consumer choices for meat and meat products. Meat Sci 66:11–20

Rhee KS, Dutson TR, Smith GC, Hostetler RL, Reiser R (1982) Cholesterol content of raw and cooked beef longissimus muscles with different degrees of marbling. J Food Sci 47:716–719

Rotenberg S, Anderson JO (1980) The effect of dietary citrus pectin on fatty acid content of the liver and small intestine in rats. Acta Agric Scand 30:8–12

Santé V, Fernandez X (2000) The measurement of pH in raw and frozen turkey Pectoralis superficialis muscle. Meat Sci 55:503–506

Saripinar-Aksu D, Aksu T, Önel SE (2012) Does inclusion at low levels of organically complexed minerals versus inorganic forms create a weakness in performance or antioxidant defense system in broiler diets? Int J Poult Sci 11:666–672

Sasaki K, Nishioka T, Ishizuka Y, Saeki M, Kawashima T, Irie M, Mitsumoto M (2007) Comparison of sensory traits and preferences between food co-product fermented liquid (FCFL)-fed and formula-fed pork loin. Asian-Aust J Anim Sci 20:1272–1277

Ševčíková S, Skřivan M, Skřivanová V, Tůmová E, Koucký M (2003) Effect of supplementation of copper in copper sulphate and Cu-glycine on fatty acid profile in meat of broiler chickens, cholesterol content and oxidation stability of fat. Czech J Anim Sci 4:432–440

STATSOFT (1995) Statistica for Windows. StatSoft, Tulsa

Swize SS, Harris KB, Savell JW, Cross HR (1992) Cholesterol content of lean and fat from beef, pork, lamb cuts. J Food Comp Anal 5:160–167

Wang Z, Cerrate F, Coto C, Yan F, Waldroup PW (2007) Evaluation of Mintrex® copper as a source of copper in broiler diets. Int J Poult Sci 6:308–313

Wang Z, Cerrate F, Yan F, Sacakli P, Waldroup PW (2008) Comparison of different concentrations of inorganic trace minerals in broiler diets on live performance and mineral excretion. Int J Poult Sci 7:625–629

Williams SK, Damron BL (1998) Sensory and objective characteristics of broiler meat from commercial broilers fed rendered whole-hen meal. Poult Sci 77:329–333

Winiarska-Mieczan A (2010) The influence of grass pea seeds in pig diets on the fatty acid composition and sensory attributes of pork. Medycyna Wet 66:113–117

Yegani M, Korver DR (2010) Application of egg yolk antibodies as replacement for antibiotics in poultry. World's Poult Sci J 66:27–37
Additional information
This work was financially by the project NN 311543540 from the Ministry of Science and Higher Education, Poland.
About this article
Cite this article
Winiarska-Mieczan, A., Kwiecień, M. The effects of copper-glycine complexes on chemical composition and sensory attributes of raw, cooked and grilled chicken meat. J Food Sci Technol 52, 4226–4235 (2015). https://doi.org/10.1007/s13197-014-1510-8
Revised:

Accepted:

Published:

Issue Date:

DOI: https://doi.org/10.1007/s13197-014-1510-8
Keywords
Gly-Cu chelates

Breast meat

Thigh meat

Meat quality

Sensory characteristic