Abstract
As commonly observed events in diabetic patients, glucolipotoxicity induces oxidative stress, apoptosis and functional defects in β-cells. Anthocyanins are well investigated as strong antioxidants and modulators for metabolic syndromes. Therefore, this study examined the protective effects of anthocyanins-rich extracts (BAE) from wild Chinese blueberry (Vaccinium spp.) against glucolipotoxicity in β-cells. Results showed that INS832/13 β-cells subjected to glucolipotoxicity were significantly decreased (p < 0.05) in cell survival rate, which were alleviated by BAE and metformin treatments. Both BAE and metformin reduced reactive oxidative species and improved the antioxidant defense system. Moreover, BAE were effective in reducing intracellular triglycerides (TG) level, restoring intracellular insulin content, lowering basal insulin secretion (BIS) and increasing glucose-stimulated insulin secretion which in turn resulted in an elevated insulin secretion index. However, metformin only demonstrated marginal effect on secretion dysfunction and had no effect (p > 0.05) on BIS or TG. Additionally, TG levels reduced by BAE treatment were correlated with BIS (p < 0.01, r = 0.9755). This study has for the first time demonstrated that anthocyanin enriched extract of wild Chinese blueberry could effectively protect β-cells against glucolipotoxicity in vitro. These results implied the potential efficacy of BAE as a complementary measure for diabetes intervention.
Access options
Buy single article
Instant access to the full article PDF.
USD 39.95
Price excludes VAT (USA)
Tax calculation will be finalised during checkout.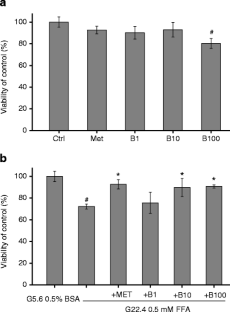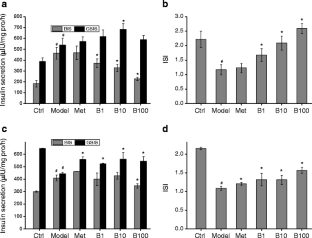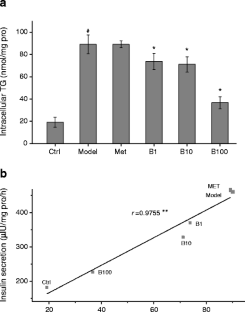 References
Aalinkeel R, Srinivasan M, Kalhan SC, Laychock SG, Patel MS (1999) A dietary intervention (high carbohydrate) during the neonatal period causes islet dysfunction in rats. Am J Physiol Endocrinol Metab 277:E1061–E1069

Becker TC, BeltrandelRio H, Noel RJ, Johnson JH, Newgard CB (1994) Overexpression of hexokinase I in isolated islets of Langerhans via recombinant adenovirus. Enhancement of glucose metabolism and insulin secretion at basal but not stimulatory glucose levels. J Biol Chem 269:21234–21238

Birkenfeld AL, Shulman GI (2014) Nonalcoholic fatty liver disease, hepatic insulin resistance, and type 2 diabetes. Hepatology 59:713–723

Bollheimer LC, Skelly RH, Chester MW, McGarry JD, Rhodes CJ (1998) Chronic exposure to free fatty acid reduces pancreatic beta cell insulin content by increasing basal insulin secretion that is not compensated for by a corresponding increase in proinsulin biosynthesis translation. J Clin Invest 101:1094

de Pascual-Teresa S, Moreno DA, García-Viguera C (2010) Flavanols and anthocyanins in cardiovascular health: a review of current evidence. Int J Mol Sci 11:1679–1703

Dubois M, Vacher P, Roger B, Huyghe D, Vandewalle B, Kerr-Conte J, Pattou F, Moustaïd-Moussa N, Lang J (2007) Glucotoxicity inhibits late steps of insulin exocytosis. Endocrinology 148:1605–1614

Finegood DT, McArthur MD, Kojwang D, Thomas MJ, Topp BG, Leonard T, Buckingham RE (2001) β-cell mass dynamics in Zucker diabetic fatty rats rosiglitazone prevents the rise in net cell death. Diabetes 50:1021–1029

Hamid M, McCluskey J, McClenaghan N, Flatt P (2002) Comparison of the secretory properties of four insulin-secreting cell lines. Endocr Res 28:35–47

Hirose H, Lee YH, Inman LR, Nagasawa Y, Johnson JH, Unger RH (1996) Defective fatty acid-mediated-cell compensation in Zucker diabetic fatty rats. J Biol Chem 271:5633–5637

Hohmeier HE, Newgard CB (2004) Cell lines derived from pancreatic islets. Mol Cell Endocrinol 228:121–128

Hohmeier HE, Mulder H, Chen G, Henkel-Rieger R, Prentki M, Newgard CB (2000) Isolation of INS-1-derived cell lines with robust ATP-sensitive K+ channel-dependent and-independent glucose-stimulated insulin secretion. Diabetes 49:424–430

Jayaprakasam B, Vareed SK, Olson LK, Nair MG (2005) Insulin secretion by bioactive anthocyanins and anthocyanidins present in fruits. J Agric Food Chem 53:28–31

Jayaprakasam B, Olson LK, Schutzki RE, Tai M-H, Nair MG (2006) Amelioration of obesity and glucose intolerance in high-fat-fed C57BL/6 mice by anthocyanins and ursolic acid in Cornelian cherry (Cornus mas). J Agric Food Chem 54:243–248

Karakaya S (2004) Bioavailability of phenolic compounds. Crit Rev Food Sci 44:453–464

Kawahito S, Kitahata H, Oshita S (2009) Problems associated with glucose toxicity: role of hyperglycemia-induced oxidative stress. World J Gastroenterol 15:4137–4142

Kusminski CM, Shetty S, Orci L, Unger RH, Scherer PE (2009) Diabetes and apoptosis: lipotoxicity. Apoptosis 14:1484–1495

Liu J, Zhang W, Jing H, Popovich DG (2010a) Bog bilberry (Vaccinium uliginosum L.) extract reduces cultured Hep-G2, Caco-2, and 3T3-L1 cell viability, affects cell cycle progression, and has variable effects on membrane permeability. J Food Sci 75:H103–H107

Liu Y, Song X, Han Y, Zhou F, Zhang D, Ji B, Hu J, Lv Y, Cai S, Wei Y (2010b) Identification of anthocyanin components of wild Chinese blueberries and amelioration of light-induced retinal damage in pigmented rabbit using whole berries. J Agric Food Chem 59:356–363

Liu Y, Wang D, Zhang D, Lv Y, Wei Y, Wu W, Zhou F, Tang M, Mao T, Li M (2011) Inhibitory effect of blueberry polyphenolic compounds on oleic acid-induced hepatic steatosis in vitro. J Agric Food Chem 59:12254–12263

Lowell BB, Shulman GI (2005) Mitochondrial dysfunction and type 2 diabetes. Science 307:384–387

Lupi R, Del Guerra S, Fierabracci V, Marselli L, Novelli M, Patanè G, Boggi U, Mosca F, Piro S, Del Prato S (2002) Lipotoxicity in human pancreatic islets and the protective effect of metformin. Diabetes 51:S134–S137

Nizamutdinova IT, Jin YC, Chung JI, Shin SC, Lee SJ, Seo HG, Lee JH, Chang KC, Kim HJ (2009) The anti-diabetic effect of anthocyanins in streptozotocin-induced diabetic rats through glucose transporter 4 regulation and prevention of insulin resistance and pancreatic apoptosis. Mol Nutr Food Res 53:1419–1429

O'Doherty RM, Lehman DL, Seoane J, Gómez-Foix AM, Guinovart JJ, Newgard CB (1996) Differential metabolic effects of adenovirus-mediated glucokinase and hexokinase I overexpression in rat primary hepatocytes. J Biol Chem 271:20524–20530

Osawa H, Sutherland C, Robey RB, Printz RL, Granner DK (1996) Analysis of the signaling pathway involved in the regulation of hexokinase II gene transcription by insulin. J Biol Chem 271:16690–16694

Piro S, Anello M, Di Pietro C, Lizzio MN, Patane G, Rabuazzo AM, Vigneri R, Purrello M, Purrello F (2002) Chronic exposure to free fatty acids or high glucose induces apoptosis in rat pancreatic islets: possible role of oxidative stress. Metabolism 51:1340–1347

Poitout V, Robertson RP (2002) Mini review: secondary β-cell failure in type 2 diabetes—a convergence of glucotoxicity and lipotoxicity. Endocrinology 143:339–342

Poitout V, Robertson RP (2008) Glucolipotoxicity: fuel excess and β-cell dysfunction. Endocr Rev 29:351–366

Rahimi R, Nikfar S, Larijani B, Abdollahi M (2005) A review on the role of antioxidants in the management of diabetes and its complications. Biomed Pharmacother 59:365–373

Robertson RP, Harmon J, Tran POT, Poitout V (2004) β-cell glucose toxicity, lipotoxicity, and chronic oxidative stress in type 2 diabetes. Diabetes 53:S119–S124

Roche E, Maestre I, Martin F, Fuentes E, Casero J, Reig J, Soria B (2000) Nutrient toxicity in pancreatic β-cell dysfunction. J Physiol Biochem 56:119–128

Sancho RAS, Pastore GM (2011) Evaluation of the effects of anthocyanins in type 2 diabetes. Food Res Int 46:378–386

Tsuda T, Horio F, Uchida K, Aoki H, Osawa T (2003) Dietary cyanidin 3-O-β-D-glucoside-rich purple corn color prevents obesity and ameliorates hyperglycemia in mice. J Nutr 133:2125–2130

Tsuda T, Ueno Y, Yoshikawa T, Kojo H, Osawa T (2006) Microarray profiling of gene expression in human adipocytes in response to anthocyanins. Biochem Pharmacol 71:1184–1197

Wang H, Nair MG, Strasburg GM, Chang YC, Booren AM, Gray JI, DeWitt DL (1999) Antioxidant and antiinflammatory activities of anthocyanins and their aglycon, cyanidin, from tart cherries. J Nat Prod 62:294–296

Yang X, Yang L, Zheng H (2010) Hypolipidemic and antioxidant effects of mulberry (Morus alba L.) fruit in hyperlipidaemia rats. Food Chem Toxicol 48:2374–2379

Zhang Y, Xiao M, Niu G, Tan H (2005) Mechanisms of oleic acid deterioration in insulin secretion: role in the pathogenesis of type 2 diabetes. Life Sci 77:2071–2081

Zhang B, Kang M, Xie Q, Xu B, Sun C, Chen K, Wu Y (2010) Anthocyanins from Chinese bayberry extract protect β cells from oxidative stress-mediated injury via HO-1 upregulation. J Agric Food Chem 59:537–545

Zhang D, Xie L, Jia G, Cai S, Ji B, Liu Y, Wu W, Zhou F, Wang A, Chu L, Wei Y, Liu J, Gao F (2011) Comparative study on antioxidant capacity of flavonoids and their inhibitory effects on oleic acid-induced hepatic steatosis in vitro. Eur J Med Chem 46:4548–4558

Zhou YP, Grill VE (1994) Long-term exposure of rat pancreatic islets to fatty acids inhibits glucose-induced insulin secretion and biosynthesis through a glucose fatty acid cycle. J Clin Invest 93:870–876
Acknowledgments
We thank Dr. Christopher Newgard (Duke University) for providing the INS-1 832/13 cells. This research was supported in part by the Key Projects of China in the National Science & Technology Pillar Program, holding by Baoping Ji, during the Twelfth Five-Year Plan Period grand (2011BAD08B03-01).
About this article
Cite this article
Liu, J., Gao, F., Ji, B. et al. Anthocyanins-rich extract of wild Chinese blueberry protects glucolipotoxicity-induced INS832/13 β-cell against dysfunction and death. J Food Sci Technol 52, 3022–3029 (2015). https://doi.org/10.1007/s13197-014-1379-6
Revised:

Accepted:

Published:

Issue Date:

DOI: https://doi.org/10.1007/s13197-014-1379-6
Keywords