Abstract
Cereal blends containing pearl millet (Pennisetum glaucum), sorghum (Sorghum bicolor) and oat (Avena sativa) in different ratios were processed (roasted and germinated) and also used as unprocessed flours followed by fermentation with Lactobacillus sp. (Lactobacillus casei and Lactobacillus plantarum). They were screened for total phenolic content (TPC), phytic acid content (PAC) and free radical scavenging activity (FRSA). A formulation with the highest TPC, FRSA and the lowest PAC was selected to optimize a nutricereal based fermented baby food containing selected fermented cereal blends (FCB), rice-corn cooked flour (RCF), whole milk powder (WMP), whey protein concentrate (WPC) and sugar. The optimized baby food formulation contained 37.41 g 100 g−1 FCB, 9.75 g 100 g−1 RCF, 27.84 g 100 g−1 WMP, 5 g 100 g−1 WPC and 20 g 100 g−1 sugar. It had high protein, vitamin, minerals, as well as good quantity of carbohydrates and fat, to fulfil the nutritional needs of preschool children of age 1–3 years. The nutricereal based fermented baby food showed high water absorption capacity, dispersibility, wettability and flowability indicating good reconstitution properties.
Access options
Buy single article
Instant access to the full article PDF.
USD 39.95
Price excludes VAT (USA)
Tax calculation will be finalised during checkout.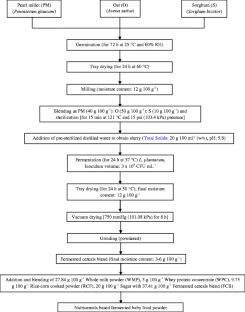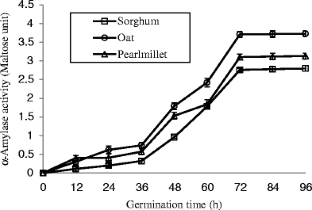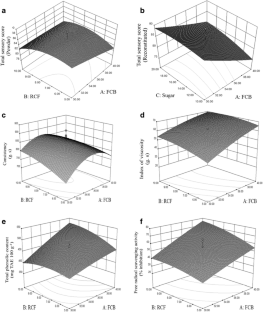 References
Abdelrahman SM, El Maki HB, Idris WH, Hassan AB, Babiker EE, Tinay HELA (2007) Antinutritional factor content and hydrochloric acid extractability of minerals in pearl millet cultivars as affected by germination. Int J Food Sci Nutr 58:6–17

Adebayo-Oyetoro AO, Olatidoye OP, Ogundipe OO, Akande EA, Isaiah CG (2012) Production and quality evaluation of complementary food formulated from fermented sorghum, walnut and ginger. J Appl Biosci 54:3901–3910

Adeleke RO, Odedeji JO (2010) Functional properties of wheat and sweet potato flour blends. Pak J Nutr 9(6):535–538

ADMI (1965) Standards for grades of dry milk including methods of analysis. American Dry Milk Institute Bulletin, USA

AOAC (1980) Official methods of analysis, 13th edn. Association of Official Agricultural Chemists, Washington, DC

AOAC (2000) Official methods of analysis of the association of official agricultural chemists. Association of Official Analytical Chemists, Washington, DC, pp 125–139

Beevi SS, Mangamoori LN, Gowda BB (2010) Polyphenolics profile, antioxidant and radical scavenging activity of leaves and stem of Raphanus sativus L. Plant Foods Hum Nutr 65:8–17

Blandino A, Al-Aseeri ME, Pandiella SS, Cantero D, Webb C (2003) Cereal-based fermented foods and beverages. Food Res Int 36:527–543

Buma TJ (1972) The cause of particle porosity of spray dried milk. Neth Milk Dairy J 26:60–67

Bvochora JM, Reed JD, Reed JS, Zvauya R (1999) Effect of fermentation processes on proanthocyanidins in sorghum during preparation of Mahewu: a non-alcoholic beverage. Process Biochem 35:21–25

Chrispeels MJ, Varner JE (1967) Determination of amylase activity in germinated grains. Food Nutr Bull Suppl 9:293–306

Craft BD, Kosinska A, Amarowicz R, Pegg RB (2010) Antioxidant properties of extract obtained from raw dry-roasted, and oil roasted US peanuts of commercial importance. Plant Foods Hum Nutr 65:311–318

Dewanto V, Wu X, Liu TH (2002) Processed sweet corn has higher antioxidant activity. J Agric Food Chem 51:6657–6662

Dordevic TM, Siler-Marinkovic SS, Dimitrijevic-brankovic AI (2010) Effect of fermentation on antioxidant properties of some cereals and pseudo cereals. Food Chem 119:957–963

Egounlety M (2002) Production of legume-fortified weaning foods. Food Res Int 35:233–237

El Khalifa AO, EI Tinay AH, Ali AM (2007) Fermented sorghum foods of Sudan—a review. J Food Sci Technol 44:343–349

Ghavidel RA, Davoodi MG (2011) Processing and assessment of quality characteristics of composite baby foods. World Acad Sci Eng Technol 59:2041–2043

Greiner R, Konietzny U (2006) Phytase for food application. Food Technol Biotech 44(2):125–140

Hols G, van Mil PJJM (1991) An alternative process or the manufacture of whole milk powder. J Soc Dairy Technol 44:49–52

Hotz C, Gibson RS (2001) Assessment of home-based processing methods to reduce the phytate content and phytate/zinc molar ratio of white maize (Zea mays). J Agric Food Chem 49:692–698

Hussain I, Uddin MB, Aziz MG (2011) Optimization of antinutritional factors from germinated wheat and mungbean by response surface methodology. Int Food Res J 18(3):957–963

ICMR (2008) Nutrient requirements and recommended dietary allowances for Indians. A report of the expert group of the Indian Council of Medical Research. National Institute of Nutrition (NIN) Press, Hyderabad

Jha A, Patel AA, Singh RRB (2002) Physicochemical properties of instant kheer mix. Lait 82:501–513

Kelly AL, O'Connell JE, Fox PF (2003) Manufacture and properties of milk powder. In: Fox PF, Mc Sweeney PLH (eds) Advanced dairy chemistry, vol. 1, proteins. Kluwer Acad/Plenum Pub, New York, pp 1027–1054

Ledesma RGG, Santos FF, Briagas KB (2005) Spectrophotometric determination of phytic acid levels in plants feedstuff for GET-EXCEL tilapia feed formulation. Bulletin of National Fisheries Research and Development Institute, Metro Manila

Leland JV (1997) Flavour interactions: the greater role. Food Technol 51:75–80

Lopez HW, Leenhardt F, Coudray C, Remesy C (2002) Minerals and phytic acid interactions: is it a real problem for human nutrition? Int J Food Sci Technol 37:727–739

Masters K (1979) Some properties of instantized dry milk. J Dairy Sci 62:253–257

Mettler AE (1980) Chemical and physical aspects of powder quality. In: Milk and whey powders. The Society of Dairy Technology, Middlesex, United Kingdom, pp 92–116

Muers MM, House TU (1962) A simple method for comparing wettability of instant spray dried separated milk powder. Copenhagen, Denmark: XVI International Dairy Congress, p 8:299

N'Dri D, Mazzeo T, Zaupa M, Ferracane R, Fogliano V, Pellegrini N (2013) Effect of cooking on the total antioxidant capacity and phenolic profile of some whole-meal African cereals. J Sci Food Agric 93:29–36

Nout MJR (2009) Rich nutrition from the poorest—cereal fermentation in Africa and Asia. Food Microbiol 26(7):685–692

Polycarpe-Kayode AP, Nout MJR, Bekker EJ, Van Boekel MAJS (2006) Evaluation of the simultaneous effects of processing parameters on the iron and zinc solubility of infant sorghum porridge by response surface methodology. J Agric Food Chem 54:4253–4259

Rasha Mohamed K, Abou-Arab EA, Gibriel AY, Rasmy NMH, Abu-Salem FM (2011) Effect of legume processing treatments individually or in combination on their phytic acid content. Afr J Food Sci Technol 2:36–46

Renner E (1988) Storage stability and some nutritional aspects of milk powders and ultra high temperatures products high ambient temperatures. J Dairy Res 55:125–142

Sanz-Penella JM, Laparra JM, Sanz Y, Haros M (2012) Bread supplemented with Amaranth (Amaranthus cruentus): effect of phytates in in vitro iron absorption. Plant Foods Hum Nutr 67:50–56

SCF (2003) Report of the scientific committee on food on the revision of essential requirement of infant formula and follow-on formulae. SCF/CS/NUT/IF/65 Final, European Commission

Sedej I, Sakac M, Mandic A, Misan A, Tumbas V, Hadnadev M (2011) Assessment of antioxidant activity and rheological properties of wheat and buckwheat milling fractions. J Cereal Sci 54:347–353

Sindhu SC, Khetarpaul N (2005) Development, acceptability and nutritional evaluation of an indigenous food blend fermented with probiotic organisms. Nutr Food Sci 35:20–27

Sinha R, Kawatra A (2003) Effect of processing on phytic acid and polyphenol contents of cowpeas [Vigna unguiculata (L) Walp]. Plant Foods Hum Nutr 58:1–8

Sjollema A (1963) Some investigation on the free flowing properties and porosity of milk powders. Neth Milk Dairy J17:245–253

Sodipo MA, Fashakin JB (2011) Physicochemical properties of a complementary diet prepared from germinated maize, cowpea and pigeon pea. J Food Agri Env 9(3–4):23–25

Sweetsur AWM (1976) The stability of instantized skimmed milk powder to hot coffee. J Soc Dairy Technol 29:157–160

VICH Steering Committee (2002) Testing of residual formaldehyde. VICH International Cooperation on Harmonization of Technical Registration of Veterinary Medical Products. pp 4–6

Waniska RD, Hugo LF, Rooney LW (1992) Practical methods to determine the presence of tannins in sorghum. J Appl Poult Res 1:122–128
Acknowledgments
The first author is thankful to the INSPIRE fellowship program, Department of Science and Technology (DST), New Delhi, India for providing the financial support.
About this article
Cite this article
Rasane, P., Jha, A., Kumar, A. et al. Reduction in phytic acid content and enhancement of antioxidant properties of nutricereals by processing for developing a fermented baby food. J Food Sci Technol 52, 3219–3234 (2015). https://doi.org/10.1007/s13197-014-1375-x
Accepted:

Published:

Issue Date:

DOI: https://doi.org/10.1007/s13197-014-1375-x
Keywords
Cereal blends

Free radical scavenging activity

Functional properties

Phytic acid content

Total phenolic content