Abstract
Pangasianodon hypophthalmus (sutchi catfish) is a fresh water catfish extensively being cultured in the South East Asian countries in the recent years. The present study provides the first report on the effects of gutting on the quality characteristics of aquacultured sutchi catfish stored in ice. pH of whole ungutted and gutted catfish didn't show significant difference (p > 0.05) during ice storage period. Total Volatile Base Nitrogen (TVB-N), Alpha Amino Nitrogen (AAN), Free Fatty Acids (FFA) and Thio Barbituric Acid Reactive Substance (TBARS) were lower in gutted fish compared to whole ungutted fish at any particular day during ice storage. However, gutted fish expressed higher rate of primary lipid oxidation than ungutted fish. Textural degradation of the fish muscle as indicated by hardness, cohesiveness, springiness and chewiness was lower in gutted fish. Results of sensory evaluation revealed that gutting has significantly improved the sensory quality of the fish. However, microbiological analysis revealed higher Total Plate Count (TPC) and Enterobactereaceae count in gutted fish. The shelf life of gutted and whole ungutted sutchi cat fish as determined by microbiological analysis was 16–18 days and 18–20 days respectively while storage in ice.
Access options
Buy single article
Instant access to the full article PDF.
US$ 39.95
Tax calculation will be finalised during checkout.
Subscribe to journal
Immediate online access to all issues from 2019. Subscription will auto renew annually.
US$ 79
Tax calculation will be finalised during checkout.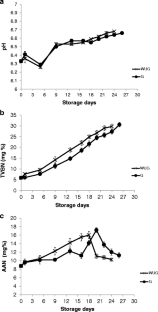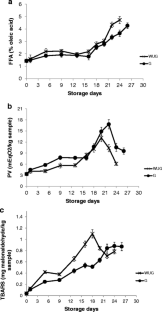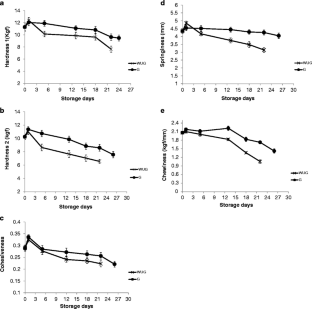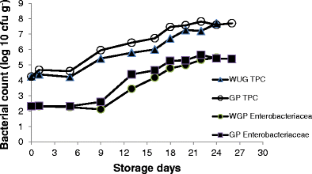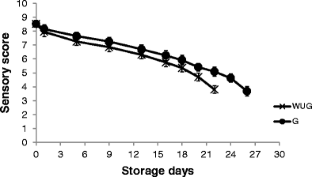 References
Ababouch LH, Souibri L, Rhaliby K, Ouahdi O, Battal M, Busta FF (1996) Quality changes in sardines (Sardina pilchardus) stored in ice and at ambient temperature. Food Microbiol 13:123–132

Alonso A, Sanchez P, Martinez JL (2000) Stenotrophomonas maltophilia D457R contains a cluster of genes from Gram-positive bacteria involved in antibiotic and heavy metal resistance. Antimicrob. Agents Chemother 44:1778–1782

Amerine MA, Pongborn RH, Roescler EB (1965) Principles of sensory evaluation of food. Academic, New York, p 602

Anderson UB, Stomsnes AN, Thomassen MS, Steinsholt K (1994) Fillet gaping in farmed Atlantic salmon. J Agric Sci 8:165–179

AOAC (1989) Official methods and recommended practices of American Oil Chemists Society, 5th edn. Association of Official Analytical Chemists, Champaign

AOAC (1998) Official methods of analysis, 17th edn. Association of Official Analytical Chemists, Washington, DC

Aubourg SP (1993) Review: Interaction of malondialdehyde with biological molecules-new trends about reactivity and significance. Int J Food Sci Technol 28:323–335

Ayala MD, Abdel I, Santaella M, Martínez C, Periago MJ, Gil F, Blanco A, Albors OL (2010) Muscle tissue structural changes and texture development in sea bream, Sparus aurata L, during post-mortem storage. LWT––Food Sci Technol 43:465–475

Binsi PK, Shamasundar BA, Dileep AO (2007) Physico-chemical and functional properties of proteins from green mussel (Perna viridis) during ice storage. J Sci Food Agricul 87:245–254

Brenner DJ, Krieg NR, Staley JT (2004) Bergey's manual of systematic bacteriology, vol 2, 2nd edn. Springer, USA

Casas C, Martinez O, Guillen MD, Pin C, Salmeron J (2006) Textural properties of raw Atlantic salmon (Salmo salar) at three points along the fillet, determined by different methods. Food Control 17:511–515

Chang KLB, Chang J, Shiau C-Y, Pan BS (1998) Biochemical, microbiological, and sensory changes of sea bass (Lateolabrax japonicus) under partial freezing and refrigerated storage. J Agric Food Chem 46:682–686

Connel JJ (1995) Control of fish quality. Fishing New Books. Blackwell Science Ltd., Cambridge, p 241

Connell JJ (1990) Control of fish quality (3rd ed.). Oxford, UK: Fishing News Books. Ehira, S. 1976. A biochemical study on the freshness of fish. Bulletin of Tokai Regional Fisheries Research Laboratory, 88:130–132

Conway EJ (1950) Micro-diffusion analysis and volumetric error. Lockwood and Son Ltd, London

Dainty RH, Shaw BG, Hardinger CD, Michanie S (1979) The spoilage of vacuum packaged beef by cold tolerant bacteria. In: Russell, Fuller R (eds) Cold tolerant bacteria in spoilage and the environment. Academic, New york, pp 83–110

Erkan N, Ozden (2008) Quality assessment of whole and gutted sardines (Sardina pilchardus) stored in ice. Int J Food Sci Tech 43:1549–1559

Ghaly AE, Dave D, Budge S, Brooks MS (2010) Fish spoilage mechanisms and preservation techniques-Review. Am J App Sci 7:859–877

Goulas AE, Kontominas MG (2007) Combined effect of light salting, modified atmosphere packaging and oregano essential oil on the shelf-life of sea bream (Sparus aurata): Biochemical and sensory attributes. Food Chem 100:287–296

Gram L, Christensen AB, Ravn L, Molin S, Givskov M (1999) Production of acylated homoserine lactones by psychrotrophic members of the Enterobacteriaceae isolated from foods. Appl Environ Microbiol 65:3458–3463

Hatae K, Tamari S, Miyanaga K, Matsumoto J (1985) Species difference and changes in the physical properties of fish muscle as freshness decreases. Bull Jpn Soc Sci Fish 51:1155–1161

Hubbs J (1991) Fish: microbiological spoilage and safety. Food Sci. and Techn 5:166–173

Huss HH, Dalsgaard D, Hansen L, Ladefoged H, Pedersen ZL (1974) The influence of hygiene in catch handling on the storage life of iced cod and plaice. J Food Sci Technol 9:213–221

ICMSF (International Commission on Microbiological Specifications for Foods) (1998) Microorganisms in foods. 6. Microbial ecology of food commodities. Blackie Academic and Professional, Baltimore

Isabel M, Jose M, Gallardo M, Aubourg SP (2009) Quality preservation in chilled and frozen fish products by employment of slurry ice and natural antioxidants. Int J Food Sci Technol 44:1467–1479

Jezek F, Buchtová H (2007) Physical and chemical changes in fresh chilled muscle tissue of common carp (Cyprinus carpio L.) packed in a modified atmosphere. Acta Vet 76:83–92

Kirov SM (2001) Aeromonas and Plesiomonas species. In: Doyle M, Beuchat L, Montiville T (eds) Food microbiology: Fundamentals and frontiers. ASM Press, Washington, D.C, pp 301–327

Krieg NR, Holt JG (1984) Bergey's manual of systematic Bacteriology.vol.1, Baltimore. Williams and Wilkins, USA, p 964

Lakshmanan PT (2000) Fish spoilage and quality assessment. In quality assurance in seafood processing. Cochin: Society of Fisheries Technologists, India, pp 28–45

Laksmanan JR, Piggott PA (2003) Potential application of high pressure for improvement in salmon quality. Trends Food Sci Technol 14:354–362

Lehmann I, Aubourg SP (2008) Effect of previous gutting on rancidity development in horse mackerel (Trachurus trachurus) during frozen storage at 20 °C. Int J Food Sci Technol 43:270–275

Levy SB (2002) Factors impacting on the problem of antibiotic resistance. J Antimicrob Chemoth 49:25–30

Lokuruka MNI, Muyela B, Okeyo GO, Shitandi A, Otieno M (2012) Effect of gutting on sensory, some biochemical and microbiological properties of nile perch (Lates niloticus) and nile tilapia (Oreochromis niloticus) stored in ice. Cont J Fish Aqua Sci 6:1–13

Lopez-Caballero ME, Perez-Mateos M, Montero P, Borderias AJ (2000) Oyster preservation by high-pressure treatment. J Food Prot 63:196–201

Manju S, Jose L, Gopal TKS, Ravisankar CN, Lalitha KV (2007) Effect of sodium acetate dip treatment and vacuum-packaging on chemical, microbiological, textural and sensory changes of pearl spot (Etroplus suratensis) during chilled storage. Food Chem 102:27–35

Maqsood S, Benjakul S (2010) Synergistic effect of tannic acid and modified atmospheric packaging on the prevention of lipid oxidation and quality losses of refrigerated striped catfish slices. Food Chem 121:29–38

Molin G, Ternstrom A (1982) Numerical taxonomy of psychrotrophic pseudomonads. J Gen Microbiol 128:1249–1264

Mossel DMA, Tamminga SK. (1980) Methoden voor het mikro biologisch onderzoek van levensmid delen. PC. Noorderdliet. Zeist pp 322

Mossel DAA (1982) Marker (index and indicator) organisms in food and drinking water. Semant Ecol Taxon Enumeration 48:609–611

Natarajan MV, Sreenivasan A (1961) Proximate and mineral composition of freshwater fishes. Ind J Fish 8:422–429

Ninan G, Lalitha KV, Zynudheen AA, Joseph J (2011) Effect of chilling on microbiological, biochemical and sensory attributes of whole aquacultured rainbow trout (Oncorhynchus mykiss Walbaum, 1792). J Aqua Res Dev S5:001. doi:10.4172/2155-9546.S5-001

Noseda B, Islam MT, Eriksson M, Heyndrickx M, De-Reu K, Van-Langenhove H, Devlieghere F (2012) Microbiological spoilage of vacuum and modified atmosphere packaged Vietnamese Pangasius hypophthalmus fillets. Food Microbiol 30:408–419

Papadopoulos V, Chouliara I, Badeka A, Savvaidid IN, Kontominas MG (2003) Effect of gutting on microbiological, chemical and sensory properties of aquacultured sea bass (Dicentrarchus labrax). Food Microbiol 20:411–420

Pedrosa-Menabrit A, Regenstein JM (1988) Shelf-life extension of fresh-fish spoilage of fish. J Food Qual 11:117–127

Pope CG, Stevens MF (1939) The determination of amino nitrogen using a copper method. J Biochem 33:1070

Ravi Shankar CN, Lalitha KV, Jose L, Manju S, Gopal TKS (2008) Effect of packaging atmosphere on the microbial attributes of pearlspot (Etroplus suratensis Bloch) stored at 0–20C. Food Micro 25:518–528

Sneath PHA, Mair NS, Sharpe ME, Holt JG (1986) Bergey's manual of systematic bacteriology, vol 2. Williams and Wilkins, Baltimore, p 964

Sneha SS (2011) Ecology of psychrotrophic pathogens in packaged refrigerated seafoods. Ph. D thesis. Central Institute of Fisheries Education, Deemed University, Mumbai

Tarladgis BG, Watts BM, Younthan MT (1960) A distillation method for the quantitative determination of malonaldehyde in rancid foods. J Am Oil Chem Soc 37:44

Tejada M, Huidobro A (2002) Quality of farmed gilthead seabream (Sparus aurata) during ice storage related to the slaughter method and gutting. Eur Food Res Tech 215:1–7

Verrez-Bagnis V (1997) Post-mortem denaturation of fish muscle proteins changes. In methods to determine the freshness of fish in research and industry. International Institute of Refrigeration, Paris, pp 229–237

Yildiz G, Wehling R, Cuppett SL (2003) Comparison of four analytical methods for the determination of peroxide value in oxidized soybean oils. J Am Oil Chem Soc 80:103–107

Zang B, Deng S (2012) Quality assessment of Scomber japonicus during different temperature storage: biochemical, textural and volatile flavor properties. International conference on artificial intelligence and soft computing. Lect Notes Inf Technol 1:1155–1161
Acknowledgments
This research work is supported by Indian Council of Agricultural Research, New Delhi.
About this article
Cite this article
Viji, P., Tanuja, S., Ninan, G. et al. Biochemical, textural, microbiological and sensory attributes of gutted and ungutted sutchi catfish (Pangasianodon hypophthalmus) stored in ice. J Food Sci Technol 52, 3312–3321 (2015). https://doi.org/10.1007/s13197-014-1358-y
Revised:

Accepted:

Published:

Issue Date:
Keywords
Sutchi catfish

Gutting

Ice storage

Biochemical and microbial quality