Abstract
Low-sugar bilberry jams without added herbs and those with added mentha (1 %) and lemon balm (1 %) were examined for levels of selected physico-chemical indicators, antioxidant activity, colour and texture. Jams were obtained by two methods: cooked in an open pan and cooked in a vacuum evaporator. 100 g fresh mass contained 0.076–0.481 mg HMF, 5.8–7.1 mg vitamin C, 176–232 mg total polyphenols, 122–156 mg total flavonoids, 73–96 mg total anthocyanins, with antioxidant activity per 1 g of 405–575 μM Trolox (ABTS), 71–89 μM Trolox (DPPH) and 120–176 μM Fe2+ (FRAP). Jams cooked in a vacuum evaporator had higher levels of the indicators examined, better colour and worse texture. Jams with added herbs generally showed higher levels of all indicators, but their colour and texture were slightly worse. Storing jams for 8 months caused a reduction in antioxidant constituents of 7–20 % along with a deterioration of colour and texture.
Access options
Buy single article
Instant access to the full article PDF.
USD 39.95
Price excludes VAT (USA)
Tax calculation will be finalised during checkout.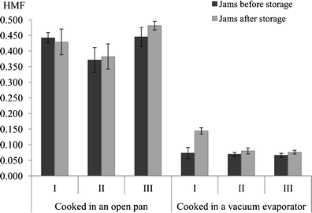 References
Ajenifujah-Solebo SO, Aina JO (2011) Physico-chemical properties and sensory evaluation of jam made from black-plum fruit (Vitex doniana). Afr J Food Agric Nutr Dev 11(4772):4784

Amakura Y, Umino Y, Tsuji S, Tonogai Y (2000) Influence of jam processing on the radical scavenging activity and phenolic content in berries. J Agric Food Chem 48:6292–6297

AOAC (1995) Official Methods of Analysis, 16th edn (edited by AOAC). AOAC, Arlington, USA

Ardestani A, Yazdanparast R (2007) Antioxidant and free radical scavenging potential of Achillea santolina extracts. Food Chem 104:21–29

Benzie IF, Strain JJ (1996) The ferric reducing ability of plasma (FRAP) as a measure of "antioxidant power": the FRAP assay. Anal Biochem 239:70–76

Besbes S, Drira L, Blecker C, Deroanne C, Attia H (2009) Adding value to hard date (Phoenix dactylifera L.): compositional, functional and sensory characteristics of date jam. Food Chem 112:406–411

Beveridge T (2002) Opalescent and cloudy fruit juices: formation and particle stability. Crit Rev Food Sci Nutr 42:317–337

Brownmiller C, Howard L, Prior R (2008) Processing and storage effects on monomeric anthocyanins, percent polymeric color, and antioxidant capacity of processed blueberry products. J Food Sci 73:H72

Burdulis D, Šarkinas A, Jasutiené I, Stackevičienė E, Nikolajevas L, Janulis V (2009) Comparative study of anthocyanin composition, antimicrobial and antioxidant activity in bilberry (Vaccinium myrtillus L.) and blueberry (Vaccinium corymbosum L.) fruits. Acta Pol Pharm 66:399–408

Cacace J, Mazza G (2003) Optimization of extraction of anthocyanins from black currants with aqueous ethanol. J Food Sci 68:240–248

Carbonell E, Costell E, Durán L (1991) Fruit content influence on gel strength of strawberry and peach jams. J Food Sci 56:1384–1387

Clifford MN, Scalbert A (2000) Ellagitannins - nature, occurrence and dietary burden. J Sci Food Agr 80:1118–1125

Czapski J, Walkowiak-Tomczak D (2005) Zmiany parametrów barwy roztworów antocyjanów w czasie ogrzewania. Inż Rol 9:27–33

Da Silva Pinto M, Lajolo FM, Genovese MI (2007) Bioactive compounds and antioxidant capacity of strawberry jams. Plant Foods Hum Nutr 62:127–131

García-Viguera C, Zafrilla P (2001) Changes in anthocyanins during food processing: influence on color. In: Ames JM, Hofmann T (eds) Chemistry and physiology of selected colorants. American Chemical Society, Washignton (DC), pp 56–65

García-Viguera C, Zafrilla P, Romero F, Abellan P, Artes F, Tomas-Barberan F (1999a) Color stability of strawberry jam as affected by cultivar and storage temperature. J Food Science 64:243–247

García-Viguera C, Zafrilla P, Tomas-Barberan F (1999b) Influence of processing and storage conditions in strawberry jam color. Food Sci Technol Int 5:487–492

Genovese DB, Ye A, Singh H (2010) High methoxyl pectin/apple particles composite gels: effect of particle size and particle concentration on mechanical properties and gel structure. J Texture Stud 41:171–189

Giusti MM, Wrolstad RE (2001) Characterization and measurement of anthocyanins by UV-visible spectroscopy. Curr Protoc Food Analyt Chem F1(2):1–F1.2.13

Häkkinen SH, Kärenlampi SO, Mykkänen HM, Heinonen IM, Törrönen AR (2000) Ellagic acid content in berries: Influence of domestic processing and storage. Eur Food Res Technol 212:75–80

Janzowski C, Glaab V, Samimi E, Schlatter J, Eisenbrand G (2000) 5-Hydroxymethylfurfural: assessment of mutagenicity, DNA-damaging potential and reactivity towards cellular glutathione. Food Chem Toxicol 38:801–809

Jawaheer B, Goburdhun D, Ruggoo A (2003) Effect of processing and storage of guava into jam and juice on the ascorbic acid content. Plant Foods Hum Nutr 58:1–12

Kalt W, Dufour D (1997) Health functionality of blueberries. HortTechnology 7:216–221

Kalt W, Forney CF, Martin A, Prior RL (1999) Antioxidant capacity, vitamin C, phenolics, and anthocyanins after fresh storage of small fruits. J Agric Food Chem 47:4638–4644

Kim D, Padilla-Zakour O (2004) Jam processing effect on phenolics and antioxidant capacity in anthocyanin-rich fruits: cherry, plum, and raspberry. J Food Science 69:S395

Kong J, Chia L, Goh N, Chia T, Brouillard R (2003) Analysis and biological activities of anthocyanins. Phytochemistry 64:923–933

Kopjar M, Piližota V, Tiban N, Đubarić D, Babić J, Ačkar Đ, Sajdl M (2009) Strawberry jams: influence of different pectins on color and textural properties. Czech J Food Sci 27:20–28

Kukurova K, Karovičová J, Greif G, Kohajdová Z, Lehkoživová J (2006) Determination of 5-hydroxymethylfurfural after Winkler and by the HPLC method for authentication of honey. Chem Pap 60:186–191

Lee J, Wrolstad R (2004) Extraction of anthocyanins and polyphenolics from blueberry processing waste. J Food Sci 69:564–573

Mojet J, Köster E (2005) Sensory memory and food texture. Food Qual Prefer 16:251–266

Moyer RA, Hummer KE, Finn CE, Frei B, Wrolstad RE (2002) Anthocyanins, phenolics, and antioxidant capacity in diverse small fruits: Vaccinium Rubus and Ribes. J Agric Food Chem 50:519–525

Patras A, Brunton NP, Tiwari BK, Butler F (2011) Stability and degradation kinetics of bioactive compounds and colour in strawberry jam during storage. Food Bioprocess Technol 4:1245–1252

PCS (2003) Standard EN 14130: Foodstuff-Determination of vitamin C by HPLC. European Committee for Standardization, Technical Committee CEN/TC 275, Warsaw

Pekkarinen SS, Heinonen IM, Hopia AI (1999) Flavonoids quercetin, myricetin, kaemferol and (+) catechin and antioxidants in methyl linoleate. J Sci Food Agr 79:499–506

Pilgrim GW, Walter RH, Oakenfull DG (1991) Jam, jellies and preserves. In: Walter RH (ed) The chemistry and technology of pectin. Academic, California, pp 23–50

Plessi M, Bertelli D, Albasini A (2007) Distribution of metals and phenolic compounds as a criterion to evaluate variety of berries and related jams. Food Chem 100:419–427

Rababah TM, Al-u'datt MH, Al-Mahasneh MA, Feng H, Alothman AM, Almajwal A, Yang W, Kilani I, Alhamad MN, Ereifej K, Abu-Darwish M (2011) Effect of storage on the physico-chemical properties, total phenolic, anthocyanin, and antioxidant capacity of strawberry jam. J Food Agri Environ 9:101–105

Rattanathanalerk M, Chiewchan N, Srichumpoung W (2005) Effect of thermal processing on the quality loss of pineapple juice. J Food Eng 66:259–265

Re R, Pellegrini N, Proteggente A, Pannala A, Yang M, Rice-Evans C (1999) Antioxidant activity applying an improved ABTS radical cation decolorization assay. Free Radical Bio Med 26:1231–1237

Šavikin K, Zdunić G, Janković T, Tasić S, Menković N, Stević T, Đorđević B (2009) Phenolic content and radical scavenging capacity of berries and related jams from certificated area in Serbia. Plant Foods Hum Nutr 64:212–217

Ścibisz I, Gasik A, Mitek M, Cendrowski A (2011) Wpływ warunków przechowywania na barwę dżemów z owoców kolorowych. Żywność: Nauka, Technologia, Jakość 74:99–111

Seeram NP (2008) Berry fruits for cancer prevention: current status and future prospects. J Agric Food Chem 56:630–635

Singleton VL, Orthofer R, Lamuela-Raventós RM (1999) Analysis of total phenols and other oxidation substrates and antioxidants by means of folin-ciocalteu reagent. Methods Enzymol 299:152–178

Smith MA (2002) Vaccinium species (small-fruited berries): in vitro culture and the production of food colorants and phytochemicals. In: Nagata T, Ebizuka Y (eds) Biotechnology in Agriculture and Forestry. Medicinal and Aromatic Plants XII. Springer Verlag, Berlin, pp 328–344

Steber F, Klostermeyer H (1987) Heat treatment of fruit preparations and jams, and monitoring its efficacy. Die Molkereizeitung "Welt der Milch" 41:289-290, 292-295

Suutarinen J, Honkapaa K, Heinio R, Autio K, Mustranta A, Karppinen S, Klutamo T, Llukkonen-Lllja H, Mokkila M (2002) Effects of calcium chloride-based prefreezing treatments on the quality factors of strawberry jams. J Food Science 67:884–894

Tomaino A, Cimino F, Zimbalatti V, Venuti V, Sulfaro V, de Pasquale A, Saija A (2005) Influence of heating on antioxidant activity and the chemical composition of some spice essential oils. Food Chem 89:549–554

van Buggenhout S, Sila D, Duvetter T, van Loey A, Hendrickx M (2009) Pectins in processed fruits and vegetables: Part III-Texture engineering. Compr Rev Food Sci Food Saf 8:105–117

Witzell J, Gref R, Näsholm T (2003) Plant-part specific and temporal variation in phenolic compounds of boreal bilberry (Vaccinium myrtillus) plants. Biochem Syst Ecol 31:115–127

Zhishen J, Mengcheng T, Jianming W (1999) The determination of flavonoid contents in mulberry and their scavenging effects on superoxide radicals. Food Chem 64:555–559
About this article
Cite this article
Korus, A., Jaworska, G., Bernaś, E. et al. Characteristics of physico-chemical properties of bilberry (Vaccinium myrtillus L.) jams with added herbs. J Food Sci Technol 52, 2815–2823 (2015). https://doi.org/10.1007/s13197-014-1315-9
Revised:

Accepted:

Published:

Issue Date:

DOI: https://doi.org/10.1007/s13197-014-1315-9
Keywords