Abstract
Dramatic growth in date (Phoenix dactylifera L.) production, makes it clear to apply proper methods to preserve this nutritious fruit for a long time. Numerous methods have been used to gain this goal in recent years that can be classified into non-thermal (fumigation, ozonation, irradiation, and packaging) and thermal (heat treatment, cold storage, dehydration, jam etc.) processing methods. In this paper these methods were reviewed and novel methods for date preservation were presented.
Access options
Buy single article
Instant access to the full article PDF.
US$ 39.95
Tax calculation will be finalised during checkout.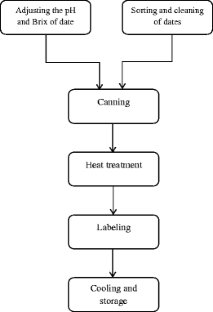 References
Abbès F, Bouaziz MA, Blecker C, Masmoudi M, Attia H, Besbes S (2011) Date syrup: effect of hydrolytic enzymes (pectinase/cellulase) on physico-chemical characteristics, sensory and functional properties. LWT Food Sci Technol 44(8):1827–1834

Ahmed J, Ramaswamy HS (2006) Physico-chemical properties of commercial date pastes (Phoenix dactylifera). J Food Eng 76(3):348–352. doi:10.1016/j.jfoodeng.2005.05.033

Aidoo KE, Tester RF, Morrison JE, MacFarlane D (1996) The composition and microbial quality of pre-packed dates purchased in Greater Glasgow. Int J Food Sci Technol 31(5):433–438. doi:10.1046/j.1365-2621.1996.00360

Al-Ahmadi SS, Ibrahim RA, Ouf SA (2009) Possible control of fungal and insect infestation of date fruits using ozone. Biosci Biotechnol Res Asia 6(1):17–28

Al-Eid SM, Barber AR, Rettke M, Leo A, Alsenaien WA, Sallam AA (2012) Utilisation of modified atmosphere packaging to extend the shelf life of Khalas fresh dates. Int J Food Sci Technol 47(7):1518–1525

Al-Farsi MA (2003) Clarification of date juice. Int J Food Sci Technol 38(3):241–245

Al-Farsi M, Alasalvar C, Morris A, Baron M, Shahidi F (2005) Comparison of antioxidant activity, anthocyanins, carotenoids, and phenolics of three native fresh and sun-dried date (Phoenix dactylifera L.) varieties grown in Oman. J Agric Food Chem 53(19):7592–7599

Al-Farsi M, Alasalvar C, Al-Abid M, Al-Shoaily K, Al-Amry M, Al-Rawahy F (2007) Compositional and functional characteristics of dates, syrups, and their by-products. Food Chem 104(3):943–947

Al-Hooti SN, Sidhu JS, Al-Saqer JM, Al-Othman A (2002) Chemical composition and quality of date syrup as affected by pectinase/cellulase enzyme treatment. Food Chem 79(2):215–220

Al-Kahtani HA, Abu-Tarboush HM, Al-Dryhim YN, Ahmed MA, Bajaber AS, Adam E-SE, El-Mojaddidi MA (1998) Irradiation of dates: insect disinfestation, microbial and chemical assessments, and use of thermoluminescence technique. Radiat Phys Chem 53(2):181–187

Allaith AA, Ahmed SH, Jafer F (2012) Effect of different thermal treatments and freezing on the antioxidant constituents and activity of two Bahraini date cultivars (Phoenix dactylifera L.). Int J Food Sci Technol 47(4):783–792

Al-Yahyai R, Al-Kharusi L (2012) Physical and chemical quality attributes of freeze-stored dates. Int J Agric Biol 14(1):97–100

Ashraf Z, Hamidi-Esfahani Z (2011) Date and date processing: a review. Food Rev Int 27(2):101–133

Azelmat K, ElGarrouj D, Mouhib M, Sayah F (2006) Irradiation of 'Boufeggous' dates: effects on chemical composition during storage. Postharvest Biol Technol 39(2):217–222. doi:10.1016/j.postharvbio.2005.10.008

Baker RA, Berry N, Hui YH, Barrett DM (2005) Fruit preserves and jams. In: Barrett DM, Somogyi L, Ramaswamy H (eds) Processing fruits: science and technology, 2nd edn. CRC PressINC, New York, pp 112–125

Barreveld WH (1993) Date palm products. FAO Agricultural Service Bulletin No. 101. Food and Agricultural Organisation of the United Nations, Rome

Besbes S, Drira L, Blecker C, Deroanne C, Attia H (2009) Adding value to hard date (Phoenix dactylifera L.): compositional, functional and sensory characteristics of date jam. Food Chem 112(2):406–411. doi:10.1016/j.foodchem.2008.05.093

Cheng Z, Su L, Moore J, Zhou K, Luther M, Yin J-J, Yu L (2006) Effects of postharvest treatment and heat stress on availability of wheat antioxidants. J Agric Food Chem 54(15):5623–5629. doi:10.1021/jf060719b

Chumyam A, Whangchai K, Jungklang J, Faiyue B, Saengnil K (2013) Effects of heat treatments on antioxidant capacity and total phenolic content of four cultivars of purple skin eggplants. ScienceAsia 39(3):246. doi:10.2306/scienceasia1513-1874.2013.39.246

Dehghan-Shoar Z, Hamidi-Esfahani Z, Abbasi S (2010) Effect of temperature and modified atmosphere on quality preservation of sayer date fruits (Phoenix dactylifera L.). J Food Process Preserv 34(2):323–334. doi:10.1111/j.1745-4549.2008.00349

Dewanto V, Wu X, Adom KK, Liu RH (2002) Thermal processing enhances the nutritional value of tomatoes by increasing total antioxidant activity. J Agric Food Chem 50(10):3010–3014. doi:10.1021/jf0115589

Diehl JF (1999) Safety of irradiated foods, 2nd edn. Taylor & Francis, London

Entezari MH, Hagh Nazary S, Haddad Khodaparast MH (2004) The direct effect of ultrasound on the extraction of date syrup and its micro-organisms. Ultrason Sonochem 11(6):379–384. doi:10.1016/j.ultsonch.2003.10.005

Falade KO, Abbo ES (2007) Air-drying and rehydration characteristics of date palm (Phoenix dactylifera L.) fruits. J Food Eng 79(2):724–730. doi:10.1016/j.jfoodeng.2006.01.081

FAOSTAT (2011) Top production-dates-2011. Food and agriculture organization of the United Nations. http://faostat.fao.org/site/339/default.aspx

FSAI (2006) Irradiated food. Food Safety Authority of Ireland, Dublin

Ganbi A, Hassan H (2012) Production of nutritious high quality date (Phoenix dactylifera) fruits syrup (Dibs) by using some novel technological approaches. J Appl Sci Res 8(3):1524–1538

Holdsworth SD (2004) Optimising the safety and quality of thermally processed packaged foods. In: Richardson P (ed) Improving the thermal processing of foods. CRC Press, New York, pp 3–31

Jay JM, Loessner MJ, Golden DA (2005) Radiation protection of foods, and nature of microbial radiation resistance. In: Modern food microbiology. Springer, New York, pp 371–394

Kader AA, Zagory D, Kerbel EL (1989) Modified atmosphere packaging of fruits and vegetables. Crit Rev Food Sci Nutr 28(1):1–30. doi:10.1080/10408398909527506

Khadre MA, Yousef AE, Kim JG (2001) Microbiological aspects of ozone applications in food: a review. J Food Sci 66(9):1242–1252

Kulkarni SG, Vijayanand P, Shubha L (2010) Effect of processing of dates into date juice concentrate and appraisal of its quality characteristics. J Food Sci Technol 47(2):157–161

Lund D (1988) Effects of heat processing on nutrients. In: Karmas E, Harris R (eds) Nutritional evaluation of food processing. Springer, Netherlands, pp 319–354. doi:10.1007/978-94-011-7030-7_12

Manzocco L, Anese M, Nicoli MC (1998) Antioxidant properties of tea extracts as affected by processing. LWT Food Sci Technol 31(7–8):694–698. doi:10.1006/fstl.1998.0491

Mohammadzai IU, Shah Z, Ihsanullah I, Khan H, Rashid H (2008) Effect of gamma irradiation, packaging and storage on the nutrients and shelf life of palm dates. J Food Process Preserv 34(suppl 2):622–638

Mullan M, McDowell D (2003) Modified atmosphere packaging. In: Coles R, McDowell D, Kirwan MJ (eds) Food packaging technology. Blackwell, London, pp 303–339

National Toxicology P (1994) NTP toxicology and carcinogenesis studies of ozone (CAS No. 10028-15-6) and ozone/NNK (CAS No. 10028-15-6/ 64091-91-4) in F344/N rats and B6C3F1 mice (inhalation studies). Natl Toxicol Program Tech Rep Ser 440:1–314

Niakousari M, Erjaee Z, Javadian S (2010) Fumigation characteristics of ozone in postharvest treatment of kabkab dates (Phoenix dactylifera L.) against selected insect infestation. J Food Prot 73(4):763–768

Novak JS, Yuan JTC (2007) The ozonation concept: advantages of ozone treatment and commercial developments. In: Tewari G, Juneja VK (eds) Advances in thermal and non-thermal food preservation. Blackwell, London, pp 185–202

Ramaswamy HS, Chen CR (2002) Maximising the quality of thermally processed fruits and vegetables. In: Jongen W (ed) Fruit and vegetable processing: improving quality. CRC Press, New York, pp 188–214

Randhir R, Lin YT, Shetty K (2004) Phenolics, their antioxidant and antimicrobial activity in dark germinated fenugreek sprouts in response to peptide and phytochemical elicitors. Asia Pac J Clin Nutr 13(3):295–307

Ratti C (2001) Hot air and freeze-drying of high-value foods: a review. J Food Eng 49(4):311–319. doi:10.1016/S0260-8774(00)00228-4

Rice RG (2012) Health and safety aspects of ozone processing. In: O'Donnell C, Tiwari BK, Cullen PJ, Rice RG (eds) Ozone in food processing. Wiley, New York, pp 265–288

Rice RG, Gomez-Taylor M (1986) Occurrence of by-products of strong oxidants reacting with drinking water contaminants–scope of the problem. Environ Health Perspect 69:31–44

Riganakos KA (2010) Food irradiation techniques. In: Arvanitoyannis IS (ed) Irradiation of food commodities: techniques, applications, detection, legislation, safety and consumer opinion. Elsevier Science, London, pp 23–42

Saad WZ, Hashim M, Ahmad S, Abdullah N (2013) Effects of heat treatment on total phenolic contents, antioxidant and anti-inflammatory activities of Pleurotus sajor-caju extract. Int J Food Prop 17(1):219–225. doi:10.1080/10942912.2011.619290

Sidhu JS (2008) Date fruits production and processing. In: Hui YH (ed) Handbook of fruits and fruit processing. Blackwell, New York, pp 391–419

Sivertsvik M, Rosnes JT, Bergslien H (2002) Modified atmosphere packaging. In: Ohlsson T, Bengtsson N (eds) Minimal processing technologies in the food industry. CRC Press, New York, pp 61–86

Sommers C, Fan X (2011) Irradiation of ground beef and fresh produce. In: Zhang HQ (ed) Nonthermal processing technologies for food. Wiley-Blackwell, Ames, pp 236–248

Suad NA-H, Jiwan SS (2005) Functional foods from date fruits. In: Shi J, Ho C-T, Shahidi F (eds) Asian functional foods. CRC Press, New York, pp 491–524. doi:10.1201/9781420028119.ch17

UNEP (2012) Handbook for the Montreal protocol on substances that deplete the ozone layer. Ozone Secretariat, United Nations Environment Programme, Nairobi

WHO (1981) Wholesomeness of irradiated food: report of the Joint FAO/IAEA/WHO expert committee. World Health Organization, Geneva

Wilkinson VM, Gould GW (1996) Food irradiation: a reference guide. CRC Press, New York

Yousef AE, Vurma M, Rodriguez-Romo LA (2011) Basics of ozone sanitization and food applications. In: Zhang HQ (ed) Nonthermal processing technologies for food. Wiley-Blackwell, Ames, pp 291–313

Yubin L, Ajit M (2007) Postharvest handling of grains and pulses. In: Rahman MS (ed) Handbook of food preservation, second edition. Food science and technology. CRC Press, New York, pp 73–135. doi:10.1201/9781420017373.ch4
Acknowledgments
The authors would like to express their thanks for Research vice Chancellor of Tabriz University of Medical Sciences and Shahd Babe Pars Company for financial support of this study.
About this article
Cite this article
Homayouni, A., Azizi, A., Keshtiban, A.K. et al. Date canning: a new approach for the long time preservation of date. J Food Sci Technol 52, 1872–1880 (2015). https://doi.org/10.1007/s13197-014-1291-0
Revised:

Accepted:

Published:

Issue Date:
Keywords
Date

Shelf-life

Preservation methods

Canning