Abstract
Some physical and chemical characteristics of goldenberry fruit (Physalis peruviana L.) were investigated. These characteristics are necessary for the design of equipments for harvesting, processing, transportation, sorting, separating and packing. The fruit length, diameter, geometric and arithmetic mean diameters, sphericity, surface area, projected areas (vertical-horizontal) and aspect ratio of goldenberries were determined as 17.52 mm, 17.31 mm, 17.33 mm, 17.38 mm, 98.9 %, 0.949 cm2, 388.67–387.85 mm2 and 0.988, respectively. The mass of fruit, bulk density, fruit density, porosity and fruit hardness were 3.091 g, 997.3 kg/m3, 462.3 kg/m3, 53.61 % and 8.01 N, respectively. The highest static coefficient of friction was observed on rubber surface, followed by stainless steel sheet, aluminum sheet, and plywood materials. The dry matter, water soluble dry matter, ash, protein, oil, carbohydrate, titratable acidity, pH, total sugar, reducing sugar, antioxidant capacity were 18.67 %, 14.17 %, 2.98 %, 1.66 %, 0.18 %, 13.86 %, 1.26 %, 6.07, 63.90 g/kg, 31.99 g/kg and 57.67 %, respectively. The fresh fruits have 145.22 mg gallic acid equivalent (GAE)/100 g total phenol content and skin colour data represented as L*, a*, b*, Chroma (C) and Hue angle (α) were 49.92, 25.11, 50.23, 56.12 and 63.48, respectively.
Access options
Buy single article
Instant access to the full article PDF.
US$ 39.95
Tax calculation will be finalised during checkout.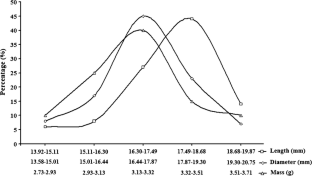 References
Akbolat D, Ertekin C, Menges HO, Ekinci K, Erdal I (2008) Physical and nutritional properties of jujube (Zizyphus jujuba Mill.) growing in Turkey. Asian J Chem 20(1):757–766

Akinci I, Ozdemir F, Topuz A, Kabas O, Canakci M (2004) Some physical and nutritional properties of Juniperus drupacea fruits. J Food Eng 65:325–331

Altuntas E, Cangi R, Kaya C (2011) Physical and chemical properties of persimmon fruit. Int Agrophys 25:89–92

Aydin C, Ozcan M (2007) Determination of nutritional and physical properties of myrtle (Myrtus communis L.) fruits growing wild in Turkey. J Food Eng 79:453–458

Bernalte MJ, Sabio E, Hernandez MT, Gervasini C (2003) Influence of storage delay on quality of 'Van' sweet cherry. Postharvest Biol Technol 28:303–312

Calisir S, Haciseferogullari H, Ozcan M, Arslan D (2005) Some nutritional and technological properties of wild plum (Prunus spp.) fruits in Turkey. J Food Eng 66:233–237

Carrasco RD, Zelada C (2008) Determinación de la capacidad antioxidante y compuestos bioactivos de frutas nativas peruanas. Rev Soc Quím Perú 74(2):108–124

Celik A, Ercisli S, Turgut N (2007) Some physical, pomological and nutritional properties of kiwifruit cv. Hayward. Int J Food Sci Nutr 58(6):411–418

Cemeroglu B (2010) Food analysis. Association of Food Technology Publications, Ankara, ISBN: 978-975-98578-6-8, 657 p

Chang JC, Lin CC, Wu SJ, Lin DL, Wang SS, Miaw CL, Ng LT (2008) Antioxidative and hepatoprotective effects of Physalis peruviana extract against acetaminophen-induced liver injury in rats. Pharm Biol 46:724–731

Dash AK, Pradhan RC, Das LM, Naik SN (2008) Some physical properties of simarouba fruit and kernel. Int Agrophys 22:111–116

Demir F, Kalyoncu HI (2003) Some nutritional, pomological and physical properties of cornelian cherry (Cornus mas L.). J Food Eng 60:335–341

Demir F, Dogan H, Ozcan M, Haciseferogullari H (2002) Nutritional and physical properties of hackberry (Celtis australis L.). J Food Eng 54:241–247

Dinan L, Sarker S, Sik V (1997) 28-Hydroxywithanolide E from Physalis Peruviana. Photochemistry 44:509–512

Erkaya T, Dağdemir E, Şengül M (2012) Influence of Cape gooseberry (Physalis peruviana L.) addition on the chemical and sensory characteristics and mineral concentrations of ice cream. Food Res Int 45:331–335

Ersoy N, Bagci Y (2011) Some physico-chemical properties and antioxidant activities of goldenberry (Physalis peruviana L.), pepino (Solanum muricatum ait.) and passiflora (Passiflora edulis sims) tropical fruits. Univ Selcuk J Agric Food Sci 25(3):67–72

FAOSTAT (2013) Agricultural data, agricultural production, crop primary. 2011. http://faostat.fao.org/faostat

Goyal RK, Kingsly ARP, Kumar P, Walia H (2007) Physical and mechanical properties of aonla fruits. J Food Eng 82:595–599

Haciseferogullari H, Ozcan M, Sonmete MH, Ozbek O (2005) Some physical and chemical parameters of wild medlar (Mespilus germanica L.) fruit grown in Turkey. J Food Eng 69:1–7

Hakkinen SH, Karenlampi SO, Heinonen IM, Mykkanen HM, Riitta AT (1999) Content of the flavonols quercetin, myricetin, and kaempferol in 25 edible berries. J Agric Food Chem 47:2274–2279

Jaliliantabar F, Lorestani AN, Gholami R (2013) Physical properties of kumquat fruit. Int Agrophys 27:107–109

Kaymak HC, Ozturk I, Kalkan F, Kara M, Ercisli S (2010) Color and physical properties of two common tomato (Lycopersicon esculentum Mill.) cultivars. J Food Agric Environ 8:44–46

Keramat JM, Rafiee S, Jafari A, Ghasemi Bousejin MR, Mirasheh R, Mohtasebi SS (2008) Some physical properties of date fruit (cv. Dairi). Int Agrophys 22:221–224

Mohsenin NN (1986) Physical properties of plant and animals materials, 2nd edn. Gordon and Breach Science Publishers, New York, 891 p

Novoa HR, Bojaca M, Galvis JA, Fischer G (2006) Fruit maturity and calyx drying influence post-harvest behavior of Cape gooseberry (Physalis peruviana L.) stored at 12 °C. Agron Colomb 24(1):77–86

Odjo S, Malumba P, Dossou J, Janas S, Bera F (2012) Influence of drying and hydrothermal treatment of corn on the denaturation of salt-soluble proteins and color parameters. J Food Eng 109:561–570

Omobuwajo TO, Akande EA, Sanni LA (1999) Selected physical, mechanical and aerodynamic properties of African breadfruit (Treculia africana) seeds. J Food Eng 40:241–244

Osorio D, Roldan J (2003) Volvamos al campo: manual de la uchuva. Grupo Latino LTDA, Bogotá

Ozturk I, Bastaban S, Ercisli S, Kalkan F (2010) Physical and chemical properties of three late ripening apple cultivars. Int Agrophys 24:357–361

Pradhan RC, Naik SN, Bhatnagar N, Vijay VK (2009) Moisture-dependent physical properties of jatropha fruit. Ind Crop Prod 29:341–347

Puente LA, Pinto-Muñoz CA, Castro ES, Cortés M (2011) Physalis peruviana Linnaeus, the multiple properties of a highly functional fruit: a review. Food Res Int 44:1733–1740

Rattanathanalerk M, Chiewchan N, Srichumpoung W (2005) Effects of thermal processing on the quality loss of pineapple juice. J Food Eng 66:259–265

Reddy L (2006) Drying characteristics of Saskatoon berries under microwave and combined microwave-convection heating. MS Thesis. Canada: University of Saskatchewan

Rodrigues E, Rockenbach II, Cataneo C, Gonzaga LV, Chaves ES, Fett R (2009) Minerals and essential fatty acids of the exotic fruit Physalis peruviana L. Cienc Tecnol Aliment 29:642–645

Sharoba MA, Ramadan MF (2011) Rheological behavior and physicochemical characteristics of goldenberry (Physalis peruviana) juice as affected by enzymatic treatment. J Food Process Pres 35:201–219

Tapia M, Fries A (2007) Guía de campo de los cultivos andinos. FAO y ANPE, Lima

Turkmen N, Sari F, Velioglu S (2005) The effect of cooking methods on total phenolics and antioxidant activity of selected green vegetables. Food Chem 93:713–718

Unal H, Akbudak B (2008) Some quality properties of three Sweet Cherry (Prunus avium L.) cultivars during shelf life. Ital J Food Sci 20(3):391–398

Valdenegro ML, Almonacid S, Henríquez C, Lutz M, Fuentes L, Simpson R (2013) Effects of drying processes on organoleptic characteristics and the health quality of food ingredients obtained from goldenberry fruits (Physalis peruviana). Open Access Sci Rep 2:642. doi:10.4172/scientificreports.642

Vasquez-Parra JE, Ochoa-Martínez CI, Bustos-Parra M (2013) Effect of chemical and physical pretreatments on the convective drying of cape gooseberry fruits (Physalis peruviana). J Food Eng (in press). doi:10.1016/j.jfoodeng.2013.06.037

Vursavus K, Kelebek H, Selli S (2006) A study on some chemical and physico-mechanic properties of three sweet cherry varieties (Prunus avium L.) in Turkey. J Food Eng 74:568–575

Zhang D, Hamauzu Y (2004) Phenolics, ascorbic acid, carotenoids and antioxidant activity of broccoli and their changes during conventional and microwave cooking. Food Chem 88:503–509
About this article
Cite this article
Yıldız, G., İzli, N., Ünal, H. et al. Physical and chemical characteristics of goldenberry fruit (Physalis peruviana L.). J Food Sci Technol 52, 2320–2327 (2015). https://doi.org/10.1007/s13197-014-1280-3
Revised:

Accepted:

Published:

Issue Date:
Keywords
Goldenberry

Physical and chemical characteristics

Fruit hardness

Colour

Total phenol content