Abstract
The transformation of byproducts and wastes generated by agro-food companies is of high importance since only a small portion of plant material is utilized directly for human consumption. Squash pumpkin is greatly used in Portugal and as by-products of its processing are generated tons of shell and seeds. In this study we aim to evaluate the potential of these wastes as sources of beneficial and bioactive compounds (antioxidants and antimicrobials), studying the effect of different extraction solvents and drying methods. The samples (fresh and cooked) were freeze-dried and oven-dried followed by extraction with different solvents that revealed the following decreasing order of efficiency: 70 % ethanol, 70 % methanol, 70 % acetone, ultra-pure water and 100 % dichloromethane. The oven-dried samples showed higher values of antioxidant activity and phenolic content, with exception of the values of phenolics for the seeds material. The shell samples presented higher values (1.47 – 70.96 % inhibition) of antioxidant activity and total phenolic content (2.00 – 10.69 mg GAE/g DW). A positive correlation was found between these two parameters on the shell samples, however the squash seeds revealed a negative correlation between the phenolic content and the antioxidant activity. The results show that these industrial agro-food residues are potentially good sources of bioactive compounds with health benefits.
Access options
Buy single article
Instant access to the full article PDF.
USD 39.95
Price excludes VAT (USA)
Tax calculation will be finalised during checkout.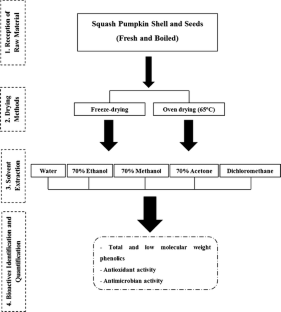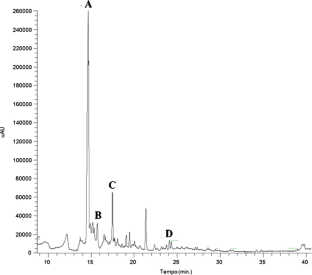 References
Aires A, Mota VR, Saavedra MJ, Rosa EAS, Bennett RN (2009) The antimicrobial effects of glucosinolates and their respective enzymatic hydrolysis products on bacteria isolated from the human intestinal tract. J Appl Microbiol 106:2086–2095

Al-Khalifa AS (1996) Physicochemical characteristics, fatty acid composition and lipoxygenase activity of crude pumpkin and melon seed oils. J Agric Food Chem 44:964–966

Bauer AW, Kirby WM, Sherris JC, Turck M (1996) Antibiotic susceptibility testing by a standardized single disc method. Am J Clin Pathol 45:493–496

Bennett RN, Rosa EAS, Mellon FA, Kroon PA (2006) Ontogenic profiling of glucosinolates, flavonoids, and other secondary metabolites in Eruca sativa (salad rocket), Diplotaxis erucoides (wall rocket), Diplotaxis tenuifolia (wild rocket), and Bunias orientalis (Turkish Rocket). J Agric Food Chem 54:4005–4015

CLSI (2005) Methods for antimicrobial dilution and disk susceptibility testing of infrequently isolated or fastidious bacteria; approved guideline M45-A. Clinical and Laboratory Standards Institute, Wayne

Fu CL, Shi H, Li QH (2006) A review on pharmacological activities and utilization technologies of pumpkin. Plant Foods Hum Nutr 61:70–77

Fu CL, Tian HJ, Cai TY, Liu Y, Li QH (2007) Some properties of an acidic protein-bound polysaccharide from the fruit of pumpkin. Food Chem 100:944–947

Javanmardi J, Stushnoff C, Locke E, Vivanco JM (2003) Antioxidant activity and total phenolic content of Iranian Ocimum accessions. Food Chem 83:547–550

Kamel BS, Deman JM, Blackman B (1982) Nutritional fatty acid and oil characteristics of different agricultural seed. Food Technol 17:263–267

Lazos E (1986) Nutritional, fatty acid and oil characteristics of pumpkin and melon seeds. J Food Sci 51:1382–1383

Li QH, Tian Z, Cai TY (2001) Study on the hypoglycemic action of pumpkin extract in diabetic rat. Acta Nutrimenta Sinica 25:34–36

Makni M, Fetoui H, Gargouri NK, Garoui EM, Jaber H, Makni J, Boudawara T, Zeghal N (2008) Hypolipidemic and hepatoprotective effects of flax and pumpkin seed mixture rich in x-3 and x-6 fatty acids in hypercholesterolemic rats. Food Chem Toxicol 46:3714–3720

Makni M, Sefi M, Fetoui H, Garoui EM, Gargouri NK, Boudawara T, Zeghal N (2010) Flax and Pumpkin seeds mixture ameliorates diabetic nephropathy in rats. Food Chem Toxicol 48:2407–2412

Murkovic M, Hillebrand A, Winkler H, Pfannhauser W (1996) Variability of vitamin E content in pumpkin seeds (Cucurbita pepo L.). Z Lebensm Unters Forsch J 202:275–278

Oliveira I, Sousa A, Morais JS, Ferreira ICFR, Bento A, Estevinho L, Pereira JA (2008) Chemical composition, and antioxidant and antimicrobial activities of three hazelnut (Corylus avellana L.) cultivars. Food Chem Toxicol 46:1801–1807

Paris HS (1996) Summer squash: history, diversity, and distribution. Hort Tech 6:6–13

Paris HS, Yonash N, Portnoy V, Mozes-Daube N, Tzuri G, Katzir N (2003) Assessment of genetic relationships in Cucurbita pepo (Cucurbitaceae) using DNA markers. Theor Appl Genet 106:971–978

Pericin D, Krimer V, Trivic S, Radulovic L (2009) The distribution of phenolic acids in pumpkin's hull-less seed, skin, oil cake meal, dehulled kernel and hull. Food Chem 113:450–456

Peschel W, Sanchez-Rabaneda F, Diekmann W, Plescher A, Gartzıa I, Jimenez D, Lamuela-Raventos R, Buxaderas S, Codina C (2006) An industrial approach in the search of natural antioxidants from vegetable and fruit wastes. Food Chem 97:137–150

Rojas J, Ochoa JV, Ocampo SA, Muñoz JF (2006) Screening for antimicrobial activity of ten medicinal plants used in Colombian folkloric medicine: a possible alternative in the treatment of non-nosocomial infections. BMC Compl Alt Med 6:1–6

Stevenson DG, Eller FJ, Wang L, Jane J-L, Wang T, Inglett GE (2007) Oil and Tocopherol content and composition of Pumpkin seed oil in 12 cultivars. J Agric Food Chem 55:4005–4013

Stewart AJ, Bozonnet S, Mullen W, Jenkins GI, Michael EJ, Crozier A (2000) Occurrence of flavonols in tomatoes and tomato-based products. J Agric Food Chem 48:2663–2669

Tadmor Y, Paris HS, Meir A, Schaffer AA, Lewinsohn E (2005) Dual role of the pigmentation gene B in affecting carotenoid and vitamin E content in squash (cucurbita pepo) mesocarp. J Agric Food Chem 53:9759–9763

Tuberoso CIG, Kowalczyk A, Sarritzu E, Cabras P (2007) Determination of antioxidant compounds and antioxidant activity in commercial oilseeds for food use. Food Chem 103:1494–1501

Turkmen N, Sari F, Velioglu YS (2005) The effect of cooking methods on total phenolics and antioxidant activity of selected green vegetables. Food Chem 93:713–718

Verma AR, Vijayakumar M, Rao CV, Mathela CS (2010) In vitro and in vivo antioxidant properties and DNA damage protective activity of green fruit of Ficus glomerata. Food Chem Toxicol 48:704–709

Wu X, Beecher GR, Holden JM, Haytowitz DB, Gebhardt SE, Prior RL (2004) Lipophilic and hydrophilic antioxidant capacities of common foods in the United States. J Agric Food Chem 52:4026–4037

Xanthopoulou MN, Nomikos T, Fragopoulou E, Antonopoulou S (2009) Antioxidant and lipoxygenase inhibitory activities of pumpkin seed extracts. Food Res Int 42:641–646

Zhang Y, Yao H (2002) Study on effect of hypoglycemia of different type pumpkin. J Chin Food Sci 23:118–120

Zhemerichkin DA, Ptitchkina NM (1995) The composition and properties of pumpkin and sugar beet pectins. Food Hydrocolloids 9:147–149
Acknowledgments
The authors acknowledge the company Douromel (Confitaria Lda.) for the kind supply of the pumpkin residues samples. The authors also acknowledge the financial support provided by QREN (Quadro de Referência Estratégico Nacional) to the project Nutridouro "Healthy crystalised fruits and jams with a traditional flavour" (I&DT in Co-Promoção Nº 13111).
About this article
Cite this article
Saavedra, M.J., Aires, A., Dias, C. et al. Evaluation of the potential of squash pumpkin by-products (seeds and shell) as sources of antioxidant and bioactive compounds. J Food Sci Technol 52, 1008–1015 (2015). https://doi.org/10.1007/s13197-013-1089-5
Revised:

Accepted:

Published:

Issue Date:

DOI: https://doi.org/10.1007/s13197-013-1089-5
Keywords
Cucurbita pepo

Industrial by-products

Antioxidant activity

Antimicrobial activity

Phenolic acids