Abstract
Oats (Avena sativa L.) have received considerable attention for their high content of dietary fibres, phytochemicals and nutritional value. It is believed that consumption of oats possesses various health benefits such as hypocholesterolaemic and anticancerous properties. Oats have also recently been considered suitable in the diet of celiac patients. Owing to their high nutritional value, oat-based food products like breads, biscuits, cookies, probiotic drinks, breakfast cereals, flakes and infant food are gaining increasing consideration. Research and development on oat and its products may be helpful in combating various diseases known to mankind. This paper provides an overview of the nutritional and health benefits provided by oats as whole grains and its value added products. It is designed to provide an insight on the processing of oats and its effect on their functional properties. The manuscript also reviews various uses of oats and its fractions for clinical and industrial purposes and in development of value added food products.
Access options
Buy single article
Instant access to the full article PDF.
USD 39.95
Price includes VAT (USA)
Tax calculation will be finalised during checkout.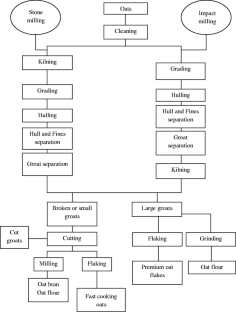 References
AACC (1999) Definition of whole grain. Published online www.aaccnet.org/definations/wholegrain.asp. American Association of Cereal Chemists International, St. Paul, Minnesota, USA

AACC (2001) The definition of dietary fibre. Report of the dietary fibre definition committee to the board of directors of the American association of cereal Chemists. Cereal Foods World 46:112–129

Ahmad A, Anjum FM, Zahoor T, Nawaz H, Ahmed Z (2010) Extraction and characterization of β-glucan from oat for industrial utilization. Int J Biol Macromol 46:304–309

Aigster A, Duncan SE, Conforti FD, Barbeau WE (2011) Physicochemical properties and sensory attribute of resistant starch-supplemented granola bars and cereals. LWT-Food Sci Technol 44:2159–2165

Amundsen AL, Haugum B, Andersson H (2003) Changes in serum cholesterol and sterol metabolites after intake of products enriched with an oat bran concentrate within a controlled diet. Scand J Food Nutr 47(2):68–74

Anderson JW, Bridges SR (1993) Hypocholesterolemic effects of oat bran in humans. In: Wood PJ (ed) Oat bran. American Association of Cereal Chemists International, St. Paul, Minnesota, USA, pp 139–157

Anderson JW, Spencer DB, Hamilton CC, Smith SF, Tietyen J, Bryant CA, Oeltgen P (1991) Oat-bran cereal lowers serum total and LDL cholesterol in hypercholesterolemic men. Am J Clin Nutr 52:495–499

Baker PG, Read AE (1976) Oats and barley toxicity in celiac patients. Postgrad Med J 52:264–268

Ballabio C, Uberti F, Manferdelli S, Vacca E, Boggini G, Redaelli R, Catassi C, Lionetti E, Penas E, Restani P (2011) Molecular characterisation of 36 oat varieties and in vitro assessment of their suitability for celiac's diet. J Cereal Sci 54:110–115

Berg A, Konig D, Deibert P, Grathwohl D, Berg A, Baumstark MW (2003) Effect of an oat bran enriched diet on the atherogenic lipid profile in patients with an increased coronary heart disease risk. Ann Nutr Metab 47:306–311

Berski W, Ptaszek A, Ptaszek P, Ziobro R, Kowalski G, Grzesik M, Achremowicz B (2011) Pasting and rheological properties of oat starch and its derivatives. Carbohydr Polym 83:665–671

Blandino A, Al-Aseeri ME, Pandiella SS, Cantero D, Webb C (2003) Cereal based fermented foods and beverages. Food Res Int 36:527–543

Bode AM, Dong Z (2009) Cancer prevention research - then and now. Nat Rev Cancer 9:508–516

Bradshaw J (2005) Developments in semolina milling. Grain Feed Mill Tech 14–17

Bushuk W (2001) Rye prosuction and uses worldwide. Cereal Foods World 2:70–73

Capouchova I, Petr J, Tlaskalova Hogenova H, Michalik I, Famera O, Urminska D, Tuckova L, Knoblochova H, Borovska D (2004) Protein fractions of oats and possibilities of oat utilization for patients with celiac disease. Czech J Food Sci 22(4):151–162

Capouchova I, Petr J, Krejcirova L (2006) Protein composition of sorghum and oat grain and their suitability for gluten-free diet. Agriculture 93(4):271–284

Caton PW, Pothecary MR, Lees DM, Khan NQ, Wood EG, Shoji T, Kanda T, Rull G, Corder R (2010) Regulation of vascular endothelial function by procyanidin-rich foods and beverages. J Agric Food Chem 58:4008–4113

Cenkowski S, Ames N, Muir WE (2006) Infrared processing of oat groats in a laboratory-scale micronizer. Can Biosyst Eng 48:3.17–3.25

Chavan JK, Kadam SS (1989) Nutritional improvement of cereals by fermentation. Crit Rev Food Sci Nutr 28:349–400

Chen J, He J, Wildman RP, Reynolds K, Streiffer W (2006) A randomized controlled trial of dietary fiber intake on serum lipids. Eur J Clin Nutr 60:62–68

Chillo S, Civica V, Lannetti M, Suriano N, Mastromatteo M, Del Nobile MA (2009) Properties of quinoa and oat spaghetti loaded with carboxymethylcellulose sodium salt and pregelatinized starch as structuring agents. Carb Polym 78:932–937

Codex alimentarius (2010) 25 new or revised codex standards or related texts or amendments to these texts and may new revisions. http://www.ift.org/public-policy-and-regulations/~/media/Public Policy/International Advocacy/33rd Session of the Codex Alimentarius Commission.pdf (Assessed on December 2010)

Collins FW (1986) Oat phenolics: structure, occurrence and function. In: Webster FH (ed) Oats: chemistry and technology. American Association of Cereal Chemists International, St. Paul, pp 227–295

Crehan CM, Hughes E, Troy DJ, Buckley DJ (2000) Effects of fat level and maltodextrin on the functional properties of frankfurters formulated with 5 %, 12 %, and 30 % fat. Meat Sci 55:463–469

Creigton MO, Ross WM, Stewart DeHaan PJ, Trevithick JR (1985) Modelling cortical cataractogenesis VII. Effects of vitamin E treatment on galactose induced cataracts. Exp Eye Res 40:213–222

Daniels DG, Martin HR (1967) Antioxidants in oats: monoesters of caffeic and ferulic acids. J Sci Food Agric 18:589–595

Deane D, Commers E (1986) Oat cleaning and processing. In: Webster FH (ed) Oats: chemistry and technology. American Association of Cereal Chemists International, St. Paul, Minnesota, USA, pp 371–412

Del Valle JM, Aguilera JM (1999) High pressure CO2 extraction: fundamental as and applications in the food industry. Food Sci Technol Int 5:1–24

Del Valle FR, Villanueva H, Reyes-govea J, Escobedo M, Bourges H, Ponce J, Munoz MJ (1981) Development, evaluation and industrial production of a powdered soy-oats infant formula using a low-cost extruder. J Food Sci 46(1):192–197

Dicke WK, Weijers HA, Kamer JH (1953) Celiac disease presence in wheat of a factor having a deleterious effect in cases of celiac disease. Acta Paediatr (Stockholm) 12:32–42

Dimberg LH, Theander O, Lingnert H (1993) Avenanthramides da group of phenolic antioxidants in oats. Cereal Chem 70:637–641

Dissanayake AS, Truelove SC, Whitehead R (1974) Lack of harmful effect of oats on small-intestinal mucosa in celiac disease. Br Med J 4:189–191

European Commission (2009) Regulation (EC) No 41/2009 of 20 January 2009, 21. Concerning the composition and labelling of foodstuffs suitable for people intolerant to gluten. Off Journal Eur Union L 16: 3

Farag RS, El-Baroty G, Abd-El-Aziz N, Basuny AM (1997) Stabilization of olive oil by microwave heating. Int J Food Sci Nutr 48(6):365–371

Fasano A, Catassi C (2001) Current approaches to diagnosis and treatment of celiac disease: an evolving spectrum. Gastroenterology 120:636–651

FDA (1997) FDA allows whole oat foods to make health claim on reducing the risk of heart disease. Food and Drug Administration. U.S. Department of Health and Human Services, USA, Talk Paper 22 January 1997

Flander L, Salmenkallio-Marttila M, Suortti T, Autio K (2007) Optimization of ingredients and baking process for improved wholemeal oat bread quality. LWT - Food Sci Technol 40:860–870

Fors SM, Schlich P (1989) Flavor composition of oil obtained from crude and roasted oats. In: Parliament TH, McGorrin RJ, Ho CT (eds) Thermal generation of aromas. American Chemical Society, Washington, USA, pp 121–131

Forsberg RA, Reeves DL (1995) Agronomy of oats. In: Welch RW (ed) The oat crop: production and utilization. Chapman and Hall, London, UK, pp 223–251

Fung Chan GC, Chan WK, Yuen Sze DM (2009) The effects of β-glucan on human immune and cancer cells. J Hematol Oncol 2–25, doi:10.1186/1756-8722-2-25

Gallaher DD (2000) Dietary fiber and its physiological effects. In: Schmidt M, Labuza TP (eds) Essentials of functional foods. Aspen Publishers, Inc., Gaithersburg, pp 271–292

Ganssmann W, Vorwerck K (1995) Oat milling, processing, and storage. In: Welch RW (ed) The oat crop: production and utilization. Chapman and Hall, London, UK, pp 369–408

Gray DA, Clarke MJ, Baux C, Bunting JP, Salter AM (2002) Antioxidant activity of oat extracts added to human LDL particles and in free radical trapping assays. J Cereal Sci 36:209–218

Gupta S, Cox S, Abu-Ghannam N (2010) Process optimization for the development of a functional beverage based on lactic acid fermentation of oats. Biochem Eng J 52:199–204

Hager AS, Czerny M, Bez J, Zannini E, Arendt EK (2013) Starch properties, in vitro digestibility and sensory evaluation of fresh egg pasta produced from oat, teff and wheat flour. J Cereal Sci. doi:10.1016/j.jcs.2013.03.004

Hallfrisch J, Scholfield DJ, Behall KM (1997) Diets containing soluble oat extracts reduce urinary malondialdehyde in moderately hypercholesterolemic men and women. Nutr Biochem 8:497–501

Harper JM, Clark JP (1979) Food extrusion. Crit Rev Food Sci Nutr 11:155–215

Hartono R, Mansoori GA, Suwono A (2001) Prediction of solubility of biomolecules in supercritical solvents. Chem Eng Sci 56:6949–6958

He J, Streiffer RH, Muntner P, Krousel-Wood MA, Whelton PK (2004) Effect of dietary fiber intake on blood pressure: a randomized, double-blind, placebo-controlled trial. J Hypertens 22:73–80

Head DS, Cenkowski S, Arntfield S, Henderson K (2010) Superheated steam processing of oat groats. LWT - Food Sci Technol 43:690–694

Hoffenberg EJ, Haas J, Drescher A, Bamhurst R, Osberg I, Bao F (2000) A trial of oats in children with newly diagnosed celiac disease. J Pediatr 137:361–366

Hogberg L, Laurin P, Falth-Magnusson K, Grant C, Grodzinsky E, Jansson G, Ascher H, Browaldh L, Hammersjo JA, Lindberg E, Myrdal U, Stenhammar L (2004) Oats to children with newly diagnosed coeliac disease: a randomised double blind study. Gut 53:649–654

Holm K, Maki M, Vuolteenaho N, Mustalahti K, Ashorn M, Ruuska T, Kaukinen K (2006) Oats in the treatment of childhood celiac disease: a 2-year controlled trial and a long-term clinical follow-up study. Aliment Pharm Therap 23:1463–1472

Hoover R, Senanayake PJN (1996) Composition and physicochemical properties of oat starches. Food Res Int 29(1):15–26

Hoover R, Vasanthan T (1992) Studies on isolation and characterization of starch from oat (Avena nuda) grains. Carb Polym 19:285–297

Hoover R, Smith C, Zhou Y, Ratnayake RMWS (2003) Physicochemical properties of Canadian oat starches. Carb Polym 52:253–261

Hsueh CW, Chia HH, Jeng DH, Mon YY, Shing JW, Chau JW (2011) Inhibitory effect of whole oat on aberrant crypt foci formation and colon tumor growth in ICR and BALB/c mice. J Cereal Sci 53:73–77

Huth M, Dongowski G, Gebhardt E, Flamme W (2000) Functional properties of dietary fibre enriched extrudates from barley. J Cereal Sci 32:115–128

Inglett GE, Warner K, Newman RK (1994) Sensory and nutritional evaluations of oatrim. Cereals Foods World 39(10):755–759

Janatuinen EK, Pikkarainen PH, Kemppainen TA (1995) A comparison of diets with and without oats in adults with celiac disease. N Engl J Med 333:1033–1037

Jiaxun T, Rao R, Liuzzo J (1993) Microwave heating for rice bran stabilization. J Microwave Power Electromagn Energy 28(3):156–164

Kahlon TS, Chow FL, Knuckles BE, Chiu MM (1993) Cholesterol-lowering effects in hamsters of β-glucan-enriched barley fractions, dehulled whole barley, rice bran, and oat bran and their combinations. Cereal Chem 70:435–439

Kahlon TS, Edwards RH, Chow FI (1998) Effect of Extrusion on Hypocholesterolemic Properties of Rice, Oat, Corn, and Wheat Bran Diets in Hamsters. Cereal Chem 75(6):897–903

Kanerva PM, Sontag-Strohm TS, Ryoppy PH, Alho-Lehto P, Salovaara HO (2006) Analysis of barley contamination in oats using R5 and ω-gliadin antibodies. J Cereal Sci 44:347–352

Kaukovirta-Norja A, Wilhemson A, Poutanen K (2004) Germination: a means to improve the functionality of oat. Agr Food Sci 13:100–112

Kaur KD, Jha A, Sabikhi L, Singh AK (2012) Significance of coarse cereals in health and nutrition : a review. J Food Sci Technol doi. doi:10.1007/s130197-011-0612-9

Keying Q, Changzhong R, Zaigui L (2009) An investigation on pretreatments for inactivation of lipase in naked oat kernels using microwave heating. J Food Eng 95:280–284

Kim JH, Tanhehco EJ, Ng PKW (2006) Effect of extrusion conditions on resistant starch formation from pastry wheat flour. Food Chem 99:718–723

Klensporf D, Jelen HH (2008) Effect of heat treatment on the flavor of oat flakes. J Cereal Sci 48:656–661

Klose C, Schehl BD, Arendt EK (2009) Fundamental study on protein changes taking place during malting of oats. J Cereal Sci 49:83–91

Kova cova M, Malinova E (2007) Ferulic and coumaric acids, total phenolic compounds and their correlation in selected oat genotypes. Czech J Food Sci 25:325–332

Kumar PJ, Farthing MGJ (1995) Oats and celiac disease. N Engl J Med 333:1075–1076

Kusch S, Schumacher B, Oechsner H, Schafer W (2011) Methane yield of oat husks. Biomass Bioenergy 35:2627–2633

Laca A, Mousia Z, Dıaz M, Webb C, Pandiella SS (2006) Distribution of microbial contamination within cereal grains. J Food Eng 72(4):332–338

Lapvetelainen A, Aro T (1994) Protein composition and functionality of high protein oats flour derived from integrated starch–ethanol process. Cereal Chem 71(2):133–139

Lasztity R (1996) The chemistry of cereal proteins. CRC Press, Boca Raton, Florida, USA

Lee S, Kim S, Inglett GE (2005) Effect of shortening replacement with oatrim on the physical and rheological properties of cakes. Cereal Chem 82(2):120–124

Lehtinen P, Kiiliaeinen K, Lehtomaeki I, Laakso S (2003) Effect of heat treatment on lipid stability in processed oats. J Cereal Sci 37:215–221

Linko P, Mercier PCC (1981) High-temperature, short-time extrusion cooking. In: Pomeranz Y (ed) Vol. IV. Advances in cereal science and technology. American Association of Cereal Chemists, St. Paul, pp 145–235

Liu TT, Wang DW (2006) Study on function of thickening and stabilization of maltdextrin in ice cream. Food Sci 27:233–236

Liu L, Zubik L, Collins FW, Marko M, Meydani M (2004) The antiatherogenic potential of oat phenolic compounds. Atherosclerosis 175:39–49

Ma CY, Khanzada G (1987) Functional properties of deamidated oats protein isolate. J Food Sci 52(6):1583–1587

Mansoori GA, Schulz K, Martinelli E (1988) Bioseparation using supercritical fluid extraction/retrograde condensation. Biotechnology 6:393–396

Marquart L, Jones JM, Cohen EA, Poutanen K (2007) The future of whole grains. In: Jacobs ML Jr, McIntosh GH, Poutanen K, Reicks M (eds) Whole grains and health. Blackwell publishing, Oxford, pp 3–15

Martensson O, Andersson C, Andersson K, Oste R, Holst O (2001) Formulation of an oat based fermented product and its comparison with yoghurt. J Sci Food Agric 81:1314–1321

Martinelli E, Schulz K, Mansoori GA (1991) Supercritical fluid extraction/retrograde condensation with applications in biotechnology. In: Bruno TJ, Ely JF (eds) Supercritical fluid technology. CRC Press, Boca Raton, Florida, USA, pp 451–478

Martinez Flores HE, Chang YK, Bustos FM, Sinencio FS (1999) Extrusion-cooking of cassava starch with different fiber sources: effect of fibers on expansion and physicochemical properties. Adv Extr 271–278

Matilla P, Pihlava JM, Hellstrom J (2005) Contents of phenolic acids, alkyl and alkylresorcinol and avenanthramides in commercial grain products. J Agric Food Chem 53:8290–8295

McKechnie R (1983) Oat products in bakery foods. Cereal Foods World 28:635–637

Meuser F, Wiedmann W (1989) Extrusion plant design. In: Mercier C, Linko P, Harper JM (eds) Extrusion cooking. American Association of Cereal Chemists, St. Paul, Minnesota, USA, pp 91–154

Meydani M (2009) Potential health benefits of avenanthramides of oats. Nutr Rev 67:731–735

Mohamed A, Biresaw G, Xu J, Hojilla-Evangelista MP, Rayas-Duarte P (2009) Oats protein isolate: thermal, rheological, surface and functional properties. Food Res Int 42:107–114

Moltenberg EL, Magnus EM, Bjorge JM, Nilsson A (1986) Sensory and chemical studies of lipid oxidation in raw and heat treated oat flours. Cereal Chem 73:579–587

Morello MJ (1994) Isolation of aroma volatiles from an extruded oat ready-to-eat cereal: comparison of distillation: extraction and supercritical fluid extraction. ACS Symp Ser 543:95–101

Murphy EA, Davis JM, Brown AS, Carmichael MD, Mayer EP, Ghaffar A (2004) Effects of moderate exercise and oat β-glucan on lung tumor metastases and macrophage antitumor cytotoxicity. J Appl Physiol 97:955–959

Murphy MM, Douglas JS, Birkett A (2008) Resistant starch intakes in the United States. J American Diet Assoc 108:67–78

Nakurte I, Kirhnere I, Namniece J, Saleniece K, Krigere L, Mekss P, Vicupe Z, Bleidere M, Legzdina L, Muceniece R (2013) Detection of the lunasin peptide in oats (Avena sativa L). J Cereal Sci. doi:10.1016/j.jcs.2012.12.008

Nie L, Wise ML, Peterson DM, Meydani M (2006) Avenanthramide, a polyphenol from oats, inhibits vascular smooth muscle cell proliferation and enhances nitric oxide production. Atherosclerosis 186:260–266

Oku T (1994) Special physiological functions of newly developed mono- and oligosaccharides. In: Goldberg I (ed) Functional foods: designer foods, pharmafoods, nutraceuticals. Chapman & Hall, New York, USA, pp 202–218

Onning G, Wallmark A, Persson M, Akesson B, Elmstahl S, Oste R (1999) Consumption of oat milk for 5 weeks lower serum cholesterol and LDL cholesterol in free living men with moderate hypercholesterolemia. Ann Nutr Metab 43:301–309

Ovando-Martinez M, Whitney K, Reuhs BL, Doehlert AC, Simsek S (2013) Effect of hydrothermal treatment on physicochemical and digestibility properties of oat starch. 52: 17–25

Packer L (1991) Protective role of vitamin E in biological systems. Am J Clin Nutr 53:1050S–1053S

Panasiewicz M, Grochowicz J, Sobczak P (2009) Influence of hydrothermal processes on selected physical properties of oat grain. J Food Eng 90:81–89

Peterson DM (1998) Malting oats: effects on chemical composition of hull-less and hulled genotypes. Cereal Chem 75:230–234

Peterson DM (2001) Oat antioxidants. J Cereal Sci 33:115–129

Poinerou S, Lupper R, Adess M, Nestel P (2001) Oat β-glucan lowers total and LDL-cholesterol. Aust J Nutr Diet 58:51–55

Ponne CT, Moeller AC, Tijskens LMM, Bartels PV, Meijer MMT (1996) Influence of microwave and steam heating on lipase activity and microstructure of rapeseed (Brassica napus). J Agric Food Chem 44(9):2818–2824

Ramesh M, Rao HP, Ramadoss CS (1995) Microwave treatment of groundnut (Arachis hypogaea): extractability and quality of oil and its relation to lipase and lipoxygenase activity. LWT - Food Sci Technol 28(1):96–99

Ramos S (2008) Cancer chemoprevention and chemotherapy: dietary polyphenols and signalling pathways. Mol Nutr Food Res 52:507–526

Ripsin CM, Keenan JM, Jacobs DR, Elmer PJ, Welch RR, Van Horn L (1992) Oat products and lipid lowering. meta-analysis. J Am Med Assoc 267:3317–3325

Robert LS, Nozzolillo C, Altosaar I (1985) Characterization of oat (Avena sativa L.) residual proteins. Cereal Chem 62:276–279

Roediger WEW (1982) Utilization of nutrients by isolated epithelial cells of rat colon. Gastroenterology 83:424–429

Ross WM, Creighton MO, Stuart DeHaan PJ, Trevithick JR (1981) Modelling cortical catarctogenesis. 3. In vitro effects of vitamin E on cataractogenesis in diabetic rat. Can J Ophthalmol 71:61–66

Ryan D, Kendall M, Robards K (2007) Bioactivity of oats as it relates to cardiovascular disease. Nutr Res Rev 20:147–162

Ryan L, Thondre PS, Henry CJK (2011) Oat-based breakfast cereals are a rich source of polyphenols and high in antioxidant potential. J Food Compos Anal 24:929–934

Sadiq Butt M, Tahir-Nadeem M, Khan MK, Shabir R, Butt MS (2008) Oat: unique among the cereals. Eur J Nutr 47:68–79

Salminen S, Bouley C, Boutron-Ruault MC, Cummings JH, Franck A, Gibson GR, Isolauri E, Moreau MC, Roberfroid M, Rowland I (1998) Functional food science and gastrointestinal physiology and function. Brit J Nutr 80(1):147–171

Sanchez-Pardo ME, Jimenez G, Gonzalic-Gracia I (2010) Study about the addition of chemically modified starches (cross-linked corn starches), dextrins, and oat fibers in pound cake. Special Abstracts. J Biotechnol 150:316–319

Schneeman BO (2001) Dietary fibre and gastrointestinal function. In: McCleary BV, Prosky L (eds) Advanced dietary fibre technology. Blackwell Science, Oxford, UK, pp 168–173

Shen R, Luo S, Dong J (2011) Application of oat dextrine for fat substitute in mayonnaise. Food Chem 126:65–71

Shewry PR, Piironen V, Lampi AM, Nystrom L, Li L, Rakszegi M, Fras A, Boros D, Gebruers K, Courtin CM, Delcour JA, Andersson AAM, Dimberg L, Bedo Z, Ward JL (2008) Phytochemical and fiber components in oat varieties in the health grain diversity screen. J Agric Food Chem 56:9777–9784

Skoglund M, Peterson DM, Andersson R, Nilsson J, Dimberg LH (2008) Avenanthramide content and related enzyme activities in oats as affected by steeping and germination. J Cereal Sci 48:294–303

Srivastava KC (1986) Vitamin E exerts antiaggregatory effects without inhibiting the enzyme of the arachidonic acid cascade in platelets. Prostaglandins Leukot Med 21:177–185

Stark A, Madar Z (1994) Dietary fiber. In: Goldberg I (ed) Functional foods: designer foods, pharma foods, nutraceuticals. Chapman & Hall, New York, USA, pp 183–201

Stevenson DG, Eller FJ, Radosavljevic M, Jane JL, Inglett GE (2007) Characterisation of oat bran products with and without supercritical carbon dioxide extraction. Int J Food Sci Technol 42(12):1489–1496

Storsrud S, Lenner RA, Kilander A (1998) The oat celiac study in Gothenburg. In: Lohinieni S, Collin P, Maki M (eds) Changing features of celiac disease. University of Tampere, Tampere-celiac disease study group

Sun JL, Li XH, Zeng J, Li GL, Zhao RX (2008) Study on preparation technology of dextrin using medium and high temperature α-amylases. Food Sci 29:312–315

Tapola N, Karvonen H, Niskanen L, Mikola M, Sarkkinen E (2005) Glycemic responses of oat bran products in type 2 diabetic patients. Nutr Metab Cardiovas 15:255–261

Trevithick JR, Creighton MO, Ross WM, Creighton MO (1981) Modelling cortical catarctogenesis. 2. In vitro effects on the lens of agents preveting glucose and sorbitol induced cataracts. Can J Ophthalmol 16:32–38

Uengkimbuan N, Soponronnarit S, Prachayawarakorn S, Nathkaranakule A (2006) A comparative study of pork drying using superheated steam and hot air. Dry Technol 24(12):1665–1672

Vasanthan T, Gaosong J, Yeung J, Li J (2002) Dietary fiber profile of barley flour as affected by extrusion cooking. Food Chem 77:35–40

Wahab PJ, Crusius JBA, Meijer JWR, Goerres MS, Mulder CJJ (2001) Gluten challenge in borderline gluten sensitive enteropathy. Am J Gastroenterol 96:1464–1469

Wang L, Newman RK, Newman CW, Hofer PJ (1992) Barley β-glucan alters intestinal viscosity and reduces plasma cholesterol concentration in chicks. J Nutr 122:2292–2297

Wang R, Koutinas AA, Campbell GM (2007) Effect of pearling on dry processing of oats. J Food Eng 82:369–376

White EM (1995) Structure and development of oats. In: Welch RW (ed) The oat crop: production and utilization. Chapman and Hall, London, UK, pp 88–119

Wilhelmson A, Oksman-Caldentey KM, Laitila A, Suortti T, Kaukovirta-Norja A, Poutanen K (2001) Development of a germination process for producing high β-glucan, whole grain food ingredients from oat. Cereal Chem 78:715–720

Wrick KL (1993) Functional foods: cereal products at the food–drug interface. Cereal Foods World 38(4):205–214

Wrick KL (1994) The potential role of functional foods in medicine and public health. In: Goldberg I (ed) Functional foods: designer foods, pharmafoods, nutraceuticals. Chapman & Hall, New York, USA, pp 480–494

Yao N, Jannink JL, Alavi S, White PJ (2006) Physical and sensory characteristics of extruded products made from two oat lines with different β-glucan concentrations. Cereal Chem 83(6):692–699

Yilmaz I, Daglioglu O (2003) The effect of replacing fat with oat bran on fatty acid composition and physicochemical properties of meatballs. Meat Sci 65:819–823

Yoshikawa T, Tanaka H, Kondo M (1983) Effect of vitamin E on ajuvant arthritis in rats. Biochem Med 29:227–234

Zdunczyk Z, Flis M, Zielinski H, Wroblewska M, Antoszkiewicz Z, Juskiewicz J (2006) In vitro antioxidant activities of barley, husked oat, naked oat, triticale, and buckwheat wastes and their influence on the growth and biomarkers of antioxidant status in rats. J Agric Food Chem 54:4168–4175

Zhang DC, Moore WR, Doehlert DC (1998) Effects of oat grain hydrothermal treatments on wheat–oat flour dough properties and bread baking quality. Cereal Chem 75:602–605

Zhang M, Bai X, Zhang Z (2011) Extrusion process improves the functionality of soluble dietary fiber in oat bran. J Cereal Sci 54:98–103

Zwer PK (2004) Oats. In: Wrigley C, Corke H, Walker CE (eds) Encyclopedia of grain science. Elsevier Academic Press, Waltham, Massachusetts, USA, pp 365–375
Acknowledgement
First author acknowledges the financial support from the INSPIRE Fellowship of the Department of Science and Technology, Government of India.
About this article
Cite this article
Rasane, P., Jha, A., Sabikhi, L. et al. Nutritional advantages of oats and opportunities for its processing as value added foods - a review. J Food Sci Technol 52, 662–675 (2015). https://doi.org/10.1007/s13197-013-1072-1
Revised:

Accepted:

Published:

Issue Date:
Keywords
Oats

Phytochemicals

Speciality foods

Functional properties

Dietary fibre