Abstract
Present study aimed at evaluating antioxidant and radioprotective ability of nutmeg essential oil and to isolate and identify major antioxidant components. Activity guided fractionation to identify major antioxidant compounds were carried out by dot blot tests on TLC. A new index termed as antioxidant activity values (AAV) for calculating contribution of individual compounds towards total activity is proposed. Activity guided fractionation resulted in identification of elemicin, 4-terpineol, myristicin and trans-sabinene hydrate as major antioxidant constituents of nutmeg essential oil. Results of DPPH assay demonstrated elemicin as most potent antioxidant compound. However, AAV suggested that 4-terpineol has greater contribution towards total antioxidant activity of oil due to its higher abundance. Essential oil is also demonstrated to possess radioprotective ability as evaluated by plasmid DNA protection assay for first time in this study.
Access options
Buy single article
Instant access to the full article PDF.
USD 39.95
Price excludes VAT (USA)
Tax calculation will be finalised during checkout.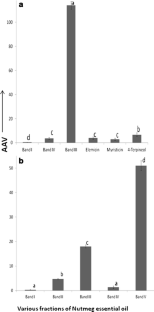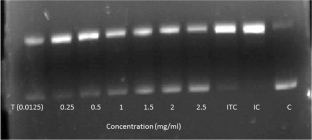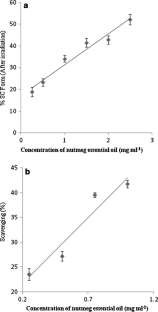 References
Ames BN, Shigrnaga MK, Hagen TM (1993) Oxidants, antioxidants, and the degenerative diseases of aging. Proc Natl Acad Sci 90:7915–7922

Anthony J, Fyfe L, Smith H (2005) Plant active components- a resource for antiparasitic agents? Trends Parasitol 21:462–468

Benzie IFF (1996) Lipid peroxidation: a review of causes, consequences, measurement and dietary influences. Int J Food Sci Nutr 47:233–261

Burtis M, Bucar F (2000) Antioxidant activity of Nigella sativa essential oil. Phytother Res 14:323–328

Chatterjee S, Niaz Z, Gautam S, Adhikari S, Variyar PS, Sharma A (2007) Antioxidant activity of some phenolic constituents from green pepper (Piper nigrum L.) and fresh nutmeg mace (Myristica fragrans). Food Chem 101:515–523

Choi HS, Ukeda H, Sawamura M (2000) Radical scavenging activities of citrus essential oils and their components: detection using 1,1-Diphenyl-2-picrylhydrazyl. J Agric Food Chem 48:4156–4161

Donelli JK, Robinson DS (1995) Free radicals in foods. Free Radic Res 22:147–176

Guerrini A, Sacchetti G, Rossi D, Paganetto G, Muzzoli M, Andreotti E, Tognoline M, Maldonado ME, Bruni R (2009) Bioactivities of Piper aduncum L. and Piper obliquum Ruiz and Pavon (Piperaceae) from eastern ecuador. Environ Toxicol Pharmacol 47:39–48

Jukic M, Politeo O, Milo M (2006) Chemical composition and antioxidant effect of free volatile aglycone from Nutmeg (Myristica fragrans Houtt.) compared to its essential oil. Croat Chem Acta 79:209–214

Kada T, Kaneko K, Matsuzaki S, Hara Y (1985) Detection and chemical identification of natural bioantimutagens. A case of green tea factor. Mutat Res 150:127–132

Kelen M, Tepe B (2008) Chemical composition, antioxidant and antimicrobial properties of the essential oils of three Salvia species from Turkish flora. Bioresour Technol 99:4096–4104

Kumar SS, Devasagayam B, Jayashree B, Kesavan PC (2001) Mechanism of protection against radiation-induced DNA damage in plasmid pBR322 by caffeine. Int J Radiat Biol 77:617–623

Mimica-Durik N, Samojlik I, Jovin E, Bozin B (2007) Antimicrobial and antioxidant properties of rosemary and sage (Rosmarinus officinalis L. and Salvia officinalis L., Lamiaceae) essential oils. J Agric Food Chem 55:7879–7885

Murcia MA, Egea I, Romojaro F, Parras P, Jimeanez AM, Martinez-Tomea M (2004) Antioxidant evaluation in desert spices compared with common food additives. Influence of irradiation procedure. J Agric Food Chem 52:1872–1881

Nair CKK, Salvi VK (2008) Protection of DNA from gamma radiation induced strand breaks by epicatechin. Mutat Res 58:48–54

Nickerson GB, Likens ST (1966) Gas chromatographic evidence for the occurrence of hop oil components in beer. J Chromatogr 21:1–5

Piaru SP, Mahmud R, Majid AMSA, Ismail S, NinMan C (2012) Chemical composition, antioxidant and cytotoxicity activities of the essential oils of Myristica fragrans and Morinda citrifolia. J Sci Food Agric 92:593–597

Pillai S, Majid AMSA, Nassar ZD (2012) Antioxidant and antiangiogenic activities of the essential oils of Myristica fragrans and Morinda citrifolia. Asian Pac J Trop Med 5:294–298

Sharma A, Gautam S, Jadhav SS (2000) Spice extracts as dose-modifying factors in radiation inactivation of bacteria. J Agric Food Chem 48:1340–1344

Singh G, Marimuthu P, Heljjani CS, Catalan C (2005) Antimicrobial and antioxidant potential of essential oil and acetone extract of Myristica fragrans Houtt. (Aril part). J Food Sci 70:M141–M148

Tomaino A, Cimino F, Zimbalatti V, Venuti V, Sulfaro V, De Pastquale A, Saija A (2005) Influence of heating on antioxidant activity and the chemical composition of some spice essential oils. Food Chem 89:549–554

Wei A, Shibamoto T (2007) Antioxidant activities and volatile constituents of various essential oils. J Agric Food Chem 55:1737–1742
Electronic supplementary material
Below is the link to the electronic supplementary material.
About this article
Cite this article
Adiani, V., Gupta, S., Chatterjee, S. et al. Activity guided characterization of antioxidant components from essential oil of Nutmeg (Myristica fragrans). J Food Sci Technol 52, 221–230 (2015). https://doi.org/10.1007/s13197-013-1034-7
Revised:

Accepted:

Published:

Issue Date:

DOI: https://doi.org/10.1007/s13197-013-1034-7
Keywords
Nutmeg essential oil

Antioxidant activity

Radioprotective ability

Antioxidant activity values

Activity guided fractionation