Abstract
Lycopene, the predominant carotenoid in tomatoes, is among the major carotenoids in serum and tissues of humans. Epidemiological studies have proven the bioactive role and potential disease prevention property of carotenoids and their consumption has been associated with reduced risk of degenerative diseases. Lycopene is reported to have a variety of pharmacological and nutritional effects in animals and humans, on one hand and promising health benefits as an antioxidant on the other. However, a need exists for better exploration of its biosynthesis, metabolic aspects, tissue distribution and bioavailability. To contribute to this effort, this integrated review presents data on the physico-chemical aspects, biosynthesis and metabolism, with special focus on the stability and degradation under various abiotic parameters. Heat light and oxygen are the main factors which induce degradation of lycopene via trans-cis isomerization and oxidation and reduce its health benefits. The stability of lycopene is also varied in different food matrices. Controversy also exists on some issues such as bioavailability and absorption of this compound which needs to be explored further.
This is a preview of subscription content, log in to check access.
Access options
Buy single article
Instant access to the full article PDF.
US$ 39.95
Tax calculation will be finalised during checkout.
Subscribe to journal
Immediate online access to all issues from 2019. Subscription will auto renew annually.
US$ 79
Tax calculation will be finalised during checkout.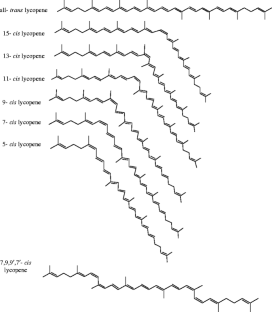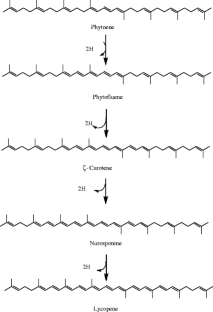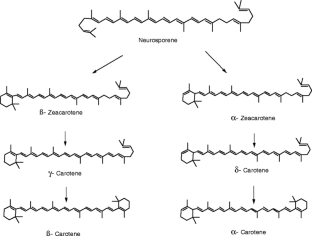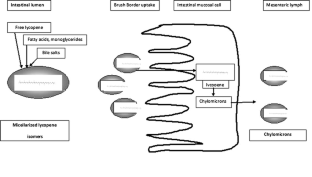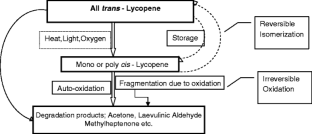 Abbreviations
IPP:

Isopentenyl pyrophosphate

A:

Acetyl coenzyme A

MVA:

Mevalonic acid

DMAPP:

Dimethylallyl pyrophosphates

VLDL:

Very low density lipoprotein

LDL:

Low density lipoprotein

HDL:

High density lipoprotein

BV:

Biological value
References
Akanbi CT, Oludemi FO (2004) Effect of processing and packaging on the lycopene content of tomato products. Int J Food Prop 7(1):139–152

Anguelova T, Warthesen J (2000a) Degradation of lycopene, α-carotene, and β-carotene during lipid peroxidation. J Food Sci 65(1):71–75

Anguelova T, Warthesen J (2000b) Lycopene stability in tomato powders. J Food Sci 65:67–70

Anon (2012) Foods high in lycopene. www.dietandfitnesstoday.com/nutritioncontentsorted.php?nutid=337. Accessed 6 June 2012

Ax K, Mayer-Miebach E, Link B, Schuchmann H, Schubert H (2003) Stability of lycopene in oil-in-water emulsions. Eng Life Sci 4:199–201

Begliomini AL, Montedoro G, Servili M, Petruccioli M, Federici F (1995) Oxidoreductases from tomato fruit:inhibitory effect of a fungal glucose oxidase. J Food Biochem 19:161–173

Bizzarri G, Andreotti R, Massini R (1981) Inattivazione enzi-matica negli spinaci e nelle patate: catalasi, perossidasi e fenolasi. Ind Conserve 56:97–102, English summary

Boileau AC, Merchen NR, Wasson K, Atkinson CA, Erdman JW (1999) cis-lycopene is more bioavailable than trans-lycopene in vitro and in vivo in lymph-cannulated ferrets. J Nutr 129:1176–1181

Boileau TWM, Clinton SK, Erdman JW Jr (2000) Tissue lycopene concentrations and isomer patterns are affected by androgen status and dietary lycopene concentration in male F344 rats. J Nutr 130:1613–1618

Boileau TWM, Boileau AC, Erdman JW (2002) Bioavailability of all-trans and cis-isomers of lycopene. Exp Biol Med 227:914–919

Borel P, Grolier P, Armand M, Partier A, Lafont H, Lairon D, Azais-Braesco V (1996) Carotenoids in biological emulsions:solubility, surface-to-core distribution, and release from lipid droplests. J Lipid Res 37:250–261

Boskovic MA (1979) Fate of lycopene in dehydrated tomato products:carotenoid isomerization in food system. J Food Sci 44:84–86

Britton G (1995) Structure and properties of carotenoids in relation to function. FASEB J 9:1551–1558

Castenmiller JM, West CE (1998) Bioavailability and bioconversion of carotenoids. Annu Rev Nutr 18:19–38

Cernisev S (2010) Effect on conventional and multistage drying processing on non-enzymatic browning in tomato. J Food Eng 96:114–118

Chou SK, Chua KJ (2001) New hybrid drying technologies for heat sensitive foodstuffs. Trends Food Sci Technol 12:359–369

Clinton SK (1998) Lycopene:chemistry, biology and implications for health and disease. Nutr Rev 56:35–51

Cole ER, Kapur NS (1957) The stability of lycopene. I.- Degradation by oxygen. J Sci Food Agric 8:360–365

Dewanto V, Wu X, Adom KK, Liu RH (2002) Thermal processing enhances the nutritional value of tomatoes by increasing total antioxidant activity. J Agric Food Chem 50:3010–3014

Di Mascio P, Kaiser S, Sies H (1989) Lycopene as the most efficient biological carotenoid singlet oxygen quencher. Arch Biochem Biophys 274:532–538

Emenhiser C, Sander LC, Schwartz SJ (1995) Capability of a polymeric C30 stationary phase to resolve cis-trans carotenoids in reversed phase liquid chromatography. J Chromatogr 707:205–216

Erdman JW Jr, Fahey GC, White CB (1986) Effect of purified dietary fibre sources on beta carotene utilization by the chick. J Nutr 116:2415–2423

Erdman JW Jr, Bierer TL, Gugger ET (1993) Absorption and transport of carotenoids. Ann N Y Acad Sci 691:76–85

Ferreira ALA, Yeum KJ, Liu C, Smith D, Krinsky NI, Wang XD, Russel RM (2000) Tissue distribution of lycopene in ferrets and rats after lycopene supplementation. J Nutr 130:1256–1260

Fish WW, Davis AR (2003) The effect of frozen storage conditions on lycopene stability in watermelon tissue. J Agric Food Chem 51:3582–3585

Garret DA, Failla ML, Sarama RJ (1999) Development of an in vitro digestion method to assess carotenoid bioavailability from meals. J Agric Food Chem 47:4301–4309

Gartner C, Stahl W, Sies H (1997) Lycopene is more bioavailable from tomato paste than from fresh tomatoes. Am J Clin Nutr 66:116–122

Gerster H (1997) The potential role of lycopene for human health. J Am Coll Nutr 16(2):109–126

Ghoshal G, Basu S, Shivhare US (2009) Effect of hydrocolloids on rheological, physico-chemical and sensory properties of carrot-tomato blended sauce. J Food Sci Technol 46(3):202–206

Gibbs M (1971) Structure and function of chloroplasts. Springer, New York

Giovanelli G, Paradiso A (2002) Stability of dried and intermediate moisture tomato pulp during storage. J Agric Food Chem 50:7277–7281

Giovanucci E, Ascherio A, Rimm EB, Stampfer MM, Colditz GA, Willett WC (1995) Intake of carotenoids and retinal in relationship to risk of prostate cancer. J Natl Cancer Inst 87:1767–1776

Goula AM, Adamopoulos KG (2005) Spray drying of tomato pulp in dehumidified air: II. The effect on powder properties. J Food Eng 66:35–42

Goula AM, Nikas VA, Chatzitakis PC, Adampoulos KG (2006) Prediction of lycopene degradation during drying process of tomato pulp. J Food Eng 74:27–46

Grant WB (1999) An ecologic study of dietary links to prostate cancer. Altern Med Rev 4:167–169

Hackett MM, Lee JH, Francis D, Schwartz SJ (2004) Thermal stability and isomerization of lycopene in tomato oleoresins from different varieties. J Food Sci 69:536–541

Hemeda HM, Klein BP (1990) Effects of naturally occurring antioxidants on peroxidase activity of vegetables extracts. J Food Sci 55:184–185

Henry LK, Puspitosan-Nienaber NL, Jaren-Galon M, VanBreeman RB, Catignani GL, Schwartz SJ (2000) Effects of ozone and oxygen on the degradation of carotenoids in an aqueous model system. J Agric Food Chem 48:5008–5012

Hernell O, Staggers JE, Carey MC (1991) Physical-chemical behavior of dietary and biliary lipids during intestinal digestion and absorption. 2. Phase analysis and aggregation states of luminal lipids during duodenal fat digestion in healthy adult human beings. Biochem 29:2041–2056

Holden JM, Eldridge AL, Beecher GR, Buzzard I, Marilyn B, Seema davis CS, Douglass LW, Gebhardt SHD, Lavelli V, Giovanelli G (2003) Evaluation of heat and oxidative damage during storage of processed tomato products. II. Study of oxidative damage indices. J Sci Food Agric 83:966–971

Lee MT, Chen BH (2002) Stability of lycopene during heating and illumination in a model system. Food Chem 78:425–432

Lingen C, Ernster L, Lindberg O (1959) The promoting effect of lycopene on the non-specific resistance of animals. Exp Cell Res 16:384–393

Lisiewska Z, Kmiecik W (2000) Effect of storage period and temperature on the chemical composition and organoleptic quality of frozen tomato cubes. Food Chem 70:167–173

Lovric T, Sablek Z, Boskovic M (1970) Cis-trans isomerisation of lycopene and colour stability of foam-mat dried tomato powder during storage. J Sci Food Agr 21:641–647

Mayeaux M, Xu Z, King JM, Prinyawiwatkul W (2006) Effects of cooking conditions on the lycopene content in tomatoes. J Food Sci 71(8):461–464

Mayer-Meibach E, Schuchmann HP, Regier M, Behsnilian D (2005) Thermal processing of carrots:lycopene stability and isomerization with regard to antioxidant potential. Food Res Int 38:1103–1108

Moselhi SS, Al Mslmani MAB (2008) Chemopreventive effect of lycopene alone or with melatonin against the genesis of oxidative stress and mammary tumors induced by 7, 12 dimethyl (a) benzanthracene in sprague dawely female rats. Mol Cell Biochem 319:175–180

Muratore G, Rizzo V, Licciardello F, Maccarone E (2008) Partial dehydration of cherry tomato at different temperature, and nutritional quality of the products. Food Chem 111:887–891

Nguyen ML, Schwartz SJ (1998) Lycopene stability during food processing. Exp Biol Med 218:101–105

Nguyen ML, Schwartz SJ (1999) Lycopene: chemical and biological properties. Food Technol 53:38–44

Porrini M, Riso P, Testolin G (1998) Absorption of lycopene from single or daily portions of raw and processed tomato. Br J Nutr 80:353–361

Prestamo G, Manzano P (1993) Peroxidases of selected fruits and vegetables and the possible use of ascorbic acid as an anti- oxidant. Hortic Sci 28:48–50

Rao AV, Agarwal S (1999) Role of lycopene as antioxidant carotenoid in the prevention of chronic diseases: a review. Nutr Res 19:305–323

Rao AV, Waseem Z, Agarwal S (1998) Lycopene content of tomato and tomato products and their contribution to dietary lycopene. Food Res Int 31:737–741

Reddy PP, Clevidence BA, Berlin E, Taylor PR, Biery JG, Smith JC (1989) Plasma carotenoid and vitamin E profile of lipoprotein fractions of men fed a controlled typical US diet. FASEB J 3(4):pA955

Reidl J, Linseisen J, Hoffman J, Wolfram G (1999) Some dietary fibers reduce the absorption of carotenoids in women. J Nutr 129(12):2170–2176

Ribeiro HS, Ax K, Schubert H (2003) Stability of lycopene emulsions in food systems. J Food Sci 68:2730–2734

Rick CM, De Verna JW, Chetelat RT (1990) Experimental introgression to the cultivated tomato from related wild nightshades. In: Bennett AB, O'Neill SD (eds) Horticultural biotechnology symposium. Wiley, Davis, pp 19–30

Rodriguez-Amaya DB (1993) Nature and distribution of carotenoids in foods. In: Charalambous G (ed) Shelf-life studies of foods and beverages; chemical, biological, physical and nutritional aspects. Elsevier Science Publishers, Amsterdam

Rodriguez-Amaya DB (1997) Carotenoids and food preparation: the retention of provitamin carotenoids in prepared, processed and stored foods. USAID, OMNI Project. John Snow Inc, Arlington, p 88

Rogers LJ, Shah SPJ, Goodwin TW (1966) Intracellular localization of mevalonate activating enzymes in plant cells. J Biochem 99:381–388

Sagar VR (2009) Changes in quality of ready to eat dehydrated carrot shreds during storage. J Food Sci Technol 46(2):177–178

Sagar VR, Khurdiya DS, Balakrishna KA (1998) effect of storage temperature and period on quality of dehydrated ripe mango slices. J Food Sci Technol 35:147–150

Schierle J, Bretzel W, Buhler J, Faccin N, Hess D, Steiner K, Schuep W (1997) Content and isomeric ratio of lycopene in food and human blood plasma. Food Chem 59:459–465

Sesso HD, Liu S, Gaziano JM, Buring JE (2003) Dietary lycopene, tomato-based food products and cardiovascular disease in women. J Nutr 133:2336–234

Sesso HD, Buring JE, Norkus EP, Gaziano JM (2004) Plasma lycopene, other carotenoids, and retinol and the risk of cardiovascular disease in women. Am J Clin Nutr 79:47–53

Seybold C, Frohlich K, Bitsch R, Otto K, Bohm V (2004) Changes in contents of carotenoids and vitamin-E during tomato processing. J Agric Food Chem 52:7005–7010

Sharma SK, Le Maguer M (1996) Kinetics of lycopene degradation in tomato pulp solids under different processing and storage conditions. Food Res Int 29:309–315

Shi J (2000) Lycopene in tomatoes:chemical and physical properties affected by food processing. Crit Rev Food Sci Nutr 40:1–42

Shi J, Le Maguer M (2000) Lycopene in tomatoes: chemical and physical properties affected by food processing. Crit Rev Food Sci Nutr 40:1–42

Shi J, Le Maguer M, Kakuda Y, Liptay A, Niekamp F (1999) Lycopene degradation and isomerization in tomato dehydration. Food Res Int 32:15–21

Shi J, Wu Y, Bryan M, Maguer LM (2002) Oxidation and isomerization of lycopene under thermal treatment and light irradiation in food processing. Nutraceut Food 7:179–183

Shi J, Dai Y, Kakuda Y, Mittal G, Xue SJ (2008) Effect of heating and exposure to light on the stability of lycopene in tomato puree. Food Control 19(5):514–520

Slattery ML, Benson J, Curtin K, Ma KN, Schaeffer D, Potter JD (2000) Carotenoids and cancer. Am J Clin Nutr 71(2):575–582

Srivastava S, Kulshreshtha K (2012) Development and physic chemical characterization of tomato powder. Beverage & Food World 39(6):56–59

Stahl W, Sies H (1992) Uptake of lycopene and its geometrical isomers is greater from heat-processed than from unprocessed tomato juice in humans. J Nutr 122:2161–2166

Stahl W, Sies H (1996) Perspectives in biochemistry and biophysics. Lycopene: a biologically important carotenoid for humans. Arch Biochem Biophys 336:1–9

Takeoka GR, Dao L, Flessa S, Gillespie DM, Jewell WT, Buebner B, Bertwo D, Ebeler SE (2001) Processing effects on lycopene content and antioxidant activity of tomatoes. J Agric Food Chem 49:3713–3717

Thompson KA, Marshall MR, Sims CA, Wei CI, Sargent SA, Scott JW (2000) Cultivar, maturity and heat treatment on lycopene content in tomatoes. Food Chem Toxicol 65(5):791–795

Toor RK, Savage GP (2006) Effect of semi drying on the antioxidant components of tomatoes. Food Chem 94:90–97

Urbanyi G, Horti K (1989) Colour and carotenoid content of quick-frozen tomato cubes during frozen storage. Acta Alimentaria 18:247–267

Vogele AC (1937) Effect of environmental factors upon the color of the tomato and the watermelon. Plant Physiol 12:929–955

Westrate J, Meifer G (1998) Plant sterol enriched margarines and reduction of plasma total and LDL cholesterol concentrations in normocholesterolaemic and mildly hyper cholesterolaemic subjects. Eur J Clin Nutr 52:334–343

Weststrate J, Van het Hof KH (1995) Sucrose polyester and plasma carotenoid concentrations in healthy subjects. Am J Clin Nutr 62:591–597

White WS, Stacewicz-Sapuntzakis M, Erdman JW Jr, Bowen PF (1994) Pharmacokinetics of β-carotene and canthaxanthin after ingestion of individual and combined doses by human subjects. J Am Coll Nutr 13:665–671

Willberg VC, Rodrguej A (1995) HPLC quatification of major carotenoids of fresh and processed guava, mango and papaya. Lebenson Wiss Technol 28:474–484

Williams DC, Lim MH, Chen AO, Pangborn RM, Whitaker JR (1986) Blanching of vegetables for freezing–which indicator enzyme to choose. Food Technol 40:130–140

Williams AW, Boileau TWM, Erdman JW Jr (1998) Factors influencing the uptake and absorption of carotenoids. Proc Exp Biol Med 218:106–108

Wong F, Bohart SG (1957) Observations on the color of vacuum dried tomato juice powder during storage. Food Technol 5:293–296

Young WJ, Lowe GM (2001) Antioxidant and prooxidant properties of carotenoids. Arch Biochem Biophys 385:20–27

Zechmeister L (1962) Cis–trans isomeric carotenoids, vitamins A and arylpolyenes. Academic, New York

Zechmeister L, Le Rosen AL, Went FW, Pauling L (1941) Prolycopene; a naturally occurring stereoisomer of lycopene. Proc Natl Acad Sci U S A 27:468–474
About this article
Cite this article
Srivastava, S., Srivastava, A.K. Lycopene; chemistry, biosynthesis, metabolism and degradation under various abiotic parameters. J Food Sci Technol 52, 41–53 (2015). https://doi.org/10.1007/s13197-012-0918-2
Revised:

Accepted:

Published:

Issue Date:
Keywords
Abiotic

Bioavailability

Biosynthesis

Degenerative diseases

Epidemiological studies

Isomerization