Abstract
The physical properties of wheat kernel were determined and related to pulverizing performance by correlation analysis. Nineteen samples of wheat cultivars about similar level of protein content (11.2–12.8 % w.b.) and obtained from organic farming system were used for analysis. The kernel (moisture content 10 % w.b.) was pulverized by using the laboratory hammer mill equipped with round holes 1.0 mm screen. The specific grinding energy ranged from 120 kJkg−1 to 159 kJkg−1. On the basis of data obtained many of significant correlations (p < 0.05) were found between wheat kernel physical properties and pulverizing process of wheat kernel, especially wheat kernel hardness index (obtained on the basis of Single Kernel Characterization System) and vitreousness significantly and positively correlated with the grinding energy indices and the mass fraction of coarse particles (> 0.5 mm). Among the kernel mechanical properties determined on the basis of uniaxial compression test only the rapture force was correlated with the impact grinding results. The results showed also positive and significant relationships between kernel ash content and grinding energy requirements. On the basis of wheat physical properties the multiple linear regression was proposed for predicting the average particle size of pulverized kernel.
Access options
Buy single article
Instant access to the full article PDF.
USD 39.95
Price excludes VAT (USA)
Tax calculation will be finalised during checkout.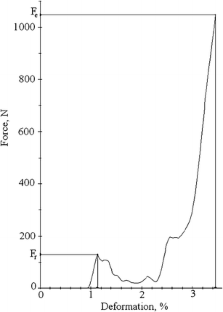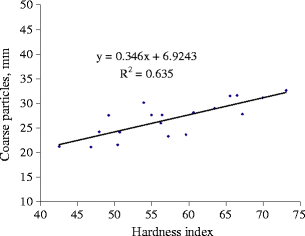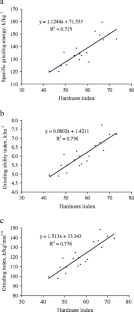 References
American Association of Cereal Chemists (2002) Approved methods of the AACC, 10th ed

Barak S, Mudgil D, Khatkar BS (2012) Effect of flour particle size and damaged starch on the quality of cookies. J Food Sci Technol. doi:10.1007/s13197-012-0627-x49:255-266

Breustedt G, Latacz-Lohmann U, Tiedemann T (2011) Organic or conventional? Optimal dairy farming technology under the EU milk quota system and organic subsidies. Food Policy 36:223–229

Das A, Raychaudhuri U, Chakraborty R (2010) Cereal based functional food of Indian subcontinent: a review. J Food Sci Technol. doi:10.1007/s13197-011-0474-1

Dhingra D, Michael M, Rajput H, Patil RT (2012) Dietary fibre in foods: a review. J Food Sci Technol 49:255–266

Dziki D (2008) The crushing of wheat kernels and its consequence on the grinding process. Powder Technol 185:181–186

Dziki D (2011) Effect of preliminary grinding of the wheat grain on the pulverizing process. J Food Eng 104:585–591

Fang Q, Haque E, Spillman CK, Reddy PV, Steele JL (1998) Energy requirements for size reduction of wheat using a roller mill. T ASAE 41:1713–1720

Greffeuille V, Abecassis J, Rousset M, Oury F-X, Faye A, Bar L'Helgouac'h C, Lullien-Pellerin V (2006) Grain characterization and milling behaviour of near-isogenic lines differing by hardness. Theor Appl Genet 114:1–12

Greffeuille V, Abecassis J, Barouh N, Villeneuve P, Mabille F, Bar L'Helgouac C, Lullien Pellerin V, Benet JC (2007) Analysis of the milling reduction of bread wheat farina: physical and biochemical characterisation. J Cereal Sci 45:97–105

Haddad Y, Mabille F, Mermet A, Abecassis J, Benet JC (1999) Rheological properties of wheat endosperm with a view on grinding behaviour. Powder Technol 105:89–94

Hrušková M, Švec I (2009) Wheat hardness in relation to other quality factors. Czech J Food Sci 27:240–248

Hrušková M, Švec I, Jirsa O (2006) Correlation between milling and baking parameters of wheat varieties. J Food Eng 77:439–444

ICC (1990) ICC-standard no 104/1, Int Assoc Cereal Chem Vienna, Austria

Jha SN, Sharma RS (2010) Physical, gravimetric and functional characterization of various milling fractions of popped gorgon nut (Euryale ferox). J Food Sci Technol 47:564–570

Laskowski J, Łysiak G (1999) Use of compression behaviour of legume seeds in view of impact grinding prediction. Powder Technol 105:83–88

Laskowski J, Łysiak G, Skonecki S (2005) Properties for grinding and agglomeration. In: Horabik J, Laskowski J (eds) Mechanical properties of granular agromaterials and food powders for industrial practice. Part II. Institute of Agrophysics PAS, Lublin, pp 23–25

Mäder P, Hahn D, Dubois D, Gunst L, Alföldi T, Bergmann H, Oehme M, Amadò R, Schneider H, Graf U, Velimirov A, Fließach A, Niggli U (2007) Wheat quality in organic and conventional farming: results of a 21 year filed experiment. J Sci Food Agric 87:1826–1835

Marzec A, Cacak-Pietrzak G, Gondek E (2011) Mechanical and acoustic properties of spring wheat versus its technological quality factors. J Texture Stud 42:319–329

Muhamad II, Campbell GM (2004) Effects of kernel hardness and moisture content on wheat breakage in the single kernel characterization system. Innov Food Sci Emerg Technol 5:119–125

Muhamad II, Fang C, Campbell GM (2008) Prediction of breakage during roller milling of mixtures of wheat kernels, based on single kernel measurements. Jurnal Teknologi 48(F):75–83

Nelson L, Giles J, Macilwain C, Gewin V (2004) Organic FAQs. Nature 428:796–798

Osborne BG, Kotwal Z, Blakeney AB, O'Brien L, Shah S, Fearn T (1997) Application of the single kernel characterisation system to wheat receiving testing and quality prediction. Cereal Chem 74:467–470

Prabhasankar P, Rao PH (2004) Effect of different milling methods on chemical composition of whole wheat flour. Eur Food Res Technol 213:465–469

Psaroudaki A (2007) An extensive survey of the impact of tropospheric ozone on the biochemical properties of edible plants. WSEAS Tran Environment and Development 3:99–110

Pujol R, Letang C, Lempereur A, Chaurand M, Mabile F, Abecassis J (2000) Description of a micromill with instrumentation handicap measuring grinding characteristics of wheat kernel. Cereal Chem 77:421–427

Różyło R, Laskowski J, Grundas S (2003) Study of how protein content in wheat grain relates to hardness index and grinding energy. Acta Agrophysica 2:173–178

Sahyoun NR, Jacques PF, Zhang XL, Juan W, Mckeown NM (2006) Whole-grain intake is inversely associated with the metabolic syndrome and mortality in older adults. Am J Clin Nutr 83:124–131

Singh B, Sharma HK, Sarkar BC (2012) Optimization of extraction of antioxidants from wheat bran (Triticum spp.) using response surface methodology. J Food Sci Technol 49:294–308

Slavin JL, Martini MC, Jacobs DR, Marquart L (1999) Plausible mechanisms for the protectiveness of whole grains. Am J Clin Nutr 70:459–463

Sokołowski M (1996) Energy consumed in grinding – a new idea of a general law of comminution – new tests stands and testing results. Récents Progress en Génie Procédés 10:221–226

Steffen LM, Jacobs DR, Stevens J, Shahar E, Carithers T, Folsom AR (2003) Associations of whole-grain, refined-grain, and fruit and vegetable consumption with risks of all-cause mortality and incident coronary artery disease and ischemic stroke: the Atherosclerosis risk in communities (ARIC). Am J Clin Nutr 78:383–390

Symons SJ, Van Schepdael L, Dexter JE (2003) Measurement of hard vitreous kernels in durum wheat by machine vision. Cereal Chem 80:511–517

Turnbull KM, Rahman S (2002) Endosperm texture in wheat. J Cereal Sci 36:327–337

Velu V, Nagender A, Prabhakara Rao PG, Rao DG (2006) Dry milling characteristic of microwave dried maize grains. J Food Eng 74:30–36

Williams PC (2000) Applications of the Perten SKCS 4100 in flour-milling. Association of Operative Millers Bulletin, March 7421–7424

Yadav DN, Rajan A, Sharma GK, Bawa AS (2009) Effect of fiber incorporation on rheological and chapati making quality of wheat flour. J Food Sci Technol 47:166–173

Zuchowski J, Jończyk K, Pecio Ł, Oleszek W (2011) Phenolic acid concentrations in organically and conventionally cultivated spring and winter wheat. J Sci Food Agr 91:1089–1095
About this article
Cite this article
Dziki, D., Cacak-Pietrzak, G., Miś, A. et al. Influence of wheat kernel physical properties on the pulverizing process. J Food Sci Technol 51, 2648–2655 (2014). https://doi.org/10.1007/s13197-012-0807-8
Revised:

Accepted:

Published:

Issue Date:

DOI: https://doi.org/10.1007/s13197-012-0807-8
Keywords
Wheat

Physical properties

Hardness

Pulverizing

Grinding