Abstract
The effect of pre-treatments on the colour of freeze-dried strawberries was studied. Strawberries were subjected to different ultrasound and osmotic dehydration conditions followed by freeze-drying. Two concentration levels of sucrose solution (25 and 50 % w/w) and four levels of processing time (from 10 min to 45 min) were studied. Also, ultrasound application without using an osmotic solution was studied. Colour was quantified with a colorimetric analysis (CIE LCh). Sonicated strawberries presented higher lightness (L) and lower hue (h) than fresh and non-treated strawberries (control samples). The sonicated and osmo-sonicated strawberries have presented a more reddish and vivid colour then the control samples.
Access options
Buy single article
Instant access to the full article PDF.
US$ 39.95
Tax calculation will be finalised during checkout.
Subscribe to journal
Immediate online access to all issues from 2019. Subscription will auto renew annually.
US$ 79
Tax calculation will be finalised during checkout.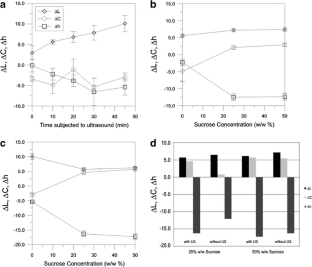 References
AOAC (1990) Official methods of analysis. Association of Official Analytical Chemists, Washington

Brouillard R (1983) The in vivo expression of anthocyanins colour in plants. Phytochem 22:1311–1323

Deng Y, Zhao Y (2008) Effects of pulsed-vacuum and ultrasound on the osmodehydration kinetics and microstructure of apples (Fuji). J Food Eng 85:84–93

Dubrovic I, Herceg Z, Jambrak AR, Badanjak M, Dragovic-Uzelac V (2011) Effect of high intensity ultrasound and pasteurization on anthocyanin content in strawberry juice. Food Tech Biotechnol 49:196–204

Falade KO, Oyedele OO (2010) Effect of osmotic pretreatment on air drying characteristics and colour of pepper (Capsicum spp) cultivars. J Food Sci Technol 47:488–495

Francis FJ (1989) Food colorants: anthocyanins. Crit Rev Food Sci Nutr 28:273–314

Garcia-Noguera J, Weller CL, Oliveira FIP, Rodrigues S, Fernandes FAN (2010) Dual-stage sugar substitution in strawberries with a Stevia-based sweetener. Innov Food Sci Emerg Technol 11:225–230

Garcia-Noguera J, Oliveira FIP, Gallão MI, Weller CL, Rodrigues S, Fernandes FAN (2010) Ultrasound-assisted osmotic dehydration of strawberries: effect of pré-treatment time and ultrasonic frequency. Dry Technol 28:294–303

Kumar HSP, Nagaraju PK, Radhakrisna K, Bawa AS (2004) Effect of dehydration techniques on the quality of onion slices. J Food Sci Technol 41:397–400

Lewis CE, Walker JRL, Lancaster JE (1995) Effect of polysaccharides on the colour of anthocyanins. Food Chem 54:315–319

Marani CM, Agnelli ME, Mascheroni RH (2007) Osmo-frozen fruits: mass transfer and quality evaluation. J Food Eng 79:1122–1130

Meschter EE (1953) Effects of carbohydrates and other factors on strawberry products. J Agric Food Chem 1:574–579

Oliveira IM, Fernandes FAN, Rodrigues S, Sousa PHM, Maia GA, Figueiredo RW (2006) Modeling and optimization of osmotic dehydration of banana followed by air-drying. J Food Process Eng 29:400–413

Pani P, Leva AA, Riva M, Maestrelli A, Torreggiani D (2008) Influence of an osmotic pre-treatment on structure–property relationships of air-dehydrated tomato slices. J Food Eng 86:105–112

Sagar VR, Kumar PS (2010) Recent advances in drying and dehydration of fruits and vegetables: a review. J Food Sci Technol 47:15–26

Shishehgarha F, Makhlouf J, Ratti C (2002) Freeze-drying characteristics of strawberries. Dry Technol 20:131–145

Sondheimer E, Kertesz ZI (1948a) Anthocyanin pigments: Colorimetric determination in strawberries and strawberry products. Anal Chem 20:245–248

Sondheimer E, Kertesz ZI (1948b) The anthocyanin of strawberries. J Am Chem Soc 70:3476–3479

Taiwo KA, Eshtiaghi MN, Ade-Omowaye BIO, Knorr D (2003) Osmotic dehydration of strawberry halves: Influence of osmotic agents and pretreament methods on mass transfer and product characteristics. Int J Food Sci Technol 38:693–707

Teles UM, Fernandes FAN, Rodrigues S, Lima AS, Maia GA, Figueiredo RW (2006) Optimization of osmotic dehydration of pineapples followed by air-drying. Int J Food Sci Technol 41:674–680

Tiwari BK, O'Donnell CP, Patras A, Cullen PJ (2010) Anthocyanin and ascorbic acid degradation in sonicated strawberry juice. J Agric Food Chem 56:10071–10077

Yang Z, Han Y, Gu Z, Fan G, Chen Z (2008) Thermal degradation kinetics of aqueous anthocyanins and visual color of purple corn (Zea mays L.) cob. Innov Food Sci Emerg Technol 9:341–347
Acknowledgments
The authors thank the financial support provided through the Hatch Act, USDA, the College of Engineering at the University of Nebraska-Lincoln, USA and the Brazilian funding institutes CNPq and CAPES.
About this article
Cite this article
Garcia-Noguera, J., Oliveira, F.I.P., Weller, C.L. et al. Effect of ultrasonic and osmotic dehydration pre-treatments on the colour of freeze dried strawberries. J Food Sci Technol 51, 2222–2227 (2014). https://doi.org/10.1007/s13197-012-0724-x
Revised:

Accepted:

Published:

Issue Date:
Keywords

Freeze-drying

Osmotic dehydration

Ultrasound

Colorimetric analysis

Strawberry