Abstract
Paneer, a popular indigenous dairy product of India, is similar to an unripened variety of soft cheese which is used in the preparation of a variety of culinary dishes and snacks. It is obtained by heat and acid coagulation of milk, entrapping almost all the fat, casein complexed with denatured whey proteins and a portion of salts and lactose. Paneer is marble white in appearance, having firm, cohesive and spongy body with a close-knit texture and a sweetish-acidic-nutty flavour. Preparation of paneer using different types of milk and varied techniques results in wide variation in physico-chemical, microbiological and sensory quality of the product. Paneer blocks of required size are packaged in laminated plastic pouches, preferably vacuum packaged, heat sealed and stored under refrigeration. Paneer keeps well for about a day at ambient temperature and for about a week under refrigeration (7 °C). The spoilage of paneer is mainly due to bacterial action. Successful attempts have been made to enhance the shelf life of paneer. This review deals with the history, method of manufacture, factors affecting the quality, physico-chemical changes during manufacture, chemical composition and nutritional profile, packaging and shelf life of paneer.
Access options
Buy single article
Instant access to the full article PDF.
US$ 39.95
Tax calculation will be finalised during checkout.
Subscribe to journal
Immediate online access to all issues from 2019. Subscription will auto renew annually.
US$ 79
Tax calculation will be finalised during checkout.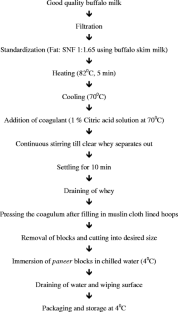 References
Agrawala SP, Sawhney IK, Kumar B, Sachdeva S (2001) Twin flanged apron conveyor for continuous dewatering and matting of curd. Annual Report, National Dairy Research Institute, Karnal, p 55

Aneja RP (1997) Traditional dairy delicacies. Dairy India Yearbook, New Delhi, p 382

Aneja RP, Mathur BN, Chandan RC, Baneerjee AK (2002) Heat acid coagulated products. In: Technology of Indian milk products. A Dairy India Publication, Delhi, India, pp 133–158

Anonymous (2010) http://www.economictimes.indiatimes.com, 27 July 2010

Arora VK, Gupta SK (1980) Effect of low temperature storage on paneer. Indian J Dairy Sci 33:374–380

Arya SP, Bhaik NL (1992) Suitability of crossbred cow's milk for paneer making. J Dairying Foods Home Sci 11:71–76

Babaje JS, Rathi SD, Ingle UM, Syed HM (1992) Effect of blending soymilk with buffalo milk on qualities of paneer. J Food Sci Technol 29:119–120

Baer A, Orz M, Blanc B (1976) Serological studies on heat induced interaction of α-lactalbumin and milk proteins. J Dairy Res 43:4197

Bajwa U, Kaur J, Sandhu KS (2005) Effect of processing parameters and vegetables on the quality characteristics of vegetable fortified paneer. J Food Sci Technol 42:145–150

Bhattacharya DC, Mathur ON, Srinivasan MR, Samlik OL (1971) Studies on the method of production and shelf life of paneer (cooking type of acid coagulated cottage cheese). J Food Sci Technol 8:117–120

BIS (1983) Bureau of Indian Standards, IS 10484. Specification for paneer. Manak Bhawan, New Delhi

Bringe NA, Kinsella JE (1986) The effects of pH, calcium chloride and temperature on the rate of acid coagulation of casein micelles. J Dairy Sci 69(Suppl 1):61

Brule G, Real Del Sol E, Fauquant J, Fiaud C (1978) Mineral salts stability in aqueous phase of milk: Influence of heat treatments. J Dairy Sci 61:1225–1232

Chawla AK, Singh S, Kanawjia SK (1985) Development of low fat paneer. Indian J Dairy Sci 38:280–283

Chawla AK, Singh S, Kanawjia SK (1987) Effect of fat levels, additives and process modifications on composition and quality of paneer and whey. Asian J Dairy Res 6:87–92

Chopra S, Mamtani R (1995) Say cheese or paneer? Indian Dairyman 47:27–29

Das D, Ghatak PK (1999) A study on the quality of paneer marketed at greater Calcutta. J Dairying Foods Home Sci 18:49–51

De S (1980) Indian Dairy Products. In: Outlines of dairy technology. Oxford University Press, New Delhi, India, p 412

De S, Bhattacharya DC, Mathur ON, Srinivasan MR (1971) Production of soft cheese (paneer) from high acid milk. Indian Dairyman 23:224–225

Desai HK (2007) Sensory profile of traditional dairy products. In: Gupta S (ed) Dairy India. Dairy India Yearbook, New Delhi, p 408

Elfagm AA, Wheelock JV (1977) Effect of heat on α-lactalbumin and β-lactoglobulin in bovine milk. J Dairy Res 44:367–371

Ghodekar DR (1989) Factors affecting quality of paneer—A review. Indian Dairyman 41:161–164

Grover M, Tyagi SM, Bajwa U (1989) Studies on soy paneer. J Food Sci Technol 26:194–197

Gupta RK (1999) Quality of raw milk in India. In: Advances in processing and preservation of milk. Lecture compendium, National Dairy Research Institute. Karnal

Chandan RC (2007) Manufacturing of paneer. In: Gupta S (ed) Dairy India. Dairy India Yearbook, New Delhi, p 411

Hunziker HG, Tarassuk NP (1965) Chromatographic evidence of heat induced interaction of α-lactalbumin and β-lactoglobulin. J Dairy Sci 48:733–734

Joshi S (2007) Making food processing viable. In: Gupta S (ed) Dairy India. Dairy India Yearbook, New Delhi, p 34

Kanawjia SK, Khurana HK (2006) Developments of paneer variants using milk and non-milk solids. Processed Food Industry 9:38–42

Kanawjia SK, Singh S (1996) Sensory and textural changes in paneer during storage. Buffalo J 12:329–334

Kanawjia SK, Singh S (2000) Technological advances in paneer making Indian. Dairyman 52:45–50

Kumar S, Rai DC, Verma DN (2008a) Effect of different levels of lactic acid on the physico-chemical and sensory attributes of buffalo milk paneer. Indian J Ani Res 42:205–208

Kumar S, Rai DC, Verma DN (2008b) Effect of fat levels on the physico-chemical and sensory attributes of buffalo milk paneer. Indian Vet J 85:1182–1184

Kumar S, Rai DC, Verma DN (2008c) Influence of different levels of alum on the quality attributes of buffalo milk paneer. Environ Ecol 26:290–293

Ling ER (1956) Test book of dairy chemistry. Chapman and Hall Limited, London

Long JE, Winkle QV, Gould IA (1963) Heat induced interaction between crude κ-casein and β-lactoglobulins. J Dairy Sci 46:1329–1334

Mathur BN (1991) Indigenous milk products of India: the related research and technological requirements. Indian Dairyman 42:61–74

Mathur BN, Hashizume K, Musumi S, Nakazawa Y, Watanabe T (1986) Traditional cheese "paneer" in India and soybean food "tofu" in Japan. Jap J Dairy Food Sci 35:138–141

Mistry CD, Singh S, Sharma RS (1992) Physico-chemical characteristics of paneer prepared from cow milk by altering its salt balance. Aust J Dairy Technol 47:23–27

Pal D, Raju PN (2007) Indian traditional dairy products: an overview. In: Sovenir, International conference on "Traditional dairy foods" held at National Dairy Research Institute, Karnal from November 14–17, p i-xxvi

Pal MA, Yadav PL (1991) Effect of blending buffalo and cow milk on the physico-chemical and sensory quality of paneer. Indian J Dairy Sci 44:327–332

PFA (2010) Prevention of food adultration rules, 1954 (amended up to 2009). Universal Law Publishing Company Pvt Ltd, New Delhi, pp 165–166

Rajorhia GS, Pal D, Arora KL (1984) Quality of paneer marketed in Karnal and Delhi. Indian J Dairy Sci 37:274–276

Rao MN, Rao BVR, Rao JJ (1984) Paneer from buffalo milk. Indian J Dairy Sci 37:50–53

Rao KVSS, Zanjad PN, Mathur BN (1992) Paneer technology—A review. Indian J Dairy Sci 45:281–291

Richert SH (1975) Current milk protein manufacturing processes. J Dairy Sci 58:985

Rose D, Tessier H (1959) Composition of ultrafiltrates from milk heated at 80 to 230 ° F in relation to heat stability. J Dairy Sci 42:969–980

Roy SK, Singh S (1994) Effect of coagulation temperature and hydrocolloids on production and sensory quality of filled paneer. Indian J Dairy Sci 47:683–687

Sachdeva S, Prokopek D (1992) Paneer—an alternative to tofu. DMZ– Lebensmittelindustrie- und- Milchwirtschaft 113:645–648

Sachdeva S, Singh S (1987) Use of non-conventional coagulants in the manufacture of paneer. J Food Sci Technol 24:317–319

Sachdeva S, Singh S (1988a) Incorporation of hydrocolloids to improve the yield, solids recovery and quality of paneer. Indian J Dairy Sci 41(2):189–193

Sachdeva S, Singh S (1988b) Optimization of processing parameters in the manufacture of paneer. J Food Sci Technol 24:142–145

Sachdeva S, Singh S (1990) Shelf life of paneer as affected by antimicrobial agents. Part II: Effect on microbiological characteristics. Indian J Dairy Sci 43:64–66

Sachdeva S, Singh S, Kanawjia SK (1985) Recent developments in paneer technology. Indian Dairyman 37:501

Sachdeva S, Prokopek D, Reuter H (1991) Technology of paneer from cow milk. Jap J Dairy Food Sci 40:85–90

Sawyer WH (1969) Complex between β-lactoglobulin and κ-caseins: a review. J Dairy Sci 52:1347

Sindhu JS (1996) Suitability of buffalo milk for products manufacturing. Indian Dairyman 48:41–47

Singh S, Kanawjia SK (1988) Development of manufacturing technique for paneer from cow milk. Indian J Dairy Sci 41:322–325

Singh S, Kanawjia SK (1990) Effect of hydrogen peroxide and delvocid on enhancement of shelf life of recombined milk paneer. Brief Communication, XXIII International Dairy Congress, Vol. II, October 8–12, Montreal

Singh SP, Singh KP (2000) Quality of market paneer in Agra city. J Dairying Foods Home Sci 19:54–57

Singh S, Kanawjia SK, Sachdeva S (1984) Current status and scope for future development in the industrial production of paneer. Indian Dairyman 36:581–585

Singh S, Balasubramanyam BV, Bhanumurthi JL (1991) Effect of addition of heat precipitated whey solids on the quality of paneer. Indian J Dairy Sci 44:178–180

Srivastava S, Goyal GK (2007) Preparation of paneer—A review. Indian J Dairy Sci 60:337

Syed HM, Rathi SD, Jadhav SA (1992) Studies on quality of paneer. J Food Sci Technol 29:117–118

Torres N, Chandan RC (1981) Latin American white cheese—a review. J Dairy Sci 64:552–557

Venkateshwarlu J, Reddy YK, Kumar S (2003) Preparation of filled paneer by incorporating coconut milk. Indian J Dairy Sci 56:352–358

Vishweshwaraiah L, Anantakrishnan CP (1985) A study on technological aspects of preparing paneer from cow's milk. Asian J Dairy Res 4:171–176

Vishweshwaraiah L, Anantakrishnan CP (1986) Production of paneer from cow's milk. Indian J Dairy Sci 39:484–485

Walstra P, Jennes R (1983) Dairy chemistry and physics. Wiley, New York
About this article
Cite this article
Kumar, S., Rai, D.C., Niranjan, K. et al. Paneer—An Indian soft cheese variant: a review. J Food Sci Technol 51, 821–831 (2014). https://doi.org/10.1007/s13197-011-0567-x
Revised:

Accepted:

Published:

Issue Date:
Keywords
Paneer

Milk

Packaging

Shelf life