Abstract
The study was undertaken to assess nutrient composition, glycemic index and health benefits of barnyard millet in type II diabetics. The millet had 10.5% protein 3.6% fat, 68.8% carbohydrate and 398 kcal/100 g energy. The total dietary fibre content was high (12.6%) including soluble (4.2%) and insoluble (8.4%) fractions. Low glycemic index of the grains both dehulled (50.0) and dehulled and heat treated (41.7) was recorded. The feeding intervention of 28 days revealed a significant reduction in glucose (139.2 to 131.1 mg/dl), LDL-C (from 167.7 to 162.9 mg/dl), VLDL-C (from 24.0 to 23.2 mg/dl), ratio of TC: HDL (from 4.7 to 4.6) and LDL: HDL (from 3.2 to 3.1) in the experimental diabetic groups. Similar, but marginal changes were observed in experimental non diabetics. Marginal decrease of triglycerides and increase of HDL were registered in diabetic groups due to barnyard millet intervention. The study indicated that the dehulled and heat treated barnyard millet is beneficial for type-II diabetics.
Access options
Buy single article
Instant access to the full article PDF.
USD 39.95
Price excludes VAT (USA)
Tax calculation will be finalised during checkout.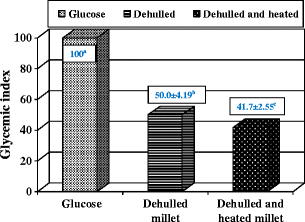 References
Anon (2000) Clinical practice recommendations: nutrition recommendations and practices for people with diabetes. Am. Diabetes Association, Washington, pp 1–20

AOAC (1990) Official methods of analysis, 20th edn. Association of Official Analytical Chemists, Washington

Asp NG, Johansson CG, Hallmer H, Siljestroem M (1983) Rapid enzymic assay of insoluble and soluble dietary fiber. J Agric Food Chem 31:476–482

Brand-Miller J, Wolever TMS, Foster-Powell K, Colagiuri S (2003) The new glucose revolution: the authoritative guide to the glycemic index – the dietary solution for lifelong health. Marlowe & Company, New York, NY

Hadimani NA, Malleshi NG (1993) Studies on milling, physico-chemical properties, nutrient composition and dietary fibre content of millets. J Food Sci Technol 30:17–20

Jenkins DJA, Ghafari H, Wolever TMS, Taylor RH, Jenkins AL, Barker HM, Fielden H, Bowling AC (1982) Relationship between rate of digestion of food and post-prandial glycemia. Diabetologia 22:450–455

Krishna Kumari S, Thayumanavan B (1997) Comparative study of resistant starch from minor millets on intestinal responses, blood glucose, serum cholesterol and triglycerides in rats. J Food Sci Technol 75:296–302

Ranhotra GS, Gelroth JA, Astroth K, Eisenbraun GJ (1991) Effect of resistant starch on intestinal responses in rats. Cereal Chem 68:130–132

Surekha N, Chimmad BV, Shantkumar G (2004) Barnyard millet based mix for better health. In Proc 36th Annual Meet of Nutrition Society of India, Mysore, Nov 5–6

Veena B, Chimmad BV, Naik RK, Shantakumar G (2005) Physico-chemical and nutritional studies in barnyard millet. Karnataka J Agril Sci 18:101–105

Wolever TMS, Jenkins DJA, Jenkins AL, Josse RG (1991) The glycemic index: methodology and clinical implication. Am J Clinical Nutr 54:846–854
About this article
Cite this article
Ugare, R., Chimmad, B., Naik, R. et al. Glycemic index and significance of barnyard millet (Echinochloa frumentacae) in type II diabetics. J Food Sci Technol 51, 392–395 (2014). https://doi.org/10.1007/s13197-011-0516-8
Revised:

Accepted:

Published:

Issue Date:

DOI: https://doi.org/10.1007/s13197-011-0516-8
Keywords
Barnyard millet

Echinochloa frumentacae

Glycemic index