Abstract
Glycemic and insulinemic responses to food may depend on several intrinsic factors such as the type of sugar, molecular arrangement, size of starch granules, co-components in the whole food like moisture, fat, protein, fiber, as well as external factors like processing technique and total amount consumed. The postprandial glycemic response to equivalent quantities of test food and standard food is compared using Glycemic Index food (GI food). The incremental area under the curve for blood glucose and insulin at fasting, 30, 60, 90 and 120 min after consumption of different doses (50 and 100 g) of carbohydrate rich foods like rice and chapatti were compared with standard food, white bread. The GI food value for 50 g of chapatti and rice was 44 and 11 respectively. The Insulinemic Index food (II food) values, calculated similarly, for 50 g portion of chapatti and rice were 39 and 6 respectively. Glycemic and insulinemic response showed a dose dependent increase from 50 to 100 g. Both glycemic and insulinemic impact of chapatti were found to be significantly higher than that of rice (p < 0.05). The GI food and II food values will facilitate qualitative and quantitative judgment about the selection of specific foods for effective metabolic control.
Access options
Buy single article
Instant access to the full article PDF.
US$ 39.95
Tax calculation will be finalised during checkout.
Subscribe to journal
Immediate online access to all issues from 2019. Subscription will auto renew annually.
US$ 79
Tax calculation will be finalised during checkout.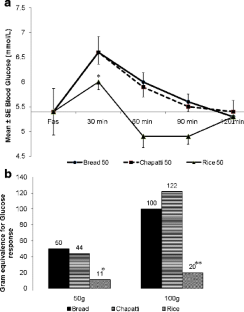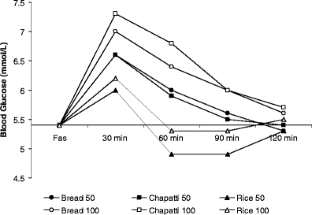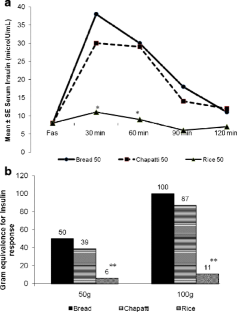 References
Cohen EH (1971) Rapid technique for solvent removal in the determination of fat. J Assoc Off Anal Chem 54:212–214

Feldman JM, Chapman BA (1973) Radioimmunoassay of Insulin in Serum and Plasma. Clin Chem 19:1250–1254

Foster-Powell K, Holt Susanna HA, Brand-Miller JC (2002) International table of glycemic index and glycemic load values: 2002. Am J Clin Nutr 76(1):5–56

Holt Susanne HA, Brand Miller JC, Petcoz P (1997) An Insulin Index of foods: the insulin demands generated by 1000 kJ portions of common foods. Am J Clin Nutr 66:1264–76

Jenkins DJ, Wolever TM, Taylor RH, Barker H, Fielden H, Baldwin JM, Bowling AC, Newman HC, Jenkins AL, Goff DV (1981) Glycemic index of foods: a physiological basis for carbohydrate exchange. Am J Clin Nutr 34(3):362–6

Jones MR (1920) Studies on carbohydrate metabolism in rabbits. II. Effect of carbohydrate feeding on blood sugar. J Biol Chem 43(2):507–519

Kearsley MW, Sicard PJ (1989) The chemistry of starches and sugars present in food. In: Dobbing J (ed) Dietary starches and sugars in man: A comparison. Springer Verlag, Berlin, p 4

Kulp K, Ponte JG Jr (2000) Handbook of cereal science and technology, vol 99, 2nd edn. Marcel Dekker, Inc, New York, p 389

Lane JH, Eynon L (1923) Determination of reducing sugars by means of Fehling's solution with methylene blue as internal indicator. J Soc Chem Indust 42:32T–37T

Lerer-Metzger M, Rizkalla SW, Luo J, Champ M, Kabir M, Bruzzo F, Bornet F, Slama G (1996) Effect of long-term low-glycaemic index starchy food on plasma glucose and lipid concentrations and adipose tissue cellularity in normal and diabetic rats. Br J Nutr 75:723–732

Li BW (1999) Determination of complex carbohydrate fractions in foods In: Complex carbohydrates in foods. Susan Sungsoo Cho, Leon Prosky, Mark Dreher (ed). Marcel Dekker, Inc., New York, Basel p 150–151

Marrack D (1970) Improved equipment for macro Kjeldahl nitrogen assay in human metabolic balance studies. Lab Pract 19(3):291–2

Monro JA (1999) Available carbohydrate data and glycemic index combined in new data sets for managing glycaemia and diabetes. J Food Comp Anal 12:71–82

Monro JA (2000) Evidence-based food choice: the need for new measures of food effects. Trends Food Sci Technol 11:136–144

Monro JA (2002) Glycemic glucose equivalent: combining carbohydrate content, quantity and glycemic index of foods for precision in glycemia management. Asia Pac J Clin Nutr 11:217–225

Monro JA (2003) Redefining the glycemic index for dietary management of postprandial glycemia. J Nutr 133:4256–4258

Pi-Sunyer FX (2002) Glycemic index and disease. Am J Clin Nutr (suppl) 76:290S–298S

Rabinowitz D, Merimee TJ, Maffezzoli R, Burgess JA (1966) Patterns of hormonal release after glucose, protein and glucose plus protein. Lancet 2:454–6

Radhika G, Sumathi C, Ganesan A, Sudha V, Jeya Kumar Henry C, Mohan V (2010) Glycaemic index of Indian flatbreads (rotis) prepared using whole wheat flour and 'atta mix'-added whole wheat flour. Br J Nutr 103(11):1642–7

Ranganna S (1986) Proximate composition. In: Handbook of analysis and quality control for fruit and vegetable products, 9th edn. Tata McGraw Hill Publishing Company Ltd, New Delhi, p 3, 5,12–15

Van Amelsvoort JM, Westrate JA (1992) Amylose- amylopectin ratio in a meal affects postprandial variables in male volunteers. Am J Clin Nutr 55:712–718
About this article
Cite this article
Ray, K.S., Singhania, P.R. Glycemic and insulinemic responses to carbohydrate rich whole foods. J Food Sci Technol 51, 347–352 (2014). https://doi.org/10.1007/s13197-011-0497-7
Revised:

Accepted:

Published:

Issue Date:
Keywords
Whole food

Carbohydrate

Glycemic Index food
Insulinemic Index food

Dose response